This three-part series, reported through personal narratives over five months, examines the ramifications of head injuries in college football and what it means for the future of the sport.
Chapter 1: Rickey Dixon reflects on a Hall of Fame career that's killing him
Chapter 2: Two Sooners injured in same game find different answers to central question
Chapter 3: Joe Castiglione, athletic director and father, peers into the future of football
---
CHAPTER 2
Will Johnson went straight to the hospital.
The junior defensive back had taken multiple blows to the head against Ohio State in 2016, but continued to play the entire game. Two weeks earlier, Johnson had suffered his first concussion of his career against Houston. Fearful he'd lose his starting spot and with it what he viewed as a potential path to the NFL — something he says he couldn't afford — he had rushed back for the Ohio State game.
At halftime against the Buckeyes, a team doctor noticed Johnson wasn't right, but Johnson says he lied to the doctor and coaches to stay in the game. Following the 45-24 loss, Johnson was immediately taken to a hospital in Oklahoma City.
"I was sweaty and still in my game clothes," says Johnson, who was then 6-foot, 180 pounds. "I was just beat up mentally. I didn't feel like myself."
Right before halftime of the same game, Johnson's teammate and sophomore linebacker Tay Evans had suffered his fourth concussion of his career and his second that month.
Evans absorbed two hits to the head toward the end of the second quarter and in the span of four plays, the second knocking off his helmet as he gazed around the field confused. About the only thing that was clear was that Evans knew it was likely the last play of his football career — something he says he could afford.
"I couldn't comprehend where I was at first," says Evans, who was then 6-foot-2, 235 pounds. "I felt like I couldn't move."
Evans didn't return in the second half. Johnson did. Both received the same advice from OU's head team physician, Brock Schnebel, after the game: Consider retiring from the sport.
Both had different answers.
***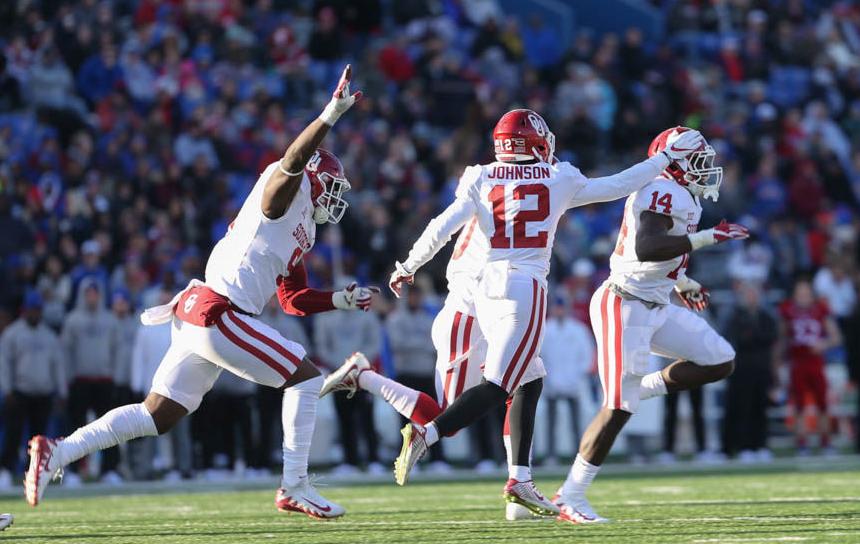 Johnson grew up on the streets of Baltimore.
He started playing football at 6 years old, hoping to one day change everything for his family financially. He was never the most talented player, starting his college career at Monroe Community College. Before a late OU offer, Johnson was set to continue playing Maryland or Ball State.
So when he got the chance to play at a school with the tradition of Oklahoma, he viewed it as his one shot to turn his family's life around.
"I personally hated my childhood," says Johnson, who grew up the son of a single mother raising three kids. "I wanted to change my family dynamic and viewed football as a way to do that."
Johnson had a successful first year with the Sooners in 2015, starting 11 games at nickelback — a position built to provide an extra sure-tackler in the secondary. Then he had his first concussion during the opening kickoff against Houston in 2016. Two weeks later, he was in the hospital after playing throughout the Ohio State game.
"Sixty-eight percent of the athletes will deny that they have had a concussion," says Schnebel, who has worked with OU's medical staff for the past 23 years. "They frequently deny, and the No. 1 reason is they want to continue to play, and the No. 2 reason is they don't want to let their team down."
He subsequently missed six games his junior season, he had trouble sleeping and constantly had bloody noses. He felt unmotivated and sick on game days, vomiting before every kickoff. He sat out the final three games of the season in hopes of returning to 100 percent for his senior year.
When that came, Johnson still didn't feel completely like himself physically or mentally. But he knew he had to play if he wanted to get to the NFL. Retiring, he says, was never really an option if he wanted to help his family, even when it was suggested by OU's medical staff.
Then the Parris Campbell collision happened against Ohio State in 2017. Johnson remembers the play vividly.
Ohio State had a third and goal on the Oklahoma 12-yard line with 11:54 to go in the second quarter. Ohio State quarterback J.T. Barrett dropped back and fired across the middle to Campbell. Johnson read the play perfectly and darted toward Campbell, slamming head-first into Campbell's hip at the five-yard line.
Moments after keeping the Buckeyes out of the end zone, Johnson forgot everything, instantly reaching for his head after the play.
"I remember getting back to the sidelines and it felt like I literally got dropped out of a plane," Johnson says. "I couldn't remember anything. I didn't even know who I was. I didn't know how I was at this university. I couldn't remember how to play football… It was like I had no brain. I started crying because I thought I was going to be stuck like that.
"That's when I really started thinking about the future. I was scared for my life. I thought I was going to die in my sleep."
Johnson's unwillingness to give up the game despite his numerous concussions is considered one of the most dangerous things a player can do.
"Typically, patients who recover fully from each concussion before getting the next one do much better long-term. Patients that get one concussion, then another, then another before healing from each of them are more at risk for long-term consequences...," says Alexandra Stillman, the director of concussion, traumatic brain injury and neurorehabilitation at Beth Israel Deaconess Medical Center in Boston. "It is less each individual concussion that is the issue, it's more the lifetime accumulation of concussions and sub-concussive blows that puts patients at risk."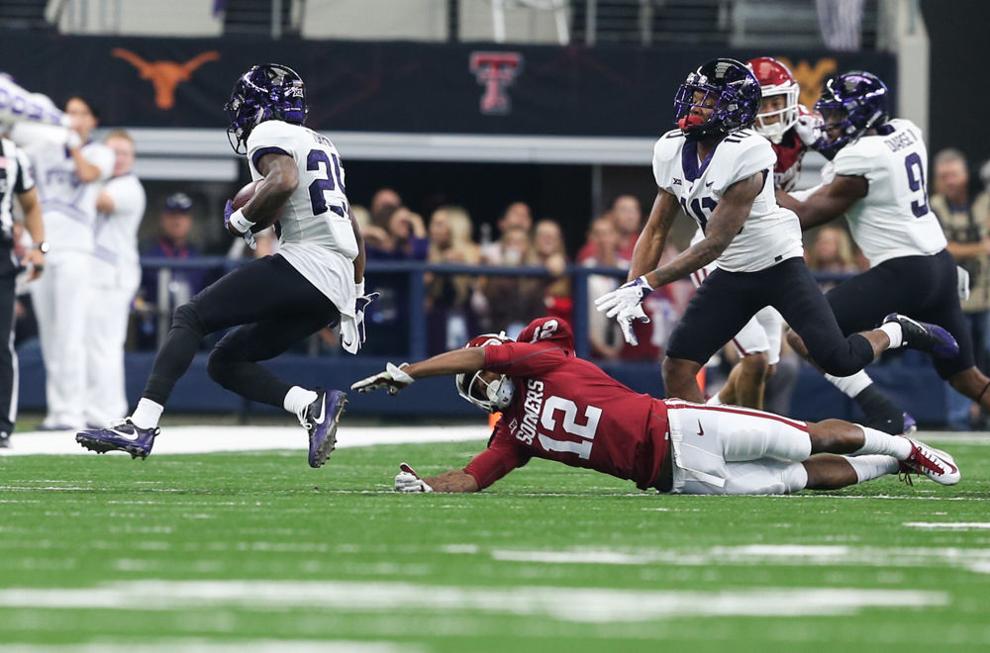 Still, as the season progressed, Johnson chose to play, returning two games later against Iowa State. He still felt he had no other option, as he didn't want to let his family or teammates down. But this time, he re-tooled himself.
Off the field, he started keeping a diary. Every day he wrote down his symptoms and ranked his pain on a scale of 1 to 10. He was afraid he'd forget important things about his life, so he made a point to write in his diary every day. He still does.
On the field, he played smarter. He spent hours in the film room, trying to figure out ways to position himself to impact the game without having to make a big tackle unless he had no other choice. He also switched to a heavier helmet, which he says was a difficult adjustment, but a safer one.
It paid off. He made some of the biggest plays of Oklahoma's 2017 season down the stretch. In Bedlam, he jumped a slant route and picked off Oklahoma State's Mason Rudolph, helping seal one of OU's biggest wins of the season. In the Big 12 Championship, he read TCU's Kenny Hill perfectly and intercepted a pass late in the game to secure the conference title.
Looking back, Johnson doesn't regret playing football. He regrets how he played football.
"I should have been smarter. I should have educated myself," Johnson says. "I should have sat out when I was hurt. I put too much pressure on myself to play."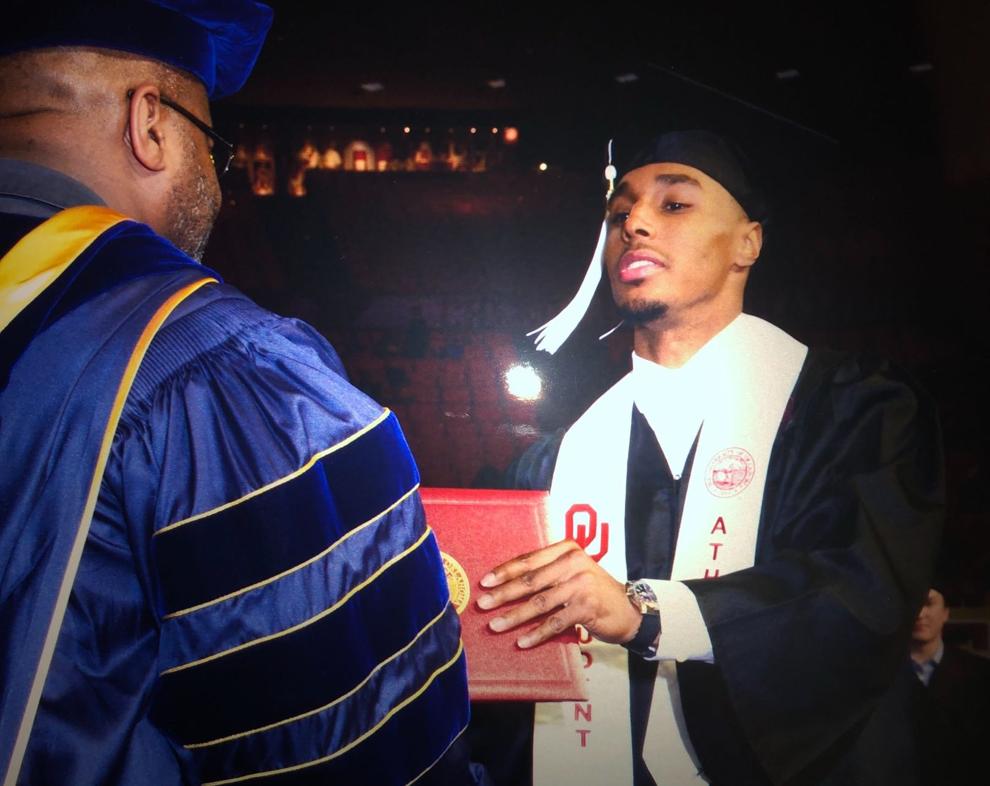 Johnson finished his senior year and signed with the New York Jets as an undrafted free agent, but was cut before the season started. He graduated in 2018 with a degree in communications and a minor in business administration, and hopes to soon become a football coach. For now, Johnson is back home in Baltimore looking for any work he can find to help pay for his eventual pursuit of graduate school.
He no longer suffers any symptoms from his concussions. At 24, he feels the healthiest he's ever been. In hindsight, he sees things differently.
"I felt like I was different than most guys," Johnson says. "A lot of guys had advantages outside of the game. They didn't need the game as much as I did. They didn't have to risk everything for football.
"I thought I did."
***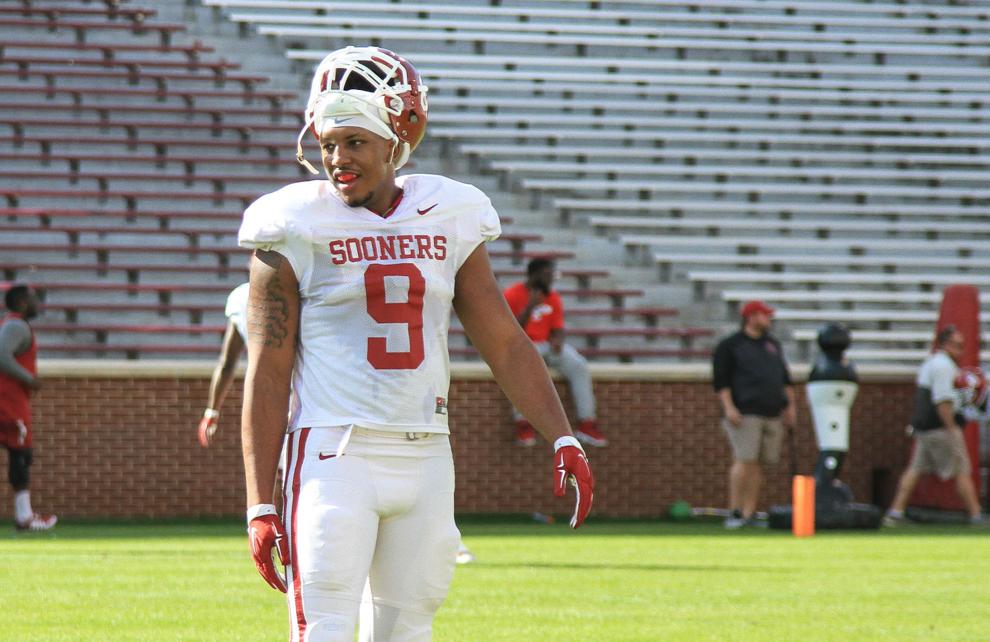 Evans suffered his first concussion as a true freshman playing scout team. He collided head-to-head during practice with Aaron Ripkowski, a future NFL fullback, who weighed about 20 pounds more than Evans at the time.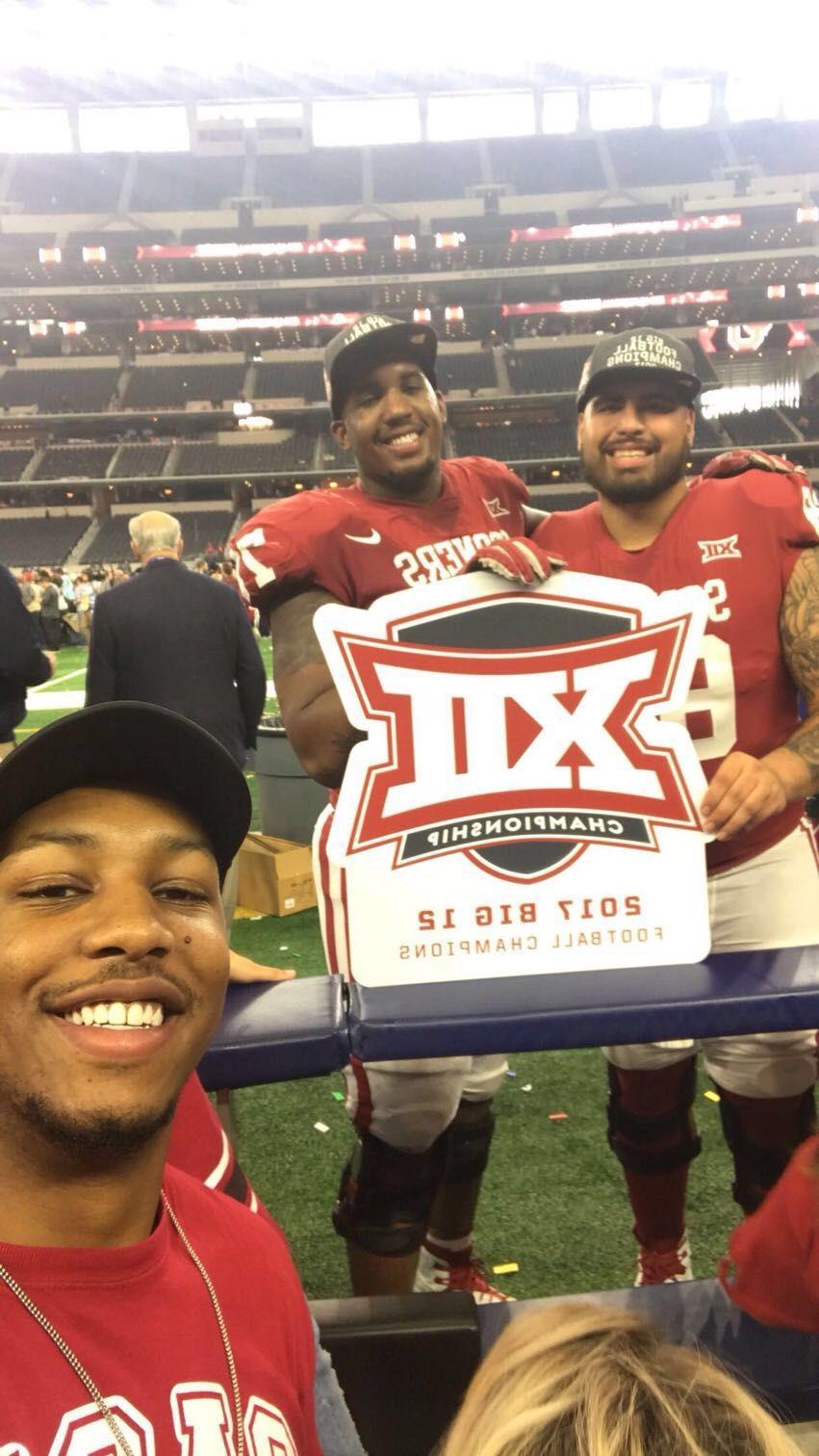 Evans would be diagnosed with three more concussions over his three-year career at Oklahoma. The second came on a kickoff against Kansas in 2015, the third during fall camp in 2016 and the last against Ohio State in Norman.
It was after his third concussion that retirement first entered Evans' mind. After his fourth, Evans knew he had to make a difficult decision.
In the week following the Ohio State game, Evans waffled. He grew frustrated with the concussion tests as he battled headaches and inability to focus. Like Johnson, he felt a pressure to continue to play.
But Evans' situation was different. His parents wanted him to retire, he says, no matter how hard that may have been for their son.
"As a dad, a parent, we want them to be the best at everything they do. And I never wanted to put a lot of pressure on my kids," says Evans' father, Bobby Evans Sr. "I told him, 'Don't feel like you have to take care of mom and dad. We'll be fine. Just take care of yourself.' It was more like we wanted him to graduate and pursue trying to get his master's."
OU officially announced Evans' retirement five days before OU-Texas and 16 days after the Ohio State game.
Bob Stoops announces that linebacker Tay Evans' career is over due to concussions.

— Oklahoma Football (@OU_Football) October 3, 2016
Thank you. pic.twitter.com/HeytBBblLN

— Tay Evans (@tayvns96) October 3, 2016
"My parents didn't want me to keep playing because they knew how serious concussions were," Evans says. "They wanted me to stop before I suffered anymore. That reassurance from my parents of them saying, 'We'd much rather have you healthy' was what I needed."
Growing up, Evans was a standout athlete alongside his younger brother, Bobby Evans Jr. His first love was basketball, but there was something Evans loved about football that basketball didn't offer.
"I loved the physicality of it," Evans says. "I loved hitting people."
Evans had a promising career ahead of him. He was a three-star linebacker out of Allen (Texas) High School and was likely going to be the Sooners' starting weakside linebacker for the next two or three years before the injuries. He had the talent to be an NFL draft pick one day.
Instead, this April, he watched his brother be selected by the Los Angeles Rams in the fourth round of the NFL Draft, something both of them have dreamed of since they were kids.
"It's not hard for me at all. I'm so happy for my brother," Evans says. "If I couldn't do it, I'm glad my brother can."
 Since his retirement, Evans has graduated with a degree in human resources, completed two internships, studied in the UK and now is pursuing his masters.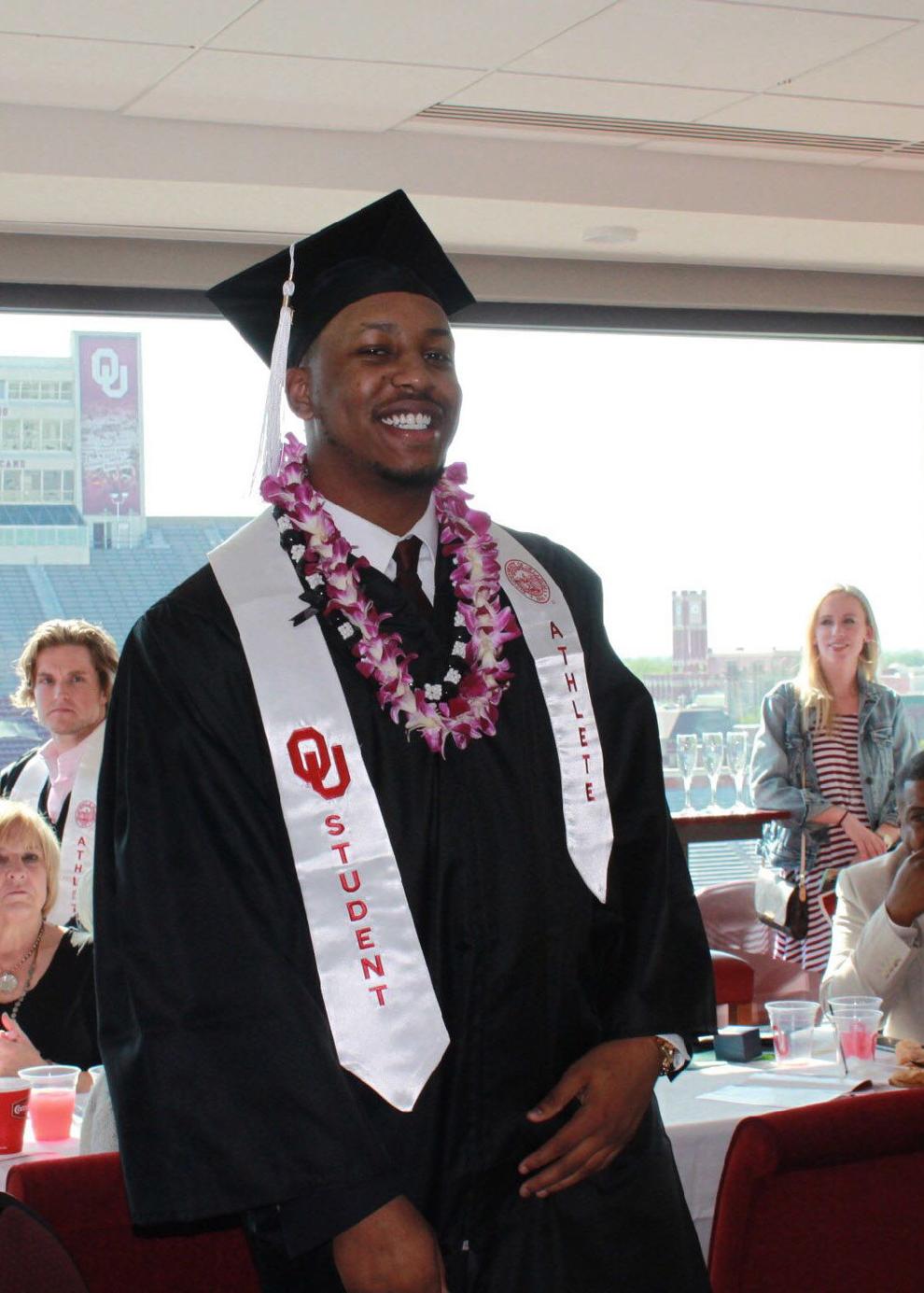 He's found life after football.
His view of the game hasn't changed. He loves it and always will. He's thankful for his decision and knows maybe 30 years ago he wouldn't have been so lucky.
"I think if those guys back then," he says reflecting on football's past and present, "had that same technology, they would have made the same decision I did."
But before this level of acceptance, the months following his retirement were the hardest of Evans' life. He became depressed and struggled to find a passion outside of football. Bobby Sr. remembers the many phone calls he'd have with Evans that season as he watched from afar.
"What kind of man do you want to be in life?" Bobby Sr. would ask his son.
"I feel like I quit," his son would reply.
"No, you didn't quit. You had to quit. Your health is more important than the game of football. Now you have to play the game of life. And you can't quit on life."
Chapter 1: Rickey Dixon reflects on a Hall of Fame career that's killing him.
Chapter 3: Joe Castiglione, athletic director and father, peers into the future of football.