This three-part series, reported through personal narratives over five months, examines the ramifications of head injuries in college football and what it means for the future of the sport.
Chapter 1: Rickey Dixon reflects on a Hall of Fame career that's killing him
Chapter 2: Two Sooners injured in same game find different answers to central question
Chapter 3: Joe Castiglione, athletic director and father, peers into the future of football
---
CHAPTER 3
Joe Castiglione loves the game of football.
He played as a kid, and today oversees one of the nation's most prominent college football programs. Castiglione also knows the sport has its issues.
As the athletic director at OU for 21 years and as a father of a Sooner player for two, Castiglione understands the game has come a long way but still has a ways to go.
"One would have to be completely out of touch not to have some level of concern," Castiglione says about the future of the sport. "There are those that are inside and around the sport that really care about its future and are trying to be as proactive as possible in doing and seeking the kinds of opportunities to make it better and safer."
But did Castiglione's opinion of the game change when his son, Joe Castiglione Jr., suffered three concussions during his career, including one at OU?
"Although he is fine," Castiglione says, "you start having them more often, it makes you start to really think."
***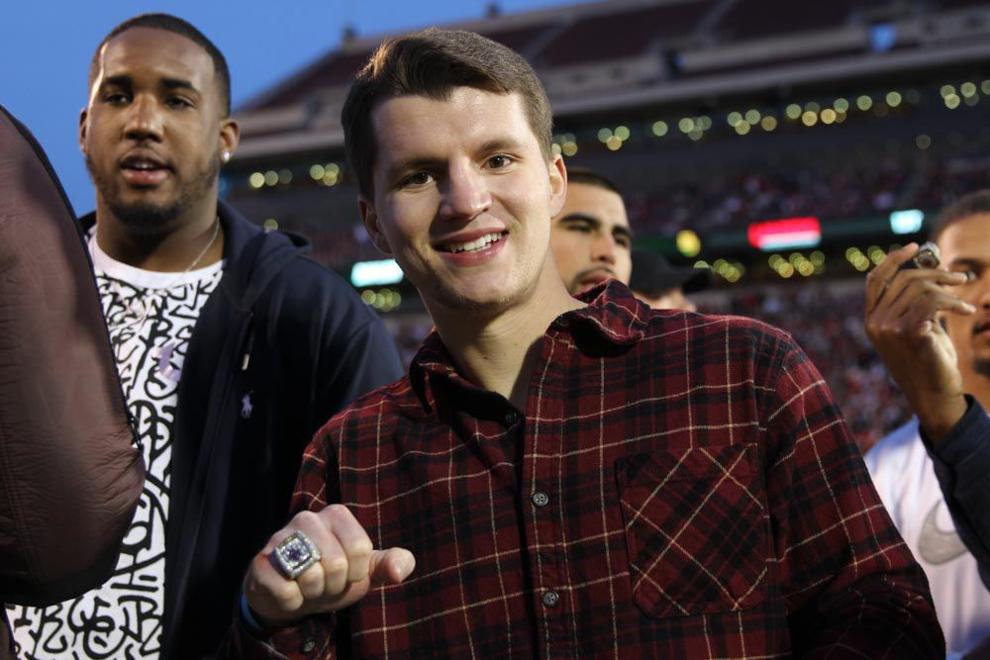 Joe Jr.'s first concussion came in sixth grade.
He was speared in the back of the head after a play. His parents took him to the hospital, where he was diagnosed with a mild concussion. Afterward, he suffered small headaches.
His second concussion came his junior year playing for Mount Saint Mary's High School in Oklahoma City.
Playing fullback, Joe Jr. collided head-to-head with a middle linebacker who outweighed him by at least 30 pounds. The impact left him confused and blurry, but he stayed in the game.
"I played through it, honestly," Joe Jr. says. "The next day I woke up, and my head really hurt, and I didn't remember the second half of the football game I played in."
He didn't play the only game remaining that season.
His senior year, he received offers to play football at multiple small schools. But Joe Jr.'s dream was to play at OU. Yet, the offer never came. So, he decided to attend OU as a student and give up the game he loved.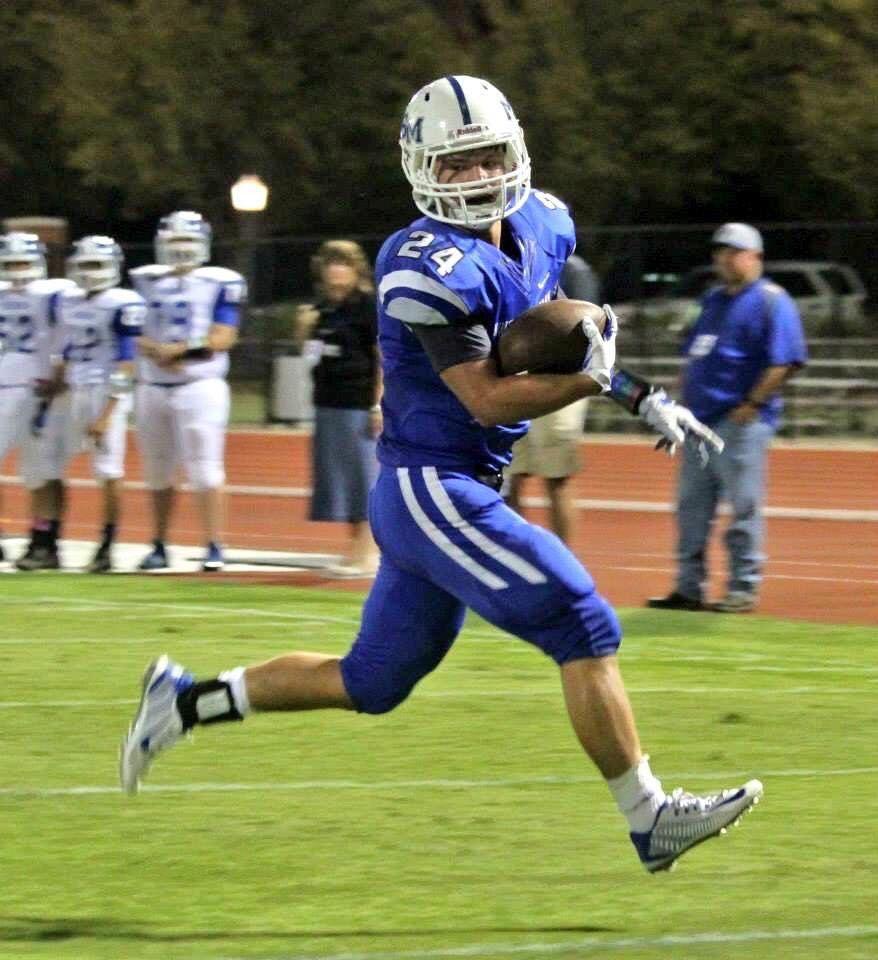 He spent his first two years at OU as a student manager for the Sooners, often holding play cards during games for Mike Stoops' defense. But then Joe Jr. decided to give his dream one more shot.
For a guy who was 5-foot-11, 170 pounds in high school, Joe Jr.'s plan to walk on to the team seemed far-fetched. But in spring 2017, after months of training and dieting, then-coach Bob Stoops gave Joe Jr. a roster spot as a running back/fullback.
That September, Joe Jr. fulfilled his goal of running out of the southeast tunnel of Oklahoma Memorial Stadium. That October, he suffered his third concussion.
Playing scout team, Joe Jr. took a handoff and cut outside when he slammed helmets with a defensive lineman who outweighed him by 100 pounds.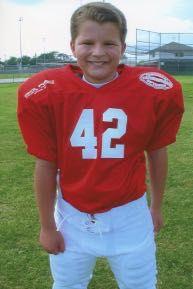 "I knew instantly. I saw stars and everything started to spin and I just kind of stumbled off away from the play," Joe Jr. says. "And then the trainer saw instantly — I guess they heard the helmet hit or something — and they came over instantly and pulled me from practice."
In the following days, Joe Jr. and his dad spent hours with OU's medical staff. Joe Jr. says his dad asked tense questions, like any parent would.
"He was worried and concerned," Joe Jr. says. "He would ask, 'Have you talked to the trainers and told them everything honestly?' I was like, 'Yes, of course.'"
Joe Jr. missed two and a half weeks of practice following the concussion. He says his symptoms were never as severe as Tay Evans' or Will Johnson's, and his symptoms didn't linger past the first two weeks.
That's why retiring never really entered Joe Jr.'s head.
"Maybe if I had another, that would have really made me think in a different manner," Joe Jr. said. "But because I had three, which is a lot, and being around some people that doesn't even sound like a lot, people like Tay who have had a lot more ... But because mine are so spaced out, I wasn't too worried.
"It was an instant 'no' for me."
***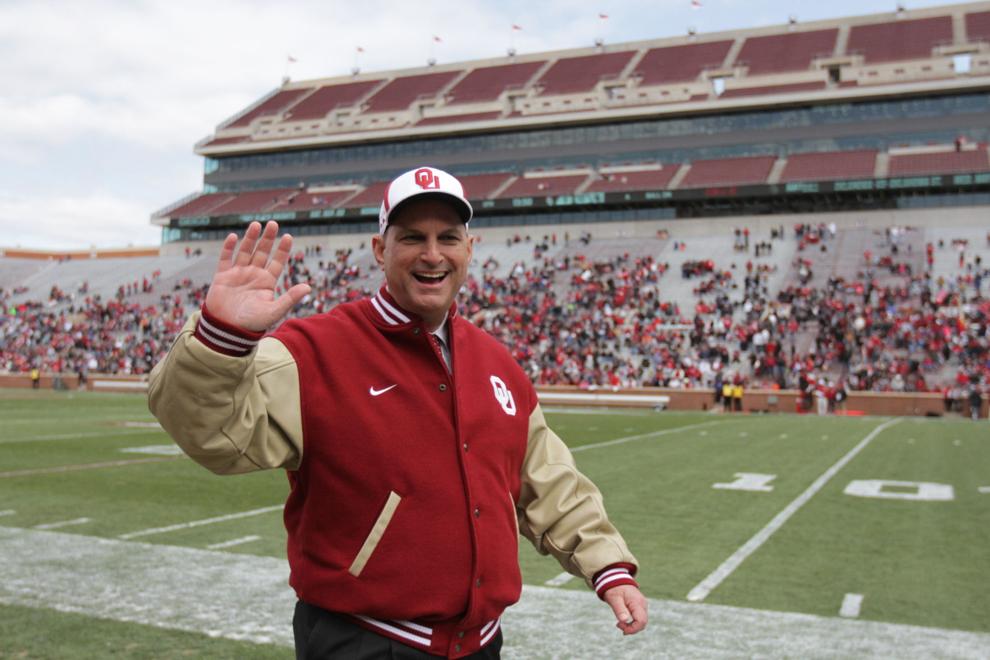 Castiglione suffered his own concussion when he was in high school.
Playing safety at St. Thomas Aquinas High School in Fort Lauderdale, Florida, Castiglione doesn't remember exactly when in the 1980s it happened and says it was never diagnosed, but he wasn't surprised it happened.
"If I showed you my helmet that I played with and the helmet now, you'd look at me like, 'Are you kidding? You put this on your head?'" Castiglione says. "I'm joking when I say this, but I guess it was a significant improvement from the leather helmet."
Castiglione's one concussion and his son's three have given him a rare perspective on football as an administrator, parent and fan.
Castiglione views football as one of the top revenue-generating programs not only at OU, but also in Oklahoma. He also sees it as a game he purely enjoys watching, especially when his program is one of the best in the country. He has also seen its dangers, which he believes the sport is working to minimize.
"Is it perfect? Absolutely not. But it's at least continually moving in the right direction," Castiglione says. "And when there's movement, there's also data research and better science to help us make the right and most effective decisions."
Oklahoma has had at least four players retire due to injuries over the last three seasons: Offensive lineman Jonathan Alvarez in 2018, Evans, running back Daniel Brooks and offensive lineman Jamal Danley in 2016.
Team physician Brock Schnebel says each case is different, but after a player's first concussion is always when he starts mentioning the consequences and the possibility of retiring. It's never an easy conversation, but he's also had to make the decision for players, which is one of the most difficult parts of his job.
"They always want to keep playing," Schnebel said. "It's not just the severity of concussions. It's not just how many concussions. It's not just the player position. It's many things … We don't know how many is too many. Nobody knows how many concussions a brain can take."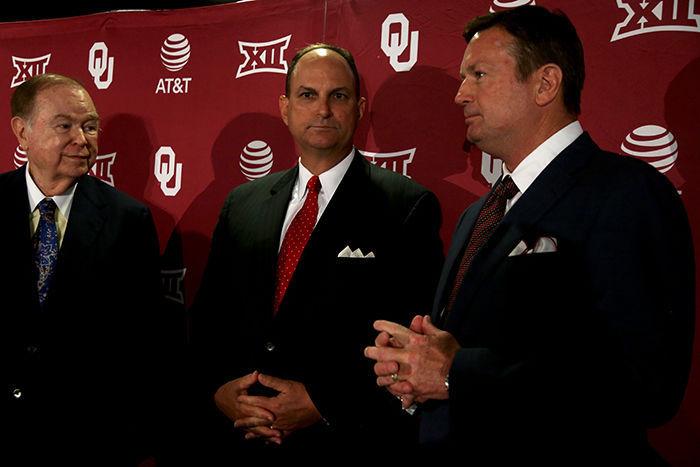 When Joe Jr. suffered his concussion in 2017, his father got to see up close the process of diagnosing a concussion and discussing recovery time. While his was not as severe as some players', Joe Jr. believes his dad took away a ton from that situation.
"I think him being the athletic director, he knows that everybody on the team works so hard, no matter if you're starting or fifth-string. And so maybe my dad just gained a perspective of the challenges behind the scenes," Joe Jr. says. "I think he probably just has a greater appreciation for the sport and all that goes into it."
Oklahoma's concussion protocol focuses on two main areas. First, ensuring that players, coaches and other personnel understand that safety comes before everything else. Second, is the process of what happens before and after a concussion.
"The most difficult part is recognizing a concussion has occurred and the rigorous protocol that ensues," Schnebel says. "Most people focus on the event and don't realize all the evaluation that goes in before and after."
Castiglione says it's important OU continues to be at the front of an always-changing sport. He attends conferences to learn about the impact of the game on a player's body and studies being conducted to better protect players. Schnebel, along with OU's head athletic trainer Scott Anderson, are often a part of those discussions and research.
"There is always a constant effort to improve the safety of the game, but the biggest issue is there is still contact," says Schnebel, who is also a orthopedic surgeon in Oklahoma City. "We're trying to change the shoulder pads, helmets, rules, practices to lower the total number of impacts these kids take."
Castiglione wants Oklahoma to not only be a part of the discussions of improving the game, but also sometimes lead them.
"This is a massive conversation. Everything from the biological side to the technique side and the equipment side," Castiglione says. "We have to have every element work together, even the game itself and how we can keep it. "
***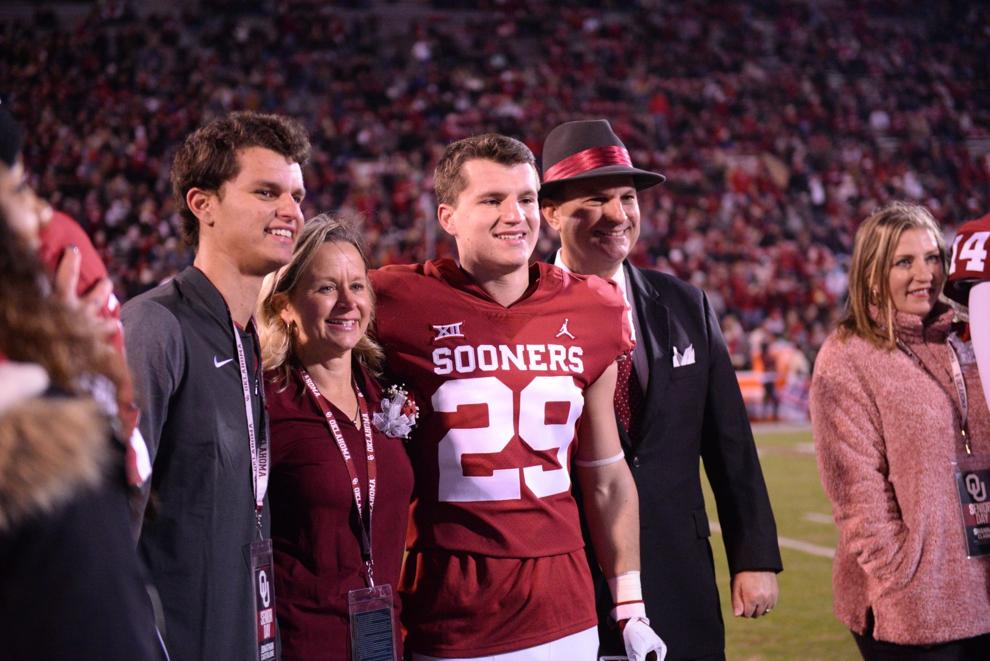 Joe Jr. switched to the Schutt F7 helmet his senior year. It's considered one of the safest helmets in football.
"That thing was like a pillow," he says.
But the Schutt couldn't keep Joe Jr. from tearing his labrum during 2018 fall camp. The injury sidelined him most of the season, leaving him a final year of eligibility and a decision to make: Play one more year or walk away.
Joe Jr. chose the latter. He was ready to be done, not because of the injuries, but because he knew it was time.
"It's kind of ironic, but it wasn't because of the concussions," Joe Jr. says. "I just was excited for more opportunities."
Joe Jr. will graduate this weekend with a degree in sports management and intern this summer with CBS Sports. He's not sure what he'll do after that, but he hasn't ruled out following in his father's footsteps as an athletic administrator.
As for Castiglione, he looks forward to another season of football and others far beyond, as he continues to schedule marquee games for the Sooners against Georgia in 2023 and 2031, Alabama in 2032 and 2033, and Clemson in 2035 and 2036.
He is confident football will continue to make strides to ensure the game is still around in 2036.
"I think, honestly, I'm trying not to envision a world without football," Castiglione says. "Partly because I played it. I love it and I think it's been terrific. Does it have its challenges like any other area in our current lifetimes? Yes. But you have people that are intense about trying to look at and address those issues and try to find the right, like I said, the right equipment, rules of the game, whatever it might be, to make it a sport that people continue to follow."
For the Castiglione family, and many others, football is more than just a sport. It's something that brings people together like little else does.
"Playing college football gave me the belief that so many people put so much effort for one single game to be put on," Joe Jr. says. "Football provides so much opportunity to people. Yeah, it's a lot of fun on the field, but the real fun is all the stuff off it."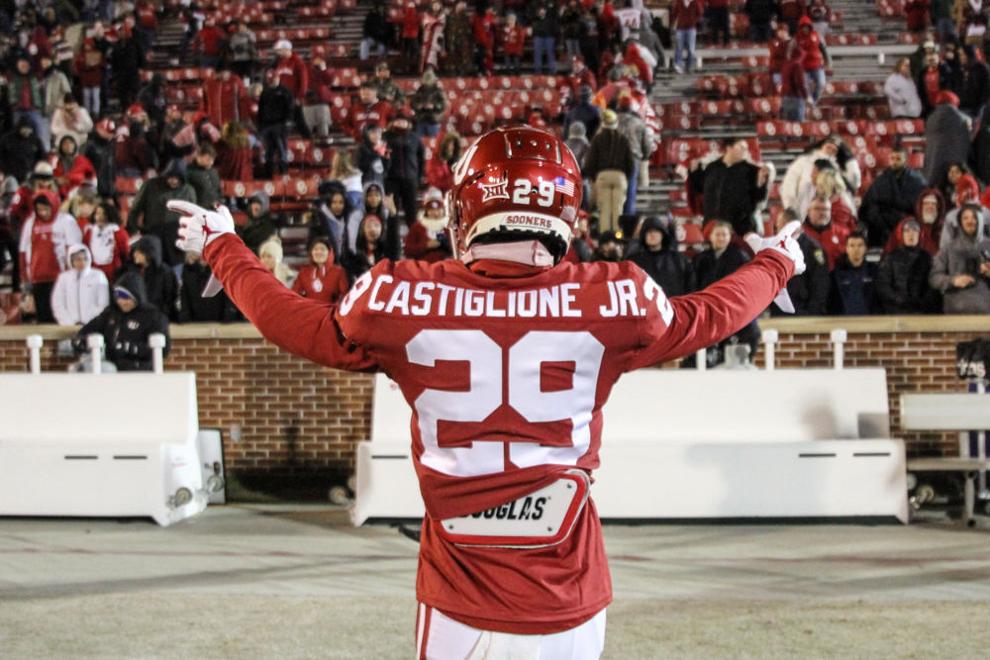 ---
EPILOGUE
My dad played with Rickey Dixon. It was for only a year, but he remembers what was.
He remembers the way Rickey played so violently, viciously and passionately. He loved how Rickey played with such fearlessness. He also remembers Rickey the person, an easy-going kid who loved to pull pranks.
He also remembers a man who would do anything for his team, no matter the cost.
So when I asked my dad if he thought what Rickey did — playing through the ravages of football to ultimately provide for his family — was worth it, my dad gave a simple answer: Of course. He said he would have done the same for our family, had he felt it was necessary.
My family loves football. My dad played in college, my cousin played in college and my brother hopes to play in college. I was always more of a basketball player, quitting football my sophomore year of high school. But some of my fondest memories are of going to OU football games as a kid. As a fan then, and a reporter now, I haven't missed a home game since 2004.
Football is and always will be special to me and my family. But I'd be lying if I said I wasn't worried for its future.
I often used dismiss stories about the dangers of playing. Never did I think I would write more than 6,000 words about it. But as I visited Rickey, heard the stories of Will and Tay and listened to Joe talk about his son, I couldn't help but think of my brother.
He's one of the smartest people I know. Academically, he could go to just about any school he wants. He doesn't need football. But he loves the game and nothing will ever change that. He understands the consequences and knows the risks.
So did Will, Tay and Joe Jr. Rickey didn't.
That's what I hope you take away from this story. This isn't an attack on the game. Instead, I want people to think beyond the passion and pageantry, the roars and rivalry, and attempt to answer a question the magnitude of which we didn't fully grasp 30 years ago: Is it worth it?
There's no right or wrong answer. For some, it is. For others, it's not.
No one can answer but you.
Chapter 1: Rickey Dixon reflects on a Hall of Fame career that's killing him.
In Chapter 2: Two Sooners injured in same game find different answers to central question.