One of Jody Farmer's most vivid memories growing up was playing "Sonic the Hedgehog" with her brother on his Sega Genesis. 
Since the 1980s, young girls almost always played video games on their brothers' Nintendo Entertainment Systems, said Chris Bingham, an OU history of gaming professor, although the media didn't always portray this reality.
He said girls who weren't playing video games probably didn't have a brother who owned a console, and parents typically weren't buying Nintendos for their daughters.
Now, Farmer, the assistant director of Intercollegiate Esports at OU and an art and technology junior, coaches a professional esports team in an all-women "Call of Duty" league, after creating OU's first "Call of Duty" team. 
Women like Farmer make up 45 percent of female gamers in the United States despite the belief that gaming is a male-dominated space. 
'Young women are playing video games'
When video game consoles were first sold, it was more socially acceptable for a boy to own one rather than a girl, Bingham said. Technology was associated with a male interest, he said. 
Children as young as 6 develop ideas that boys are more interested in computer science and engineering than girls, according to a study from the University of Houston and the University of Washington published in November 2021. Researchers found that 51 percent believe girls are less interested in the fields than boys.
"There was this assumption that, 'Who's going to grow up to program computers?' It's going to be the little boys, not the little girls, because of our gender assumptions about who goes out and works, who innovates, who invents, versus who doesn't do that and takes care of the kids," Bingham said.
But for Farmer, gender assumptions weren't a concern, especially in her adulthood. 
Before going to OU, Farmer served in the Navy in 1999 and transferred to the Army in 2005. During basic training, Farmer said the recruits were taught a team mentality. However, despite wearing the same uniform as everyone else, she faced gender-based harassment, especially after becoming pregnant. 
"I literally had guys in my squadron who were rude enough to ask me for milk for their coffee," Farmer said. "When I was pregnant, they were telling me I'm getting pregnant on purpose to get out of doing my job."
The harassment, Farmer said, contributed to her ability to overcome adversity and coach in competitive gaming. 
In the military, Farmer ruptured her back, requiring titanium to be inserted into her spine. During the height of the COVID-19 pandemic, Farmer found a community within a Discord server associated with the Wounded Warrior Project dedicated to gaming and allowed veterans to connect online. 
She played in different tournaments, including competitions based on her favorite "Call of Duty" game mode, "Search and Destroy."
For Farmer, the opportunity to compete with other veterans via gaming improved her mental health, especially after her back injury. 
"People see the injury first and not the person," Farmer said. "In the virtual world, we don't have that issue."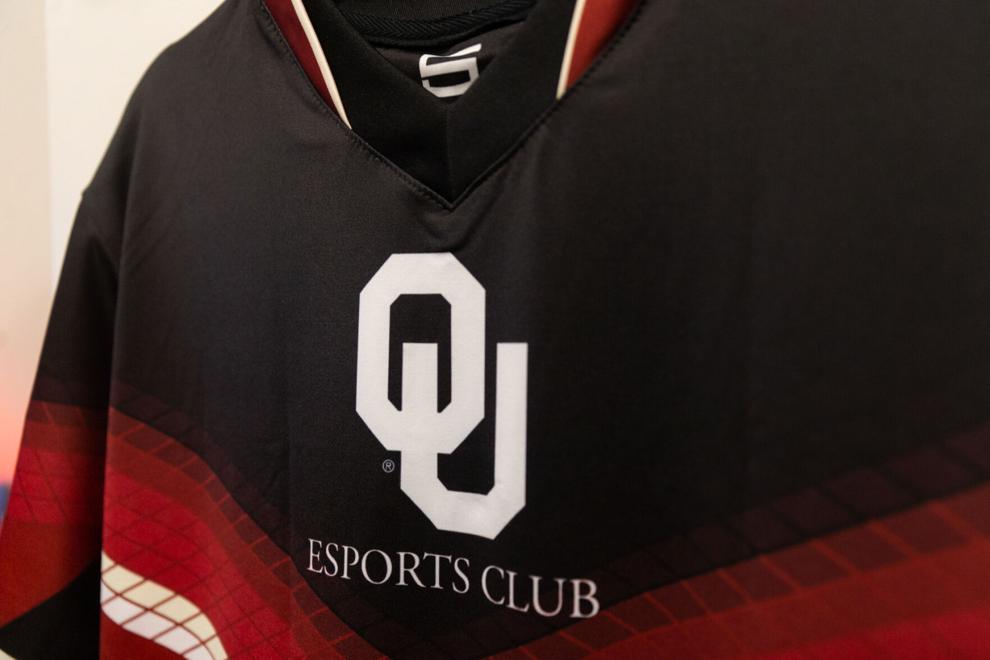 Farmer said gaming allows her and other veterans to be tactical by thinking on their feet, using strategic ideas, leading and teaching a squad, and improving in a given game mode. 
At the time, Farmer met a gamer online who strategically broke down each map and tactics on "Search and Destroy." This helped Farmer gain a better understanding of the game and become an effective coach. 
When Farmer began attending OU in 2020, she brought her talents to OU Esports. Mike Aguilar, the director of OU Esports, discovered Farmer's involvement in the Wounded Warrior Project and asked her to create and lead a "Call of Duty" team for OU Esports. 
Four percent of collegiate esports coaches and 8.2 percent of collegiate esports players are women, according to a 2019 report.
The OU Esports "Call of Duty" team's first tournament in fall 2020 ended in a forfeit by one of their opponents because the team didn't arrive on time, Farmer said. She said the forfeiting team found her and targeted her on social media and in her Twitch stream after the tournament. 
"They (commented) all sorts of really hurtful things just because they thought it would get a rise out of me," Farmer said. "They thought if they attacked the fact that I'm a female that it would make me have a certain reaction, and I wouldn't give them that satisfaction." 
Farmer said OU Esports leadership backed her during the incident, which led to increased trust in the organization and respect from her team. 
"That whole issue gave me the courage to keep going and keep fighting and make changes," Farmer said. "It put some steel in my spine and made me want to continue going forward and change things and not necessarily let people continue how things have always been done."
Fear of public matches and harassment 
Kate Furney, OU Esports influencer development director and creative media production junior, said her interest in gaming was formed in high school by the single-player, story-based game "Mass Effect."
Now, she plays games like "Overwatch," "The Sims" and "Minecraft," which she enjoys streaming on Twitch. 
"So far, (all my viewers) have been pretty nice. The first time I got a donation, I literally cried," Furney said. "Somebody liked my content enough that they were willing to give me money."
Her love for streaming is sometimes met with personal concerns for her safety as a woman, she said. Furney said she's scared of viewers doxxing her just for being a woman.
When she plays in public matches on "Overwatch," Furney said she typically avoids using voice chat due to fear of gender-based harassment. Furney said she thinks she'd also be a better player if she could use voice chat because coordinating with her teammates would be easier.
Farmer said she avoids public matches entirely.
"They'll literally try and chat with me and say the most derogatory things," Farmer said. "Being behind a screen and controller gives you a right to just be an ugly person?"
In a recent study, 76 percent of female gamers said they disguise their gender when playing publicly, and 93 percent of those said it was because they've previously experienced sexual harassment online. 
The perception that gaming is a male-centric sphere contributes to this harassment, Bingham said. 
He said there are also people attempting to keep women out of gaming to maintain the notion that gaming is a masculine activity, which could explain online harassment. Certain people use online gaming to say things they'd typically face consequences for in real life, Bingham said. 
Most video games offer resources to mute, block and report online gamers. The company that developed "Call of Duty" and "Overwatch," Activision Blizzard, faced a lawsuit in 2021 by California's Department of Fair Employment and Housing alleging the company fosters a "breeding ground for harassment and discrimination against women."
"People stand up and say, 'It's not okay,'" Farmer said. "Having people show their support, I think, is very important to see. (It's important) people understand that women should have rights."
Farmer and Furney are two of the three female student leaders in OU Esports. The third, Kristine Nguyen, described finding a sense of belonging in OU Esports. 
The biochemistry senior became the organization's marketing director in January and said she was always interested in technology. As a child, computers were frequently in her house due to her dad's career as an engineer. She'd unplug all of the chords from a computer, then replug everything back in from memory.
As an adult, her interest in electronics translated into mostly casual games like "Minecraft," but sometimes, she plays more competitive games like "Valorant." 
She joined OU Esports in January and remembers feeling intimidated and shy but was quickly welcomed and accepted by the organization's members.
"I was just … being a silly, little, goofy person," Nguyen said. "I tried to act that way with all of the other competitive players. … Everyone should be not as serious." 
She said the time she spent with her father during her childhood helped her disregard the fact that she's a woman in seemingly male-dominated fields, especially as she pursues a career in orthopedics. 
"I've been kind of bouncing back and forth between being pre-med and gaming," Nguyen said. "I think both helped me develop a tougher skin when it comes to criticism because of my gender." 
Moving forward
Farmer isn't sure what she wants to do after she earns her degree, but she envisions a career involving veterans, gaming or both. 
For now, she looks forward to her professional esports team, Team Effect, to begin competing in 2023. 
She's also looking forward to moderating esports competitions in the Invictus Games in 2024, which is an Olympic-style competition for injured and sick servicemen and women. 
Furney said she's always wanted to be a producer, and with her involvement with esports, a career in that field doesn't seem impossible. 
Farmer said she hopes to inspire other female gamers to step out of their comfort zones. 
"We need to make those mentors and make those people for these girls to look up to so there's a good split in the competitive side between men and women," Farmer said. "For now, that's us paving our own way to show them that they can't stop us."