The Student Government Association Undergraduate Student Congress unanimously passed two bills appointing an election commissioner and allocating SGA funds to various OU organizations in its meeting Tuesday evening.
Chair Lauren Patton presented the appropriations bill on behalf of the SGA Budget Committee. According to the meeting's agenda, this act will dedicate money from the SGA reserve to several OU organizations for varied programs, events and activities for the 2021-22 fiscal year.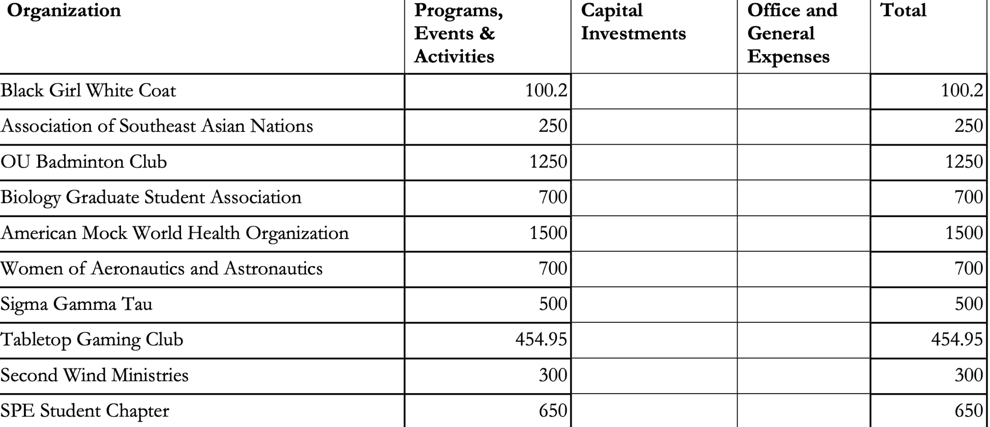 Patton explained the bill appropriates money based on the amount an organization applied for or its fiscal history. She said SGA typically allocates between $500 and $700. 
"That's a number that doesn't put (SGA) out too much money if (the organizations) decide to not spend any of it," Patton said. "But it's enough money to sustain an organization for either a large whole event or for general body meetings throughout the year."
SGA President Tavana Farzaneh presented a bill appointing Isaac Kabrick as election commissioner due to his previous experience.
The election commissioner ensures that elections run as efficiently as possible by following the Code Annotated rules, according to Representative Abby Halsey-Kraus.
"Isaac has so much experience with the election commission, which is incredibly important," Farzaneh said during the meeting, "and I sincerely believe in his ability to serve as the Election Commissioner."
Kabrick said he's "excited to join" SGA and ensure their elections run smoothly. 
"This is the place I like to be in SGA — the judiciary," Kabrick said. "I think it works to support the missions of the executive and the legislative (branches) in a really special way and making sure that they can be effective in their job."