When professor emeritus George Henderson looked out at the sea of students gathering in the early morning hours after the Sigma Alpha Epsilon fraternity scandal rocked campus, he looked for other faculty members in the crowd.
He didn't see any.
"Supposedly we're the continuity here," Henderson, who has spent nearly 50 of his 85 years teaching human relations at OU, said. "We're the thread that holds from one class to another class together."
But it has always been the students who champion change where they learn.
Henderson had his turn, he said, as a leader during the civil rights movement at OU. Now, he's assumed the role of storyteller, imploring students to take up the next steps of the movement.
And they have. When racism rears its ugly head, students stand up and stand together. They fight against sexism and rape culture. They fight for their land. They fight for clean water. They fight to be heard. They fight for acceptance. They fight, and they fight, and they fight.
They are where change begins.
"The civil rights movement really gained traction with the sit-ins of the college students," Henderson said. "The marches didn't have the same effect, but when the college students decided to sit in and ride the buses to protest the discrimination — those were the fires that fanned the accomplishments. So now we have students who said, 'Our time has come again.'"
* * *
Activism in the public eye
Chelsea Davis sprang into the spotlight in March 2015, when eyes all around the country were on OU, watching a community grapple with the aftermath of fraternity members singing a racist chant on a bus.
Without a moment to process the hate making itself known on campus, Davis and other members of Unheard appeared on TV screens around the world for interview after interview.
"A lot of times reporters wouldn't take no for an answer," the health and exercise science senior said. "They would bend over backwards to make accommodations, whether that meant providing travel for us to go to the city or waiting to talk to us until midnight because we had so much other stuff to do — while we're still in school, while we're still trying to work and go about our daily lives."
A few months earlier, she and a group of friends organized a black student alliance. They called it Unheard. They made a list of grievances, detailing ways OU needed to improve for its black students. They followed in the footsteps of OU's Afro-American Student Union of the 70s, whose Black Declaration of Independence inspired some of Unheard's grievances. They sparked important discussion on campus that hadn't been happening for a long time.
When the SAE incident happened, Unheard had to make a quick transition from starting conversation about issues they faced to driving change.
"I think when we first started Unheard, the idea was, 'Let's talk about it because these conversations aren't happening.' Let's educate people. We can't be angry or frustrated with people who don't know these issues exist," Davis said. "After SAE, it was like, we've done enough talking. What are the next steps? And now, two years later, talk is cheap. If university administration isn't putting their money where their mouths are, it's nothing.
"We can talk all day, but if there's no action to support the issues we're talking about, we're wasting our breath and time."
At some point, Davis said, the work she was doing on campus stopped feeling like a choice — it became a higher responsibility.
"Especially after SAE, it didn't feel like a choice. If we didn't do it, who else was going to at that point? Nobody had stepped up to address these issues, so we knew — if not us, then who? If not now, then when?" she said. "We have to do this. Nobody else was going to. Nobody else is going to listen to us if we don't."
Davis has seen her organization's work drive change at the university — OU hired its first chief diversity officer, Jabar Shumate, and implemented mandatory diversity training the summer after Unheard began. While seeing tangible results of her activism are rewarding, Davis — and so many other student activists — is working toward a larger goal. Even when (especially when) they're faced with backlash from opponents of their movements.
"With anything in life, somebody's always going to have something to say about you and your beliefs," Davis said. "After a while, I just didn't care anymore. I still don't care. People say a lot of things, a lot of hurtful things, so after that, I just decided that it doesn't matter because what I'm doing is bigger than me. It's bigger than my emotions. It's about OU and our black community here and essentially our people as a nation."
* * *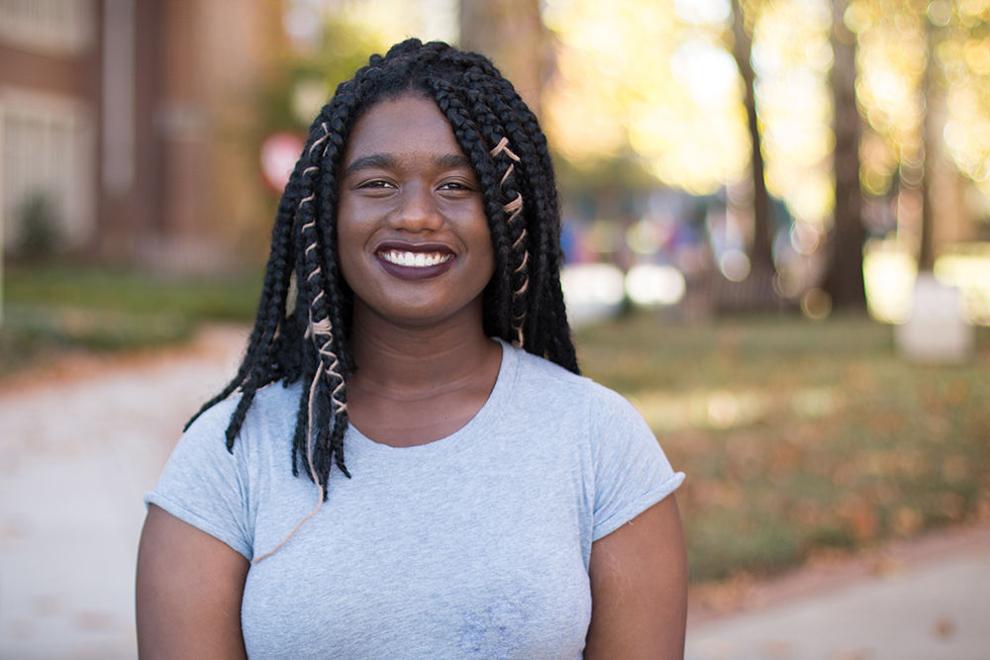 Getting comfortable with the idea of activism
Latrecia Breath is still coming to terms with calling herself an "activist."
"I never really considered myself to be a strong voice or a strong activist because it's taken a lot for me to even get out of that space of, 'I don't want to say anything because I know for a fact that I will be attacked,'" Breath, a creative media production senior, said.
Still, she knows she does important work in the community. She's part of a group of six women of color — Breath is black, and the group is made up of different races and ethnicities — who started a KXOU radio show this semester about social justice issues. They're the Revolutionary Baddies, and Mondays and Wednesdays from 3 to 4 p.m., they run OU's airwaves.
Even before their show began, they propelled the hashtag #yOUrbad, where students could voice experiences with discrimination, prejudice, harassment and bias. Coincidentally or not, OU unveiled its bias incident reporting hotline that same week.
Six days after Terence Crutcher was killed by Tulsa police on Sept. 16, the Revolutionary Baddies worked with numerous other campus groups and activists to hold a die-in in the Oklahoma Memorial Union.
In the days following the die-in — where dozens of OU students lay on the floor of the Union food court, and some students stood atop chairs to express grief and anger over police brutality and systemic racism — Breath needed some time to herself.
"After the die-in, I was like, 'I'm going to go away for a couple days. I'm cool, I just need time to go away and think about everything that just happened,'" Breath said. "Or, 'Hey, I need someone to talk to. Can you come through and talk to me about something?' It's wonderful to have that, and it's essential if you're going to go into the work of activism to have that community or to have anyone in your life who's like that for you."
Similarly, after SAE, Breath found herself needing to step away from social media. She spent hours of her time engaging with ignorance on Twitter, but it was beginning to wear on her mental health.
"You don't want to be always fighting, fighting these battles with people every single day. It gets old; it gets tired. You get into this mindset where you're like, 'I'm over here yelling, screaming at people why they're ignorant, and still, nothing is happening,'" Breath said. "You have to pick and choose your battles, and that's something I'm still figuring out."
Breath said she sometimes doubts the long-term payoff of her work in activism on campus, especially since she'll only be at OU for a semester or two more.
"You want to improve things for incoming freshmen who come from the same kind of place that you come from, or they're very much like you, or they remind you of yourself. You want them to be able to have a better time than you did," Breath said. "But there's that other side of me that's like, (after I leave) will it actually matter? Will I actually do anything? I'm not going to be here that long; is this really worth it? But I really do want people to come here and have a better experience than I had."
* * *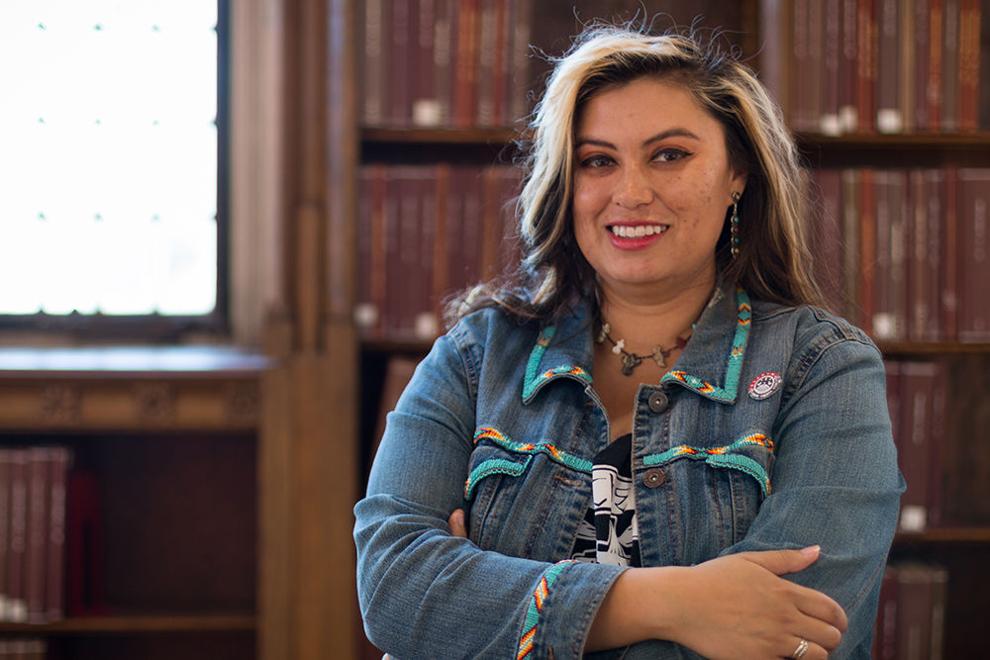 Activism of generations
Apollonia Piña's roots in activism go back to her earliest childhood years. Since she was young, her parents made it clear: She didn't have to stand for the Pledge of Allegiance (sometimes she would, sometimes she wouldn't).
And when they talked about Andrew Jackson in history class, she could stand up and tell her classmates what he did to her people: "You don't let them forget," her mother told her.
"They would send me to the office, and I'd get kicked out of class because of things that I said and things that I did," said Piña, a Muskogee Creek woman and senior pursuing a degree in cross-cultural epistemologies in science and math. "They'd call my mom thinking that she'd totally be on their side, and she's like, 'Don't you people have anything better to do? Send my daughter back to class.' She'd hang up on them."
Piña, who organized this year's Indigenous Peoples' Day celebration and worked toward its recognition on campus, is now 31 and preparing to have a baby in February. About to start a new chapter of life, she's entering a new phase in her activism.
In her teens and 20s, she and her friends just wanted to burn things down, she said. Their activism was angrier then, and they'd stay up late into the night talking politics and writing zines.
Her activism is different now — less about burning things down but more urgent.
"To be honest, it's calmed me down in some ways, but in other ways, it's reinvigorated me," she said. "Technically I'm a mom, and I don't want to say it's intensified my activism or me needing to make OU or just the climate better in Oklahoma for native people and indigenous people, but there's more sense of urgency for me to try to do things, even if it's just in my little microcosm community. This is where my kid's going to be."
At the same time, she's learning to delegate to younger activists, so progress on campus can continue after she's gone. She's also doing it for her mental health — community helps ease the burden activism places on a person, she said.
"There's a number of activists that I know who suffer from depression and anxiety, some may have drug or drinking problems, because you see that there's something wrong in the world, and you want to do something and be a voice for those who may not have a voice. You want to change something and be effective for good change, but when there just isn't enough of you, it takes a toll," Piña said. "Whenever you're in the minority and you're in a place like this, you get worn down. You get worn down fast."