The Student Government Association Undergraduate Student Congress met Tuesday evening to discuss creating a holiday for the OU-Texas football game and allocating funds to various student organizations.
After being moved back to committee at the previous SGA meeting, the Red River Holiday Act of 2021 passed unanimously. This act defines Oct. 8 as a student holiday, meaning classes will not be held on that day to allow students to travel safely to the game.
"Traditionally, we have introduced this legislation for the Texas holiday so that people can travel safely back and forth between here (and) Dallas. … We also just want to try and discourage impaired driving, as well," Chair Crispin South said.
The Auxiliary Allocation 1 Act of 2021-2022 also passed unanimously. This act distributed funds to 11 organizations on campus, totaling roughly $12,000. The Hispanic American Student Association received the most funds, with an allocation of $3,000.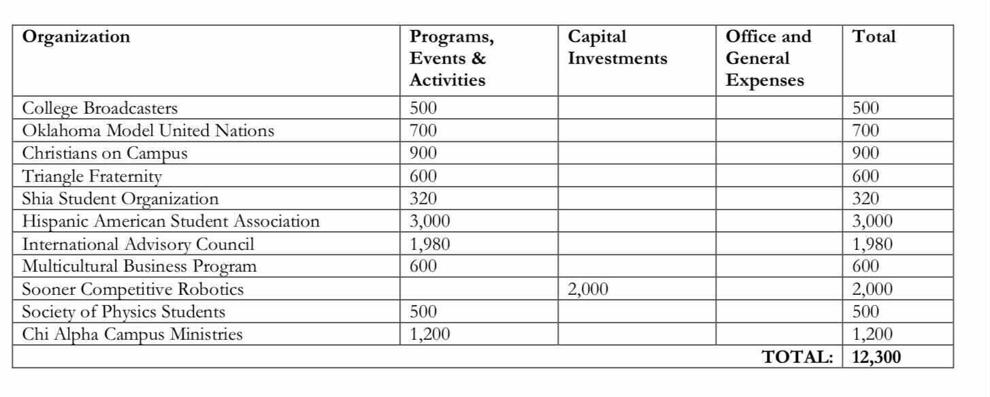 Ways and Means Committee Chair Lauren Patton said her committee usually uses around $150,000, but the funds are larger than normal following two years where COVID-19 limited campus activities. 
All of the bills passed by the Undergraduate Student Congress will go through the Graduate Student Senate before being sent to SGA President Tavana Farzaneh for her signature.
South announced that SGA is currently working on COVID-19 legislation, which could appear in a general meeting as soon as next week.
"The university absolutely has the ability to do more than what they're doing now," South said in an interview with The Daily following the meeting. "I believe it is imperative that they take strategic actions for the COVID spread on our campus. … I think it is imperative that the university take action on this and the state of Oklahoma allows the university to take action." 
South cited Senate Bill 658 and Gov. Kevin Stitt's Executive Order 2021-16 as the reasoning behind the withholding of action from the university's administration.
External Affairs Committee Chair Jayke Flaggert said a forum featuring Norman Mayor Breea Clark was set for Oct. 1, but it had to be pushed back due to scheduling conflicts. The forum will be held after the Oct. 9 OU-Texas game, and the official date will be determined.
Congressional Administration Committee Chair Foster Hillis said 55 interviews for new representatives and other positions in SGA will take place next week.