It's 11 a.m., and she can already feel her stomach grumbling.
Joelle Glimp, a social work and professional writing junior, has skipped breakfast. Again. As usual, her food for the day consists of either a small peanut butter sandwich or some pasta she made herself. Maybe she'll have dinner, but maybe she won't. It's gotten to the point where she can no longer finish a full meal.
Glimp fits in easily with other OU students — she is an inactive member in the Kappa Alpha Theta sorority and grew up in Edmond, Oklahoma — but what separates her is an invisible affliction she faces daily: hunger.
"I think people have made a mold for what people who are hungry look like, and I don't think people would think it would look like me," Glimp said.
Although she grew up in a traditionally affluent area, Glimp describes herself as being from a lower-middle class family. She's grown accustomed to living somewhere not befitting her socioeconomic status, she said. Rather than living in her sorority's house, Glimp lives with roommates in a house close to campus. She also struggles with rent.
"I've always been dealing with financial distress, especially with my bursar," Glimp said. "Sophomore year was definitely more difficult, especially because it was my first time having to pay rent ... Since then, monetarily, this year has been by far the worst and by far the hardest."
Her mother works 40 hours a week at a special needs facility, and her father works 80 hours a week doing self-employed production of mechanical equipment, she said. Both financially contribute to Glimp's education as best as they can.
"I think the hardest thing in a day is feeling guilt," Glimp said. "I don't want to worry my family, and I never want my family to feel like they didn't provide for me. I am eating in the sense that I'm not starving, but I'm definitely hungry."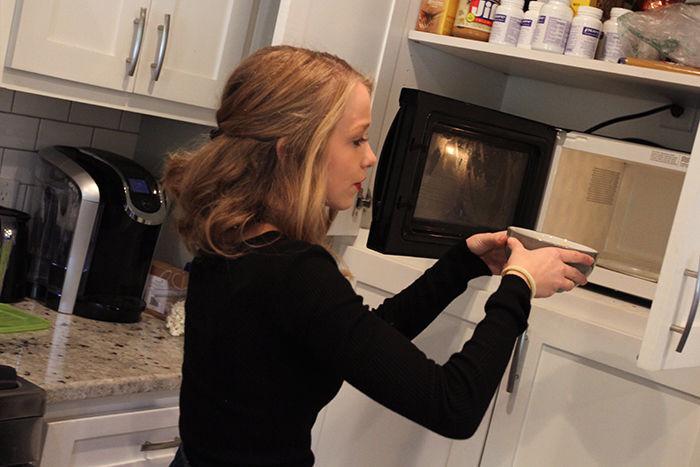 In the last several years, universities like the University of California, the City University of New York and California State University have researched the issue of food insecurity among college students. A 2014 Western Oregon University study found it is higher among college students than the general population.
"Hunger is very real and very raw," Glimp said. "It's down the South Oval, and hunger is in the Union sitting on a couch. Hunger is in our classrooms. You can't ever look at someone and assume you know what they're going through because hunger is in the whole entire college campus-climbing social ladder. Every single tier we've created, hunger is on it; people just don't really like to talk about it."
Since December 2015, the OU Student Government Association has worked with Housing and Food Services to create a food pantry on campus to aid hungry students. The pantry is supposed to open by January 2017, said Matt Marks, SGA's food pantry representative and an SGA presidential candidate.
"Seeing (the pantry) come to fruition is very humbling," SGA President Daniel Pae said. "Hopefully this can make a large difference in (students') lives and help alleviate some of that burden off of their shoulders."
The pantry was originally scheduled to open August 2016, but was delayed due to administrative and legal difficulties concerning how and when the food would be delivered, Pae said.
"This has been a long process, but it will really benefit this campus," Marks said.
The Regional Food Bank of Oklahoma will be the main food supplier for the pantry, which will be located at the corner of Elm Avenue and Elmwood Street and open to all students and faculty. The pantry is scheduled to open two days every other week and will be volunteer-run, but the hours and days have not yet been determined, Marks said.
"I know food insecurity is a big problem on this campus, but we want to help everybody," Marks said.
Students and others wishing to use the pantry will be asked a few questions about their food situation the first time they use the pantry, but there are no requirements to benefit from it, Marks said. They hope students do not take advantage of the pantry but trust everyone who uses it needs it, he said.
"We don't ever want to turn a student away," Marks said.
Oklahoma is one of the hungriest general populations in the nation, consistently ranking in the top five for the number of people who do not get enough to eat, according to the Community Food Bank of Eastern Oklahoma. April Heiple, executive director of Food and Shelter Inc. in Norman, said 22 percent of people in the Norman area are food insecure.
Hunger may result in students dropping classes. According to the 2016 report "Hunger on Campus" by the College and University Food Bank Alliance, 25 percent of food insecure students said they had to drop a class.
"(Dropping out is) something my mom had mentioned to me," Glimp said. "For me, dropping out is not a question, or, I should say, it's not an option. But for many, I see such a struggle of how they could wrestle with that. I would rather just take out loan after loan, which will probably catch up with me."
In order to manage their needs, some students use food stamps. Glimp said she would like to apply for the Supplemental Nutrition Assistance Program, or SNAP, to receive benefits, but is currently in search of a job where she can work at least 20 hours per week to qualify after her previous job as an alcohol peer educator at OU ended at the beginning of the fall semester.
J.D. Baker, public relations junior and also an SGA presidential candidate, faces food insecurity himself and benefits from SNAP to alleviate some of this pressure.
"To me, no one at all should ever have to worry about where their next meal comes from," Baker said. "You're in a constant financial debate with yourself. This paycheck, what do I do with it? Do I pay my rent, utilities or put gas in the tank? Get my car repaired so I can make it to work or make it to school? Or do I use it for food because I'm hungry?"
There are food pantries in Norman, but most are not within walking distance of campus, which makes it difficult for students who do not have a car or cannot afford gas.
"People act like there are resources just overflowing from a well, and I haven't found that yet," Glimp said.
McFarlin United Methodist Church's food pantry and Mission Norman are the two food pantries closest to campus. McFarlin, located on 419 South University Blvd., is open every week Tuesdays and Thursdays. Mission Norman, on 2525 East Lindsey St., is open at certain times every weekday but only allows food pickup once every 30 days.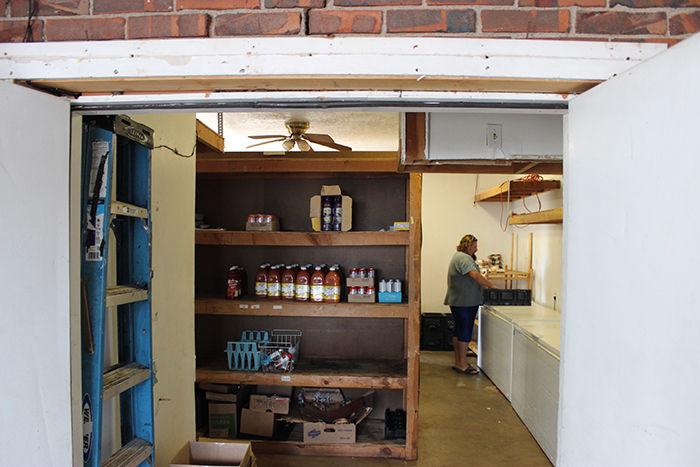 "We're trying to help people," said Gene Barnes, the founder of Mission Norman. "We need students to come help us. Our shelves are pretty bare, and I think other pantries are experiencing the same thing. Right now we're praying — we're praying for food."
Glimp describes dealing with food insecurity as "a black cloud" that follows her, but said she remains hopeful because of her faith, friends, family and "deep reservoir of self-worth."
"My dignity is not swayed by my circumstance," Glimp said. "I am still just as capable, just as qualified, just as important as the person next to me who is not going through this."
Kathryn Lynn contributed to this report.
Correction: This article was corrected at 8:11 p.m. Oct. 24 to reflect that Glimp is an inactive member of Kappa Alpha Theta and not on scholarship to pay sorority dues.