OU Chief COVID Officer Dr. Dale Bratzler said COVID-19 has not left Oklahoma as he discussed plateaued case averages, the virus' focus in populations below 18 and continued studies surrounding the effectiveness of booster shots in a Wednesday live stream.
The state currently ranks 27th in the U.S. in daily case averages, with 31 cases per 100,000 people, according to the New York Times. The seven-day case average sits at 1,222 cases, which is 56 cases lower than the Oct. 8 1,278 seven-day average.
Although cases remain stagnant, Bratzler said the seven-day average was three cases per 100,000 people on June 7, according to the New York Times. He said Oklahoma's case average is still ten times higher than it was in June.
Colors beyond bright red — which depict high transmission rates — are returning to Oklahoma's counties on the CDC COVID Data Tracker. Bratzler said, if cases go down, Oklahomans might experience reduced masking recommendations in some settings.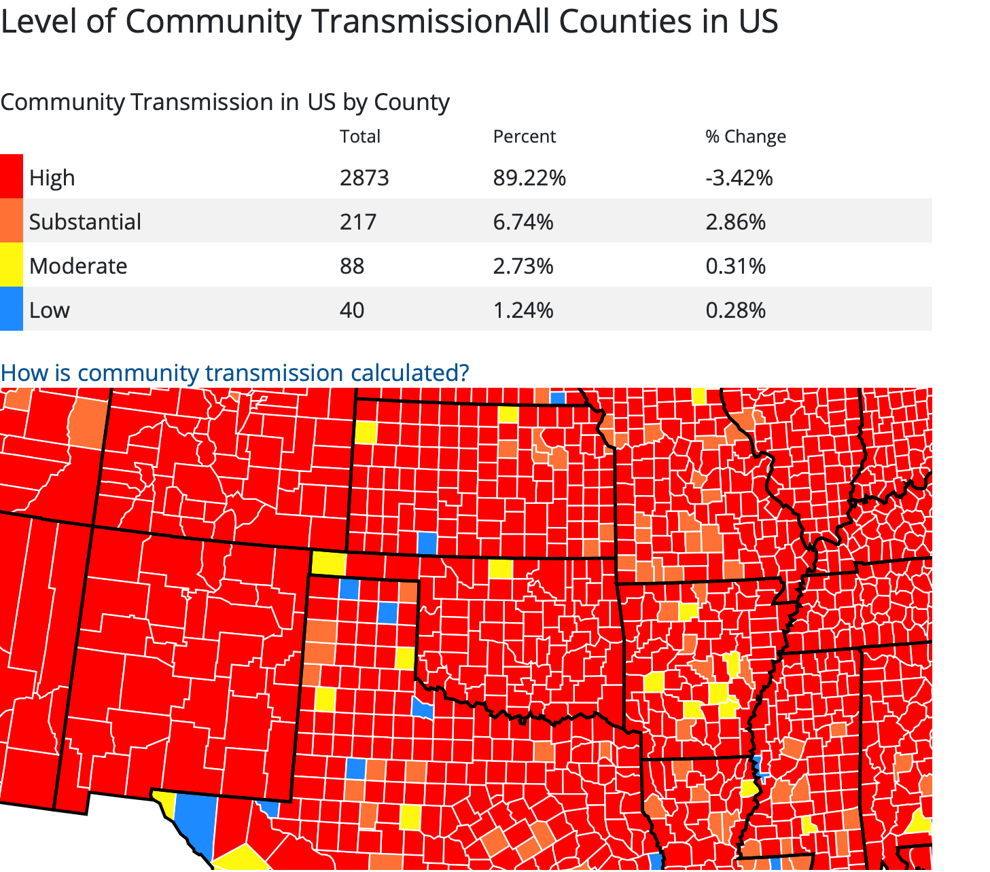 Nationwide, child COVID-19 cases remain exceptionally high, according to the American Academy of Pediatrics, as the U.S. experienced over 148,000 new cases in the past week, as of Oct. 11. Bratzler said, last month, children accounted for 25 percent of the nation's COVID-19 cases. 
"Children are still at risk and, while they tend to have fewer complications of the disease, they do at times develop long haul symptoms, and some do end up in the hospital," Bratzler said.
A CDC study conducted on Arizona school systems notes that COVID-19 outbreaks were 3.5 times higher in schools with no masking requirement than those with a mandate. A nationwide study also found that universal mask usage in school environments decreases infectivity by 50 percent. 
Secondary COVID-19 cases — which occur through transmission — were also proven to be reduced by masks, according to a study from the Iowa Department of Health. Exposure rates can be reduced from 26.5 percent to 12.5 percent if both parties wear masks. The 12.5 percent can also be avoided by quarantining, according to the study. 
"I know it's politically charged, but I also know that the data (is) very clear now, and (it) continues to grow that masks are very effective at preventing the transmission of COVID-19," Bratzler said.
As Oklahomans consider getting COVID-19 booster shots, Bratzler said, "You shouldn't be surprised that you will need another dose." Bratzler used the example of the hepatitis vaccine, which required an initial dose, a second dose a month later and the third dose after three months. He said the COVID-19 vaccine is no different. 
"The two doses primed your system, but it's very likely that you'll need a booster to actually enhance protection," Bratzler said. 
Although the Pfizer booster shot is available to individuals who are 65 and older, 18 through 64 years of age at high risk of severe COVID-19 or whose jobs put them at risk of infection, Moderna has yet to receive clearance on its additional shot. The FDA will meet on Thursday and Friday to discuss Moderna and Johnson & Johnson's booster shots.
Drugmaker Merck also requested FDA approval for its antiviral pill to combat COVID-19. Bratzler said, if you tested positive for COVID-19, you could take one pill twice a day for five days. A study conducted by the pharmaceutical company found the pill resulted in a 50 percent decrease in hospitalizations. 
Bratzler said this "sounds very good" but, in the U.S., people would rather have a "magic bullet" to treat someone with when they are infected versus preventing the infection. 
"I simply want to highlight (that) vaccinations of all people, right now, 12 and over, is recommended to prevent the transmission of COVID-19," Bratzler said. "We know that the vaccines are very effective at preventing the complications of disease. If you get COVID, you have a substantial risk of getting long haul symptoms." 
As Oklahoma enters its flu season, Bratzler reminded that although influenza death rates are lower than COVID-19 rates, around 36,000 people die each year. He said he attributes lower influenza death rates from 2020 to masking in indoor spaces. He said he is concerned about what the rates will look like this year. 
"COVID is not gone yet. We do still have quite a few people in the hospital with COVID, and if we saw a big outbreak of influenza, it could make it very, very difficult for the hospitals again," Bratzler said.