Sahil Tamboli woke up before the sun rose each morning of Ramadan. He ate during suhoor before sunrise and prepared for a day of fasting coupled with his typical class schedule as a student at OU.
Tamboli, a computer science sophomore, was surrounded by family during suhoor every morning during the holy month before he went to college. Now, he typically eats the meal alone in his apartment in Norman. 
While it can seem lonely, Tamboli said OU's Muslim community combats that feeling and reminds him he's not alone. 
Since 2020, Ramadan has fallen in the middle of the spring semester. Ramadan is the ninth month of the Islamic lunar calendar, according to the Council on American-Islamic Relations Oklahoma, in which Muslims fast from eating, drinking and sexual relations from dawn to sunset. It's a month of personal restraint, a renewed focus on moral conduct and a time to empathize with those who are less fortunate.
Before sunrise, Muslims eat a meal to prepare for a day of fasting, which is known as Suhoor. Once the sun sets, Muslims break their fasts during Iftar.
Being a student during the holy month meant Muslim students leaned on their community, as celebrating Ramadan with family was virtually impossible during the academic year. It also meant Muslim students learned what sorts of accommodations they needed to be successful in their studies while they fasted. 
'I didn't feel any loneliness'
According to the Council on American-Islamic Relations Oklahoma, fasting allows Muslims to empathize with those less fortunate and appreciate what one has. It doesn't mean they stop participating in school, work or daily activities.
As a Muslim student, Ramadan can be difficult, said Aiman Saleemi, OU Muslim Student Association president, especially when walking through the Oklahoma Memorial Union, smelling the food and coffee. However, she said as time passes, it gets easier.
Saleemi said the Muslim community at OU makes fasting more enjoyable because they're able to share their struggles and break their fasts together. 
Tamboli said the community at OU makes the holy month feel less lonely.
"I didn't feel any loneliness or anything because we were all together," Tamboli said. "We just sat down, we ate dinner, we had lunch and it was like normal." 
The OU Muslim Student Association held various events throughout the month of Ramadan including an Iftar at Scissortail Park in Oklahoma City and a basketball tournament.
During Eid al-Fitr, Tamboli said he and his friends eat together at the masjid, or mosque, and sometimes even his non-Muslim friends throw a party for Eid.
Eid al-Fitr commemorates the end of Ramadan and is an occasion for special prayers, family visits, gift-giving and charity.
Tamboli said OU's Muslim community and Muslim Student Association help combat potential loneliness because everyone understands and is going through the same thing.
"It's just best to go through all those things with everyone," Tamboli said. 
Accommodations for Muslim students at OU
As Muslim students fast from sunrise to sunset, Saleemi said they need grace from professors, whether it's rescheduling an exam that may fall during Iftar or leaving class to break their fasts.
However, she said requesting accommodations can be nerve-wracking for some students.
"It can be intimidating for international students who didn't have to deal with this in a Muslim country or for freshmen who are kinda freaked out. They're freshmen. They're new to everything," Saleemi said. "Even for me, I went to a Muslim school. Everything was chill for me, because I was from a Muslim school, but when I came here, I was like, 'Oh, whoa. I kind of have to do all this for myself.'"
Kesha Keith, the director of communications for OU's Division of Student Affairs, wrote in an email to OU Daily that Student Life has been working with the OU Muslim Student Association and International Student Services to help meet the needs of the student body. This led to the creation of a graphic that displays ways to support Muslim community members during the holy month.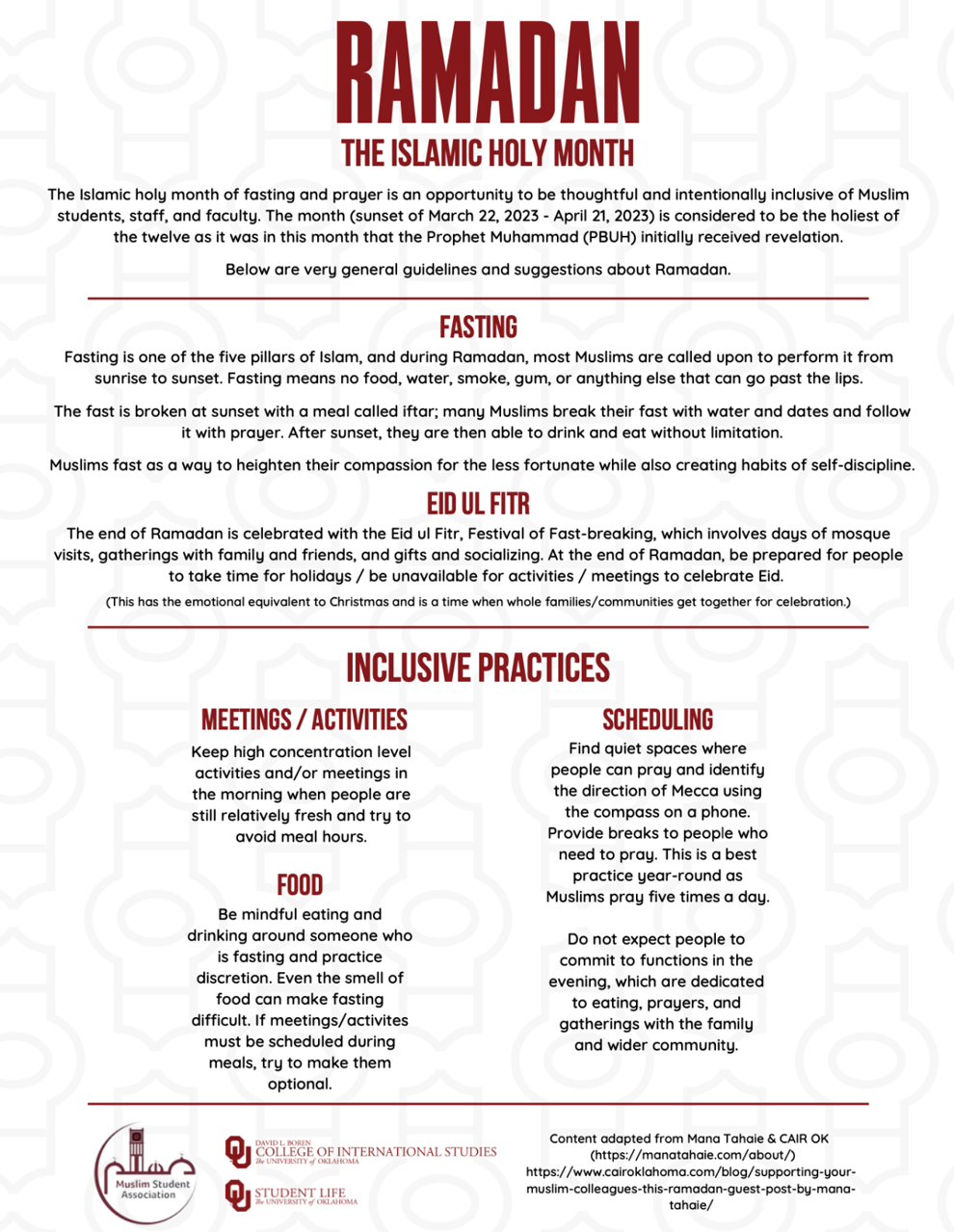 The early mornings of Suhoor and the late evenings of Iftar made it difficult for Muslim students living on campus to find meals during those hours. Saleemi said, after hearing concerns from freshmen, the OU Muslim Student Association coordinated with the university to provide accommodations in living spaces. 
According to Keith, OU Food Services provided a room in Couch Center and the residential colleges with a refrigerator stocked with snacks and a space for Muslim students to pray and break their fasts together.  
Also, each year during Ramadan, OU Food Services offers to-go halal meal options in on-campus dining locations for students to eat when they break their fasts, according to Keith. The American Halal Institute defines halal food as food permitted under Islamic law. Certain foods and drinks like pork and alcohol are not considered halal.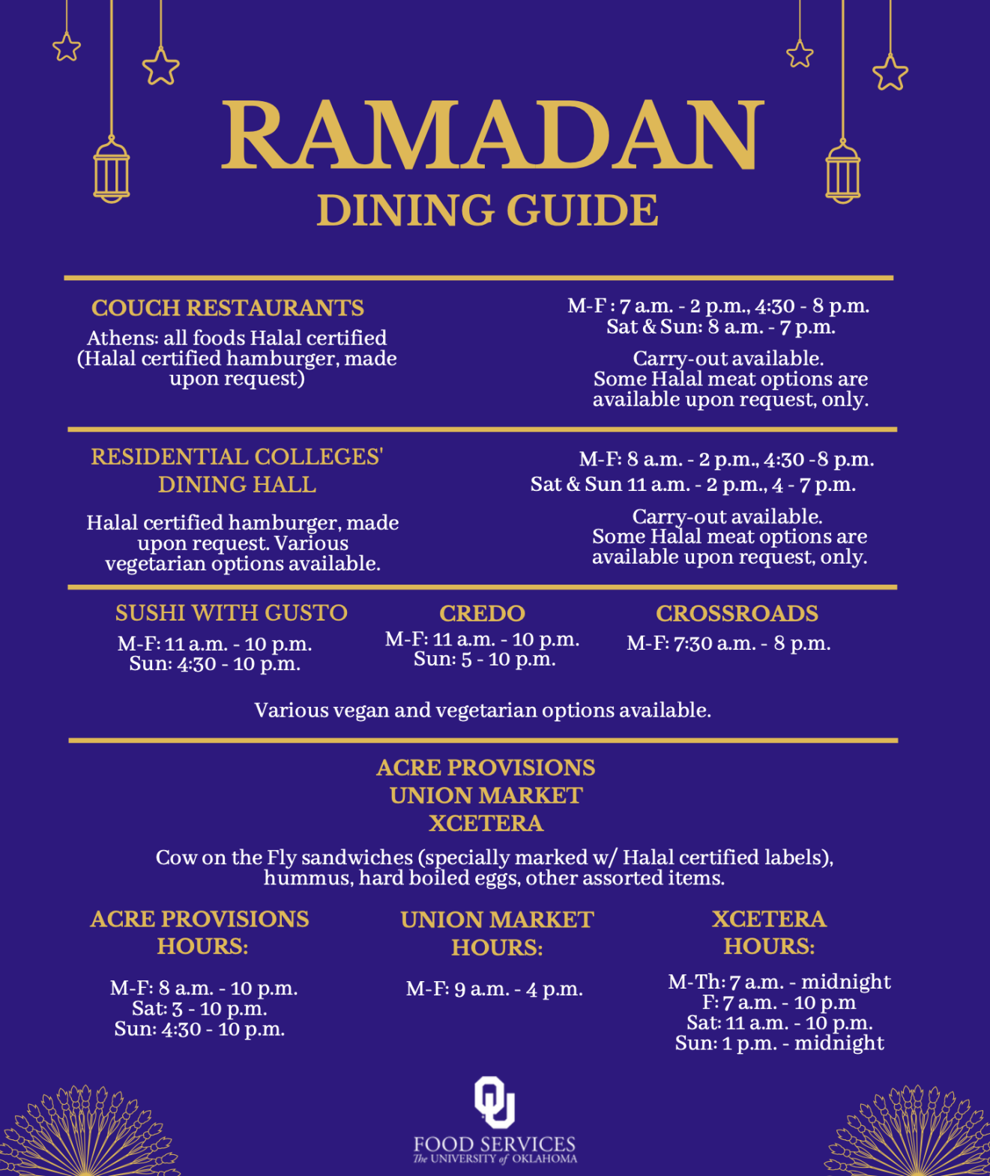 In coordination with OU International Student Services, Student Life and OU Campus Area Rapid Transit, there are shuttles reserved to take students to markets in Oklahoma City that have halal options, where students can get the items they need while observing Ramadan.
While thankful for the accommodations the university provides for Muslim students during Ramadan, Saleemi said many students were unaware of how to access these resources or how to request specific needs. She said she wished the university had sent a mass email to inform the OU community of its resources.
According to Keith, to inform students of the accommodations, OU Food Services uses signs, its website and social media accounts to promote the options. 
'(You're) trying to be the best Muslim possible'
Tamboli said he wishes people didn't think of Ramadan as just refraining from eating or drinking. He said it's about creating healthy habits and becoming closer to God.
"There's a lot of good that happens when you fast," Tamboli said. "It's more about cleansing yourself and trying to be the best Muslim possible."
He said the holy month is rewarding, especially when the Muslim community comes together to pray in the masjid.
For Saleemi, she said a rewarding part of fasting and observing Ramadan is the opportunity to educate non-Muslim people. 
"It makes me proud of my own religion and my practice," Saleemi said. "I can see people are genuinely intrigued, and they really want to know. It's really nice to see that people want to learn about my religion and my practices, especially from a predominantly white institution."
She reflected on the times her non-Muslim friends postponed dinner so that it was after sunset, meaning Saleemi could join.
"My community at OU is so important," Saleemi said. "My friends make it easier being away from home. It's what you make of it. You just have to find your community." 
This story was edited by Karoline Leonard and Jazz Wolfe. Francisco Gutierrez and Ansley Chambers copy edited this story.