Sue Ishaq currently works as an assistant professor of animal and veterinary sciences at the University of Maine, but she said she wouldn't be in the position she is now without André-Denis Wright. 
The now-confident scientist and researcher was once an uncertain undergraduate student studying to become a veterinarian in the University of Vermont's animal science department from 2003-2007. When she realized that path wasn't for her, she said she chose to go back to Vermont for research at the end of her undergraduate studies. 
Ishaq said she was worried the road ahead would be difficult, as it can be challenging to find well-funded and open projects and positions. She said she worked in Burlington, Vermont, for three years until a colleague encouraged her to reach out to a new department chair at the University of Vermont. 
That chair was Wright, and little did she know, he would soon become her Ph.D. mentor. All it took was a cup of coffee. 
"I, as an undergraduate, had very intentionally avoided microbiology, avoided genetics, avoided computer programming. … But then, during a conversation with André, I realized my degree was probably going to be in microbiology, genetics and computer programming," Ishaq said. "(But) he made it sound so interesting, and I thought, 'Well, I have no experience in this, so I don't really know that I don't like it, and he's got experience, and he looked over my application. He had a conversation with me, and he thinks I can do it, and I can do it.' That turned out to be the case." 
Wright, a man of humble beginnings, became OU's first Black senior vice president and provost on July 1, opening up yet another opportunity for him to change lives. University administration and those who know him well highlight his people-oriented nature, strength in mentorship and passion for research, preparing him to become a premier academic leader in the rolling plains of Oklahoma. 
Learning to lead
Wright wrote in an email his hungry spirit and passion for education were shaped in Beechville, Nova Scotia, a Black community established in 1816 by freed slaves. He wrote his inspiration was his single mother, who met his every need and want while working as a nursing assistant and encouraging her only son to study hard and get good grades.  
A place without running water or heating left Wright splitting wood, chopping through ice to access a well and bringing in water buckets for drinking and bathing. He wrote he planted deep roots in his community by singing in the choir of his Baptist church and serving as the president of the Men's Brotherhood, who helped the elderly and sick.
A university degree was his ticket to bigger things. He wrote that his mom believed it would open up opportunities for a steady career or a well-paying job so he could one day have the basic things most take for granted. 
The dreams Wright's mother held in her heart came true, as he went on to get his bachelor's degree at Saint Mary's University in Nova Scotia and attended graduate school at the University of Guelph in Canada. He wrote that, in between his undergraduate and graduate studies, he also served on the cadet instructor's list of the Canadian Armed Forces, working his way up to receive a commission from Queen Elizabeth II as a second lieutenant in 1986. 
He wrote his education and background in the armed forces worked hand in hand in teaching him about leadership. Military training, alongside a bachelor's degree in biology, a masters' degree in zoology and animal biology, and a doctorate of philosophy, lead him to take on his first position of leadership as a research scientist in Perth, Australia's Commonwealth Scientific and Industrial Research Organization.
The organization serves as the country's national science agency which turns "science into solutions" to help address issues of food security, clean energy and resources, health and valuing environments, according to its website. Although Wright wrote his eleven years of work as a project, stream and research group leader were fulfilling, he yearned to be in an academic setting within his first year working for the organization. 
"I realized that I missed teaching and being around students," Wright wrote. "Fortunately, several years later, I was awarded adjunct faculty appointments at two local universities, which provided me with the opportunity to teach courses and to co-advise graduate students. I still love teaching, whether it's in a classroom, on a field trip, or one-on-one in my office, and being able to nurture and encourage the lifelong learning of my students."  
Wright would later serve as a department chair and professor of animal science at the University of Vermont from 2009-2014, a director and professor in the University of Arizona's School of Animal and Comparative Biomedical Sciences from 2014-18 and, most recently, a dean of the College of Agricultural, Human and Natural Resource Sciences at Washington State University from 2018 to June 2021. 
In each position of educational leadership, Wright wrote he has routinely sought input from others and focuses intently on supporting and developing people. These experiences inspired his values and goal to create a shared vision of the future with the people he serves.
Wright wrote he lives by 12 guiding principles:  listening twice as much as you speak, accepting responsibility, having a positive attitude, persevering, remaining flexible, leading by example, being transparent, planning, delegating tasks effectively, supporting while giving constructive criticism, clarifying problems and making logical decisions and creating enthusiasm to make things happen. He wrote each one is equally important in leadership, and he has stuck to them in every leadership position he accepts. 
OU Dean of Students and Vice President of Student Affairs David Surratt wrote in an email that, as he and College of Arts and Sciences Dean David Wrobel searched for provost candidates, Wright's experience and background stood out immediately based on his accomplishments. The more university administration learned about Wright, the easier it became to picture him in a position of leadership.
Encouraging diversity and research
Wright will be stepping into the place of Jill Irvine, a presidential professor of international and area studies who filled the role in the interim. She held the position in place of Kyle Harper, a current classics and letters professor, who resigned from the position in June 2020. Before stepping down, Harper faced scrutiny for failing to speak out against racist incidents on campus, including former Gaylord Director of Graduate Studies and Gaylord Family Endowed Chair Peter Gade comparing the N-word to the phrase "OK, boomer" and Kathleen Brosnan, a history department professor, reading it aloud multiple times from a 1920's U.S Senate document. 
As part of a sit-in after those events, OU's Black Emergency Response Team spoke to the "lack of trust" they had in Harper to handle diversity issues, which was also a concern expressed by the search committee who received his application. 
The provost position is crucial to university success as they support and direct all college-level operations and initiatives at OU, Wrobel wrote. For him, Wright fulfilled each of the essential qualities a provost must possess "and more."
"There are many keys to success in this role including, a strong research profile, deep interest in student needs, concerted commitment to diversity, equity, and inclusion, and an elevated emphasis on and respect for staff," Wrobel wrote. "In addition, a successful provost must be an effective communicator who will be passionate in their promotion of the university and all its constituencies." 
Wright wrote, in issues of diversity on campus, he hopes to be a source of inspiration, encouragement and unity to all students, staff and faculty. 
 "I know how I felt when I was a student and I saw someone that looked like me as my instructor, or when I was a junior faculty member and I discovered that my chair or leader had similar experiences as me growing up as a child of mixed races," Wright wrote. "I am blessed, honored and very proud to have been selected from a large pool of highly qualified and diverse candidates as the incoming Senior Vice President and Provost of the University of Oklahoma Norman campus." 
Wright's extensive background in research made OU appealing, as he wrote the university is a premier research and flagship institution. He wrote he looks forward to working closely with OU President Joseph Harroz and serving as the chief academic officer for the Norman campus. 
"The more I learned about OU, the more excited I became about its future and I wanted to be a part of this journey," Wright wrote. "After reading OU's new strategic plan, the purpose and pillars resonated well with me. The strategic plan is practical, bold, and most importantly, achievable." 
A record of success in grant-funded research and authoring a multitude of publications are qualities that Wrobel wrote will make Wright an excellent mentor and the perfect person to carry out the university's strategic plan. 
"The Norman campus Strategic Plan will set OU on the path to achieving AAU-level metrics and achieving national recognition as a public research university, focused on equity and access, '' Wrobel wrote. "Dr. Wright's values, as evidenced in his record of transformative leadership, align superbly with the values of the plan." 
Kulvinder Gill, a professor in Washington State University's department of crops and a soil and wheat geneticist, said when Wright started as dean of the agricultural college, it required new leadership, as faculty members often butted heads with administration and research stakeholders.
"It was fresh air when he came," Gill said. "Before he came it was, to be honest, really terrible. The college administration and full-scale faculty would get their way on this and that but, after André came, he sort of pacified it." 
Gill said Wright's land grant research mission was beyond that of previous administrators, as it allowed faculty members to effectively and independently build upon their research. 
"He understands what it is like when many administrators do not," Gill said. "He knows what it is to be connected with stakeholders and serve our stakeholders. Having that deep understanding, I think, is his best strength, because then he knows who to connect with, and what is needed to move the institute forward." 
Transparency was something Gill said was apparent in Wright's character, as he was always upfront with the decisions he made and left little unknowns surrounding his process of making calls. He said he's envious of OU as it enters its fall semester. 
"When I heard that (André was moving to Oklahoma), I was still trying to get over it," Gill said. "We were personally so excited that he is here because you need a fair voice in an administrator position. That's not really very common here." 
Inspiring others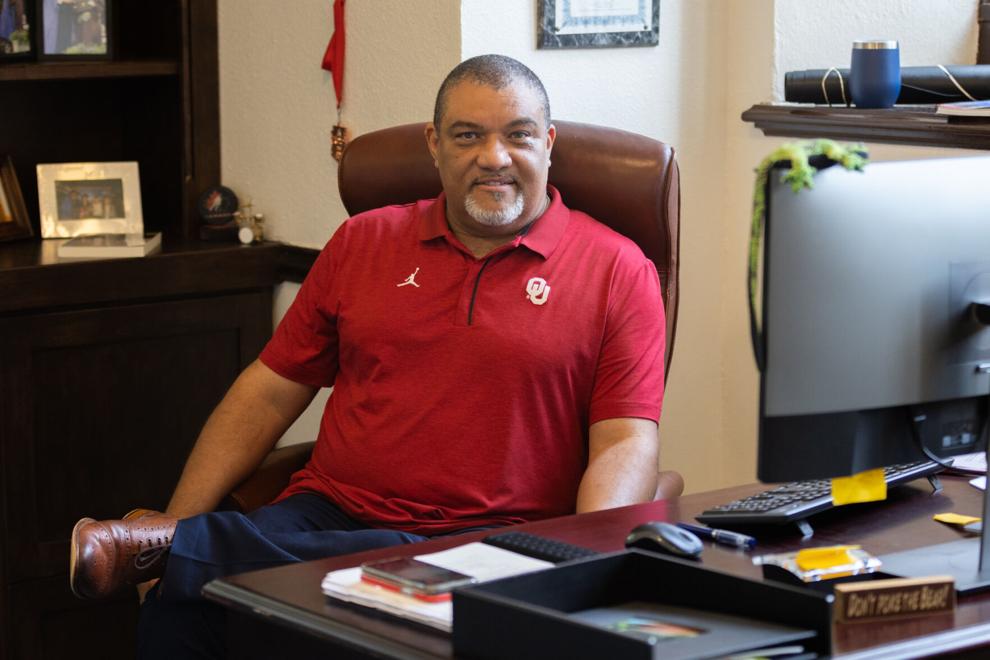 Although Wright has experienced individual success, he has also acted as a catalyst for the success of others. Ishaq is one of those people. 
Currently, she leads her own lab titled "The Ishaq Lab," which focuses on the gut microbiomes of wild and domestic animals — or more specifically, ruminants, which are even-toed, hoofed, four-legged mammals who eat grass. She said her focus is on moose populations, where she has had the opportunity to collect microbes and study their stomach contents, which ultimately contribute to their entire biome. 
She said she was inspired to continue in the field after "a great couple of talks" with Wright, who encouraged Ishaq to apply to the school, where he accepted her in 2010. She said this is when she began her study of the moose, as Wright taught her how to work with microbes in anaerobic chambers, which allows scientists to study things in spaces without oxygen. He was the perfect mentor in microbiology, Ishaq said — he even had a ciliated protozoan, or a single-celled microscopic animal, named after him called the "Apokeronopsis wrighti." 
"He sort of instilled a love of protozoa in me," Ishaq said. 
Wright created an environment where Ishaq took ownership over the research projects she was working on and the coursework she completed. She said she saw her communication skills improve as he helped her figure out how to navigate the field she was entering. 
As Ishaq looks back on the highs and lows of her career, she said she owes a lot to Wright. Despite his busy schedule, he still checks in on her over email, exemplifying his ability to connect with his colleagues and students. 
"You know how you learn how to be a good parent from your parents? I learned how to be, hopefully, a good lab mentor, because André was a good lab mentor," Ishaq said. "He was always accessible to me … even though he was the department chair at the time. I never felt like I had to wait in line to speak to him. … I didn't have to hide when I was struggling with my work or struggling with concepts, because I knew that I could approach him and we could talk it out together, and I wouldn't feel like he would think less of me for not understanding things." 
Surratt commended Wright's ability to inspire students, writing that he is excited to see him work with students and faculty on campus.
"The earnestness in his demeanor paired with his ability to be relatable set him apart from other candidates," Surratt wrote. "He was thoughtful in every aspect of his communication which displayed strong interpersonal skills while also showing great administrative acumen and authority." 
As the fall semester approaches, Wright wrote the first thing he hopes to accomplish as provost is getting to know OU faculty, staff, students, stakeholders and donors. He stressed his open-door policy from serving as a Washington State University dean will transition into his role as the senior vice president and provost. 
"Before COVID-19, I also visited our (Washington State) faculty, staff, students, and stakeholders in their offices, laboratories, studios, and classrooms, across the state and region," Wright wrote. "I also started a new tradition in the college by hand-delivering letters of promotion and tenure to faculty members on the main campus, and by personally calling our faculty at our other 48 locations around the state of Washington. As Provost, I want to be accessible to those I serve. I also hope I can get out of the office and walk around campus and meet people."
Surratt wrote he has worked closely with the provost's office throughout his time at OU, and he expects that partnership to continue as Wright takes on the role. 
"Dr. Wright has expressed support of the student experience overall as well as a desire to support services that lead to positive outcomes for undergraduate and graduate students," Surratt wrote. "Based on his collaboration with my counterpart in student affairs at Washington State, I anticipate a similarly strong partnership here at OU, given my division's touchpoints related to areas such as first-year programs, retention initiatives, student development, advocacy, and campus wellbeing, I expect there will be many opportunities for us to partner in the future."