OU Health updated its employee COVID-19 vaccination policy July 28 to include "philosophical" as its third vaccination exemption, alongside religious and medical reasons. 
The health system released its initial policy July 8, stating faculty, staff, trainees and students on rotations and employees in patient and non-patient settings would be required to be fully vaccinated by Aug. 31, regardless of whether they have previously contracted COVID-19. An email statement from OU Health wrote that the COVID-19 vaccine policy will match the system's flu vaccine policy. 
"The OU Health Employee Flu Vaccine Policy … has been in place for years," the statement read. "The policies state that employees can elect to receive the COVID-19 vaccine or formally decline for an approved reason, which can include: religion, medical or philosophical. Employees who do not receive either the COVID-19 or Flu vaccine are required to wear a mask for the safety of themselves and others. As with the Flu vaccine, no employment action is taken if they opt out of receiving the COVID-19 vaccine." 
OU Health Director of Communications April Sandefer wrote in an email that no definition of philosophical reasons will be asked for or required from employees. She wrote that Human Resources will provide employees with a form that will include the three exemptions. 
"All they have to do is check the box next to philosophical," Sandefer wrote.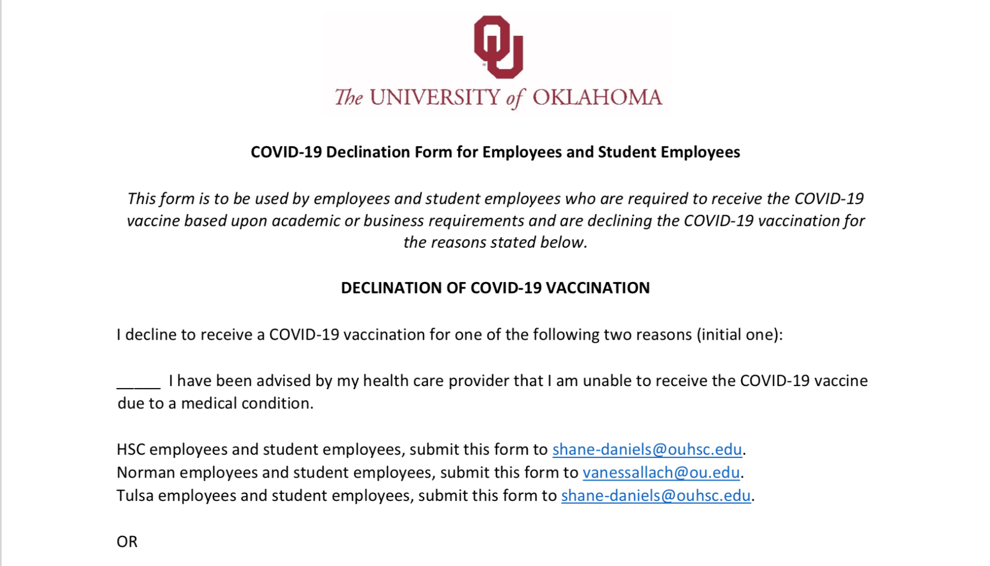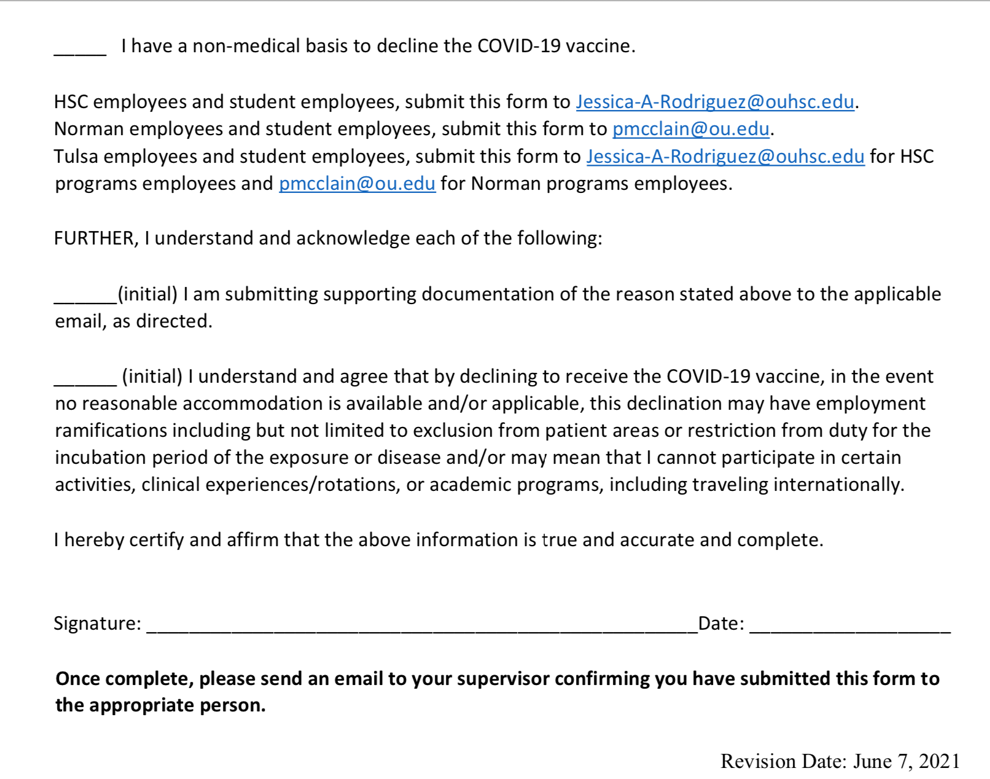 Sandefer wrote that the definition of OU Health employees, based on the merger of OU Physicians and the nonprofit OU Medicine, includes employees working with OU Physicians and the College of Medicine portion of the OU Health Sciences Center campus and the clinics and hospitals of OU and the University Hospitals Authority and Trust.
OU Chief COVID Officer Dr. Dale Bratzler told The Daily in an interview OU Health's decision does not affect the university's vaccination requirements. Students, faculty and staff who have patient-facing responsibilities, those who request to volunteer, shadow or observe in patient care settings, and students who study abroad must be vaccinated. 
"With OU Health, this is a hospital system, not the university," Bratzler said. "The university's process has not changed."
According to the Oklahoma State Department of Health's July 18-24 epidemiology report, 62 percent of Oklahoma's variant cases are from the Delta variant. Oklahoma's seven-day case average has reached 1,236 cases as of July 28.
The OU Health statement read that 99 percent of OU Health hospitalized patients who are being treated for COVID-19 have not received the vaccine. Bratzler said he hopes to continue encouraging an "aggressive promotion" for COVID-19 vaccinations on campus so fewer people will end up in a hospital. 
"Most of the people who get sick enough with COVID to end up in the hospital are people who are not vaccinated," Bratzler said. "The vaccination does not keep you from getting COVID, and we're seeing a lot more breakthrough cases with the delta variant, and some of (the people who get vaccinated) feel pretty miserable, but they don't get sick enough to be in the hospital."