Ghosts dogs with human bodies and razor sharp teeth haunt a newly adopted puppy in the animated horror short film "Ghost Dogs," created by two OU alumni, raising the question: "Are you afraid of the bark?"
Director and animator Joe Cappa and producer J.W. Hallford debuted "Ghost Dogs" at the Tulsa premiere of the 2021 Sundance Film Festival in January.
Cappa and Hallford both graduated from the University of Oklahoma where they studied the arts. After taking different career paths, they met again two years ago in Boulder, Colorado where their collaboration for "Ghost Dogs" began. 
Hallford said reuniting to create a film was completely unexpected.
"I actually ran into Joe outside of one of the concerts that I was working. He was walking his dog and I told him at that moment I would like to make a movie with him," Hallford said.
"Ghost Dogs" crosses genres incorporating horror and suspense with comedy in an attempt to bring a sense of wonder. It features a family's recently adopted puppy who is terrorized by the ghosts of past pets, and is an homage to childhood moments of discovery, secretly watching movies on TV that weren't allowed but satiated curiosity, according to their website.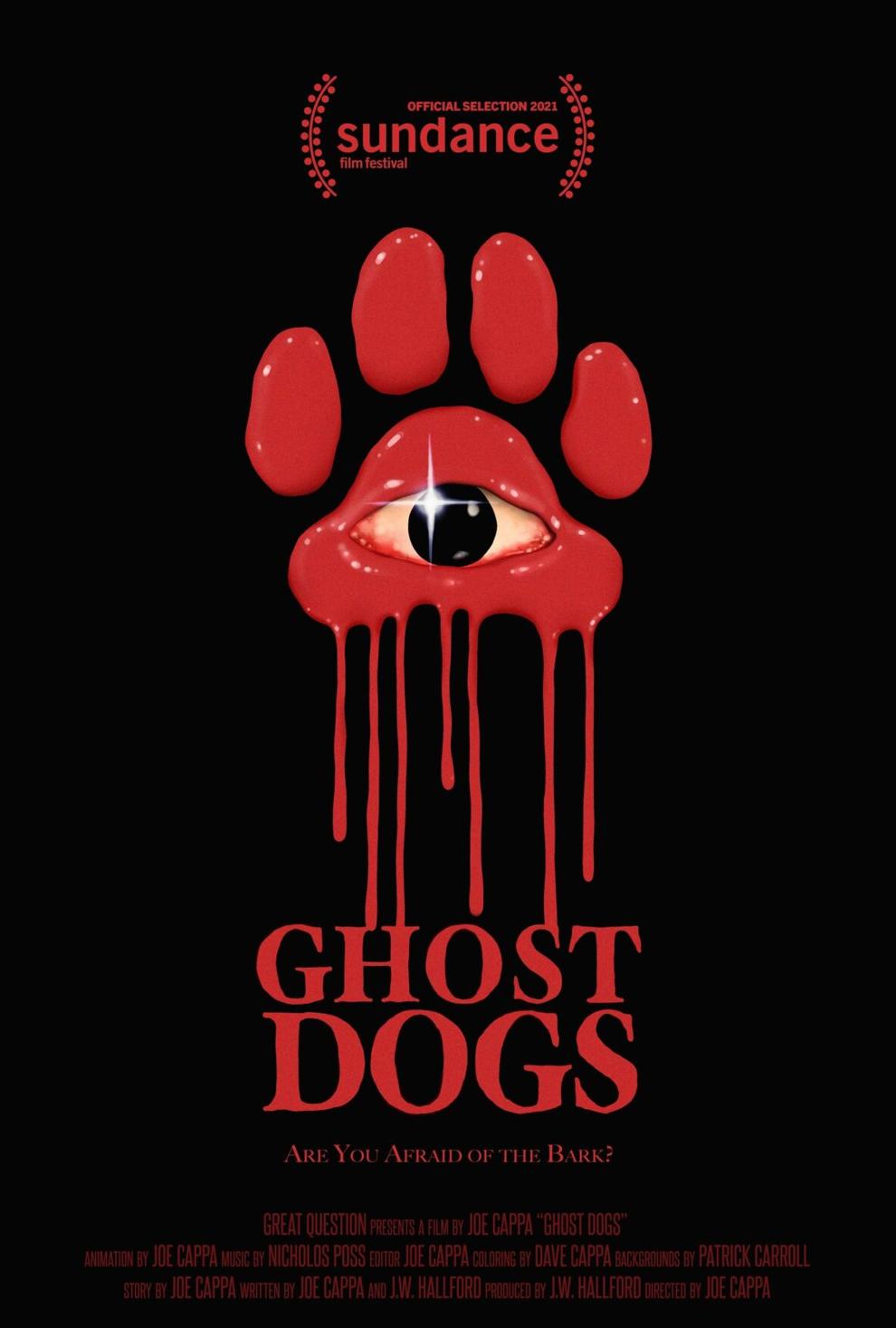 Cappa said he envisioned the "Ghost Dogs'' characters 10 years ago, starting out as art to entertain friends which then became the first thing he animated once he acquired the proper tools.
"I really tried to teach myself how to animate within the last eight years … I got a Wacom tablet which allows me to draw straight on the computer and the first thing that I drew were these ghost dog characters," Cappa said. 
Cappa said that from the start, he and his team were completely in sync with the direction they wanted to take the film. He said they "understood that it needed to feel like liquid television," a reference to an animation block that ran short clips on MTV in the mid-90s, described by IMBD as "surreal, experimental" and "darkly-humorous."
Hallford and Cappa said getting into Sundance was incredibly exciting. The process of getting into film festivals can be stressful and had Cappa and Hallford second guessing their confidence — until they got the call for Sundance.
"It was very, very surreal," Cappa said. "I was pacing around my house, just yelling. I was so excited."
Cappa and Hallford's Sundance debut was the first release from their animation studio, "Great Question." Having a film featured in Sundance is not only beneficial for an individual film's success, but a place to secure other opportunities.
"Sundance is really cool because once you're into Sundance, film festivals reach out to you," Cappa said.
Original score writer Nick Poss joined the project in Feb. 2019. Cappa and Poss met while working together on a previous movie, and Cappa said he felt that Poss possessed the skills to bring his musical ideas to life.
"Cappa had a clear vision for the style of music he wanted and what particular points of the film he wanted to highlight," Poss said.
Poss used a mixture of virtual instruments using MIDI technology — an interface that uses devices to create sounds that mimic live performers — as well as synthesizers to create a score that brought the feeling of a horror film to "Ghost Dogs."
"A lot of the music for this movie in particular were weird sounds that an orchestra would make and what are called 'extended techniques' … playing an instrument wrong or not the way it was intended to be played," Poss said. "A lot of it sounds really dissonant and makes you feel uncomfortable. Not a lot of resolution in the music."
Animating "Ghost Dogs" took about two years to complete and was finished during the COVID-19 lockdown. Cappa said working in the pandemic was more helpful than harmful.
"Quarantine started around March and we finished in August … I had time to just really put the polishing on "Ghost Dogs," getting it done," Cappa said. "I was working more, but I was more focused, laser-focused, because I didn't have to be anywhere, and there were no distractions."
Hallford said he has always admired Cappa's artistry and is eager for the premiere of "Ghost Dogs" and the next projects "Great Question" will produce.
"I had always sort of loved his artwork, and had known he was just an artistic force," Hallford said. "I am incredibly excited for people to see "Ghost Dogs", and to work on the next project."
Poss said he is grateful to be a part of "Ghost Dogs" and was impressed by the end product after the process.
"By the time I saw the final product, I was like 'wow' … I always thought stylistically Joe had created something special, but when everything came together … this is really, really cool, and I'm happy I got to work on it," Poss said. 
Cappa said he feels encouragement from the environment and the welcoming nature from being back in Oklahoma.
"Oklahoma has given me so much love and support … they're taking me in like I never left," Cappa said.