Top Dog Classic Coneys, a hot dog joint on West Main Street, will permanently close after its final day of business Jan. 27, according to a post in the Norman Ward 3 Facebook group.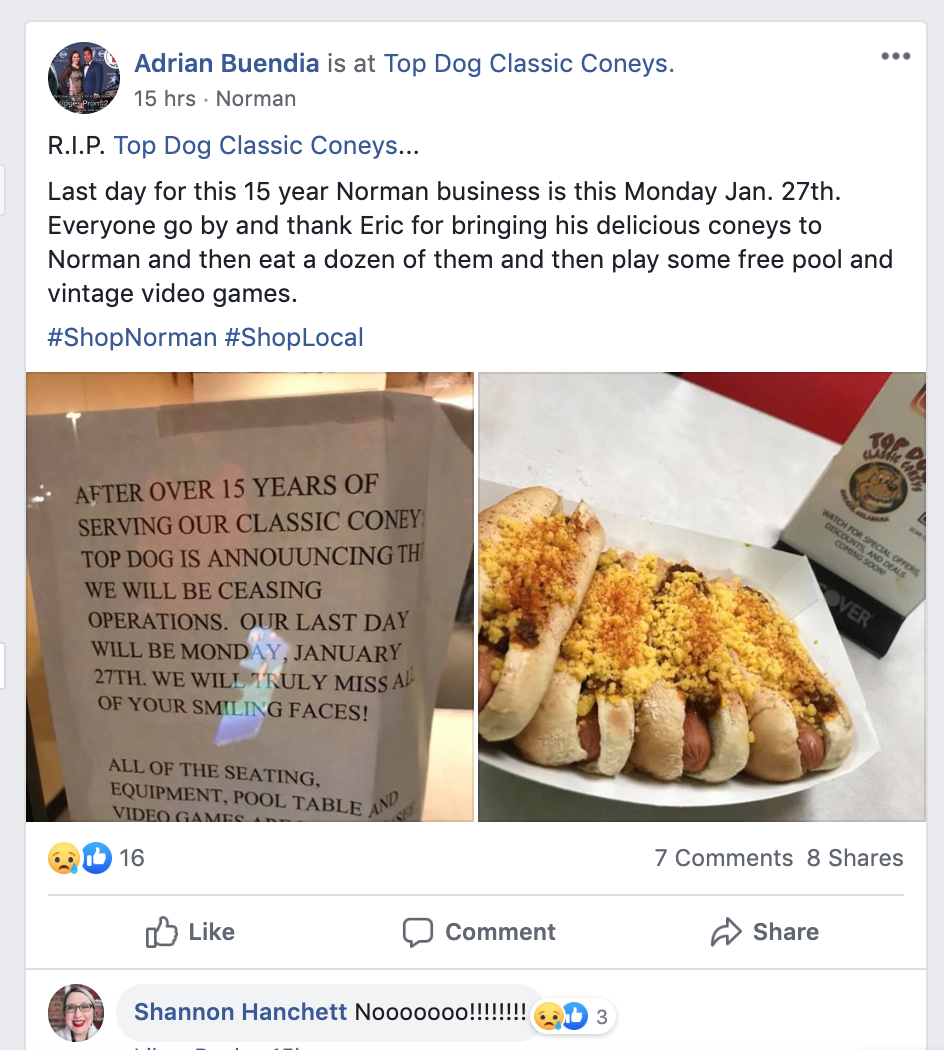 The post, created by Adrian Buendia, contains a photo of a sign posted on the restaurant's door that reads:
"After over 15 years of serving our classic coneys Top Dog is announcing that we will be ceasing operations. Our last day will be Monday, January 27th. We will truly miss all of your smiling faces! All of the seating, equipment, pool table and video games are for sale (see Eric)."
Suzanne Leeviraphan, Top Dog co-owner, said in a Facebook message the restaurant has had a line out the door over the last few days. 
"We are overwhelmed and thankful for all the kind words and the friends we have made these past 16 years!" Leeviraphan said. "It's been a wonderful 16 years, but we are moving on to the next chapter of our lives!"
However, Leeviraphan said Top Dog isn't gone forever.
The restaurant will continue to be present at special events around Norman and will announce said events on Top Dog's Facebook page, she said.
"We are so thankful for 16 fantastic years and will miss our amazing customers - special events in Norman will give us a chance to keep serving our fans!" Leeviraphan said. 
Top Dog claims to be the only authentic Coney restaurant in the Oklahoma City area, according to Yelp. The business is known for its Cincinnati-style chili, "made famous in Ohio that has made Tulsa, OK the Coney Capital of the Midwest." 
"This is terrible news! I grew up with Coney Islander in Tulsa, and these dogs were just as great if not better! Will truly miss Top Dog!" said Ann Mahan Borden on the Facebook post. 
Top Dog has not yet announced its closure on social media, as of 9:30 a.m. Jan. 26.
Top Dog Classic Coneys is located at 2203 W. Main St. in Merkle Creek Plaza. Current hours of operation are 11 a.m. to 3 p.m. on Sunday, and 11 a.m. to 8 p.m. Monday-Saturday. 
Editor's Note: The Daily reached out to Top Dog for comment Jan. 25 and 26 and have yet to receive a response. 
This post was updated at 11:30 a.m. Jan. 27 to reflect a comment from the owner, and correct a photo credit.