In September 2014, Tim Langford created a cross country course with a push lawnmower by himself. 
But it wasn't a rider — it was a lawn mower the second-year South Carolina State track and field and cross country head coach used to cut his own yard with. 
Before it was made, Bulldog athletes trained with road runs and sometimes got permission to run on local golf courses. Determined to make a course his athletes could not only train but host meets on as well, Langford put the mower in his trunk, drove to a plot of land 3 miles from the school's campus in Orangeburg and mowed five hours a day for a week. The course is 5 miles.
South Carolina State, which shared meet locations with other local schools, didn't have the funding to make a new course. When Langford told Dr. Paul Bryant what he had planned, his athletic director didn't believe it until Langford brought him to his new creation.
"It was the most unbelievable thing I've ever seen," said Bryant, who is now the athletic director at Edward Waters College. "That's when I knew he was passionate about what he did."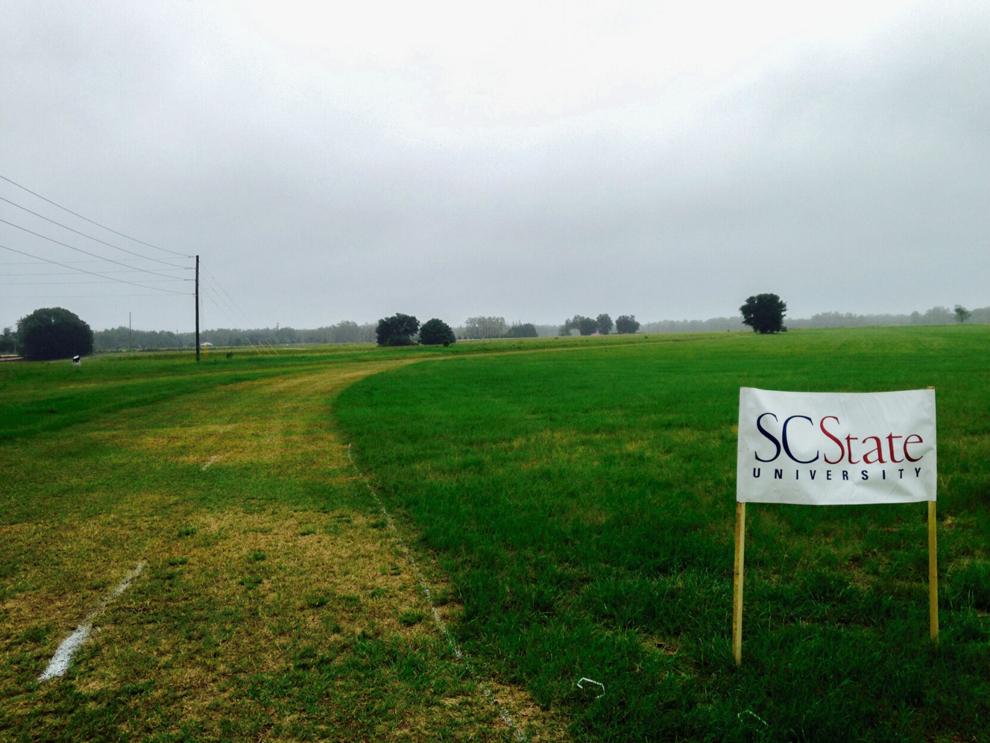 This story of Langford doing anything to improve his team is just one of many in his coaching career that spans two decades. From a humble beginning, Langford is now the head coach of Oklahoma's track and field and cross country program after getting the interim tag lifted in May 2020. 
While spending one year as OU's interim head coach after the departure of Jim VanHootegem, Langford had four NCAA indoor qualifiers and two individual Big 12 titles — senior Jackson Webb in the 60-meter dash and freshman Lavinja Jurgens at high jump.
And he's currently OU's only Black head coach, the first since former OU basketball head coach Jeff Capel's departure in 2011, and the fifth Black head coach at OU ever — a feat Langford does not take lightly. 
Coming from South Carolina State, a historically Black university that lacks the funding or resources of a Power 5 school such as Oklahoma, Langford now has the power to not just build on a bigger program, but create a new culture of inclusion in NCAA coaching, which is a predominantly white career path. As of March, out of 6,406 coaches, there are 554 Black Division I coaches of non-HBCU schools in the country, per a study from the NCAA. 
To Langford, being hired by Oklahoma can serve as an example to athletic directors and all other aspiring coaches of what's possible in college athletics.
"If you look at the makeup of collegiate coaching and how many African Americans are in head coaching positions and at head coaching positions in Power Five institutions, it's not a large percentage," Langford said. "And I truly feel that it's my job, it's my place to show that it can work, that we can have a seat at the table. We can do leadership, not just with other African Americans, but with all demographics. … Every demographic will respect you if you're doing it (at a higher level). ... And I don't take it lightly that I've been granted the opportunity.
"It urges me," said the coach who once cut a path where none existed, "to do such a good job that another institution models their program after what we do."
'I really started betting on myself in every situation'
Langford understands perfectly why track and field and cross country is his calling.
In the competitive sport, grueling training and conditioning pushes athletes to not only compete against the best, but to simply be better.
"I stand on the line, there's no play to call. It's just me versus you," Langford said. "It's simply, 'I'm better than you, and I'm going to prove it right here.'"
But as a young kid, Langford had hoop dreams. In his neighborhood in Lynchburg, Virginia, he and his friends were playing basketball all through their younger years. It wasn't until middle school that he began running track as a way to stay in shape. As he got older, he began competing in high jump at Heritage High School, something that he found success at. 
"Naturally," Langford said, "you want to do what you're gifted at. So, I got bitten by the track and field bug and never looked back."
So, in 1996 when Langford went to nearby Radford University, he wanted to walk on to the track and field team. However, there wasn't a varsity indoor track team yet. It was a club, still being put together by then-head coach Al Barnes. It wouldn't be an official team until after the 1997 season.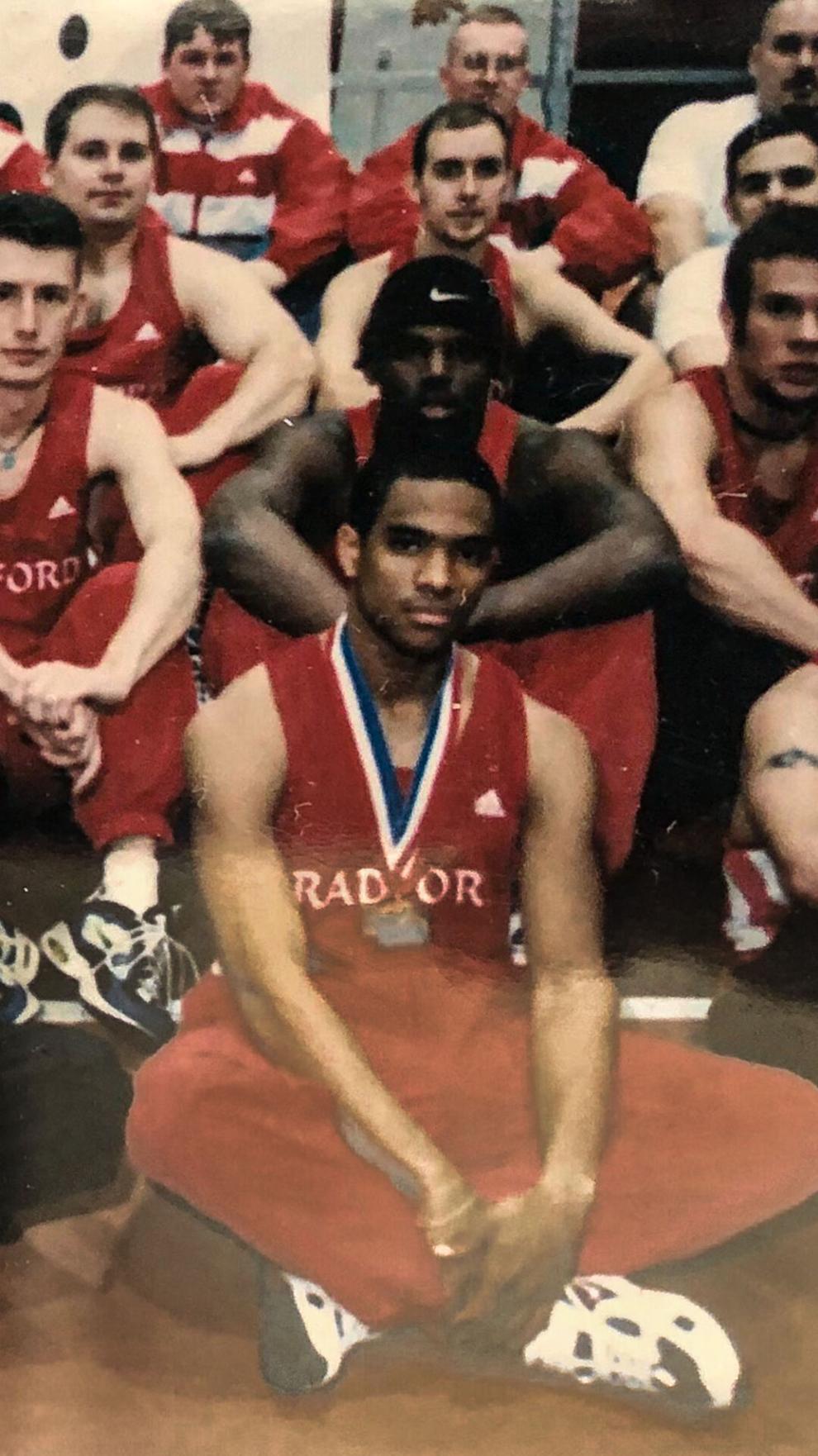 As Barnes remembers it, meeting Langford was completely circumstantial. Barnes' office was in one of the residence halls on campus and just outside of it was a piano. One day in 1997, Barnes was trying to work while Langford was outside playing it.
"I walked out and just sort of went up to him and said, 'Hey, do you mind going to the other residence hall?'" Barnes said. "I had a track shirt on, and he turned around, and we started talking about track, and he mentioned he'd like to be involved. And I was looking for walk-ons to start a program anyway, and it went from there."
Langford was the first official track athlete to join, and Barnes helped him land his first college coaching job. The two remain close to this day. 
From 1997 to 2000, Langford competed in high jump, triple jump, long jump, 100- and 400-meter relays for Barnes. In 1998, he became the first Big South conference champion in the school's history in any event for high jump. He won it again the next year, but his first win is what Langford said changed his outlook on his mindset of the sport.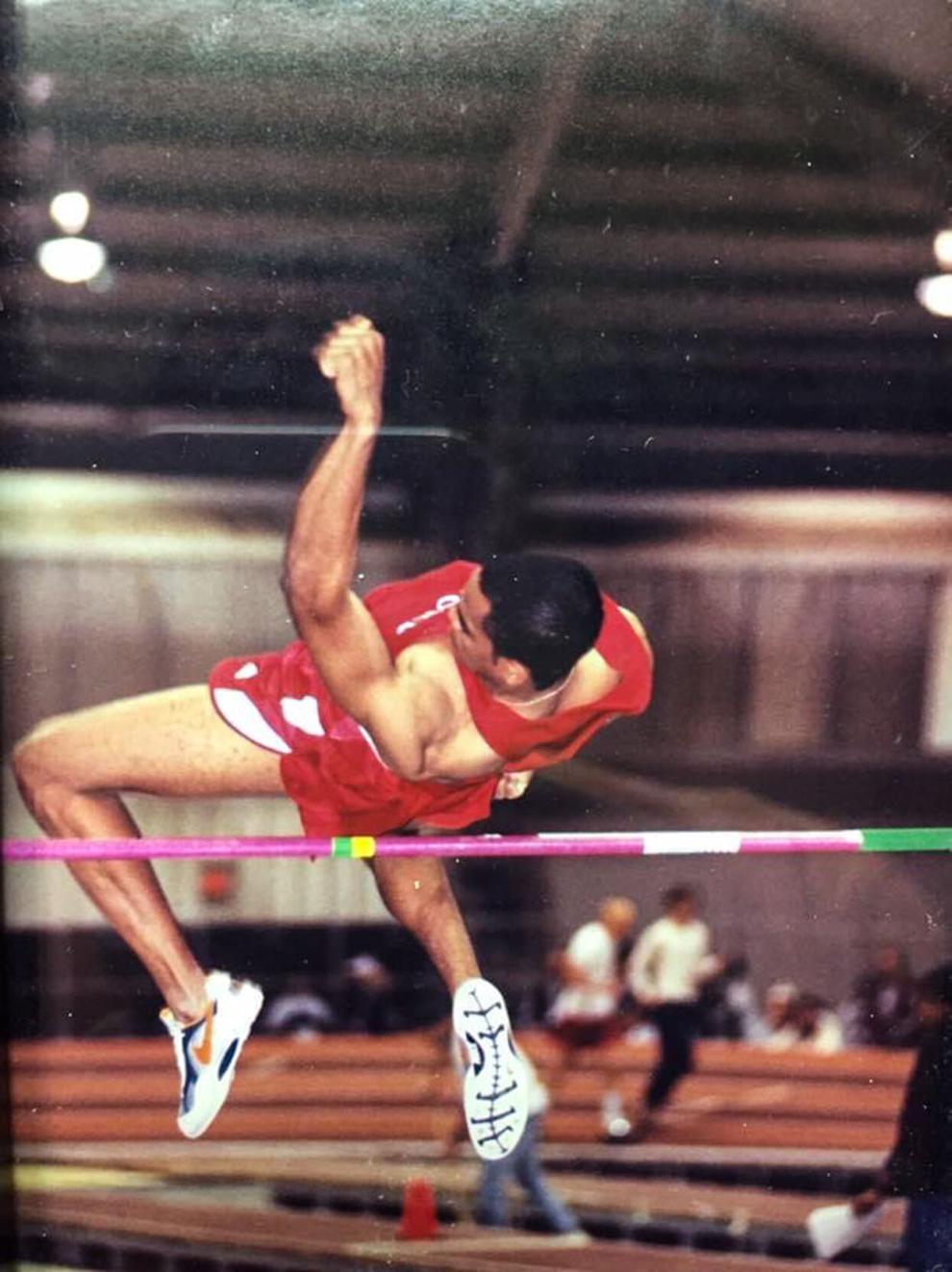 "My coach walked over to me and said, 'You're the first conference champion in school history. Congratulations.' And the rest of the meet was over. And my small team — almost ragtag in comparison to every other team because we were just starting so our numbers were low — everybody celebrated. We rushed the high jump mat, and it was like one of the biggest accomplishments in my life." 
"But at that point, I knew I could be successful. … That's when I really started betting on myself in every situation."
'A heck of a coach' 
Langford first started thinking about coaching when he was in college, but his love of helping young people came when he was one himself. As his mother, Mary Langford, describes it, his home in Lynchburg was a place where all the neighborhood kids were welcome. Langford said his trait of helping kids comes from Mary and his father, Willie.
"He loves young people," Mary said. "And the more he can bring together, he don't care. He would bring home kids from school if they were hungry. He was like, 'Mom, they don't have no food at home.' This was the house where all the kids from the neighborhood came. … Everybody was always welcome here. If he saw that another kid needed something or a family member needed something, they would come and tell me. And if there was any way that we could help, we did."
After graduating from Radford in 2000, Langford went back to Heritage High for his first coaching job. Soon after, he got a call from Barnes asking him if he'd like to be an assistant at High Point University, which Barnes said he knew Langford was always able to do since he started coaching him. While still competing at Radford, Langford would help Barnes develop the new track and field club by recruiting talent among his friends or people he played basketball with.
"We get a lot of athletes that have that talent, work ethic, then you get to the ones that want to continue to learn and want to know," Barnes said. "He was always asking questions, always wanting to learn more. He was a student of the sport right off the bat. He became a leader."
"Throw that highly competitive nature in the mix and you got a heck of an athlete. And then, as we learned, a heck of a coach, too."
While at High Point and working with the humble salary of a young coach, Langford got additional jobs as well, working at Home Depot and playing music for local churches. Langford described weeks where he would work at Home Depot from 6 to 8 a.m., teach activity classes during the day, coach in the afternoon and work as a study hall monitor in the evening. Langford also had to compete with larger schools for recruiting athletes — a challenge for acquiring acclaimed high school talents.
During his humble beginnings as an assistant coach, the long hours and extra jobs were a necessity. 
But these were hurdles, Lanford said, that he embraced.
"You knew you weren't going to have the same resources, but you were going after the same talent," Langford said. "You knew you weren't going to make the salary from the Power Five schools were going to make."
"Some people (think), 'Well, if you pay me enough, I'll do a good job.' In my mindset, it's just the opposite. I'm going to do such a good job that the people that can pay me will come looking."
Langford coached at High Point for two years before taking the head coaching job at Charleston Southern in 2003. He coached there 10 years before landing his second head coaching job at SCSU in 2013. With over a decade of coaching under his belt, Langford didn't have to work other jobs like he did at High Point, but the program still struggled financially, and Langford still had to defer to his work ethic to make ends meet for his team.
In December 2018, Langford became an Uber driver to raise money to buy warm-up apparel. That year, track and field and cross country's equipment budget was $12,000. Athletes had one uniform, and for two-day meets they would have to reuse them. The team needed money for basic necessities. 
So, Langford made a deal with his team: Whatever amount of money his team raised, he'd match it by driving for Uber.
His team raised just under $2,000, so Langford said he kept his promise and drove for Uber until he made the same amount.
From creating a cross country course to driving for Uber, Bryant — Langford's former athletic director at South Carolina State — witnessed him do whatever he could for the program to get what it needed.
"It just showed me his commitment to the program, regardless of the amount of money he was getting paid, or how much we were giving to the program," Bryant said. "He was committed. And that was something that for me, it meant everything as the athletic director."
In his 10 years at Charleston Southern, he produced nine NCAA Championship qualifiers and won Big South Track Coach of the Year four times. At South Carolina State, Langford produced talents such as Tyrell Richard, a 400-meter indoor NCAA national champion, and Demek Kemp, a 60-meter USA champion, all while Langford was fighting through these aforementioned challenges. 
The hard work paid off in 2019, when VanHootegem called Langford and asked if he'd be interested in taking men's sprints and hurdles in the direction he'd taken at Charleston Southern and South Carolina State. 
"I knew what type of Olympians they had coming from Oklahoma," Langford said. "It seemed like they had all the tools here to be successful."
'You can change things from the inside'
Outside of OU's athletic department offices, on the third floor of the north side of Gaylord Family-Oklahoma Memorial Stadium, there's a wall missing a picture.
The wall features a picture of every head coach at the school, from a headshot of Lincoln Riley to an in-game photo of Patty Gasso coaching a player, except Langford's.
That's his spot. After almost two decades of rising up the coaching ranks at smaller schools, and fighting through the adversity that comes with it, Langford is a part of a Power Five program that has more resources than he's ever had at a school.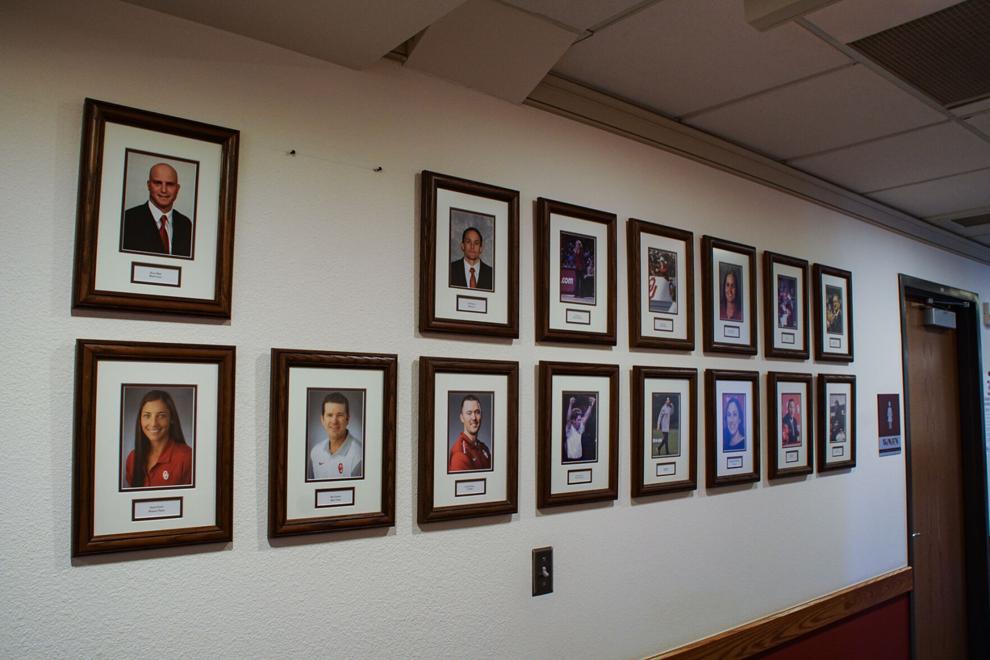 But with that comes the fact that Langford will be the only Black head coach on that wall. To Langford, having his picture on that wall is a testament to what Black coaches are capable of in the world of college athletics.
Soon, it'll be there.
"When you walk by it ... I've always been of the philosophy that you can change things from the inside," Langford said, "and you do it because you earn it …(becoming the official head coach) made me feel like what I was doing was working. Because the second part of it is yes, you got it. But other athletic directors will look at me and say, 'If it worked for Oklahoma, it can work for me,' whatever institution that may be."
Langford realized his responsibility when he was named interim head coach in August of 2019. In the team meeting when VanHootegem stepped down, OU Athletics Director Joe Castiglione announced to the team Langford would take over as interim head coach. In response, athletes stood up and asked Castiglione how they could make sure Langford's stay became permanent.
"It was humbling. It was really so humbling," Langford said. "Obviously, you want to jump in with both feet and do the best job you can. And I think it was gratifying because the kids saw my commitment to their success. That meant a lot to me."
In May of 2020, Langford had an evaluation meeting with Castiglione and had his interim title lifted.
"It was a dream come true for me," Langford said. "It really solidified some of the decisions that I've made, some of the investments that I've made on myself. It made me feel really good about betting on me."
"It was it was like a an ability to exhale ... but at the same time, it kind of reinvigorated me, like, 'OK, let's really get to work.'"
Now, in his first year as OU track and field and cross country's head coach, Langford is facing new challenges because of the COVID-19 pandemic. 
But with what he's accomplished as a coach for two decades, Langford is ready for any hurdle thrown at him.
"They're gonna have places that they name after him because of his passion for the sport," Bryant said. "I think people need to take heed to who he is. … (OU has) got someone who was really student centered and will do whatever it takes for the betterment of his program and his student athletes."