Though 73 percent of OU students surveyed have reportedly received at least one dose of the COVID-19 vaccine, experts say the university has not reached herd immunity, due in part to vaccine hesitancy. 
The university surveyed 2,867 students, according to a press release, and didn't require verification of vaccination status. 
OU Chief COVID Officer Dr. Dale Bratzler wrote in an email though younger people aren't more susceptible to the delta variant, more are hospitalized because less are vaccinated. He wrote he believes fear of the delta variant has driven up vaccination rates, but many who remain unvaccinated will still get sick and some will be hospitalized. 
As of Aug. 29, 59.1 percent of individuals in the 18-24 age group had at least one vaccine dose, compared to 62.6 percent of those in the 25-39 age group, according to the CDC. Additionally, 47.5 percent of the 18-24 age group is fully vaccinated, compared to 51.8 percent of the 25-39 age group. 
Dr. Aaron Wendelboe, an OU College of Public Health associate professor of biostatistics and epidemiology, said it's "generally true" that vaccinated students are safe from the risk of serious COVID-19 infection. He said as current transmission rates increase beyond what they were in the height of the pandemic, exposure risks are higher for everyone. 
The opportunity for exposure is comparable to the lottery, Wendelboe said. Though an individual's chance of getting infected from one exposure is low, multiple exposures means heightened risk.  
Formerly a state epidemiologist, Wendelboe said he originally estimated 70 percent of the OU community would need to be vaccinated to achieve herd immunity. Now, after discussing with Bratzler and others, and considering the delta variant's higher transmission rate, he recommends an 85 percent threshold. 
Oklahoma has one of the highest vaccine-hesitant populations, according to the CDC. In Cleveland County, an estimated 16.51 percent of residents are unsure of whether they should get vaccinated. 
Wendelboe said the No. 1 reason many college students haven't gotten vaccinated is "vaccine laziness." While many students are relatively healthy, he said some don't feel COVID-19 is a big enough risk to their health, so they aren't motivated to get the vaccine. 
Other contributors to hesitancy include concerns about the speed in which the vaccine was developed, possible side effects and unknown long-term effects, Wendelboe said.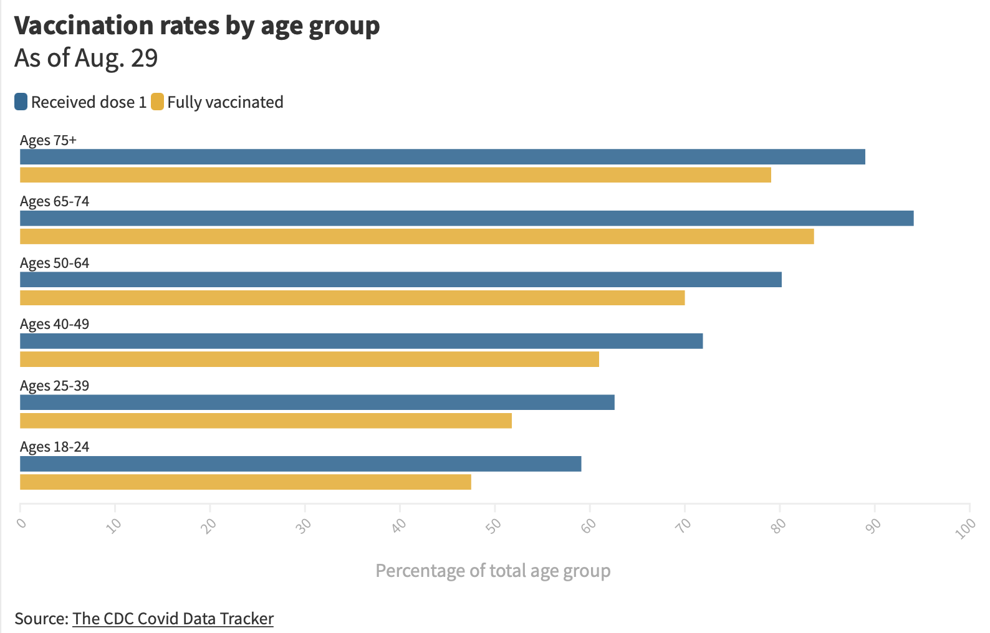 On July 16-18, Gill said she and her family went on a trip to New Orleans for her mother's birthday, where they went to a crowded bar one night. During that period, Louisiana's 7-day average sat at 1,198 — more than double that of Oklahoma's, according to the New York Times.  
Upon their return, Gill said her mother began feeling sick, but her family members assumed it was a cold. Gill was in the car with her roommate when her mother sent a picture of her positive COVID-19 test in her family's group chat. 
"I remember my heart just dropping," Gill said. 
Gill said she immediately told her roommate she had to get home to get tested and began her quarantine while she waited for test results. Her first test came back negative, but that same day, she was running a 101-degree fever and was stranded on her couch, in pain and unable to move. 
Gill said she knew she was positive at that point and asked to be retested. The second test soon confirmed this. 
Gill's 101-degree fever lasted a week and, throughout her quarantine, she said she experienced every symptom possible. She also saw her roommate, who was vaccinated, experience a milder version. 
Watching her roommate's smooth recovery caused Gill to change her opinion of the vaccine and she got her first shot at a free walk-in clinic the first week of school. 
"It got to the point where I couldn't eat … without (it) making me sick because of how messed up it makes you," Gill said. "It's definitely not something that I would want to ever experience again."
Any place where people congregate closely increases the risk of COVID-19 transmission, Bratzler wrote, and even fully vaccinated people can get infected and spread the virus. If community members aren't wearing masks, they'll be at greater risk for infection. 
One 2020 study indicates mask mandates in 15 states and the District of Columbia led to a slowdown in daily COVID-19 growth rate. Another one focused on COVID-19 deaths across 198 countries found those with cultural norms or government policies supporting mask-wearing had lower death rates.
SGA Undergraduate Student Congress Chair Crispin South said though the body has passed several resolutions encouraging students to wear masks and get vaccinated, its work has primarily been publicizing the safety and efficacy of vaccines and making sure people know where they can get them.
South said he wants to work with larger student organizations, sororities and fraternities to promote vaccination. He also plans to work with administrators to ensure the university is implementing policies that will benefit students. 
"If we can get the message out to everybody on the lowest level possible, and make sure that information is distributed as widely as possible that the vaccines are safe and they're effective, and that they will protect you from serious infection, I think that's at least my goal," South said.
South said though administrators believe state law bars them from mandating masks and vaccinations, there are still creative ways to make vaccination "the path of least resistance." 
He referenced Birmingham-Southern College in Alabama's COVID-19 response, which requires unvaccinated students to get tested weekly, with a $500 fee for each test. Students who have been vaccinated are exempt from weekly testing and will receive a $500 rebate.  
Wendelboe said he believes the best thing the university can do is "lower barriers" to vaccination and listen to community members. 
Administrators plan to encourage discussion of the vaccine through town halls in coming weeks, Wendelboe said. He said administrators are also in discussions about how best to incentivize vaccination. 
Wendelboe said he favors "aggressive testing" of unvaccinated students and would also support more punitive measures like fining students who continue to avoid vaccination. 
Though aggressive approaches to encouraging vaccinations can be effective, Wendelboe said it's important to remember COVID-19 will remain a long-term issue. 
"I am definitely supportive of an approach that takes the long view, that listens to people and tries to balance out education with understanding behavior change and motivations," Wendelboe said, "and that takes time." 
South said, to his knowledge, most students are still taking COVID-19 seriously, but those who aren't could elicit a rise in cases, which would be detrimental to the entire community.
"I just think, right now, the position we're in is not a recipe for anything good," South said. "So, I would like to see the university take some creative action, in terms of implementing policy that will keep you safe." 
Though Gill said she's almost back to normal, weeks after her quarantine ended in early August, she said she was still coughing and her taste hadn't fully returned. Over the course of her illness, she said she lost 13 pounds of "straight muscle," and when she returned to work at Old Navy, she found she couldn't lift boxes.
Gill's family also suffered heavily from the virus. She said her mother had bad lungs even before getting sick and then contracted pneumonia on top of COVID-19, which was "one of the scariest things" she'd ever experienced. Her parents received an antibody treatment, which helped their recovery. 
Despite this, both parents still refuse to get vaccinated, Gill said. 
"It's just very frustrating to see, because they experienced the pain and all the mental aspects of it with me," Gill said. "but yet they still just don't care enough to get the shot." 
While Gill appreciates that the university is offering free vaccine clinics and that individual professors have been encouraging vaccination, she said she hopes for university-wide vaccination and masking requirements. The thought of staunch anti-vaxxers returning to campus is disheartening, she added. 
"I was on that side for a little while," Gill said. "but until you get COVID, you don't understand how bad it is. I feared for not only my life, but I feared for my family's lives."
This article was updated at 1:54 p.m. Monday, Aug. 30, to indicate 73 percent of OU students that filled out a survey on vaccination status reported they'd received at least one dose.