A year after the pandemic began, the global influence of COVID-19 remains through social distancing, masking and other cautionary measures. Hope for life beyond the pandemic is now on the horizon with the arrival of COVID-19 vaccines. 
The FDA authorized the first emergency use of the Pfizer-BioNTech and Moderna vaccines for prevention against COVID-19 in the U.S. in December 2020. In February 2021, the FDA approved the emergency use of the Johnson & Johnson single-dose vaccine. 
Millions of individuals around the U.S. have already received a COVID-19 vaccination, according to the CDC. Oklahoma is currently ranked seventh in the nation for first doses administered.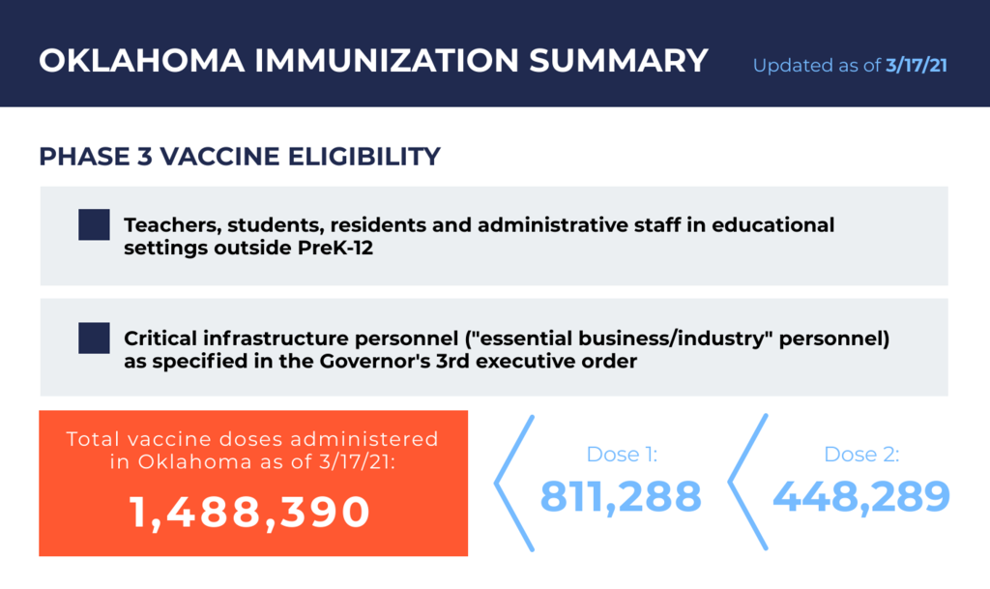 According to the CDC, more than 550,000 people have been fully vaccinated in Oklahoma, totaling nearly 14 percent of the state's population. Over 1 million people received their first dose of the vaccine, totaling 25 percent of its population.
In addition, 18 percent of adults in the state have been fully vaccinated, with one-third receiving their first shot.
As the start of the third phase of the state vaccination plan allows for the vaccination of more Oklahomans — including college students and professors — experts and OU community members talked through the specifics of the vaccination process.
OU Health COVID-19 vaccine administration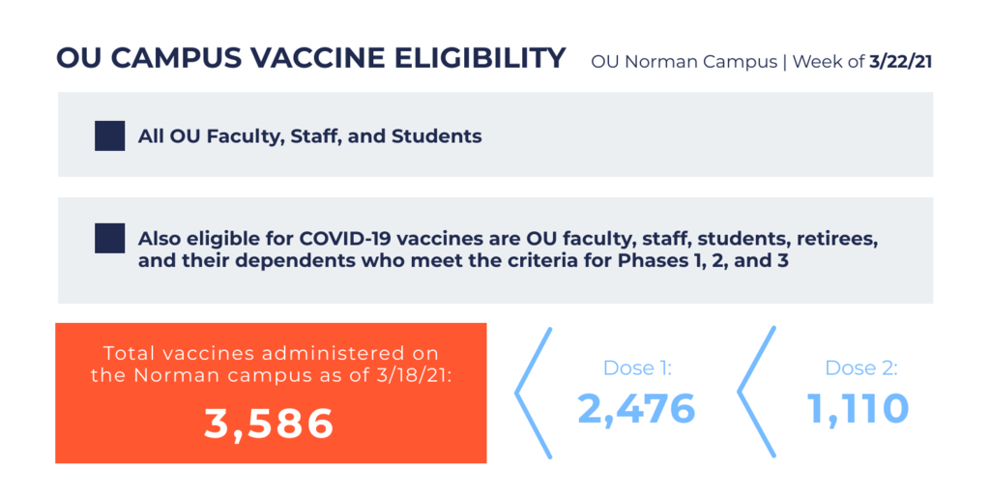 On the Norman campus, 3,699 doses have been administered for Phases 1, 2 and 3, according to the last OU vaccine update, with 1,200 second doses and 2,499 first doses.
Katherine Fay, a health educator from OU Health Services, said in an email that appointments for Phase 3 opened the week of March 15.
Fay said vaccines will continue to be administered the same way they have been — the OU Health Services administrative staff will continue to order vaccines for the community and appointment times should be posted on the OU Health Services website. She said students should check the OU Health Services social media for vaccination locations, which can vary weekly. 
Fay said once a patient has the first dose of the vaccine, they will automatically be scheduled for a second dose three or four weeks later, depending on the vaccine they received. She also said OU Health staff hasn't  administered the Johnson & Johnson vaccines on the Norman campus.
She said all Oklahomans are encouraged to register on the Oklahoma State Department of Health website as it is "the best way" for the health department to let OU Health Services know who should be vaccinated next. She also said the vaccine portal allows the health department to notify Oklahomans of vaccine appointments off-campus.
The COVID-19 vaccines
OU Chief COVID Officer Dr. Dale Bratzler said although the three vaccines in the U.S. have some differences, the "end result" of all available vaccines is identical.
"The Pfizer and the Moderna vaccines are what we call RNA vaccines, where a small piece of genetic material is wrapped in a lipid core and given to you," Bratzler said. "That goes into your cells, (which) produce the spike protein outside of the SARS-CoV-2 virus that causes COVID-19."
Bratzler said the vaccine allows the body to develop an immune response — antibodies and T cell immunity — against the spike protein, which protects against a COVID-19 infection.  
The Johnson and Johnson vaccine is called a "vector vaccine," Bratzler said. 
"They take an adenovirus virus that has been genetically modified so that it can't replicate," Bratzler said. "They put a small piece of DNA inside the adenovirus (which) then goes into your cells. It's converted and then transcribed to RNA. The RNA then goes into the cytoplasm of your cells and produces spike protein just like the RNA vaccines do."
Bratzler said he expects the Johnson & Johnson vaccine will be "broadly available" in the near future. 
"The one real strong point for the Johnson & Johnson vaccine is that it's a single-dose vaccine, so you won't have to be scheduled to come back for dose two," Bratzler said. "It's easier to store with a single-dose vaccine."
Bratzler said clinical studies have shown that 28 days after individuals receive the Johnson & Johnson vaccine, it was proven to be 100 percent effective at preventing hospitalization and death from COVID-19.
Bratzler said after the first dose of the Pfizer vaccine, individuals have to wait three weeks to receive the second dose, and he recommended individuals get the same vaccine for both doses.
"The CDC does put out some guidance now that says if for some reason you can't find the same (vaccine), then it may be okay to get some other vaccine," Bratzler said. "But for the most part, when we give a person a Pfizer vaccine, we schedule them to come back in three weeks to get the (second dose) of the Pfizer vaccine, and with Moderna, we schedule them back in four weeks."
Bratzler said serious or long-term side effects are extremely rare. He said all the side effects from the COVID-19 vaccines are "incredibly common, but are temporary, short-lived and minor".
"Fever, headaches, muscle aches, sore arms happens with a lot of (individuals)," Bratzler said. "The one side effect I had that surprised me was chills. I had substantial chills (the) first night I got the second dose. But those are incredibly common for other vaccines as well — it's not just with the COVID-19 vaccine."
Bratzler also said receiving only the first dose of the COVID-19 vaccine does not prevent individuals from being infected with the virus. 
"The first dose, if you're taking one of the RNA vaccines — Pfizer or Moderna — is about 70 percent effective at preventing symptomatic infection. You may not get as sick, but you still could get infected," Bratzler said. "You get the second dose, which is just a booster to stimulate your immune system, and it can drive your protection up to around 92 to 95 percent."
The vaccination process
OU students and staff who have already received the COVID-19 vaccines said the vaccination process was efficient, and they experienced limited side effects. 
Fay said Goddard Health Services has space to safely accommodate 17 patients in a waiting room and 17 patients in an observation area after their vaccine. She added Goddard is "comfortable scheduling" four people every five minutes.
Bratzler said the OU Health Sciences Center administered 35,000 doses so far without charging individuals, as he said the federal government pays for the vaccination doses.
Laura Bertran de la Torre, an economics senior, said she received the COVID-19 vaccine at Goddard March 3, based on her history with asthma. Her medical history placed her in Phase 2 of the vaccine.
 De la Torre said the vaccination process was "very smooth," as she received a link to sign up, immediately booked an appointment for the week after, filled out an online questionnaire and showed up to her appointment. 
"I have wanted to take a vaccine since (COVID-19) started, as I really want to help eradicate (COVID-19) and spend time with friends and family without fear of the disease," De la Torre said.
She said she had no side effects, except for a sore arm during the evening she received the vaccine.
Tavana Farzaneh, economics junior and SGA president, also said she received the COVID-19 vaccine at Goddard. Farzaneh said she believes in the science behind the vaccine and is grateful for the opportunity to receive it.
 "I went through Goddard, and it was super easy. I was in and out within 30 minutes or less," Farzaneh said. "I checked in at the front desk, walked back to where they were administering the vaccines, got vaccinated (and) then sat down for 15 minutes. It was awesome."
She said she only felt lethargic after receiving her first dose of the Pfizer vaccine.
To the individuals who are concerned about getting the vaccine, Farzaneh said she promises "everything will be okay."  
"I understand why you may feel concerned. However, it is important that we collectively get vaccinated as a community," Farzaneh said. "Similar to how we need to wear masks to protect each other, it is our responsibility to receive the vaccine as soon as we are eligible. Also, I have been vaccinated (and) personally I feel great."
Expectations for the future
As Bratzler said the vaccines provide individuals with "hyper-protection" against future COVID-19 infections, he encouraged all community members to get their shots.
"The vaccines are very, very effective and very safe, and they prevent (against) the severe complications of COVID-19," Bratzler said. "As I mentioned, your risk of getting really sick with COVID-19 is 1000-fold greater than the risk of a serious reaction to the vaccine, so it truly is a no-brainer decision that will protect you."
In a March 2 email, OU President Joe Harroz announced, based on the community efforts to help slow the spread of the virus and the widespread distribution of the COVID-19 vaccines, OU will resume in-person class for the fall 2021 semester. 
Harroz said there could be changes based on the pandemic unfolding. 
"Although we remain hopeful, we acknowledge that the pandemic has taught us to be nimble in our response," Harroz said in an email. "To help us keep making strides forward, we urge you to continue practicing healthy behaviors, including masking, frequent hand washing and social distancing; to get vaccinated when you are eligible; and to keep supporting one another through this challenge."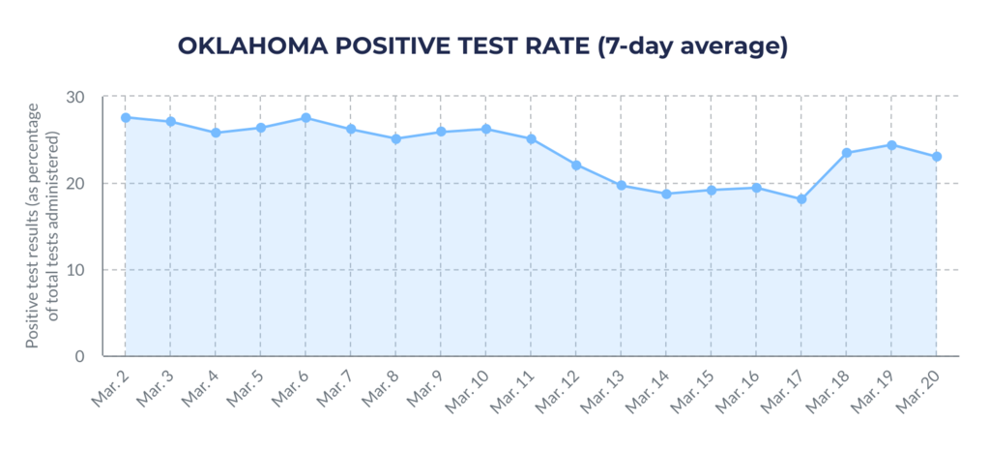 De la Torre said she understands those who are afraid of getting vaccinated but believes recent times call for "empathy" and "putting the interest of our community and the broader society above our individual hesitation."
"I truly hope the fall semester is better, and it certainly will be closer to normal if most people get vaccinated and continue to socially distance and wear masks," De la Torre said. "Unfortunately, it's difficult to forecast how students will behave, and sadly many community members are skeptical of the vaccine, masks, or (COVID-19) altogether."
Farzaneh said the community will begin "healing" if individuals get vaccinated. 
"While things may not be all the way back to how they were before the pandemic, I'm optimistic that the fall will feel much safer once we are all vaccinated," Farzaneh said. "I really struggled with returning to school in person because of my fear of contracting COVID-19, so knowing that I will have at least some defense against the illness is what brings me peace. We will still have to be cautious because the vaccine is not a single fix to the pandemic, (but) I'm hopeful that our fall semester will (be) somewhat normal."