A group of approximately 15 OU community members attended the OU Board of Regents Monday meeting, wielding signs that read "Our leadership fails us on workplace safety" to protest the lack of campus-wide masking and vaccination mandates.
The protest was originally organized by the group OU Days of Action as part of a two-day demonstration, including a student and faculty walkout and a noon rally Tuesday in front of Evans Hall.  
Julie Ward, an associate professor in the Spanish department directly addressed the regents before they entered executive session. She read an open letter from the OU's American Association of University Professors chapter, demanding the university take action against the spread of COVID-19.
"We must add COVID-19 to the list of required immunizations for OU employees and students," Ward read. "Given current vaccination rates, it is clear that strong encouragement of optional mask use and vaccinations are not enough for achieving effective community protection and that in-person work and study poses a legal risk to employees, students and those we interact with off-campus. In a public health emergency, like the one we currently face, it is your responsibility to do everything in your power to prevent the death of and serious physical harm to your employees."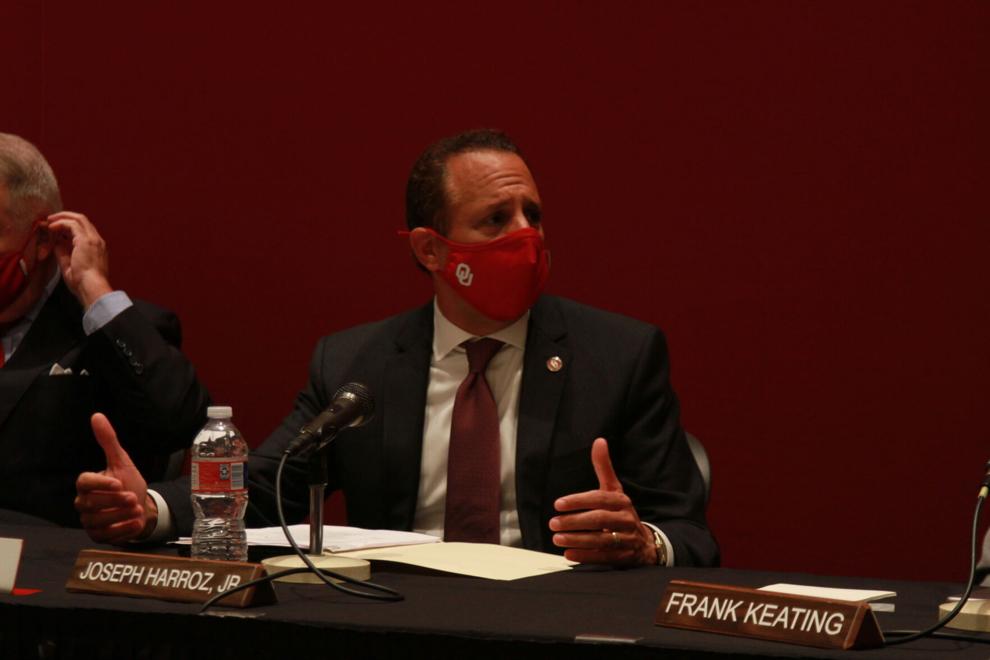 Ward said in an interview with The Daily that the letter she read to the regents was signed by over 550 OU community members who "felt neglected by the lack of COVID-19 policies."
"It feels like our voices are not being heard when we request common sense pandemic mitigation policies and are told that everyone's hands are tied, and no one wants to take responsibility for keeping us safe," Ward said. "So it felt like I needed to come directly to the board and deliver the message to them." 
English department Director of Graduate Studies Amit Baishya also addressed the regents, saying he has felt the life-altering impact COVID-19 can have. He urged the university to do more to prevent negative consequences. 
"I've seen eight people close to me die because of this virus back in India. I'm sure that many people have had losses here as well," Baishya said. "If any of these good common-sense type public policy is implemented, many of these things can be mitigated and this is why I'm here."
Baishya said in an interview with The Daily that he is discouraged by OU's administration. He said the way OU's community has come together to fight for safer policies has made him hopeful for the future.
"I think the best thing about this is that people have mobilized," Baishya said. "This is what keeps our feet going, even though the administration is ignoring the fact that so many people are actually supporting this." 
The OU-AAUP's open letter read to the regents also encouraged board members to disregard Senate Bill 658 and Executive Order 2021-16, which prevent the implementation of mask and vaccine mandates that target unvaccinated people. The university administration stated in its interpretation of the legislation that the university cannot implement a mask mandate, despite the legal opinions of its law faculty. 
A similar message to the open letter was presented by Jim Ziegler, a faculty member in the OU English Department.
"We now have the two-week mandate policy after a positive test. If that doesn't violate SB 658, then I don't know what's going on. The actual university policy is pretty inconsistent," Ziegler said. "The Oklahoma City public schools have been an inspiration. They're observing SB 658, and they've got 99 percent mask compliance because they issued a mandate, and then made people document exemptions. And very, very few people have done that. So the Oklahoma City Public Schools, K through 12, has put the University of Oklahoma to shame."
Ziegler also cited statistics from the Chronicle of Higher Education, stating that 1,049 college campuses across the country have implemented a vaccine requirement.
Susan Kates, an English professor, said the lack of policies and the university's response to COVID-19 has led her to lose excitement in being a part of the university.
"(Harroz), you're always talking about the fact that we're an OU family, and I've been here 25 years, and I have often felt that this is a great place to recruit people to, but I couldn't in good conscience do so now," Kates said. "If you want to talk that way in public, then you need to institute a policy that will protect students, staff and faculty."
The Daily attempted to speak with OU President Joseph Harroz after the regents exited their executive session, but he immediately left after the meeting's adjournment due to a "prior engagement."
This article was updated at 1:29 p.m., Sept. 27 to reflect that Julie Ward is from the Spanish Department.