Matt Bowling is easy to pick out of a crowd.
His fiery, bright red hair, paired with his light green frog onesie, makes Bowling a familiar face at OU basketball games. The junior is a diehard Sooner fan, and he has yet to miss a home basketball game this season.
Bowling isn't alone. His "Boom Squad" comrades stand alongside him, some dressed as chickens and squirrels, others sporting the usual crimson and cream. But while the Boom Squad turns out at the Lloyd Noble Center, the same can't be said for the rest of Sooner Nation.
"It's frustrating because we feel like we're doing everything we can," said Matt Marks, a graduate student and first-year member of the Boom Squad. "Everyone knows there's a game — why aren't they in the seats? What more can we do?"
That's a question OU's athletic department leaders are asking as well.
Attendance at home basketball games has become a glaring issue at Oklahoma this season. In the 12 games OU has played so far in Norman, it's averaging 8,115 tickets sold per game, which doesn't actually equal butts in seats. For example, when OU played Iowa State earlier this season, there were 8,235 tickets sold but only a school-estimated attendance of 4,254.
It all means that on Tuesday night, when OU plays Texas in its final home game of the 2019-20 season, the Sooners will need to sell 13,435 tickets to avoid becoming OU's worst-attended men's basketball season since 1993-94, according to attendance records kept by the NCAA.
The Lloyd Noble Center's capacity: 11,528.
But maybe the most baffling part of the equation is that OU might have its best team since its Final Four run in 2016. If Oklahoma wins its last two regular season games, against Texas and TCU, it's likely the Sooners will not only head to the NCAA Tournament for the seventh time in eight seasons, but also probably finish third in the Big 12 — which would be their best finish since 2016.
"As long as we're providing a reasonably competitive program and a reasonable venue at a reasonable cost, then I think we're doing about what we can do," said senior associate athletic director Kenny Mossman. "I think if you look around the Big 12, you won't see a lot of schools fighting the same problem we are ... I think you start looking at the extremes, and I think OU falls into an extreme category."
So why aren't fans attending games?
Excuses include the venue, the scheduling, the market, the atmosphere and the success of the team.
"If you poll 50 different people on this topic, you might get 25 to 35 different answers. And that's one of the things that makes this very difficult," Mossman said. "At some point, it just gets down to the fan base and just how much they want to support a program."
THE LLOYD NOBLE CENTER
The Lloyd Noble Center, built in 1975, was constructed more as a concert venue than a basketball arena, leaving fans feeling far from the action. And the location of the arena — approximately 1 mile from the dorms and 2 miles from Campus Corner — is not the most ideal, with only one nearby restaurant, a drive-in Sonic.
Building a new arena doesn't seem to be a possibility, as talks for a venue at University North Park collapsed in 2019, which would have seen Sooner basketball move into a 10,000-seat stadium 5 miles from campus on the other side of Norman. And while moving to McCasland Field House would create a fun atmosphere, the 5,000-seat, 92-year-old field house has little parking and fewer modern amenities.
The Lloyd Noble Center's location is one thing Mossman said he wishes he could change, as more restaurants nearby would likely help attendance. But he's also quick to point out the LNC's parking situation, saying he'd "put its parking up against any other arena in the country."
"I think when you look back, when we've had great players, people have found a way to get there," Mossman said. "I'm just not thoroughly convinced yet that the location of the building or the building itself are deal-breakers for people."
Doron Tamari, who wrote a 45-page dissertation at the University of North Carolina on how student sections can affect college basketball games, said one possible solution to creating a better atmosphere could be renovating the LNC. Tamari used the University of Illinois' State Farm Center as an example.
The State Farm Center was built in 1963, has a capacity of 15,500 and is structured similarly to the Lloyd Noble Center. In 2014, the State Farm Center underwent a $169.5 million renovation, creating a club level for season-ticket holders and donors, plus more space for the student section. 
OU has recently upgraded its football stadium and is fundraising to build a new softball stadium and overhaul its baseball stadium, so it seems unlikely the university has the resources to pull off another renovation.
One solution Tamari discussed was the possibility of wrapping the student section — which is currently allocated 1,400 seats in seven sections in the upper and lower bowls of the north end of the venue — behind the teams' benches in three sections. The only problem, Tamari said, is that it could cause issues with season-ticket holders and donors.
"On the positive side, every time it was full it would look awesome. You'd be right behind the opposing team's bench, and you'd probably create a home court advantage. The problem is that when you don't fill it, how much of an eyesore is that going to be?" said Tamari, a senior innovation manager at 4FRONT, a sports marketing company in Chicago. "And that's when you start getting issues with donors who are upset and picking sides."
Mossman said the athletic department moved the student section in the past and saw little success. "I think if we felt like that was a move that was going to draw a large number of students on a regular basis," Mossman said, "we would do it."
In the end, according to those who often attend games, the Lloyd Noble Center isn't the biggest issue.
"Look at where we are," Bowling said pointing at the court on a recent game night, standing two feet from the court. "Yeah, it might suck way up there, but this is where the action is, man."
THE SCHEDULING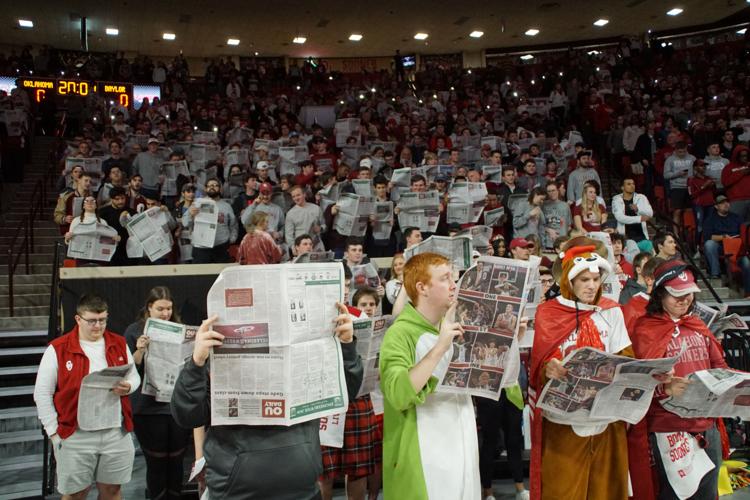 Oklahoma has had its fair share of players make it to the NBA — Trae Young, Buddy Hield, Blake Griffin, Stacey King, Mookie Blaylock, Alvan Adams and, of course, the late Wayman Tisdale.
But when the Oklahoma City Thunder arrived on the scene in 2008, it unquestionably changed the perception of basketball in Oklahoma. The Sooners, along with Oklahoma State, were no longer the premier teams in the state. Players like Kevin Durant, Russell Westbrook, Paul George and now Chris Paul stole the show and, more importantly, the fans.
In the 10 seasons before the Thunder arrived, the Sooners' average attendance was 10,945. In the 12 seasons since, it's 9,781 — just over a 10 percent decrease.
The Sooners and the Thunder rarely overlap during the season, as just three OU home games were played the same night as the Thunder this season: Nov. 5 vs. UTSA, Jan. 18 vs. TCU and Tuesday vs. Texas. Against UTSA and TCU, the paid attendance was 7,202 and 8,699, respectively. The Thunder sold out both nights, with an attendance of 18,203.
"I think it would be silly to think it doesn't have some impact on us," Mossman said. "I don't think the impact is so dramatic that it results in what we saw at the Iowa State game."
More than the Thunder's impact, the scheduling and timing of games play a larger role, according to Mossman. Of OU's 13 home games this season, eight are played on a week night. And of those, six started after 7 p.m. The Iowa State game Mossman is referring to, which was played on a Wednesday night, had a paid attendance of 8,235 — the lowest attended home conference game for OU this season.
"I think starting time is a variable that works against us oftentimes — that's obviously a function of television," Mossman said. "Weeknight tipoffs are hard for families ... I have a young son who loves to come to games, and if we have an 8 o'clock tip on a weeknight, I can't bring him because of school the next day."
It's not just hard on families, either.
"We get it. We all go to school, too — 8 p.m. on a Tuesday is not fun," said Caleb Boydston, a senior Boom Squad member. "It's unfortunate, the timing of it. But we're also 20-year-old college kids, I think we can handle a few late nights during the week."
THE ATMOSPHERE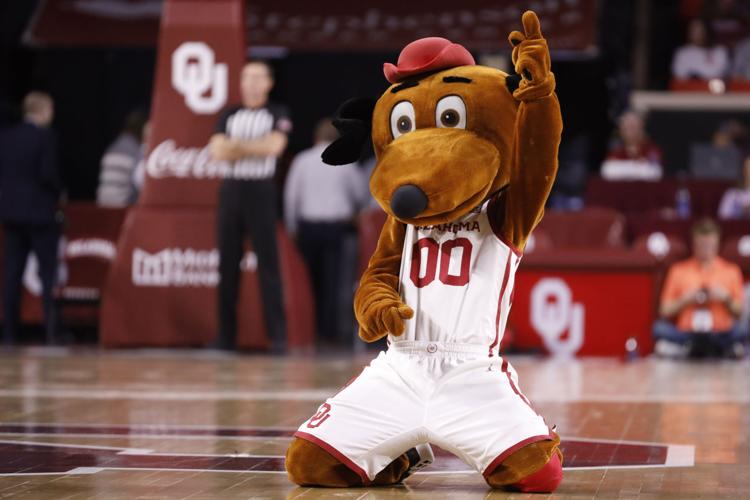 A good college basketball atmosphere is often defined by a school's student section. A great student section is a cohesive unit that takes on the personality of its team.
Duke's "Cameron Crazies" embody this.
"I think what makes a great student section in any sport is the belief that you're a part of something bigger than yourself," said Alexa Moses, who was a line monitor for the Cameron Crazies at Duke from 2017 to 2019. "It's an authentic belief that your energy is felt by someone else, whether that be a player, a coach or the entire arena."
Moses said students at Duke feel as if they're a part of the team. She recalls superstar players like Zion Williamson and RJ Barrett connecting with Cameron Crazies during the week, encouraging their classmates to attend games by talking to them on campus and visiting them in their tents outside Cameron Indoor, which sits in the middle of campus.
Getting students to attend basketball games at a school like Duke, which prides itself as one of the greatest programs in college basketball history, shouldn't be difficult. But what about a school that isn't a "basketball school?"
San Diego State is the perfect example. Mossman said OU has sent members of its marketing team to games at San Diego State to learn about the atmosphere the Aztecs have created.
"I'd say what separates us is our creativity and the fact that we really take advantage of our First Amendment rights," said Tyler Hamilton, who helps run the San Diego State student section. "We will know everything about you, and we will use everything about you to the best of our ability to get in your head."
Hamilton isn't kidding when he says their student section, known as "The Show," does anything to get inside opponents' head. They pride themselves on being college basketball's "bad boy."
"Last year, when Eric Musselman came to town with Nevada, he had gotten arrested for a DUI earlier in his career," Hamilton said, "so we found his mugshot, blew it up and had one of our guys stand at the front of the student section and chug a beer in between a hole we cut in the mouth of the mugshot."
OU's athletic department probably wouldn't want the Boom Squad making fun of an opposing team's coach being arrested, but maybe the Sooners could learn a thing or two from San Diego State, who are ranked No. 5 in the country with a 26-1 record, when it comes to creating a brand for its student section.
The Boom Squad, along with the athletic department, has attempted to create a more student-friendly atmosphere by giving away things like T-shirts, hats and flags, providing more seats on the floor by moving the band, selling alcohol and pairing it with happy hours, and recently giving in and making all games free for students.
"Students want the social aspect of going to athletic events," Tamari said. "So how can you do something that cannot be replicated? And a lot of times that's with the atmosphere or the FOMO that you have to be in the building to experience this."
THE TEAM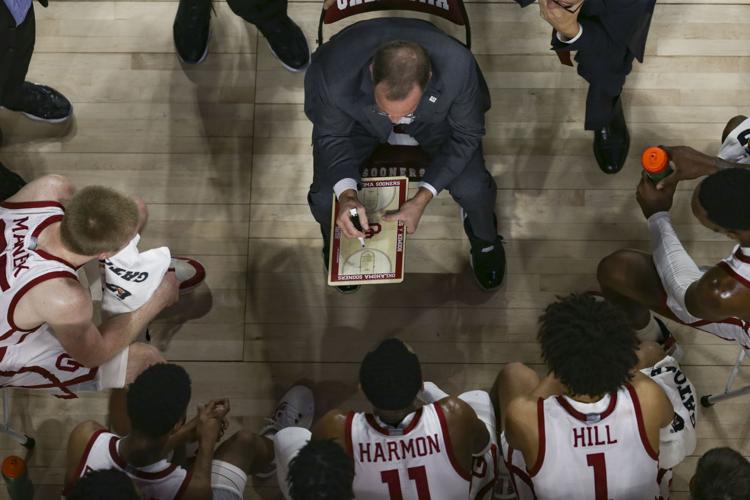 Billy Tubbs knows what a full Lloyd Noble Center looks and sounds like. Everyone feared missing out on the former OU basketball coach's teams in the '80s and early '90s, when he turned the Sooners into must-see "Billy Ball" averaging 102.9 points per game in 1987-88, and once winning a game 172-112 in 1990. Tubbs helped the Sooners to nine NCAA Tournament appearances, four regular season Big Eight titles and a national runner-up in 14 seasons.
Tubbs' secret to getting fans in the stands? Winning. And winning big.
"Well, what I did was I tried to get really good players, and I tried to beat the hell out of everybody we played," said Tubbs, who won 333 games at OU from 1980 to 1994. "That's what Oklahoma people like: a good butt-kicking."
Tubbs is quick to point out the stars he had on his teams. Tisdale, King and Blaylock were some of the best players in the country. OU has had mesmerizing players recently in Hield and Young, now NBA stars. In Hield's senior season of 2015-16, OU averaged a paid attendance of 10,000 per game. In Young's lone season of 2017-18, OU averaged a paid attendance of 10,253.
But this year's team doesn't have that superstar. While talented, with players like junior Brady Manek and senior Kristian Doolittle who have each scored over 1,000 points in their Sooner careers, this isn't the most flashy Sooner team. And while coach Lon Kruger is one of college basketball's most respected coaches, taking four different programs to the Sweet 16, he probably isn't going to grab the PA mic in the middle of a game like Tubbs, who once brought the Lloyd Noble Center to its feet when he asked fans to stop throwing trash on the court despite the officiating.
"You have to have stars. You have to have stars that people really fall in love with and want to see play," Tubbs said. "For OU basketball right now, I don't see that they have a superstar right now. They're a good team, no question about it. But it comes down to greatness. How good are you?"
At the end of the day there are a lot of factors, but if OU fans have proven one thing — at football, at softball and at women's gymnastics — it's that they like nationally relevant winners.
"I think the one thing that we've seen that's successful is when the program succeeds at an extremely high level," Mossman said. "I think there's nights where our team comes out and they're disappointed in the turnout, there's not great energy in the building … It turns into a little bit of a vicious cycle. The team and the program really know that they would benefit in playing level and recruiting if they had a large, enthusiastic crowd. At the same time, the crowd is saying 'We want this great, elite program and then we're going to come and be loud and enthusiastic.'
"Those things need to happen in concert, not waiting for one another."
But this team is winning. While it may not be the best team Sooner Nation has seen, it is a solid, tournament team.
"The players shouldn't have to come to us after a game and ask where all the fans are at," Boydston said. "It's the University of Oklahoma …
"We should fill 10,000 seats every game."