Before he played his first game as a Sooner, Tommie Harris was serving barbecue for Bob's Bar-B-Q in 2001, laughing alongside other OU athletes and owner Doug Kennon. 
"Welcome to the family," former Bob's Bar-B-Q owner and Sooner Legends founder Kennon said as he greeted Harris. Despite being a five-star recruit out of Killeen, Texas, Harris was perplexed they knew who he was.
"I started to see how big the love was at Oklahoma," Harris said. "It was just a real-life family." 
Years later, the bond between the future NFL first-round pick and Kennon continued. Harris always stayed at Sooner Legends when he was visiting Norman. He even missed his first day of camp with the Chicago Bears while serving food at Sooner Legends' restaurant in 2004.
Even his 10-year-old daughter Ella was able to develop a close connection with former OU basketball player Buddy Hield, like her father did with athletes at Sooner Legends. Harris and his family became regulars at Sooner Legends, located on West Lindsey Street and Northwest 24th Avenue in Norman. 
Harris' trust for Kennon and Sooner Legends led to his wife Ashley staying there the night before having the hospital operation that would lead to her death in 2012, just 41 days after they were married.
The loss further strengthened the emotional connection between Harris and Kennon, leading to an unlikely friendship between athlete and business owner. 
Sooner Legends announced July 14 it was closing after 14 years of service. Due in large part to Kennon's charisma, he provided Sooners fans with a congregation of OU athletics, a shrine of sorts, and was able to build lasting relationships with athletes and fans, young and new, just like Harris. 
"I was very sad," Harris said. "That's where me and my son stayed every time we came in, and my last conversation with my wife was when she was staying there."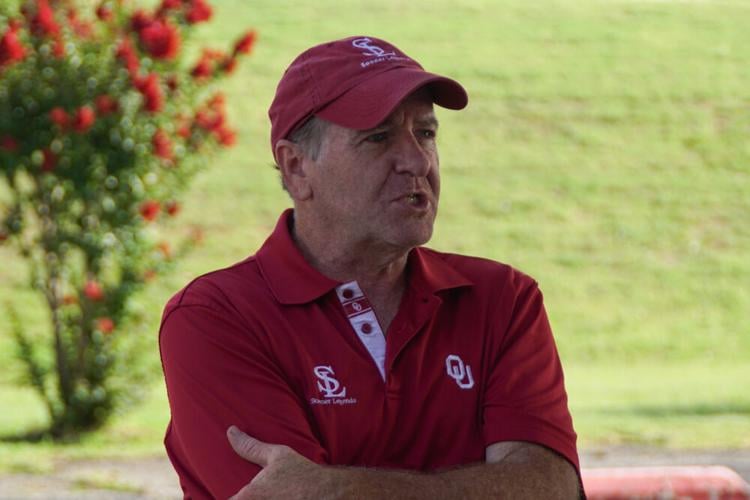 'I had a lot of relationships within OU'
Kennon came up with the idea to start Sooner Legends on his way to New Orleans for the 2003 national championship against LSU, a game that Harris played in. 
"We had the hotel and I had tons of memorabilia," Kennon said. "I had a lot of relationships within OU and we just made the decision to look into it." Sooner Legends opened three years later, fulfilling Kennon's newfound dream after acquiring the property. 
He was able to make a profit off his love of OU athletics, filling the hotel and restaurant with memorabilia, with each room named after a different coach or player. Kennon missed just one home game in the past 39 years. 
Kennon was able to build his memorabilia collection through his involvement in the OU community. He was a student athletic trainer from 1985–88 under former coach Barry Switzer, along for the ride as OU won three Big Eight titles and a national championship. 
"So many of these items I have would be gone and in the trash if it wouldn't have been for the people I know inside the athletic department," Kennon said. He has over 20,000 pieces of memorabilia, including one of the original Top Daug costumes. 
"It's hard to want to give any of it away," Kennon said. "But at the same time, I don't have the space and I want it to be shared with people."
Kennon has kept some of his personal collection, which includes pieces from the '20s and '30s, but has started giving away a lot of the memorabilia. Among former players and coaches that Kennon has given pictures to are linebacker Teddy Lehman, defensive end Dusty Dvoracek and men's basketball coach Billy Tubbs.
Kennon said he gave pictures of Tubbs to the former basketball coach's son, who hasn't seen much of his dad in his coaching days. "That's the excitement of it," Kennon said. "Every one of these things has some sort of emotional tie."
OU sports and good service have been the Kennon family's pride and joy for over 20 years, dating back to when Bob's Bar-B-Q opened in Norman in 1999. 
"Life is full of the unknown," Kennon said, reflecting on the sadness of closing the hotel and uncertainty for where the rest of the memorabilia may go. "I have strong faith that when the Lord closes one door, another will open.
"The relationships, that's what life's all about. We all have this one thing in common. It's that OUDNA and it's something that is a bond and a love that's so much greater."
The closure was a big loss to the Norman community. Kennon's Facebook post has over 300 reactions and 400 comments.
According to Kennon, over 100 hotels have opened within 35 miles since the Sooner Legends Hotel opened 14 years ago. 
Lindsey Street was under construction from 2016–18 to widen the road. The Lindsey Street bridge over Interstate 35 was closed during construction, which hurt many businesses in the area. The construction of Lindsey Street, on top of the competition from other hotels — which was shortly followed by the coronavirus pandemic — was the tipping point financially in the closure of Sooner Legends. 
"Tons of the businesses that are still around us are still struggling and have been struggling and still never came out of it," Kennon said. 
Kennon said he lost millions of dollars of future business due to cancellations from the coronavirus. Just this spring, Sooner Legends lost Mom's Day weekend, spring break and graduation, and the National Press Photographers Association convention, which included over 180 people staying at the hotel.
"There's so many people that make their living off of students," Kennon said. "It's scary to see this town so empty."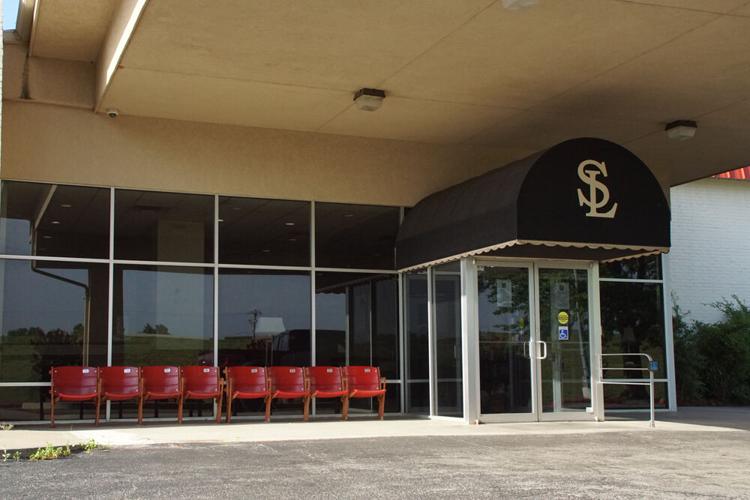 'It was a memorable grace'
Baltimore native John Corsi and the "East Coast Sooner Mafia" have made the trip to Norman and stayed at Sooner Legends for 14 consecutive years, repeating the same weekend trip for one home game each season. 
Corsi and his friends would arrive in Norman on Thursday and party in their rooms, go to Cattlemen's Steakhouse for dinner on Friday, go to the game on Saturday and stay for NFL football on Sunday. 
Corsi has no previous connections to OU other than rooting for the team as a child, but is one of the biggest fans out there. He's developed a relationship with Kennon that he describes as a "well-oiled machine" that's become a rinse-and-repeat process for game days.
"It's superior hospitality and superior staff," Corsi said. "He's been very generous and we've been friends for 14 years. Doug was always there when we needed him."
Corsi recalls Kennon giving him access to the hotel cars and his own personal parking pass for their use. 
Corsi is one of many to become friends with Kennon, and said he will miss the establishment Kennon created. Sooner Legends became the ultimate stop for Sooners fans in Norman. 
"OU football is so deep in people's lives," Kennon said. "You're not going to remember other hotels unless something happened. Very few people that have ever stayed here don't remember it."
For the first time in 14 years, Corsi and his friends will need to find somewhere else to stay other than Sooner Legends for game day. They used to book their rooms for the big games over a year in advance.
"Next year we play Nebraska, and it'll be tough to find hotel rooms," Corsi said. "This is a new experience for me."
For Joe Washington, OU's third all-time leading rusher, he doesn't know where he's going to get his favorite drink.
"You talkin' 'bout depressed?" Washington said. "I'm really depressed now. Where the hell am I gonna go get a Sooner Magic?"
Although he doesn't drink very often, Washington recalls sitting at the bar with former OU players Tinker Owens, Greg Pruitt and Terry Peters, enjoying their drinks with a cigar while reliving memories at Sooner Legends. 
"You walk in there and you remember," Washington said. "I walk in and I see the guys that I've played with, I see the guys that started all this stuff and I see the guys that are continuing the Sooner legacy."
The closing of Sooner Legends was damaging to former athletes. No other place in town had as much OU memorabilia, and for most former players, it's an intimate part of Sooner history. 
"It's heartbreaking," Washington said. "That was a good part about what the world was about, and a good part about what Doug was all about."
Among experiences and memorabilia that will be missed, one thing won't for Washington: the Barry Switzer suite.
"I know one thing I hated when I was in coach Switzer's room," Washington said with a laugh.  "Shit, I couldn't do anything. All my coaches were watching me the whole damn time."
Sooner Legends acts as a time capsule for Washington. Being a regular visitor over the years, he recalls walking in and seeing former teammates and coaches, bringing him back to his time as a player in the early '70s.
Sooner Legends was a place where memories are made, especially for athletes. It's a place of reconciliation, where they can come together peacefully without being bothered. 
Kennon was able to make friendships with the older players and the newer ones, which speaks to his personality. 
"Doug just got the touch," Harris said. "That's why we called him Dougie Fresh. God made one of Doug, he will never be duplicated, that's just how Doug was. He knew how to treat people."
For Harris, losing Sooner Legends is hard. He had his last conversation with his wife while she was there, and planned her funeral in the lobby, sitting on the crimson couches next to the picture of Wayman Tisdale. 
"Sooner Legends means everything to the Harris family," Harris said. "It's bittersweet because it was a memorable grace that I could remind my wife with, but the sweet part is that I know that Dougie doesn't have to deal with running a business in the middle of a pandemic. So I just know Dougie made the best decision for him and his family."
Kennon plans on keeping the Sooner Legends catering business and moving it to a different location, hoping to continue the brand that his customers are used to having. The hotel property is currently up for sale.
For Corsi and his friends, they hope to see Kennon the next time they're able to come to Norman.
"If the property is still there I know exactly what we're going to do," Corsi said. "We're going to get in a limo, park in the parking lot, go outside and toast a beer to say goodbye."