Eli Boulton spent a lot of time in the car growing up.
The redshirt sophomore heavyweight wrestler's father, Mark, drove him all over Michigan, as Eli's many talents had positioned him to compete in various fields across the state. Besides being a star on the mat, Eli shined academically, as a violist and as an artist.
"That type of environment where kids are expected to excel is great and certainly put some pressure on (him), but winning is never what I put a lot of (emphasis) on," Mark said. "I just wanted him to compete at his best, whether it was on the mat, in school or playing his viola."
Being hyper-involved isn't what makes Eli unique — it's his ability to quickly excel at whatever task he sets his mind to, from winning four consecutive state championships at Lowell High School, to being principal violist in his orchestras, to being among the best ceramic artists from his area, to now being a National Merit scholar and walk-on wrestler at OU.
According to those who taught him what he knows, his naturally competitive spirit fuels his amalgamation of talents, each of which contributes to the other.
"He just always tried to be the best," Mark said. "He always wanted to be the first seat in the viola section, and he always wanted to be successful. And it's something that his mom and I certainly weren't going to argue with him about, trying to get really good grades or trying to excel in whatever it is you choose to do."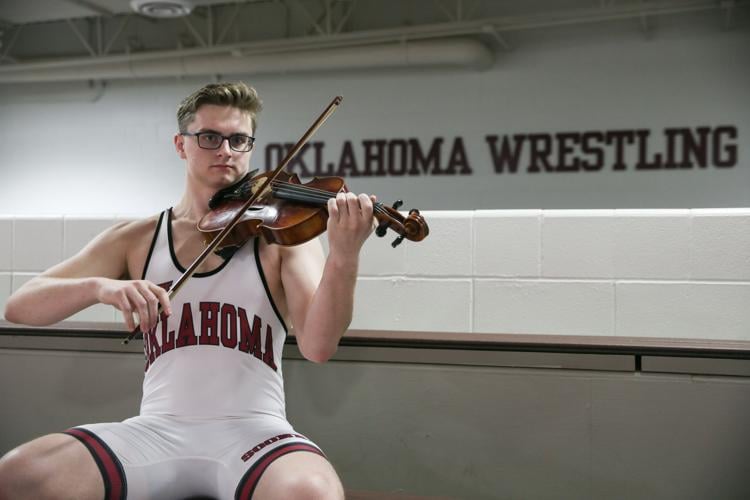 One of Mark and Eli's first long road trips came around the time Eli was turning 10.
They hopped in the car and drove nearly two hours southeast from Lowell, Michigan, to Ann Arbor, where Eli was set to compete at the University of Michigan. He had been wrestling for almost six years because of his father's background playing and coaching the sport, but it was primarily for fun and nothing serious, Mark said.
But on his 10th birthday, Eli won the tournament and lit a fire under himself that ignited the competitive attitude he's had since.
"Something definitely switched and the competitiveness in him really started coming out, and you could tell that he was becoming more focused," Mark said. "It was a pretty big tournament, and he showed the type of wrestler he could be."
But even as he continued to grow and succeed as an athlete, Eli turned to a hobby that one might not expect from a kid who would go on to be a 6-foot, 285-pound Division I athlete: the orchestra.
His older sister, Santana, played the bass, and Mark said the two always shared a friendly rivalry and often tried to outdo each other. So when Eli approached Mark about wanting to take up an instrument, the only thing he didn't see coming was the instrument in question.
"We always did a lot with music," Mark said. "And it was no surprise when he said that he wanted to do that. And the only surprise was the instrument that he picked because there weren't many kids picking the viola. It's definitely a unique instrument, and it's kind of a forgotten instrument."
In a similar fashion to wrestling, Eli rapidly developed his talents and became one of the orchestra's most important pieces. 
"He was a natural from the beginning," said Wendy Tenney, his orchestra conductor at Lowell Middle and Lowell High. "He is a very intelligent and very expressive person. Playing an instrument was a natural fit for him, and he became a leader quickly in the orchestra program."
At this point, Eli's rigorous academic, artistic and athletic schedule became robust, and Mark and Eli's drives around Michigan had them in gymnasiums and auditoriums. 
A result of this was Eli's social circle becoming more diverse than the average teenager's, as he was splitting time between the athletes and artists of the school.
"I was jumping back and forth from groups of friends. I had a group of friends that I really got along with through academics and through advanced classes," Eli said. "I had music friends, and then on the weekends I'd be with the wrestling team."
His coaches and conductors said Eli was among the most crucial participants of his teams, which meant Eli often had to pick and choose between his passions. Toward the end of the school year, when wrestling duals and orchestra concerts began to conflict, he typically picked wrestling.
However, his choices never meant he lacked a passion for music. In fact, there was a point in his first two years of high school when he considered pursuing music in college.
"I'd say wrestling was always a little bit more important to me," Eli said. "But for a while (during my) freshman and sophomore year, I did think that I probably wanted to go to school for music."
After being a member of state champion wrestling teams in his freshman and sophomore years of high school, Eli was given a bigger role both on the mat and as a leader.
He was stellar in his junior season, as he reached the state finals as an individual and Lowell won a third consecutive state championship. 
"Everything that we ever would ask him to do, he would do," said R.J. Boudro, Lowell's wrestling coach. "He showed up to everything, really took lifting seriously and got big and got strong, and his technique improved so much."
But in his senior year, Eli picked up another hobby that he would go on to excel in: ceramics.
He took ceramics classes again under the influence of his sister, and just like he did with the viola, he immediately showed the dedication and potential to be a future professional artist. 
"He had this deep desire to learn more than probably any ceramics students that I've ever taught," said Susan Langford, who taught two ceramics courses to Eli at Lowell. "He truly became a master at what he was doing. He certainly surpassed my skills, and if he wanted to be a professional ceramic potter for his career, he absolutely could."
Eli's penchant for wrestling, viola and ceramics is not entirely random, though. On the surface, a sport focused on physically dominating your opponent, one of the smallest instruments in most orchestras and an art form that began in the neolithic era may not seem to have overlaps, but in some ways they do. 
On the mat, the fine motor and mental skills he gained from ceramics and viola contributed to his grip strength and tactical abilities.
"Eli is not your traditional wrestler as far as athleticism goes because he's not gonna jump through the roof and he's not super fast, so he's very tactical," Boudro said. "I have a feeling that with the way his brain works and how he can pick up notes and play music helped his mental side of the game and grip, which made him hard to beat."
In the concert hall, the repetition and discipline required for wrestling contributed to his willingness to perfect his viola skills.
"I think it helps to be an athlete, somebody who's dedicated and willing to use all of their power and self control, to be able to play strong and refined," Tenney said. "And I think some of those skills that you need for wrestling, which require a lot of intensity and self discipline, are also skills that you need to be a string player to discipline yourself to learning the instrument and also play passionately."
In the studio, his ability to visualize his wrestling opponents' upcoming moves helped him create a mental picture of what to craft on the potter's wheel.
"There's some kind of a level of visualization in sports," Langford said. "There's definitely an understanding that you don't just become an expert the first time you do something, right? You have to put training into it and practice into it. And I think all those are definitely life skills that translate from an athletic standpoint to ceramic standpoint.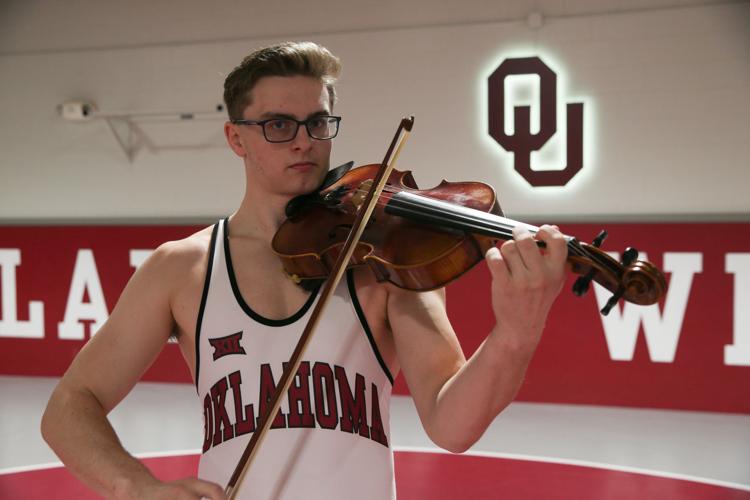 With his academic, artistic and athletic success, Eli's college options were vast. He looked at some local schools, but another long car ride with Mark and his sister solidified his choice to move south.
Years after his 10th birthday road trip to Ann Arbor, the Boultons drove over 14 hours to Norman to tour OU. Everything from the school's academics to the potential to walk on the wrestling team led Eli to be a Sooner. 
"I just remember there being so much really nice green in the area," Mark said. "I thought it was going to be more dry southwest, but it was much more like the midwest countryside I was used to. ... We thought it was a really nice campus, and I think the tour pretty much made up his mind."
Eli chose Oklahoma in large part due to his relationship with Sooner assistant coach Nick Heflin, who he met at a high school wrestling tournament, but his decision was about far more than just athletics. Growing up he excelled academically as much as he did in wrestling, viola and ceramics, which helped him earn his National Merit Scholarship. 
He said the financial aid along with the prospect of being a Division I athlete was hard to pass up, but the increased workload both athletically and academically left him with less time to hone his ceramics and music abilities.
"Time management has definitely been an issue, but when it comes down to it, I have to make time for the things that I want to do," Eli said. "And it's gotten harder. Like after freshman year, I haven't been able to take another ceramics class or really do anything with that, which has been unfortunate. But you just have to make time for the stuff you're passionate about."
Even with a limited amount of free time in his life now, Eli has been able to find time for his three passions. 
He gets to wrestle regularly in practice and when he gets to compete in dual meets, which he has twice in the 2019-20 season. While he doesn't get to make ceramics as often now, he furnished his kitchen with a set of dishes he crafted himself. And he still keeps his viola in his closet and a guitar next to his dresser for the fleeting moments when he finds time to play. 
"I just have to be very happy with where my son's life is going if he can do things that he likes and do it all well," Mark said. "It's truly a gift, and he's a very lucky kid. I'm always amazed at some of the things he decides to do and he's good at."
Reflecting on all the time spent in the car with his son — through road trips that lasted hours and weather that occasionally made driving unsafe — Mark wouldn't have the results of his son's life any other way. 
"Those drives always seemed to be in the worst weather," he said. "And I do remember there were some real tough drives where I was like, 'Geez, is it all worth it?'
"But at the end of the day, it definitely was all worth it."