The limited-capacity Lloyd Noble Center roared as freshman Katherine LeVasseur stuck the landing off her bars dismount.
Bart Conner and Kelly Garrison-Funderburk, two former Oklahoma and Olympic gymnasts calling the meet for ESPN 2, sang her praises on the national broadcast as LeVasseur smiled. Her teammates sprinted to congratulate her with high fives. Just two events into her career, she announced her arrival in Norman in a big way with a 9.925.
OU head coach K.J. Kindler hinted LeVasseur could have an immediate impact in her season-opening press conference, but her impact so far — scoring below 9.85 only three times in 15 routines — has exceeded expectations for some. But for those who know LeVasseur, the only surprise about her start at OU is hearing her called Kat rather than Kathy.
"I never called her Kat before," said Faith Pullen, LeVasseur's best friend from Texas, who first heard the nickname on the ESPN broadcast. "That was very new to me. I've been watching her on ESPN, I watch her every time she competes now — and she's doing amazing — but now every time I hear (a commentator) say 'Kat,' I'm like 'Oh my gosh, that's a new name.'"
LeVasseur started going by Kathy at her club gym, Mavericks Gymnastics in San Antonio, as someone else went by Kat when she arrived. Her parents call her Katherine, and her older sister Jaclyn nicknamed her Kat years ago. She didn't particularly like going by Kathy, though, so when she arrived in Norman she started going by Kat all the time.
No matter the name, LeVasseur's goal of contributing to a national championship has stayed the same. Meanwhile, her favorite High School Musical song, "Bet on It," is the soundtrack to her career aspirations. LeVasseur's well along the path to reaching her goal, as the Sooners are ranked No. 2 nationally on both vault and bars — her main events. Entering Friday's meet in Norman, against No. 10 Denver, Lindenwood and Texas Woman's, No. 3 Oklahoma is 11-0 on the season and once again in the hunt for the program's fifth national title.
The Level 10 gymnast — one step shy of Olympic-caliber competition —  had a sterling Junior Olympic career and translated that success immediately to the collegiate level. LeVasseur has already posted career highs of 9.925 on vault and bars. While she's scored above 9.9 only four times in her first seven meets, she's been remarkably consistent, most often delivering a 9.875 or 9.85, a quality contribution from a freshman. Every time she competes, she's shaking off the doubt that stuck with her as an amateur competitor.
One year after OU lost its chance at a national championship due to COVID-19, the Sooners had big holes to fill after the departures of Maggie Nichols and Jade Degouveia. Now, the Sooners have a chance to return to the national championship, and LeVasseur could be key in helping get them there.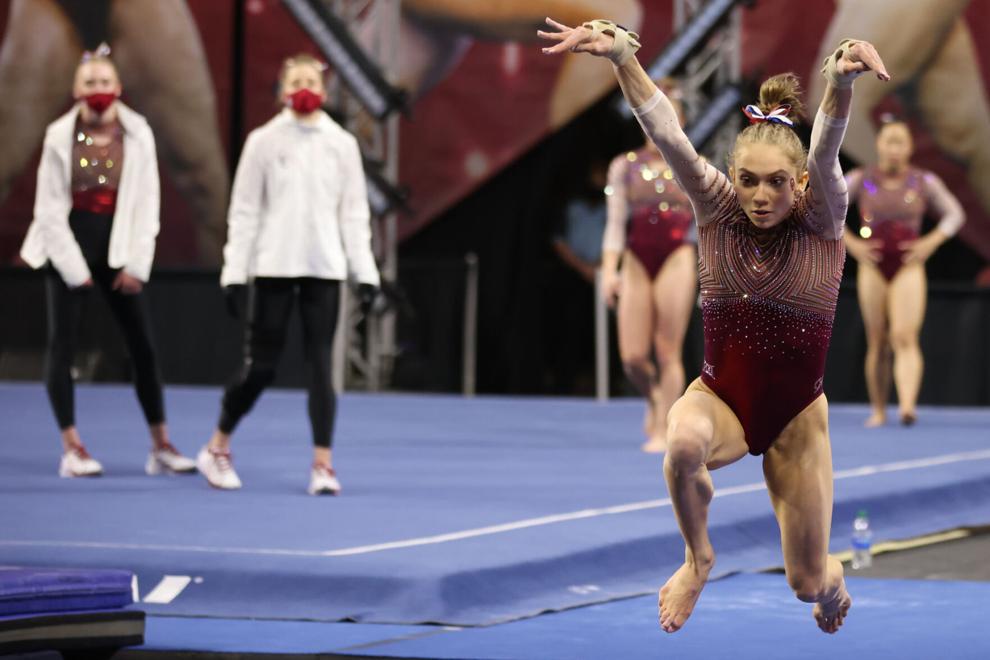 'You don't have to psych her up'
LeVasseur grew up in a gymnastics family. She followed both of her older sisters — Jennifer and Jaclyn, who are seven and four years older than her, respectively — into gymnastics when she was 2.
As her sisters outgrew gymnastics — Jaclyn is 5-foot-9 to Kat's 5-foot-4 — and moved on to dance, the youngest stuck with gym. LeVasseur always had talent, specifically strength and flexibility that stood out among her peers, for the sport that led her to Mavericks Gymnastics in middle school and eventually to Oklahoma.
Last March, Jaclyn moved back to San Antonio, and the two trained together to stay in shape during the pandemic. Jaclyn said she struggled to keep pace with her sister, in part due to their height difference, but partly due to Kat's natural ability.
LeVasseur's club coaches of about five years, Steve and Gabi Arkell, recognized her potential, in large part due to her flexibility and athleticism, from the day they met her.
"Our first question for her was if she wanted to pursue elite-level gymnastics," Gabi said. "That was something she didn't want to pursue. She just wanted to pursue the Division I scholarship."
LeVasseur decided not to work toward elite gymnastics because of the environment she noticed watching the Olympic and collegiate levels. She saw the drained Olympic gymnasts, without a social life or normal high school experience, competing in a cutthroat environment for themselves, and if they were good enough, perhaps national glory. Then there was the collegiate level, where the familial bond between teammates was evident even on a television screen.
Despite feeling outside pressure to get to the elite level — something she likely had the talent for — LeVasseur stuck to her original decision of working toward Oklahoma. She trained 22 hours a week with the Arkells and was a Level 10 gymnast from 2014 to the conclusion of her club career.
She collected 24 top-five finishes throughout her Level 10 career at state championships and Junior Olympic regional and national championships. LeVasseur scored her first-ever perfect 10 on vault in her last Junior Olympics regional for her final prep victory.
"Some people like a personal challenge of working (toward) something, and she really had that personality, and there was never a time that I ever coached her that she didn't want to come and work," Steve said. "She never would have off days, but she would work and leave the gym feeling better than when she came in. You don't have to psych her up or anything of that nature. She wants it."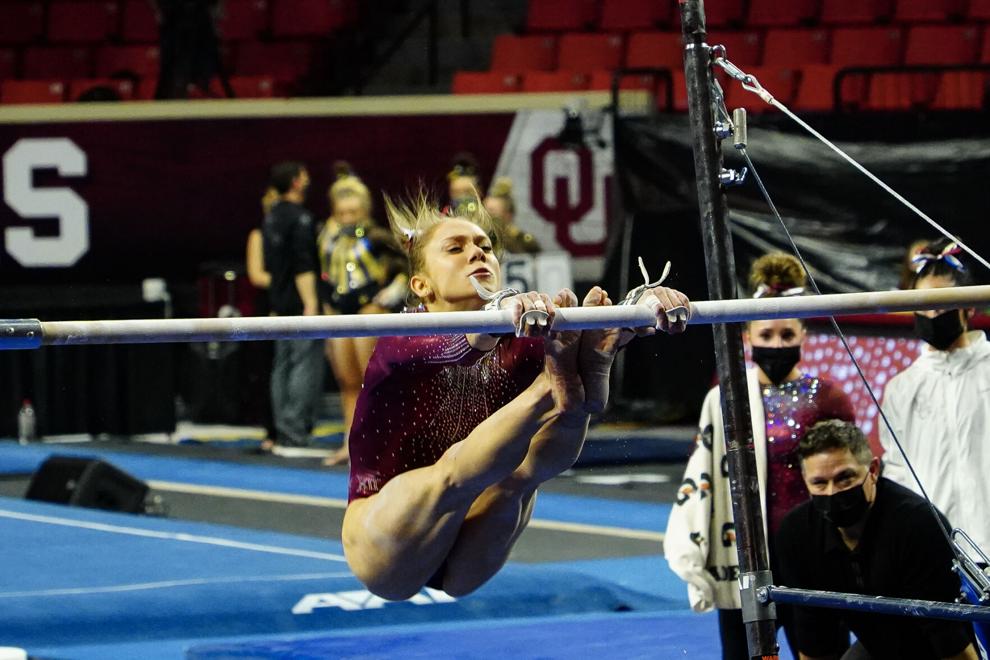 'The self doubt definitely went away'
LeVasseur has always worked hard and set high goals, but like many athletes, she has struggled with doubt.
While the prize of winning a college national championship is now in front of her, in high school, LeVasseur wanted to go to the Nastia Liukin Cup. She missed the cut her freshman, sophomore and junior seasons. Then in her last chance as a senior, she made it.
The event was in March, right before COVID-19 lockdowns began. It would be her last meet of high school, and she didn't perform especially well. According to her sister, she gets nervous before competitions, and that especially held true at Nastia Liukin. At large, though, it's more than just nervousness.
"She's always had a 'she never thought she was good enough' mentality," said Jaclyn. "I think she always knew she was talented but she also saw the potential of other people and was like, 'Well they're better than me, so (colleges) won't want me.'"
That mentality can be seen in her rare club shortcomings. She fell face first on vault in her first nationals appearance. She ran out of steam on a floor pass her first time competing in Colorado, unused to the altitude. Through it all, though, she persevered and improved her mentality and her gymnastics.
Her perseverance and potential helped her get recruited as an eighth grader by Oklahoma. After traveling to a camp at Auburn, she started receiving letters from OU — a school she hadn't previously considered, as she didn't think the Sooners would offer her — and toured campus the fall of her freshman year. 
Utah had previously scheduled for LeVasseur to come to Salt Lake in October, and Minnesota and Arkansas were trying to schedule visits. Before any other trips could happen, though,  Kindler offered her a full ride. LeVasseur had a decision to make.
Just over a month before her 15th birthday, she committed to Oklahoma and never visited Salt Lake. The opportunity to be a part of what's routinely the best team in the country was too good to pass up and provided a chance of winning a national title.
That decision came full circle this year on Jan. 17 when LeVasseur helped OU beat Utah 197.025-196.550 on national television with a then career-high 9.875 on vault and a matching 9.875 on bars.
"Coming to OU, she felt more relaxed," Jaclyn said. "I think the self doubt definitely went away."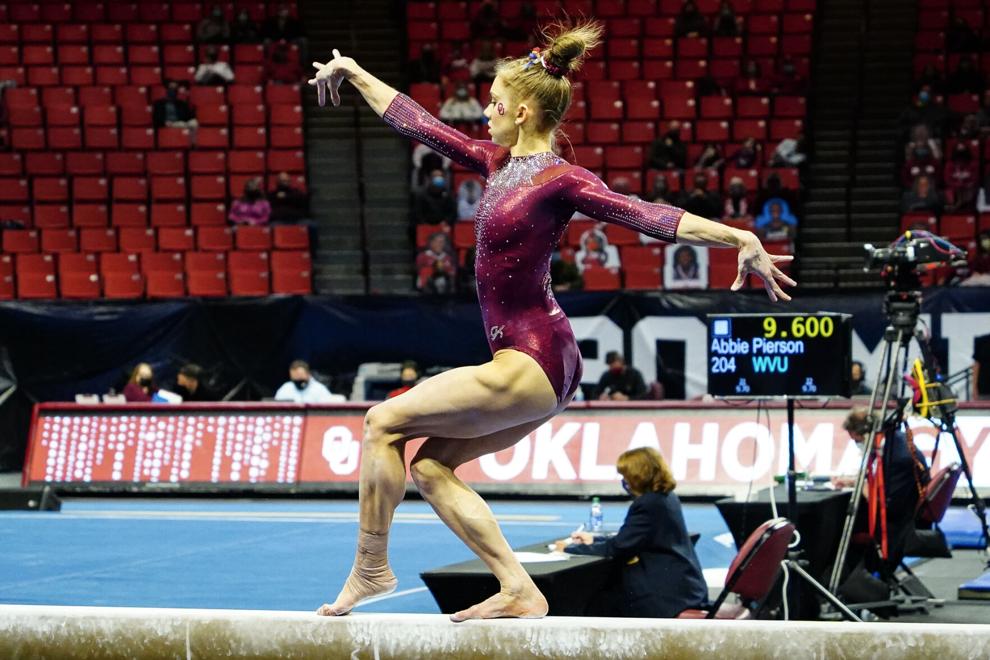 'She'll get better every time'
It's not just training, athleticism and perseverance, though, that have given OU a freshman star.
Beneath even her competitive fire, LeVasseur's kindness and empathy overflow. She cares about everyone she meets, whether it's taking time to talk to the 6-year-olds at Mavericks or helping her best friend when she needed it most. When Pullen had to quit competitive gymnastics due to a labral tear in her hip, LeVasseur was beside her every step of the way.
"She was always giving me ideas (of what to do), and when nothing was really fulfilling me, she would come hang out with me," Pullen said. "She was always there."
To some, LeVasseur's empathy might be surprising. She's very soft spoken until you get to know her well, according to her sister. But those who know her well cite a reserved exuberance and work ethic LeVasseur displayed in revamping her entire bar routine for the collegiate level, and it's paying off. She's scored below 9.85 only once in seven meets so far. She was out of the gym for most of March and April due to COVID-19 precautions and then started working to improve her routine, both at home and at Mavericks throughout the summer, since she couldn't come to OU in June like athletes typically do.
LeVasseur had instructions for workouts from Steve and Kindler, and with Steve's help, learned the routine. Then, she taught herself the dismount before coming to Norman in August. The routine, which changed from a twisting routine to one with a circular release, took her less than six months to learn.
After making a major change in such a short time frame, observers can bet that LeVasseur will continue to improve. In recent years, the Sooners have had at least one freshman star — Ragan Smith, Olivia Trautman and Anastasia Webb — but with LeVasseur and Audrey Davis' emergence, they have two freshmen making significant contributions. LeVasseur and the Sooners aren't holding a trophy in Fort Worth — the site of this year's NCAA championship — yet. But as they grow stronger, the odds of that happening increase.
In every sense, each part of LeVasseur, from her athleticism to her personality, shaped her into the gymnast she is becoming. While her freshman year hasn't been perfect — most noticeably a fall on beam in her lone appearance on it this season against West Virginia on Jan. 31 — she's gaining confidence.
"Experience is the greatest teacher, and that's what she needs," Kindler said. "I think she's really getting a lot of experience and she'll get better every time she goes out there."