Taylor Robertson stands alone.
She stands alone atop the 3-point rankings, as the sophomore guard leads men's and women's Division I in both made 3's and 3's per game. 
Just before the Sooners' home finale vs. Texas Tech on March 7, she stood alone at midcourt. The crowd came to their feet and applause rained down as she was honored for breaking the Big 12's single-season 3-pointer record. 
Normally, the final home game of the season is preceded by a ceremony at half court honoring the team's seniors. The 12-18 Sooners have no seniors. 
What they do have: the girl standing there instead. The McPherson, Kansas native isn't just the best shooter in the country, she has a chance to become the best in the history of the sport.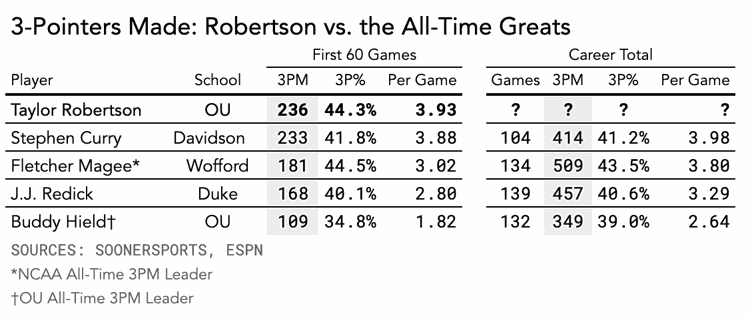 Sixty games into her college career, Robertson has sunk 55 more 3-pointers than Wofford's Fletcher Magee —  the NCAA's all-time 3-point leader — had at the same point.
And this season, she's not just leading the country. She's blowing her competition out of the water. The gap between Robertson and UAB's Rachael Childress (No. 2 in 3's per game) is equal to the gap between Childress and NC State's Aislinn Kong (No. 50). 
Historically, there's only one player in her stratosphere: one of the most prolific college players ever and Robertson's personal role model: two-time NBA MVP Stephen Curry.
"Steph Curry's her favorite player," said her mother, Terri Robertson. "She tries to pattern her game after him to a certain extent."
It's working. 
Because he only played three seasons at Davidson, Curry wasn't able to set the all-time mark. Now, 11 years later, a Sooner that wears No. 30, as he does, is in prime position to do just that.
What's the key to Robertson's historic shooting? Three lifelong lessons that her dad passed on to her have served her well, both in basketball and in life.
Lesson No. 1: You can't skip steps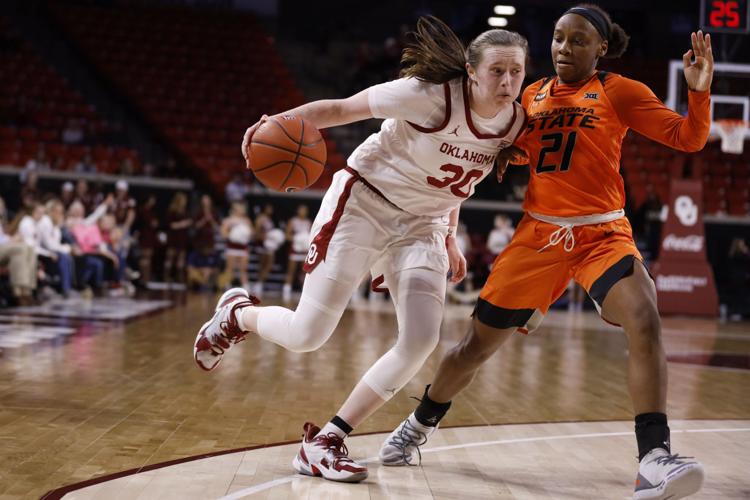 For most of Robertson's life, the pattern never changed: school, gym, dinner, back to the gym, sleep, repeat. One step after another. On weekends, two trips to the gym turned into three. 
Sometimes she needed a break. Days her dad, Dave Robertson, kept her out of the gym faded into nights of non-stop shooting in the front yard.
She has patterns within the pattern.
When the ball is headed her way: set, catch, shoot, watch it drop, repeat. She repeated this process millions of times, mastering every little detail, never skipping a step, until her silky-smooth form became second nature.
And when her dad, who played basketball at McPherson College, offered advice, she soaked it up like a sponge. Every lesson he taught her became deeply ingrained in the pattern.
Dave followed a pattern too: rebound her shot, pass it back to her, offer feedback if necessary, repeat. 
One pattern they followed together: never leave each other's side.
"They hardly spent any time apart," Terri said. "He would work late at night so that he could spend time with [the kids] during the day. A big part of what they did was spend time in the gym."
Taylor and her father went back-and-forth in this routine time-and-time again. She would shoot. He would rebound. Together, they would envision Taylor one day playing at OU, his favorite school. She was always eager to get in the gym, and her dad never missed the chance to join her.
In time, they found that Taylor didn't miss much either. 
"I've seen a lot of people shoot the ball," said Gayla Soyez, Taylor's AAU coach. "I guarantee you 75 percent of her shots hit nothing but net, she's just that pure of a shooter."
That's precisely why she caught Jayci Stone's eye. Stone, who coached at Hutchinson Community College in Hutchinson, Kansas at the time, fell head over heels for nine-year-old Taylor when she noticed her at a local basketball clinic. 
"Even at nine years old, the kid didn't miss," Stone said.
As Stone began to challenge Taylor, she found that she was more than a special talent. She was a full-fledged prodigy, breezing through two-ball drills in the fourth grade.
Not only was Taylor's game miles ahead, her mindset was too.
"The thing I'll never forget, when I would give her something to do, her eyes would just light up with the challenge," Stone said. "You could just see the excitement in her face. I'm giving her two-ball drills to do and her eyes are lighting up."
Stone, who served as an assistant coach at Stephen F. Austin from 2015-17 and Kansas State from 2017-19, would later recruit Taylor to both schools.
Stone may have been the first recruiter to discover Taylor's potential, but she was far from the last. Tales of Taylor's ability spread through the state like wildfire. 
"There are two names in the state of Kansas that, if you grew up around basketball, you knew," Stone said. "Taylor Robertson and Jackie Stiles"
Stiles was raised in Claflin, Kansas, about an hour away from McPherson, and is now an assistant at OU. She played at Southwest Missouri State from 1998 to 2001 and served as an assistant coach there from 2013 to 19. 
Back in 2013, Stiles stumbled across Taylor by chance and, like everyone else, was instantly hooked. She immediately began recruiting her to Missouri State. Taylor was in seventh grade.
"My friend said, 'Hey you gotta take a look at this prodigy,'" said Stiles, who was the NCAA women's all-time scoring leader until 2017. "She was just phenomenal at a really young age with such a passion for the game. She was just a gym rat. You could tell she was very special at a young age."
For a middle schooler with a perfect stroke and a long list of eager recruiters, the 3-pointer was surely tempting. But Dave taught her not to skip steps.
"So many kids today, they all want to shoot the 3-pointer," Terri said. "Her dad didn't let her. He didn't think she was strong enough."
Dave didn't allow his daughter to shoot 3-pointers until she was in the eighth grade. 
Because he waited until she was ready, because he didn't skip that step, Taylor was able to perfect her shot within her range and then expand outward as she got stronger. 
It's hard to argue with the results. 
"A lot of parents want their kid to be the prodigy so they try to skip steps along the way," Stone said. "[The Robertsons] never really skipped steps. That's why her form is so textbook. They never rushed it."
Lesson No. 2: Whatever you do, do it for the right reasons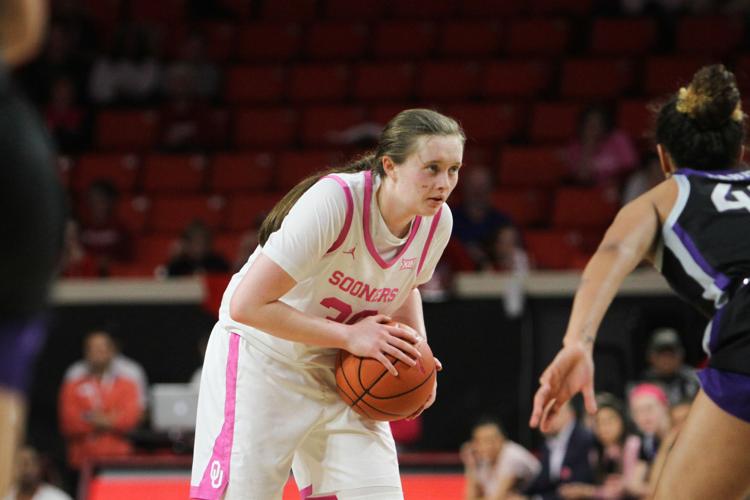 The reason Taylor plays basketball is simple: she loves it.
Her passion for the game goes all the way back to infancy. According to her mom, Taylor didn't play with toys like other kids. She played with miniature basketballs. 
As her passion grew into a devotion, Dave ensured that she was playing for the right reasons. For the Robertsons, basketball wasn't a means to an end. It was about getting to play the game she loved. 
"She grew to love the game," Soyez said. "[Dave's] passion went over to her. The torch he carried of this game, and the love and the passion, grew into Taylor. There are only a few people that play this game because they love it. Taylor truly loves this game."
Taylor's eagerness to improve grew out of their shared love for the game. There were no long-term goals hanging in the balance, only the next chance to get on the court.
"For Taylor, it's never been about the outside perception of things, or the outside accolades or all of that," Stone said. "She loves the game. The game brings her a certain level of joy."
By the time Taylor got to high school, her reputation preceded her.
"The moment she stepped on the floor as a freshman, she was the best shooter we ever had," said Chris Strathman, Taylor's coach at McPherson High School. 
Before Taylor, Strathman had already coached two state players of the year, yet she stood out instantly.
"We've had some really good shooters, but we knew Taylor's shooting ability was on another level before she even played her first game," he said. 
That's why, when OU head coach Sherri Coale and her staff set out to find the best shooter in the country in April 2017, they ended up in McPherson. The first thing Coale noticed: Taylor's form, tediously perfected by years of devoted practice. 
"The main thing was just watching that stroke," Coale said. "I would get there early and watch her before the game and it came out of her hand the same way every single time."
As she transitioned from child prodigy to high school star, Dave again ensured that she was playing for the right reasons.
Many parents get caught up in the game and cause their children to forget why they fell in love in the first place. But Dave didn't root out her passion, he nurtured it. 
"Her passion goes back to her parents, the way they raised her," Stone said. "It wasn't ever a process-driven thing. That wasn't the game they were playing. Taylor's the prime example that, if you just put the work in, people are going to notice."
Because their focus wasn't on earning a scholarship, Dave removed any unnecessary pressure or tension. Taylor's passion remained pure and her commitment to learning and improving only grew.
"She's curious, and that's the main ingredient," OU head coach Sherri Coale said. "It is becoming increasingly rare, I think because it takes stillness and it takes time. Nobody really wants to be still or give the time. It's a beautiful thing. It's a coach's dream, kids who want to learn."
Even when social opportunities arose, Taylor kept her priorities straight. She wanted to play. Nothing else mattered.
"She's given up family vacations because she wanted to stay at home and get in the gym," Terri said. "She didn't go to slumber parties. She didn't stay up late. She went to bed early because she wanted to be rested so that she could perform well in the gym."
Her senior year, Taylor won a state title and was named the state's Gatorade Player of the Year. That May, Dave's dream became a reality. His daughter earned a scholarship to play for his favorite school: the University of Oklahoma.
Just a few days later, she found a new reason to play. On May 7, 2017, Dave died after a five-year battle with colon cancer. For all of her life, basketball was her favorite way to spend time with her dad. Now, it's her favorite way to remember him.
"When she plays, she feels that bond," Terri said. "She knows what he would be thinking. I think she can still hear his voice."
Losing her lifelong coach did not diminish the bond she had formed with basketball. If anything, it strengthened it. For her, the sport became both a way to honor him and a way to escape.
"I think we all want to have a hiding place," Soyez said. "The gym, I always felt, was her safety net. When her dad was sick, that's where Taylor went. I know, not a time goes by that she doesn't think about her dad, play for her dad or want to honor her dad."
Lesson No. 3: Be grateful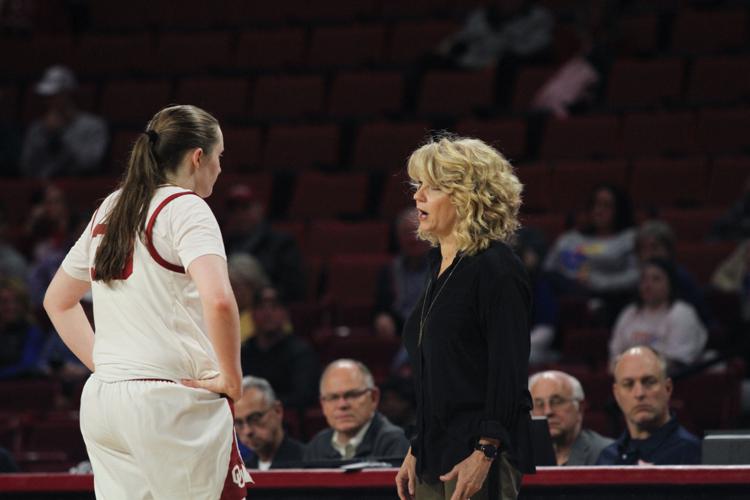 For all of her life, Taylor has ended every game, practice, and workout the exact same way: by thanking her coach. 
"There was not one time, ever, that Taylor did not come up and thank me," Soyez said. "I think that's a rarity. Before she left that court, every time, she came and thanked me. That's Taylor. Taylor appreciates you. 
"For Taylor, basketball is more than a sport. It's a world of knowledge, and not only is she eager to learn, she's grateful for the opportunity.
"I asked her at the end of her freshman year, 'do you always do that?" Coale said. "She told me, 'yeah, it's something my dad taught me.'"
The same way Taylor never leaves the court without making her gratitude known, she didn't leave Kansas without reciprocating some of the impact it had on her.
When she was named Gatorade Player of the Year in 2017, she was given a chance to pay it forward.
Each winner receives a $1000 grant to be donated to the organization of the winner's choosing. Taylor chose Girls on the Court, which helps fund club basketball for young girls whose families can't afford it.
Specifically, Taylor chose to support Diamond Norwood, a single mother of two from Wichita. Taylor knew Norwood's daughter, Valerie, through her AAU team, Kansas United.
"Without people like Taylor, it wouldn't be possible for my daughters to play club basketball because I wouldn't be able to afford it," Norwood said. "Knowing that Taylor, at such a young age, donated to that organization, she just really helped me out a lot more than she'll ever know."
Taylor was given a unique opportunity to pursue her passion. Now, thanks to her, seventh-grader Valerie has that opportunity too.  
"It's a true blessing," said Norwood. "She could have given it to anyone but she chose to let Valerie live her dream."
Taylor's put in the work, and she's come incredibly far. Now, for perhaps the first time in her life, she's able to recognize that.
"She's always been very straight-faced on the floor," Terri said. "To me, that's something that has really changed since she's been at OU. You can see her passion more now than you ever could before."
If Taylor's life has been a non-stop climb, she's finally getting to enjoy the view. 
"I think it's a sign that she's where she wants to be," Terri said. "She's excited about where she's at."
After honoring Taylor before the game, the Sooners went on to lose their home finale, 106-94, marking their 11th double-digit loss of the season and third in a row.
OU ended its season on an eight-game losing streak, shredding its tournament hopes in the process. A month ago, Coale's squad sat firmly on the bubble. Now, barring a miracle, she's facing a second straight empty offseason. Before last year, she hadn't missed the tournament since 1999.
The lone bright spot in the final game: Taylor. During the fourth quarter, she became only the third player in program history to score 1,000 points in her first two seasons.
To be setting records at her dad's dream school, not only is Taylor excited, she's grateful, but that should come as no surprise. And it doesn't matter that her team is struggling, because she plays for a different reason.
"She's given a lot to this game and it's rewarding her back," Soyez said. "She's an amazing young woman. I'm just thankful our paths crossed."
For someone that took her time and never skipped a step, it makes perfect sense for her to be standing alone now.
"I will never coach another girl like her," Strathman said. "We've had some great players here but Taylor is the most special and unique talent that I have ever coached."
That being said, her story is far from written. Taylor has a lot of basketball left in her. Beyond that, a certain Hall of Fame coach thinks she'd make a great one.
"The teams that she coaches, because she'll be a coach someday, they'll probably all learn [that gratitude] as well," Coale said. "What a marvelous legacy."
The path ahead of Taylor may hold just as much prosperity as the one behind her. There's no telling where she'll end up. But based on her past, one thing is clear: she won't be skipping steps.