As then-freshman Anastasia Webb glided across the balance beam, the crowd around her drowned UCLA's Pauley Pavilion with cheers. 
Unfortunately for Webb, the crowd was not celebrating her work, but that of another, as No. 4 UCLA's Katelyn Ohashi had just earned a perfect 10 on floor, sending her team's stadium into chaos. 
In one of the most highly lauded matchups in all of collegiate gymnastics in 2018, the underdog home team seemed to have gained the advantage over the No.1 defending-champion Sooners as the final rotation of the meet neared its conclusion.
Yet, as the clamor of Bruins supporters continued to rise, the Sooners' silent assassin was high above it all. She was on the beam working on her own bid for a flawless feat.
"...At that moment, I completely blocked everyone out, and the cheering, I wasn't fazed with it at all," Webb said. "I was completely in my zone…"
It was times like these that Webb trained for during her days as an elite high school athlete, as she become a versatile gymnast who was built for the NCAA all-around. She was built for the position she found herself in that night.
Webb's focus was evident as she competed with great poise in a tense situation, delivering an amazing act which she capped with a strong dismount. At first she didn't realize what she had accomplished, but as the judges presented her score she began to cry.
She would write her name into the OU record books that day, as she became just the third freshman in program history to earn a perfect 10 on any event, an unexpected effort that would propel Oklahoma to a 198.050-197.950 victory.
"I always say she's this silent little killer in the background. She creeps up on you," OU head coach, K.J. Kindler said.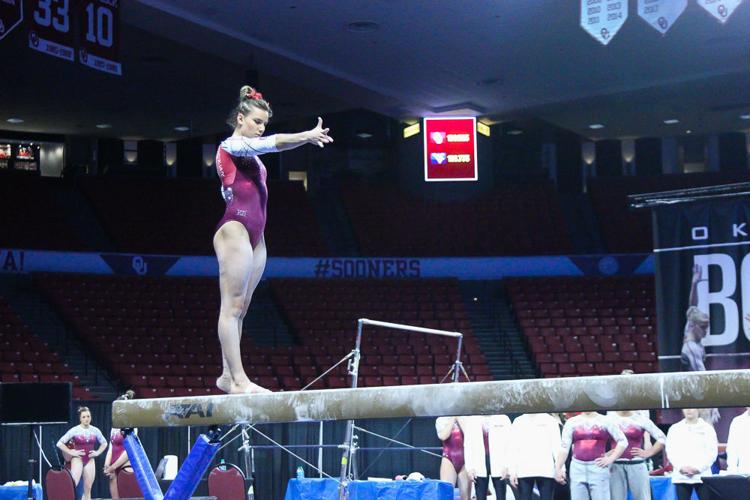 "I'm going to put her in gymnastics" 
A competitor of humble origins, Webb, now a junior, hails from Morton Grove, Illinois, a suburb roughly 16 miles northwest of Chicago with a population of about 23,000.  
The Webbs come from a culturally-rich, family-oriented Greek background. Anastasia's father, Chris, works as a chaplain, while her mother, Magda, is a clinical exercise physiologist. Her brother George is a student at Wingate University in North Carolina, yet the two maintain a strong relationship. Other important family members include Webb's cats, Thor and Daisy.
Prior to her time at OU, if she wasn't with her family or doing homework, Webb was logging countless hours in the gym. It's a place through which she has come to flourish thanks to an astute observation by her mother in her early years.
As an exercise physiologist, Magda had done research about body types, and the effects of movement on young minds. Realizing her three-year-old daughter's ability to learn movements quickly, she enrolled her in classical tap-dancing and tumbling classes. 
At first the decision was simply about growth and development, but as Webb struggled with one aspect of the instruction and prospered in another, her mother was prompted to make another decision.
"It was the tumbling that she was doing excellently at, and then it was the tap dancing that she was doing horribly at, so I decided to do something," Magda said. "Forget about the dancing and I'm going to put her in gymnastics, and that's how we started."
Webb's career began in a small venue, but after quickly rising through the ranks she moved on to the acclaimed Illinois Gymnastics Institute (IGI) in Westmont, Illinois, to intensify her training.
With this new organization came a new level of challenges, yet she rose to meet them head on.
Despite the tough conditions of training from 12:30 – 7 p.m. every day, splitting time between regular school and homeschooling and traveling across the country to compete, Webb was unwavering in her resolve to give gymnastics her all. 
"She knew she had goals, and she was okay with doing more than everybody else," Amy Blackburn, her beam coach, said. "She thrived on that." 
Webb and Blackburn forged a strong relationship, learning from each other as they traveled to various competitions and camps. Blackburn said she considered herself somewhat of a health-nut, and the two regularly joked about the subject during their adventures.
In addition to her connections with her instructors, Webb also developed sister-like ties with some of the other gymnasts at IGI, like current Arkansas commit Makenzie Sedlacek.
The pair met in 2013 and began training together on a daily basis, while sharing lunch and going shopping during their spare time.
In the duo's time at IGI, Sedlacek would battle many ups and down, often considering the possibility of quitting gymnastics altogether, but she said her forerunner's consistent confidence and unbreakable spirit helped the rising athlete to pull through.
"Even just watching her, she looked confident and she looked like she was having fun and I always looked up to her," Sedlacek said. "There are obviously times I wanted to quit, and she always told me to never give up."
As Webb continued to grow as a mentor, her prowess as a gymnast began to increase as well. She was training on all four events, striving for greatness in each.
The span between Webb's sophomore and junior seasons brought a change in instruction, as Blackburn departed from IGI to coach elsewhere, and was replaced by Katherine Musso. Musso became yet another instructor Webb developed a special relationship with, as they covered countless miles in their endeavors.
"It's really neat because she's the type of kid who she can hang out with anybody like she could hang out with me, who's her coach," Musso said. "She can hang out with younger kids, kids her own age and have fun and just be very genuine."
Perhaps the height of Webb and Musso's time together was their trip to Newark, New Jersey in 2017 for the prestigious Nastia Liukin Cup, where Webb placed ninth in the country in the all-around, and in the top-15 in each of the four events.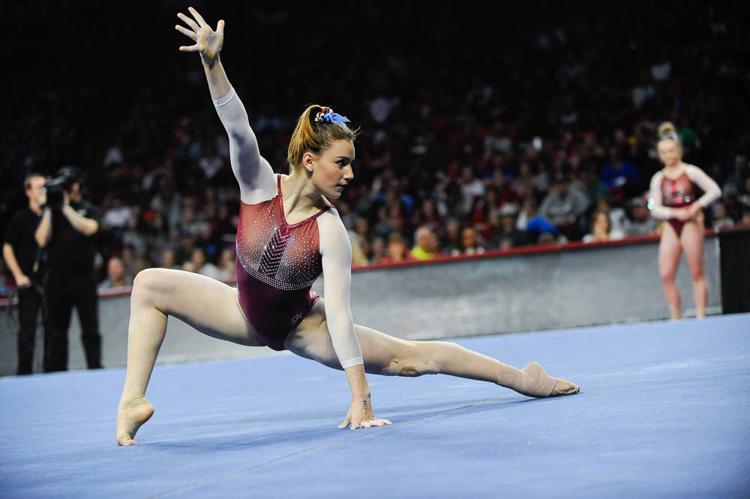 "She's made for the all around"
Another gymnast Webb developed a relationship with during her time at IGI was former OU standout Haley Scaman. It was this friendship that helped pull Webb to the University of Oklahoma. 
Scaman, an older gymnast, trained with Webb's group five days a week, and took on the role of a big sister in the younger athlete's life. She said she was someone that Webb looked up to, and a person who she still calls on for advice now.
"We have had talks throughout the years where she's at OU, when she has stressful times, or whatever she'd just call and ask me for advice or, how do I deal with this or that well," Scaman said. "She definitely does look to me if she is having issues or just struggling with how to go about things."
By the end of Webb's freshman year of high school, LSU, Alabama, Stanford, Utah, Denver, Michigan, and Oklahoma were all after her.
Magda admitted she didn't understand the recruiting process because she wasn't from the U.S. She thought it was far too early for her daughter to be receiving such a high amount of attention from distinguished schools.
She and Anastasia visited just two universities the summer after freshman year: Michigan and Oklahoma. At first, Ann Arbor seemed like a probable destination because it was close to home, but ultimately, the attraction to Norman was far too great to overcome.
Knowing another gymnast who had thrived at OU certainly helped in Webb's decision making, as she once again looked to Scaman for guidance.
"She asked a ton of questions and I gave it to her straightforward," Scaman said. We're both kind of similar, so I said here would be a great fit for her too, because I had gained a lot from my experience and I thought she would too."
While Scaman's advice definitely had an impact on young Webb, it was her experience during her visit that all but sealed the deal.
Webb toured Oklahoma when the Sooners were celebrating their 2014 NCAA Championship, and attended a triumphal banquet along with other recruits.
"I had seen it was a national championship school, and just one of the best gymnastics programs in the country, then why would I not take it," Webb said.
She was offered a scholarship by Kindler two days after her visit, and committed to OU at the beginning of her sophomore year.
After graduating from high school and finishing her club career, Webb delivered an immediate impact upon her arrival to Norman.
On floor, she was a first team All-American, Big 12 co-floor champion, and All-Big 12 honoree while placing fifth nationally in the event as a freshman.
"I like the floor," Magda said. "I enjoy so much seeing her and I think she's so charismatic, captivating, she keeps the beat and of course, she's graceful."
Webb's acquaintance with the basics of floor dates all the way back to her exercise class as a toddler. 
Though tap dancing was not a skill she gained from that experience, the tumbling skills she acquired early on have proved monumental to her proficiency on floor, as she owns a career high of 9.95 in the event.
"She's combining the athleticism of tumbling, and she does tumbling very strongly with what she does, but she can dance, and she can pull a crowd in, so she brings the whole package," Blackburn said.
Yet, it's not just floor where Webb's talent shines through. She's equally as skilled in the other three events.
On the uneven bars, she was a second team All-American as a sophomore, owns a career high of 9.95, and has captured three individual crowns in the contest. 
 "She just has a flow to everything that she does," Blackburn said. "She brings the artistry even on the events that don't require artistry, like bars and vault, and when you watch her you see an element of artistry still."
Webb was also a second team All-American on vault in her sophomore year. It's her favorite event, and one on which she is still improving, as she tied her career high of 9.95 in OU's Metroplex Challenge victory on Jan. 25 of this year. 
"I used to not be that good at vault at all," Webb said. "I don't know why it's my favorite, but I just think that feeling of flying and then being able to land on your feet and sticking it or even just making it is pretty awesome."
The only event where Webb's career high is not a 9.95 is beam, where she scored a perfect 10 as a freshman on that pandamonium-filled Sunday night in Los Angeles.
She was named a first team All-American on the event as a sophomore, and owns seven individual titles in the trial. 
"It literally looks like she is utilizing that event to just intimidate people around her... there's definitely an edge to her now, where it almost seems like she knows this is an event where she can take advantage of the competition with just competence and proving that she's capable," Musso said.
Combining her four talents into one, Webb has become one of the most well-rounded all-around contenders in the entire NCAA.
She was a second team All-American in the all-around as a freshman, and proceeded to set a career high score of 39.675 at the Athens Regional Final as a sophomore. 
She tied Denver's Maddie Carr with a mark of 39.650, adding her fourth career all-around title to her resume at this year's Metroplex Challenge, resulting in her second Big 12 Gymnast of the Week award in her tenure at Oklahoma. 
"She's a power athlete, with agility, with strength, but also with elegance and flexibility," Magda said. "It seems like she's made for the all-around."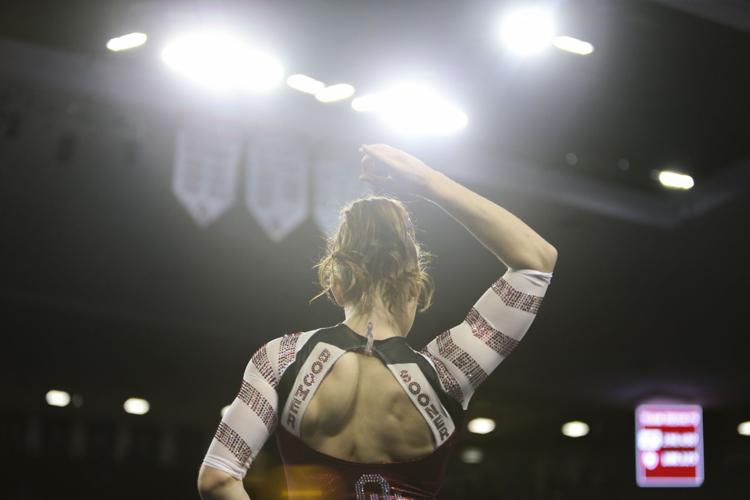 "Hopefully I can be like her"
Despite being on the same team as show-stopping star Maggie Nichols, Webb is beginning to gain more and more recognition for her efforts.
"Maggie's brilliant, so's Anastasia." Kindler said. "She's equally as important and you know, I always say we are a team, and so what one person does is important to all of us. Whether they do one event or another, it just doesn't matter."
There may not be as many eyes on Webb on her entrance from the south tunnel of the Lloyd Noble Center as there are on Nichols, but those who are looking on have played a pivotal role in the narrative of her life.
Among those observing are her father and mother, her brother, and extended family back in Greece. Also watching from a distance are her former coaches, among them Blackburn and Musso, who trained her in the ways of the gym.
Scaman and Sedlacek are just two of the many gymnasts Webb bonded with during her time at IGI, who now continue to cheer for her success.
Webb did not simply receive friendship and knowledge during her time before college. She gave back to the people who invested in her and continues to motivate them to this day.
For Blackburn, it was a "blessing" working with Webb, as she continued to develop as a coach alongside of her improving pupil.
"She not only challenged herself, but she challenged me, and because of that I'm extremely grateful, because I don't think I would have had the opportunities had she not had those kind of goals," Blackburn said.
Sedlacek said Webb was a light in a dark room as she went through a period of questioning her place in the world of gymnastics.
Webb taught her mentee to never give up, and Sedlacek said that encouragement continues to help her grow as she prepares for her own collegiate career as a Razorback. Now as she watches her mentor's Oklahoma career, she hopes that her success will compare to Webb's some day.
"Watching her thrive in college and doing amazing things and competing well and doing all these things just gives me confidence that when I go to college, hopefully I can be like her," Sedlacek said.
Yet, Webb's reach is not only to the closest of her friends but all those who knew her during her years in club gymnastics.
Musso recalled a discussion at her recent baby shower with some mothers of gymnasts who had trained with Webb, who voiced their delight in seeing her succeed at the collegiate level.
Webb had impacted their daughters' lives for the better, and in turn their families felt great joy in having been a small part of her story.
"It's neat, because so many people are really inspired by her and what she's doing," Musso said, "And it goes further than gymnastics."