Hundreds of Sooner fans stand with their right arms extended and index fingers pointed toward the ceiling of McCasland Field House as the OU chant begins after another Oklahoma volleyball match.
Among them are Howard and Dena Frankenfield, whose voices never fail to stand out among the Sooner faithful. 
Howard's deep, bellowing voice, accompanied by Dena's high-pitched and ever-so-slightly off-key rendition of the chant, draws the attention of a few members of the crowd. As the chant comes to an end, one thing is for certain — those two must really love this university.
However, that's only half right. The whole truth is that those two really love OU volleyball.
Howard and Dena have been regularly attending OU volleyball matches together since 1985, only missing a handful during that span. Their love for the game is what started their near-perfect attendance streak.
 "Volleyball has a uniqueness to it," Howard said. "It's really the only sport where in order to score a point, you have to give your opponents the offense. ... That's unique, even phenomenal."
Howard attended his first Oklahoma volleyball match in Norman during the 1984-1985 season, traveling from Dallas to get his first glimpse of the Sooners. Instantly falling in love with the game, he didn't need much convincing to get his wife to start coming with him the following year. 
"I'm an incredible 'sportsaholic,'" Dena said. "I follow (everything OU), all the football, basketball, tennis, all the golf. ... DVR has simplified my life greatly."
The Frankenfields now reside in northwestern Oklahoma City, shortening their commute to OU volleyball matches by roughly two hours. Having followed the program closely for so long, the couple has seen their fair share of ups and downs.
From agonizing defeats, to stunning upset victories, to near-winless season, to conference championship wins, the Frankenfields have just about seen it all in their near-35 years of watching the program. But the one thing they have yet to see is what they have wanted to see the most — an NCAA Final Four appearance. 
"I've made a promise to every head coach I've seen here," Howard said. "From Miles Pabst to (coach Lindsey Gray-Walton) now, I've said, 'Make the Final Four, and I don't care where it is or when it is, we will be there.'" 
Under coach Gray-Walton, the Sooners have achieved immediate success. In her first year at OU in 2018, she was able to guide Oklahoma to a 17-win season — the Sooners notched only seven wins in the season prior. With just five games remaining in her second season, Gray-Walton and the Sooners have picked up 15 wins on the year and are primed to be the first Oklahoma team in the last five seasons to make the NCAA tournament. If this trend continues, it's possible that Gray-Walton will one day be the Sooner coach who sees if the Frankenfields deliver on that Final Four promise.
But that promise exists not only out of wanting to see their program play on one of the game's biggest stages, but rather because the Frankenfields strongly believe in the impact fans can have on any given game day. They want to be there.
"I love to yell," Dena said with a laugh. "I love singing Boomer Sooner really loud and obnoxious, making the (other) team watch me and lose focus on their coach.
"Fans can really make a difference."
'You all are the reason we lost this match'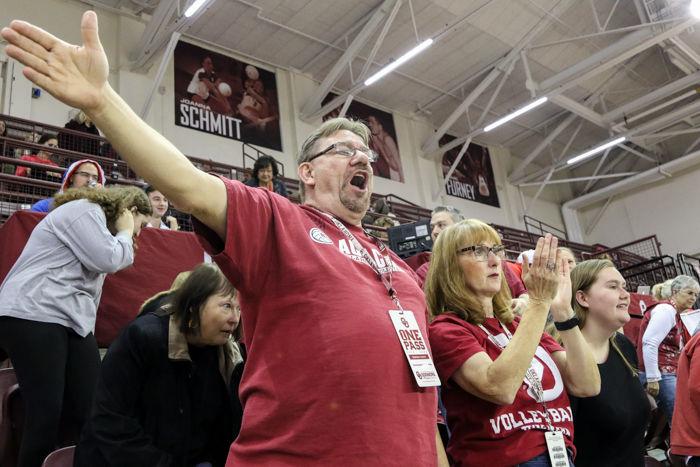 The year was 1987, and Oklahoma was preparing for a big matchup against Nebraska in the Big Eight conference tournament championship match in Salina, Kansas.
Unfortunately for the Sooners, the Big Eight ran through Lincoln, Nebraska, as the Cornhuskers had won the conference outright for 10 consecutive seasons. On top of that, Oklahoma had never beaten Nebraska. 
Now, after they already won the regular season conference championship and had a near-perfect start to the '87 tournament, the Huskers were primed to capture their 11th-straight outright conference title. To help their case, the neutral site stadium was half-full with Nebraska fans. The other half was nearly empty — only two Sooner fans had made the trip.
Those two fans? Howard and Dena.
"We called (then-head coach) Pabst the night before and asked if they made the finals," Howard said. "He said, 'Yes,' and I told him that we were on our way."
The two made the six-hour drive from Dallas to Salina. Despite being outrageously outnumbered, they were two of the loudest in the room.
"There was a sea of red, and it wasn't crimson," Howard said. "Nebraska fans cheer loud, but they cheer in unison. So every time they would stop cheering, there would be moments of dead silence ... That's when we would start. We could be heard throughout the arena. (We were so loud) that most of the Nebraska players would be looking at us and not be paying attention."
Miraculously, Oklahoma went on to upset Nebraska in the match 3-1, ending its streak of consecutive outright conference wins and beating the Huskers for the first time in school history. 
While the question of how much impact the Frankenfields truly had on that game is up for debate, to one individual the answer is pretty clear.
"After the match, John Cook, who was an assistant on the team at the time — he's the head coach there today — came over to us," Howard recalled. "He said to us, 'You all are the reason we lost this match. Every time we had a timeout, you all were screaming, yelling and acting crazy. Our team was focusing on you and not what we were telling them to do.'"
'If they weren't at a game, it wasn't right'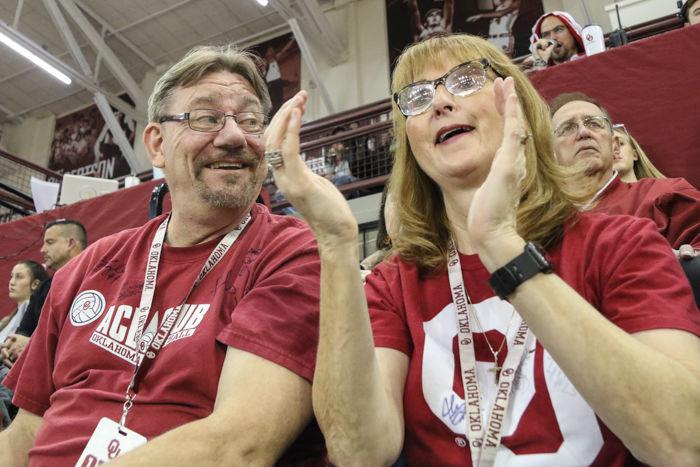 In addition to having an impact on the game, the Frankenfields also try to make an impact on the lives of the Sooner volleyball players.
"Year in and year out, these girls are just great role models," Dena said. "Most of the time, they're All-Big 12 academic players. ... They make attending volleyball games a great family outing. For many years, on senior night when the team would give the seniors roses, my husband and I would buy our own roses and make sure everyone went home with one."
"These ladies work every bit as hard as any male athlete does, and they get very little attention," Howard added. "After giving our team roses, we went ahead and gave the opposing team roses, too. I spoke with Marita Hynes, who was the associate athletic director at the time, she checked the rules and she didn't see a problem with that. ... So for many years, we would bring roses and give them to both teams during the last game to show our appreciation for all the hard work they put in."
That Frankenfield tradition came to an end years ago, after the NCAA changed its rules regarding gifts provided to student-athletes. 
One OU volleyball alumna who received multiple roses from the Frankenfields during her playing career is Patrice Arrington, who suited up for the Sooners from 1994 to 1997 and is OU's all-time leader in kills with 1,957. Her name and likeness is displayed alongside many other Sooner greats at the top of McCasland Field House.
"If (the Frankenfields) weren't at a game, it wasn't right," Arrington said. "They were just always there. Even when we'd lose or be down, they'd be cheering the loudest. I can't remember ever seeing a disappointed look on their face ... They were there for us, not just as athletes but as human beings. They cared for every individual on the team."
Arrington remains an all-time favorite player to watch for the Frankenfields.
"She played with a fire," Howard said. "If you set Patrice and she got blocked ... all you had to do was set her again because she wasn't going to get blocked twice. She put so much heat on the ball, she would rip through any block ... but the outstanding thing is she wasn't just an outstanding player, she is an outstanding person."
Arrington said the Frankenfields aren't just great examples of superfans, they're also great examples of character.
"As a player, seeing and hearing the support from fans like Howard and Dena makes you play better," she said. "You're not only playing for yourself, your team, your school or your pride, you're playing for them — the ones who come out to support every single time. It helps having fans like Howard and Dena, who are always cheering whether you're up or down.
"They're just great, kind-hearted people. It's great to see good people, and Howard and Dena are definitely just good people."
'They're a part of what makes this place special'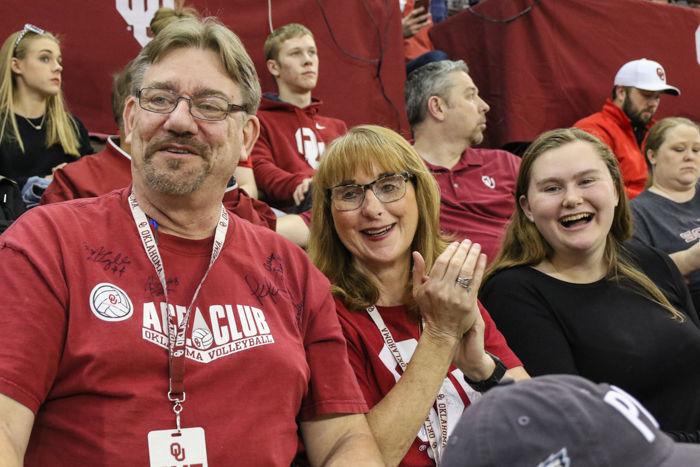 In one of their few ties to the program, Howard and Dena's daughter, Beth Ann Frankenfield, served as a ball girl for the Oklahoma volleyball team during the late '90s while she was in middle school.
Like her parents, Beth Ann is a superfan of the sport and of the Sooners. After her ball girl career came to a close in the early 2000s, she continued to regularly attend OU matches with her family. Since Gray-Walton took over the program, Beth Ann said she has noticed a significant change in Oklahoma volleyball.
"They have a different amount of fight in them now," she said. "If (Gray-Walton) keeps it in them, I see Final Four appearances for this team within the next three years."
Howard and Dena echoed their daughter's words.
"When the football team was down 48-23 to Kansas State (a few weeks ago), I thought to myself, 'I hope they've been watching volleyball,'" Howard said. "(This volleyball team) has the heart, the talent to win games. When it comes to making the postseason, I have no doubt that this team can do it (under Gray-Walton)."
"She's a coach who can sell players," Dena said. "She's been able to bring some incredible student-athletes to this campus. ... They have heart I have not seen this team have in a long time."
As one would assume, Gray-Walton has become well acquainted with the Frankenfields during her time at OU — they visit with one another before and after every home match. Knowing just how much they mean to the program, she's invited the Frankenfields several times to pregame meals, practices and other team events that only those close to the program partake in. However, despite her best efforts, the Frankenfields have declined every time — citing they're "just here to support."
"I think that just speaks volumes to who they are," Gray-Walton said. "On your best days, on your worst days, you've got two fans who will always support your program — you can't put a price tag on that. It helps us build. Every little piece helps us build. The girls will remember those two. Whether it's singing the (chant), yelling after an ace or just getting really rowdy after every match. ... They're a part of what makes this place special."
As for the Frankenfields' promise of attending the Final Four if the Sooners ever make the cut — that hasn't gone unnoticed by Gray-Walton. 
"That's why (my family and I) came here," she said. "I would love to see that happen for this program, but also for great fans like that."