Patrick Welch isn't your typical golfer.
Before coming to Oklahoma, Welch was a promising young golfer from Providence, Rhode Island, who wouldn't back down from anyone. The short, skinny teenager was consistently one of the youngest players on the field at the Rhode Island Junior Amateur Championship, where the competition aged up to 19 years old. 
Bob Goldin caddied for Welch for several tournaments throughout his career and said he remembers one game in particular. Welch stood on the No. 14 tee box with a commanding lead over his match play opponent in the semifinals, needing one more win in the finals to take home another Rhode Island Junior Amateur title.
"I looked at Patrick and I said, 'Look, you're five under and you've won your match," Goldin said. "Why don't you rest up? You've got a tough opponent in the finals."
Welch, on the other hand, had his sights set on a different goal. The young golfer looked back at his caddie and asked him what the course record was.
"I think you're four or five under," Goldin said. "I think it's seven."
"I'm not quitting — I'm going for the course record," Welch said.
Welch finished the round with a couple more birdies and broke the course record before going on to beat his opponent in the finals. Welch is the most successful golfer in the history of the Rhode Island Junior Amateur Championship, winning the tournament a record-breaking four times.
Now a sophomore at Oklahoma, Welch has proven to be a talented golfer. The California native played in nine events last season, and he earned All-Big 12 and All-American honorable mention honors in his freshman season. 
Welch now has Oklahoma poised for a national championship run with the Sooners ranked No. 1 in the country, according to the GCAA Coaches Poll. He's done this all while playing with a unique golf stroke that others have been begging him to change since he first started playing.
Welch holds the club with a cross-handed grip on all his shots. Despite being a right-handed hitter, he holds the club with his left hand low. This method is highly unusual and could be considered a sin by golf purists.
Golfers have used the cross-hand technique when putting for years, one proponent of the grip is three-time major champion Jordan Spieth. However, very few players use this grip when taking full swings like Welch.
"I know there's a few other people. ... I know Tiger (Woods) did it," Welch said. "He started out cross-handed and eventually, over time, they'll switch. I just stuck with it."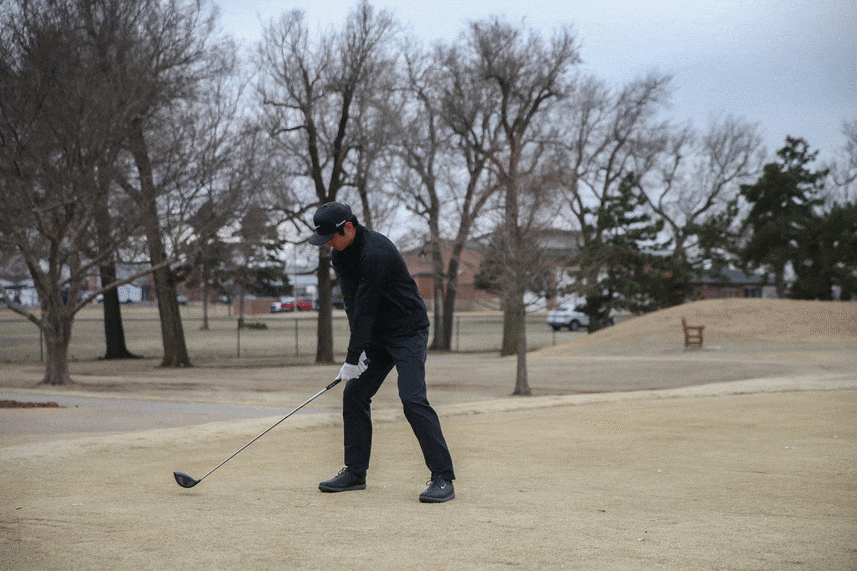 'He did it all himself' 
Growing up in Rhode Island, Welch didn't have a typical upbringing for an elite golfer. 
Welch was limited in his ability to play golf year-round due to the state's weather. His father, Martin Welch, said this was helpful in making his son a better golfer. Welch was forced to put down the clubs for roughly seven or eight months of the year when it became too cold.
"I don't think moving to Rhode Island really affected (his golf game)," Martin said. "It might have been a blessing because he got to play basketball, he got to play baseball, and he got to play golf. And when one season was over he was hungry for the next one."
Martin had worked in the mortgage business in San Francisco, California, which ended up coming to a halt in 2010 as a result of the subprime mortgage crisis. The family moved to Providence and was forced to downsize. Many young, elite golfers travel across the country to play in dozens of tournaments every year — but not Welch.
"Golf is for the privileged kids," Martin said. "Patrick didn't have all that. He didn't have a country club pro, he didn't have the golf lessons. He did it all himself."
Welch started playing golf when he was just 3 years old, putting around on the greens with his dad using a tiny makeshift bull's-eye style putter that came up to his father's knee.
"He was 3, and my wife was having her second child," Martin said. "And I would come home from work and she'd say, 'Take him!' And I didn't take him to the park and go to the jungle gym. I took him to the chipping green."
Martin said Patrick loved being on the golf course so much he'd have to pull him away screaming when it was time to leave. The two would spend time together putting the ball around the green, not worrying about where the ball went, simply enjoying each other's company.
'Everybody's got an opinion on it'
As time went on, Martin finally gave his son a 9-iron to practice chipping around the greens, and he worked his way back until he felt he was ready to use a driver. Patrick insisted on holding the club with his left hand low and his father finally gave up on trying to change it.
"I was like, you know, I'm not gonna argue with a 4-year-old," Martin said. "He's got plenty of time to change. As time went on, I was like, 'Hey, you've got to switch,' and he just never wanted to."
In preschool, Patrick would be picked up by his grandfather with a set of golf clubs and the two would head to the golf course. Welch practiced every opportunity he got.
Welch played in his first tournament when he was 6. He shot a four-under-par and qualified for the U.S. Kids World Championship at Pinehurst. Welch's unique grip would often garner attention from other golfers and parents at tournaments, many of whom told Welch he'd need to change his grip eventually.
"There would always be some people commenting like, 'You won't hit it as far.' They all think they're an expert," Welch said. "But I was already comfortable enough with it, so I didn't feel the need to change."
Patrick's father was supportive of his son's unique style, but he also was wary of it because of the unwanted attention it attracted. He said he was uncertain about whether the technique would continue to work well for his son as Welch's game improved.
"I was pretty self-conscious about it because there's so many traditionalists in golf, and if you're doing something different ... that's kind of weird," Martin said. "It never bothered him one bit. He was so cool, but I always took offense ... and I still do because everybody's got an opinion on it, like, 'He can't do that.'
"Well, he does it."
When he was 14, Welch advanced through sectionals and regionals, qualifying for the 2014 Drive, Chip and Putt Championship at Augusta National Golf Club in Augusta, Georgia. He won the championship in its inaugural season.
The trip was the experience of a lifetime for the Welches. The two bonded closely over the sport, and Martin was his son's biggest supporter.
When Welch would compete in USGA events, rules prohibited players from being caddied by their parents. Martin asked Goldin, a longtime friend of the family who used to sit next to the Welch family at San Francisco Giants games, if he'd be interested in being Welch's caddie.
"It's just been a very fun and interesting part of my life to be involved with someone who's that talented," Goldin said. "And he's made it without the amenities that these kids have these days."
'Oklahoma might as well have been Russia'
Many of the top young golfers around the country focus on one sport, but not Welch. Despite having less time to play golf than some of the other golfers he was competing with, Welch still finished high school with wins in some of the nation's top tournaments. 
At 16, Welch was selected as one of six golfers to represent the United States in the 2016 Junior Ryder Cup. Welch went undefeated in his matches and helped the U.S. defeat Europe. The cross-handed golfer also won the Rhode Island Amateur Championship a record-breaking four times, all while he was in high school and was usually the youngest player on the field.
Still, when college recruitment came around, some coaches were wondering whether Welch could continue to improve under his new swing.
"I'd heard that some coaches wouldn't look at me or wanted to change me if I attended their school," Welch said. "So I mean, in a way there's a little chip on my shoulder just because I want to prove I can actually play."
Welch knew former Oklahoma golfer Brad Dalke from playing in junior tournaments together and had seen what Dalke was able to accomplish with the Sooners. As a sophomore, Dalke helped lead Oklahoma to its second national championship in 2017 and was a two-time All-American during his time in Norman.
Welch decided to visit Norman with the dual purpose of attempting to qualify for the U.S. Open and seeing OU's campus and facilities.
Welch made the trip with Martin, and the two were blown away. During his time on campus, Welch visited former football coach Bob Stoops' office and got to go on the football field before heading to the Lloyd Noble Center for a visit with men's basketball coach Lon Kruger.
Welch was looking for a coach that didn't want to change his grip, and he felt he found the perfect fit with Oklahoma coach Ryan Hybl. In Oklahoma, there was an opportunity to build on what Dalke was able to accomplish.
"His mom graduated from NYU, born and raised in Philly, and we lived in San Francisco," Martin said. "Oklahoma might as well have been Russia. You know what I mean? Like, 'You're going where?' and I said to his mom, 'You wouldn't believe it. The people down in Oklahoma are so friendly, and the school is so beautiful, and Coach Hybl wants him,' and it was done." 
In his first season with the Sooners, Welch was one of three Oklahoma golfers named Division I PING All-Americans. The 5-foot-11 golfer appeared in five team events and finished sixth as an individual at the Ka'anapali Collegiate Classic.
Welch's game seemed to improve as the stakes got higher, winning his match in the Big 12 Match Play Championship. He was the Sooners' top finisher at the NCAA Championship, where he tied for No. 11.
Welch credits his success in big tournaments to the experiences he had playing under pressure when he was younger.
"I was actually super relaxed that week," Welch said. "My game felt pretty good, I played really well, and it gave me a little bit of confidence knowing that I could play with pretty much anyone. Playing in junior tournaments — knowing those players and gaining that experience, I think it helped for (the NCAA Championship) because I felt like it was just another tournament. Even though it was the biggest one, I felt more at ease knowing that I'd been there before."
The Sooners are looking to build off the success of their 2018-19 season despite the departure of several veterans, including Dalke and Blaine Hale, who were instrumental in earning Oklahoma its second national championship in 2017. Welch has improved his average score from 70.93 during his freshman season to 70.83 during his sophomore campaign.
Welch's top finish came this spring during the Puerto Rico Classic, where he tied for No. 4 with a 54-hole score of 208 (-8). The Sooners finished in the top 3 in every event they played leading up to the Big 12 Match Play Championship in October, where they finished tied for No. 7.
For Welch, his goal for the season is clear: win the national championship.
"I think that's on everyone's mind," Welch said. "We've been there, we won a few years ago. The past few years we've made it to match play, but we just weren't there at the end. I think this year we've got a really strong team with Quade (Cummins) and (Garett) Reband leading the way."