Andrews Park was transformed into a Black Lives Matter rally Monday as hundreds filled into the amphitheater with signs that read "I can't breathe" and other phrases in honor of the death of George Floyd, a Minneapolis African American resident who was killed by police for a nonviolent crime while being arrested.
At the podium, among the prominent Norman figures who spoke were Norman Mayor Breea Clark and Ward 8 Councilmember Alexandra Scott, along with civil rights activists. In attendance, watching the speeches and the music, were former Oklahoma basketball players Trae Young and Jamuni McNeace.
Eventually, Young took the stage to speak.
"This country's in a messed up place right now." The No. 5 overall 2018 NBA Draft pick admitted he's not used to speaking publicly on the issues of today, but insisted he had to come and speak at the rally in his hometown, where he played basketball throughout his childhood until the end of his college career.
Full video on Trae Young speaking Monday afternoon: pic.twitter.com/9Pl1II5T32

— Caleb McCourry (@CalebMac21) June 1, 2020
"I'm not used to doing this," Young said at the podium. "For me, even though I'm 21 years old, I feel that (me being here) was necessary and this is bigger than me. I feel like this is a big step in the right direction. I grew up here in Norman. Everywhere I go I try to represent this city as best as I can.
"I'm proud to be here today. I'm proud to be from Norman, Oklahoma. … No justice, no peace."
McNeace, who's spent a season in Finland playing professional basketball, just got back to Norman after having to return to America in March due to COVID-19. He has been living in Allen, Texas, with his family. He was at the Black Lives Matter OKC protests Sunday as well.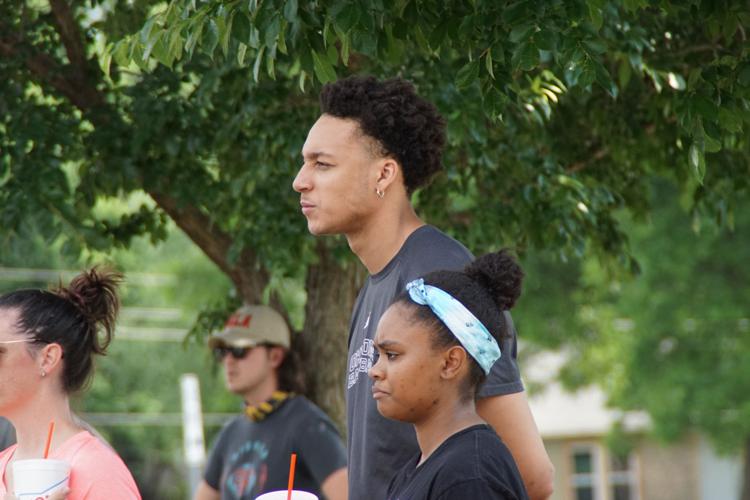 "You just try to stay level headed but you know, it's just upsetting," McNeace said.
Civil rights activist Ashley Nicole McCray gave a speech at the podium and everyone in the crowd had their hands in the air just before McNeace spoke to The Daily. "It's 2020, we still have to deal with this. Our parents' parents have fought for this and our parents have fought for this. They were in a different era. Around this time we should be more willing to accept.
"It's not just here in the U.S.," McNeace continued, reflecting on his time overseas, "it's everywhere."
While wearing a bandanna as a mask, Young held a sign that read "God didn't give us this breath for you to take away." After he spoke to the crowd, the Atlanta Hawks point guard took time to talk to the media, addressing his ties to Norman and how being the child of a mixed marriage has shaped his life.
"My mom is white. My dad is black," Young said. "I grew up just like another black kid. I knew how I was perceived and looked at in society. My dad raised me to understand that. So I always know where I'm at and where I come from and where my ancestors came from. … I'm just trying to make a difference."
Other prominent Oklahoma sports figures have shown support to the nationwide Black Lives Matter protests. OU head coach Lincoln Riley, and his assistant coaching staff took to social media to voice their willingness to support the cause, on a personal and national level.
At the Sunday OKC protests, Oklahoma wide receiver Jadon Haselwood and linebacker Jamal Morris were marching along with the protesters.
OU football players Jadon Haselwood and Jamal Morris are among those at the protest in front of the jail. pic.twitter.com/jHp7OLow2H

— Joe Mussatto (@joe_mussatto) May 31, 2020