Sunday, Nov. 13, 2016, is not a date many people would recall. 
Yet for senior forward Kristian Doolittle, it's a day that probably sounds more than familiar. That day marked the season opener of Oklahoma's 2016-17 basketball campaign — the first time Doolittle laced up for the Sooners in a non-exhibition game versus Northwestern State. 
In that game, Doolittle gave Sooner fans a quick glimpse of things to come in the first few opening minutes of play.
After then-junior forward Khadeem Lattin stuffed a jumper by Demon center Ishmael Lane, then-senior guard Jordan Woodard collected the rebound and found Doolittle sprinting to the other side of the court. 
In transition and with nothing but fellow cream jerseys surrounding him, he slammed home what would become the first of his signature two-handed pullup dunks for the Sooners.
My first dunk yesterday and hopefully many more to come! pic.twitter.com/bJ7CDuBwgH

— Kristian Doolittle (@kristiandoolit1) November 14, 2016
Nearly four years later, Doolittle is approaching his last two regular season games at Oklahoma as the team's lone senior. In his time at OU, he's gone from one of the few bright spots on a 12-win team rebuilding from a Final Four appearance, to a key role player on a squad led by future NBA all-star point guard Trae Young, to the team's unspoken veteran leader on both sides of the court. 
Now, in an on-the-bubble season that has seen Doolittle drop more than 20 points in seven different games, he's playing the best basketball of his career.
This season, he's averaging career highs in points, steals, assists and rebounds per game. In a three-game stretch against then-No. 13 West Virginia, Iowa State and then-No. 3 Kansas, he averaged just under 25 points and 10 rebounds while making at least three 3-pointers in each performance. Overall, he ranks fourth in the Big 12 with an average of nine boards per game.
"Feels like just yesterday he came in as a freshman," head coach Lon Kruger said. "It goes that quickly. ... (Since his freshman year,) he keeps getting better and better. Last year, he really took the team on his back there late in the season and got us in the NCAA tournament. This year, he's having a great run (again), especially in conference play." 
Doolittle's growth from his junior year to his senior year is due to how much he knows the game, said Shane Cowherd, Doolittle's coach at Edmond Memorial High School.
"I think a lot of it comes from Kristian having an understanding of how much is needed from him in every possession," Cowherd said. "He has an unbelievable, intelligent basketball mind, and that's one of the reasons why, defensively, he guards positions one through five.
"That's a rarity in the college basketball game. It has a lot to do with his athletic ability, but also his basketball IQ."
Though Doolittle's final season is clouded by the uncertainty of his basketball future, draft analysts think he has played himself onto the NBA's draft radar.
"I think he's a guy who has some value at the next level," said Bryan Kalbrosky, HoopsHype basketball reporter and NBA Wire editor for USA TODAY Sports Media Group. 
"Shooting 37 percent from downtown isn't something to write home about in terms of 'Oh, he's the next Trae Young,' but at his size ... if he can familiarize himself with an NBA offense, 37 (percent) is a great place to start off from. When you're 6-foot-7 and can shoot, teams are going to look at you at the next level."
Because of the Sooners' small-ball style of play this season, Doolittle has found himself playing power forward for most of the year. Kalbrosky foresees Doolittle shifting to a three at the next level.
"I think (moving positions) really makes sense for him," Kalbrosky said. "He's finished most of his positions this season as a spot-up shooter, so using him off the catch on offense or being a spot-up option is probably his best bet. He hasn't been very efficient off the catch, he's been much better off the dribble. In fact, he's actually one of the more prolific shooters off the bounce in college basketball, which is interesting because obviously shooting off the catch is strictly a lot easier. I think that's something that he can learn."
And as the NBA continues to evolve to a more small-ball-centered offensive game, even the smallest of improvements in Doolittle's off-the-catch shooting ability could theoretically help him succeed at the next level.
On the other side of the ball, Cowherd said Doolittle is more NBA-ready than ever before.
"Defensively, he is, right now, what the game of basketball is all about," Cowherd said. "(Having) ability to guard multiple positions on the floor and do it at a high level. He is a fantastic communicator, particularly on the defensive end ... (At the professional level,) you're getting a guy who's very sound fundamentally, an incredible passer ... 
"Nobody should be compared to other people, but I've always thought of Kristian as having the same type of capabilities as a Draymond Green without the extra personalities thrown in there."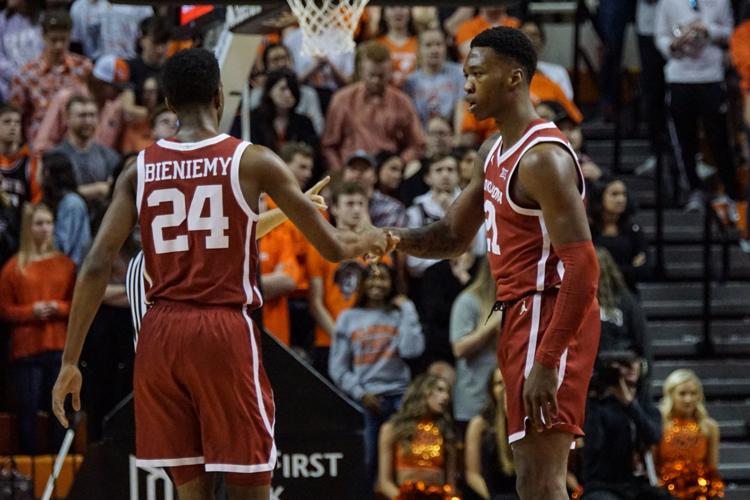 Doolittle began his final collegiate season by guiding his team to a 9-3 record in nonconference play. During that span, he led his team in both scoring and rebounds. The peak of his first half of the season came on Dec. 5, when he drained a clutch 3-pointer from NBA-range in the final seconds versus North Texas to secure a Sooner victory on the road.
🚨KRISTIAN DOOLITTLE FOR THE LEAD🚨 pic.twitter.com/s5q63ETNhN

— OUHoops (@ouhoops) December 6, 2019
He finished with a career-high 28 points — 18 came in the second half — seven rebounds and three assists while shooting 11-15 from the field and 3-3 from deep against the Mean Green.
"He was phenomenal," Kruger said after the game. "Not only offensively, but I thought defensively (he played well) ... He's been through a lot of battles. At that point when we were down 10, he knew every defensive possession we needed a stop, and I thought he jacked the guys up a little bit."
Even when he's not posting season-high scoring numbers, Doolittle's do-it-all mentality and style of play has boosted the Sooners when they needed him most this season.
Directly after his performances against West Virginia and Iowa State, Oklahoma suffered double-digit losses to Kansas, Baylor and Oklahoma State consecutively Feb. 15 through Feb. 22. The Sooners then entered a must-win match against then-No. 22 Texas Tech on Feb. 25 with a win probability rating of 38.2 percent, according to ESPN's BPI.
However, with Doolittle posting 19 points, seven rebounds, three steals, a block and an assist against the Red Raiders, the Sooners were able to upset Texas Tech, 65-51, and keep their NCAA tournament hopes alive.
"Doolittle looked like an NBA player out there tonight," Red Raider head coach Chris Beard said after the game. "That guy's been in this league for a long time. He was playing Big 12 basketball while some of our guys were lacing them up in high school. I told them, 'He's not going to let his team lose tonight — his coach is too good, he's too good. You want to win this game, you're gonna have to endure them playing great.' ... To me, that's exactly what happened.
"(He) was the best player on the floor tonight ... That guy's got heart, got character. He's been playing in this league for a long time. In my eyes, he's an all-conference player in the Big 12."
Of course, a comment coming from one of college basketball's elite coaches — one who is coming off back-to-back NCAA tournament runs that saw his team perform in the Elite Eight and national title game — speaks volumes about the amount of respect Doolittle has among players within the Big 12. 
But, most importantly, it's performances like his Texas Tech game that could ultimately help Doolittle's case at the next level.
After all, Oklahoma's strength of schedule ranks among the best in the country, which tells Kalbrosky that Doolittle is able to compete at a high level.
"That shows he's going against really, really elite talent," Kalbrosky said.
"The Big 12 is a really strong defensive conference, and the numbers reflect that. ... It tells me he's not going against bad teams and putting up good numbers — he's able to produce in general."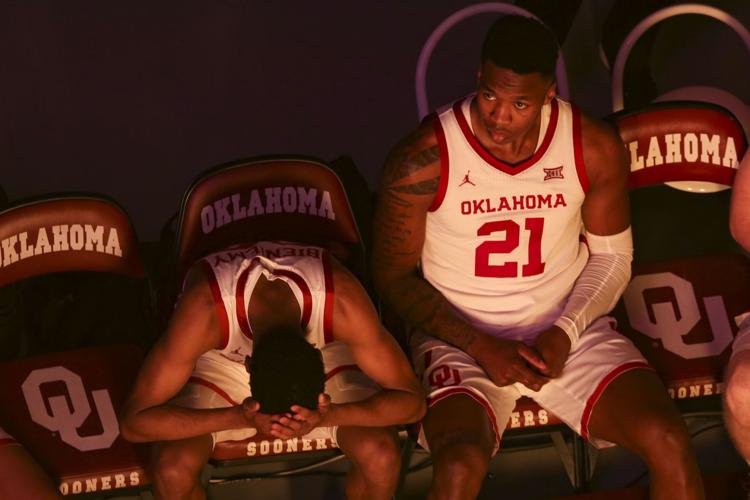 Doolittle enters his final home game at the Lloyd Noble Center on Tuesday against Texas. 
Just like each of Oklahoma's last two games, this game will once again carry weight toward the postseason. A win could secure the Sooners as a lock for the NCAA tournament as 10th seed and could even boost them to a third seed in the Big 12 tournament.
Since the Sooners' last meeting with the Longhorns, Texas has gone from a NCAA tournament afterthought to a team battling to be one of ESPN analyst's Joe Lunardi's final four teams in.
Coming into this season's second installment of the Red River Shootout, Texas is on a four-game winning streak that has seen the Longhorns — just like the Sooners — knock off both West Virginia and Texas Tech.
Though Doolittle might not show it, Cowherd thinks it will be an emotional night for him.
"For the first couple years (in high school), some people would say, 'Is this kid having fun? He's always got the same expression,'" Cowherd said with a laugh. "He just gets locked in moments — I think it will be a lot like that (on Tuesday night). 
"He will definitely have that thought of, 'This part of my life is coming to a close,' and (he'll) reflect on the good and not-so-good moments ... Because he's a very highly intelligent young man, legacy means something to him. Leaving something behind, as far as play, was important to him in high school, and I don't think that's changed."
For the rest of the season, Doolittle will wear a custom-made facemask to protect the broken nose he suffered against Oklahoma State on Feb. 22.
His willingness to play through his injury and continue to lead his team is a testament to the kind of leadership he's brought to the program during his time here, redshirt junior guard Austin Reaves said.
"He's what you want in your senior, for any program," Reaves said. "The way he's done it, the way he's been able to come to practice and compete every day, and especially in games, it's amazing.
"It tells everybody that if we come out and work hard, we can live with whatever happens."
Tipoff for Oklahoma's matchup against Texas and Doolittle's final home game is set for 8 p.m. CT on Tuesday in Norman.