Brady Manek's phone kept ringing.
It was the summer of 2015, just a few months before he would begin his junior season at Harrah High School in Harrah, Oklahoma. After he finished his sophomore year, in which he averaged just under 11 points per game and helped the Panthers reach the Class 4A semifinals, those calls, texts and other notifications were coming from schools interested in offering the then-6-foot-7 forward.
Universities such as Georgetown, Marquette, Wake Forest, Oklahoma State and Tulsa were among the schools reaching out to Manek — but he wasn't answering.
Cary Manek, Brady's father, recalled Brady's tendency to let the phone ring on most of his recruiting calls didn't come from a lack of interest in continuing his playing career — it was because his mind was already made up.
"He'd look at his phone and tell me, 'Oh, this is coach whoever from wherever,' and I'd look at him and say, 'Answer it,' but he'd always say, 'I don't want to,'" Cary said. "After putting up with that for about a month, I asked him, 'What's the hang up? Why won't you answer these calls? People would die to be in the situation that you are.'
"He looked at me and said, 'Why would I consider a school like that when I've got OU 45 minutes away from the house? ... I'm gonna go to OU.'"
Manek would later commit to the Sooners, who were the first to offer him, in October of that year. He was Oklahoma's first commitment in its 2017 recruiting class.
Now, over midway through his junior season at OU, Manek has gone from just a catch-and-shoot forward in head coach Lon Kruger's offense to a more well-rounded offensive and defensive player.
Along with being the Big 12's third-leading scorer so far this season by averaging almost 16 points per game on a shooting percentage just above 47 percent, Manek has already made as many 3-pointers as he did last season, and he's done so on 23 fewer attempts and in 12 fewer games. He's also recorded more blocks this season than in either of his previous years with the Sooners, and he's significantly cut down his total amount of turnovers.
On top of that, Manek has cemented himself into the Sooner history books twice this season.
Manek became just the 46th Sooner ever to join the 1,000-career points club as he posted a career-high 31 points in Oklahoma's win over TCU, 83-63, on Jan. 18. Two weeks later, on Feb. 1, Manek's seven made 3-pointers in the Sooners' 82-69 win over Oklahoma State marked another career-high and moved him into the No. 10 spot on Oklahoma's career 3-pointer list with 171 career makes.
While those accomplishments are enough to make one proud, they don't come as a surprise to Manek and those who have surrounded him on his journey from Harrah's basketball gym to the Lloyd Noble Center.
"As (Brady) grew up, even when he was playing kids a couple years older than him, he could always put the ball in the hole," Cary said. "It was just a matter of him getting in the right situation and being with coaches that believe in him — I knew he would be fine. I knew if he chose the right school, then he would be successful, and it would lead to great things."
'He hated to lose'
Brady's older brother, Kellen Manek, who is now in his junior season at Southeastern Oklahoma State, has no difficulty describing what it was like growing up with Brady.
"If you didn't know Brady, even to this day, (you would think) he's very quiet, very reserved," the 22-year-old said. "But when you get to know him, he's like a totally different person. He's wild and crazy. Always cracking jokes, always smiling and laughing. He's just so much fun to be around."
Kellen and Brady grew up in Edmond, Oklahoma. As the sons of two former college basketball players, they quickly showed an interest in and talent for sports at a young age, particularly in basketball. They both began their playing careers on their dad's little league basketball team for 5-year-olds.
"(Brady's) always looked up to Kellen," Cary said. "Kellen's always been old and mature for his years. Growing up, especially when playing sports, Brady leaned on Kellen for everything from emotional support to basketball advice."
Most of the time, at the little league level and beyond, the Maneks would find themselves playing against older competition. As Kellen is a year older than Brady, that often meant Brady was competing against kids two years older than him.
It didn't always go well.
"We'd take some beatdowns. We'd lose by 30 some games," Kellen said. "And (Brady) hated to lose ... My dad's message was always, 'Hey, this is going to make you better. Don't get frustrated, just keep playing hard.' (From then to now,) I think he's always done a great job of doing that."
Brady's drive for success and passion for the game began then — and it never went away. Years later, when his family made the move to Harrah, he worked his way onto his high school's varsity team as a freshman.
It was around that time that Kellen saw the potential in his younger brother. Much like Brady's leaps in development from his first to third year at OU, he made similar progress early on in his high school career.
"Coming in as a freshman at Harrah, Brady was like 6-foot-3 or 6-foot-4, weighed about 140 pounds. He was a scrawny little dude," Kellen said. "But it was just the way he was finding ways to score ... He went from four dunks in his freshman year to 37 as a sophomore.
"At the time, I was thinking, 'This is crazy.' You could see the change in him. It was at that point I thought he had a chance to be something special."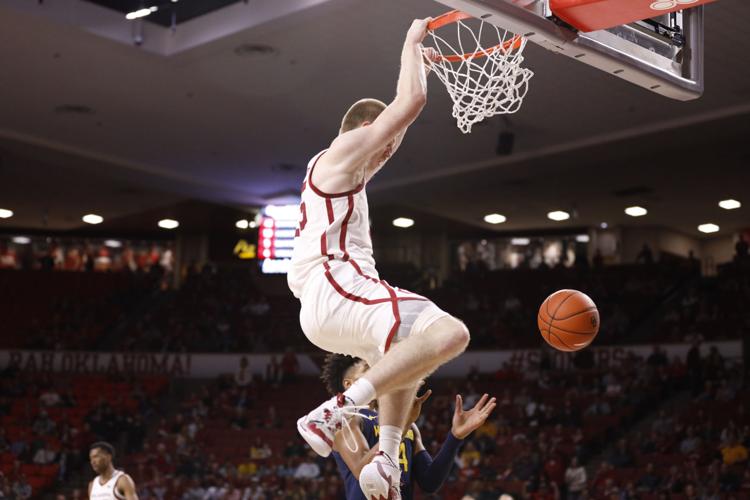 'I want you to be a Sooner'
Harrah High School basketball coach Chad Rochelle was still an assistant on Harrah's coaching staff when Brady was in his freshman year. After he met Manek for the first time and got to see his strong work ethic and attitude off the court, he thought the future of his basketball team was in good hands.
But after seeing him come off the bench to shoot 8-of-9 from behind the arc in an away game at Shawnee High School, he knew it was.
And that 6-foot-3, skinny spot-up-shooting freshman would evolve into a 6-foot-9 senior who had brought more balance to his game, making him one of Oklahoma's top recruits heading into his final season with the Panthers.
Manek would finish his senior season averaging 24 points and 12 rebounds while shooting 47 percent from the field, and he led Harrah to the state quarterfinals that season.
"He's always been confident, and that's because he's always put in the work," Rochelle said. "When he was in high school, he was the definition of a gym rat, and he still is. Staying after practice (and still working) when practice was over, getting keys to get in the gym on the weekends ... that's where his level of confidence comes from. He knows he's put in the work to be able to do it.
"As soon as the offer dropped from (OU), it was pretty much a done deal. That's where he was wanting to go and what he wanted to do. ... I think he was glad he was able to get that (out of the way) his junior year and be able to commit then. He then could just focus on playing ball and not worry about all the other schools and decision-making stuff."
The Manek family believed Brady was destined to be a Sooner.
Of course, Manek's early commitment to the Sooners came after a childhood immersed in OU athletics. Growing up roughly 32 miles away from OU's campus, Manek and the rest of his family never shied away from donning crimson and cream and cheering the Sooners on — the reason other schools' offers ultimately fell on deaf ears.
"Since we were kids, we've always been OU fans," Kellen said. "We always watched OU football, OU basketball ... (I remember) us being scared of the first 'Top Daug' when he would come to games.
"We just had a long history. Once Oklahoma offered him and Coach Kruger told Brady, 'I want you to be a Sooner,' his eyes lit up. He was like, 'Man, I can play at the University of Oklahoma like the Kevin Bookouts, Willie Warrens, Cade Davises, Blake Griffins of the world.' ... It meant a lot to him."
'He's becoming a better basketball player'
After coming to OU ranked as a four-star recruit by ESPN and a three-star by Rivals, Manek finished his first season in 2017 with the Sooners as the team's third-highest scorer behind then-freshman Trae Young and then-junior Christian James. He averaged 10 points and five rebounds per game.
Now, a little under three years later and in a season where the Sooners need him the most, Rochelle and many others say Manek is playing the best basketball of his life.
"He's doing more than just catch-and-shoot 3s now," Rochelle said. "I think he's become a better defender. I think he's become a very good rebounder. He's getting bigger (and) stronger every year. All that shows is that he's becoming a better basketball player. Being a high school coach, one of the things that we don't see a lot of in today's kids is good work ethic outside of practice ... I'm not surprised by (how Brady's playing) now because he's never had that problem."
The timing of Manek's growth and development on the offensive side of the ball couldn't be more perfect for the Sooners.
Manek and the on-the-bubble Sooners are now gearing up for a season-ending stretch that will decide their postseason fate. After upsetting No. 13 West Virginia, 69-59, on Saturday, Oklahoma has a chance to bolster its resume tenfold with opponents such as No. 3 Kansas and No. 1 Baylor left on the schedule.
"He's worked so hard for this," Kellen said. "He just does everything the right way, on the court and off the court. He (worked hard) to play at this level and to perform at this level. It isn't surprising to me. When you do the right things, when you put in the work — it's bound to happen at some point. He was just waiting for his opportunity."