It didn't seem real.
That's how Oklahoma redshirt junior Tre Norwood described the days after he suffered a season-ending, non-contact ACL injury during the Sooners' fall camp in 2019.
The injury came after Norwood spent the first two seasons of his OU career as one of the team's lone bright spots on an otherwise struggling defensive unit. He was set to become a key contributor in newly appointed defensive coordinator Alex Grinch's retooled secondary, but his injury took that away from him.
Now almost a year after his incident, Norwood said one of his toughest battles on the road to recovery was his battle with his mental health.
"It took a toll on me just for the simple fact that I'd be out for the season," Norwood said. "It was something I wasn't used to. … (I had to) keep positivity going through my mind, I had to be optimistic. I really grew closer in my relationship with God, just in my alone time. Knowing that everything happens for a reason was basically what got me through the whole deal."
Norwood's father, Michael Norwood, was not only there for his son's emotional needs following his injury — he was there for his physical needs as well. After all, Michael knows the feeling all too well. He suffered the same injury when he was a freshman in college.
"I prepped him for (recovery)," said Michael, who attended Ranger College in Ranger, Texas, from 1992–94. "The way (Tre) thinks, as soon as his swelling went down, he went back to working out. He was trying to get back on the field. He was like, 'Dad, I'm good.' 
"And I was like 'Nope, settle on down. Right now, it's a good time (to rest) because we're at the front of the season. Go ahead and get your redshirt completely out of the way. Get a chance to fully develop your body.'"
Norwood took his father's words to heart by letting his body take as much time as necessary during the healing process. Now, even though he's heading into a season that's surrounded with COVID-19 concerns, Norwood's more ready to play than ever.
And for a Sooners defense that saw major improvements in Grinch's first season as OU's defensive coordinator, getting a fully healthy Tre Norwood for year two could boost Oklahoma even more.
"I feel as good as I've ever felt during my 21 years of life," he said. "Just being able to go through rehab and kind of restart on reconstructing my body, I feel really good. My knee feels really good. I'm great mentally, so honestly I can't complain about anything, I feel really good overall.
"I feel (returning from injury) is like a new opportunity to me. It was like God was sitting me down, making me re-appreciate the game, humbling me and just giving me a chance to get back to the basics."
Those who've known Norwood aren't surprised in the way he's overcome his injury so far. 
His entire athletic career is one filled with him rising above the highest of expectations; conquering an ACL injury would just be another chapter in the story of Tre Norwood.
'He wasn't scared of anybody'
On the recruiting trail, Norwood first began to receive national attention after he competed in Nike's The Opening Regionals in New Orleans in April 2016.
Accompanying Norwood on the nearly 600-mile road trip from their hometown of Fort Smith, Arkansas, Michael believed his son was capable of playing football at the Division I level, but he wondered how Norwood would fare against the talents of Louisiana. 
The invite-only football camp is one of the country's hardest to get into. That year, it featured the likes of future LSU stars Ja'Marr Chase, Clyde Edwards-Helaire and Patrick Queen. Louisiana native and future Clemson running back Travis Etienne was also in attendance.
"When you get down there, those kids down in Louisiana were horses," Michael said. "There were some great kids — and I mean great, I know talent when I see it. They were some huge, big kids."
Yet Norwood didn't back down from the opportunity to shine among what would become some of college football's brightest stars. His performance was highlighted by his coverage of future Texas Longhorn receiver Brennan Eagles during one of the camp's coverage drills.
All while remaining locked onto the QB's eyes, Norwood matched Eagles stride-for-stride on a 40-yard fly route before making an athletic one-handed pass deflection just yards short of the end zone. The 6-foot-4 recruit never got a chance at the ball.
Great time in NOLA today 🤘🏽🏈🤑 pic.twitter.com/GIYj7Yl5pc

— Tre Norwood (@trenorwood_3) April 10, 2016
Watching Norwood make plays like that, Michael believed that Tre was not only able to play D-I football, he was meant for it.
"(That's) when his confidence really started," Michael said. "He went and handled his own. … My eyes started to open up. That's when I knew as a father, I was like 'OK, he's something special.'"
Solid measurements and a strong performance in the camp's 7-on-7 game kicked off what would become a lengthy recruiting process for Norwood. Schools such as Notre Dame, Louisville and Wake Forest soon showed interest in the 6-foot defensive back. Oklahoma also began to pursue him.
"(Before that camp) I had no offers. I was talking to schools but I had no offers," Norwood said. "I was just wanting to show everybody that a small kid from Fort Smith, Arkansas, can play with anybody around the country."
In the months following his performance at The Opening, Norwood originally committed to the University of Louisville. However, major shake-ups in the Cardinals' coaching staff led him to decommit in early 2017. Norwood made the decision to come to OU, his closer-to-home option, around the same time.
Norwood's head football coach at Northside High School, Mike Falleur, figured the recruiting boost was only a matter of time.
"We always knew Tre had the ability from just watching him in the eighth and ninth grade," he said. "He was just that kind of guy. Your only question then was (with his) size … (but) once he grew you knew that big things were gonna happen."
Norwood played both defensive back and quarterback at the junior high level for the Grizzlies, and he was making a name for himself around the Fort Smith area from his speed and playmaking ability alone. Northside High's defensive coordinator, Felix Curry, also began to take notice then.
"Tre was an up-and-coming ninth grader at the time," Curry said. "When I saw his footwork and his quickness I was thinking, 'Man, that's different.'
"I told his dad later that (Tre) was a phenomenal athlete, a great quarterback with great mechanics, but then I said 'Man, as a defensive back, that dude there, he could be special.'"
Norwood eventually became his high school's standout defensive back that his coaches thought he could be. However, that wasn't the only area where he was living up to hype: Northside's basketball team was also benefiting from Norwood's strong defensive efforts as guard.
He helped guide the Grizzlies to the Arkansas Class 7A State Championship his senior year. 
"Whoever we put Tre on, (which was) whoever the other team's best player was, they were in trouble because Tre would shut 'em down," Northside head basketball coach Eric Burnett said, who coached Norwood for three seasons. "(In basketball), his size really didn't matter. He did whatever he needed to do to get the job done, he wasn't scared of anybody. 
"You know how they say he's gotta have that dog in him? Well, he's got it in him."
'He's a coach's dream'
Norwood's love and deep connection to Fort Smith leads him to revisit his hometown on occasion. When he stops by, Norwood likes to spend some time with the town's up-and-coming athletes.
"Every time I come home, every chance I get, I try to spill knowledge to the younger guys," Norwood said. "I want the younger generation to know that with hard work, dedication, having the right mindset and being focused — you can do anything you want to."
Norwood's passion for his craft and positive outlook on life is why each of his former coaches deem him a "terrific role model" in the Fort Smith area.
"He just does everything the right way," Falleur said. "He's definitely a guy that we're always proud of and proud to say he was a part of our program. … He's gonna be one of those guys that you know is going to be successful, whether it be in football, school or in life."
"He's a coach's dream, he's got the heart of a champion," Burnett said. "He's one of those kids where you can just tell him to do something and you don't have to go look at the film to know that he'll do it. He's self-motivated. And when you get a self-motivated kid that has the integrity like he does, I mean, that's Tre Norwood."
Norwood, the older of two children, believes his high character is a direct result from his upbringing where his father instilled the values of hard work, respectfulness and humility in him at an early age.
"I've told people this to this day, and I'll keep saying it until I'm six feet underground, my dad's my No. 1 role model," Norwood said. "He takes care of our family so well, he's given me a blueprint of how to be a father, how to be a human being. … Those are things that, later on in life, I'll have to step into that role. … I learn from him each and every day."
"My wife and I, we've always tried to keep our kids grounded, especially in sports," Michael explained. "Sometimes me and my wife, we'll sit and talk with each other, and we talk about him — (Tre) impresses us sometimes. I'm not just saying this because he's my kid, but he's a model student, model athlete and model son."
Norwood's strong values ultimately helped him power through his injury and put him in position for a comeback year.
"As talented as he is, his work ethic is better than his talent," Curry said. "He's always hungry. Hungry to learn, hungry to work out. (His parents) made sure Tre was a tough kid coming up. 
"And when you have tough kids like that, they tend to bounce back."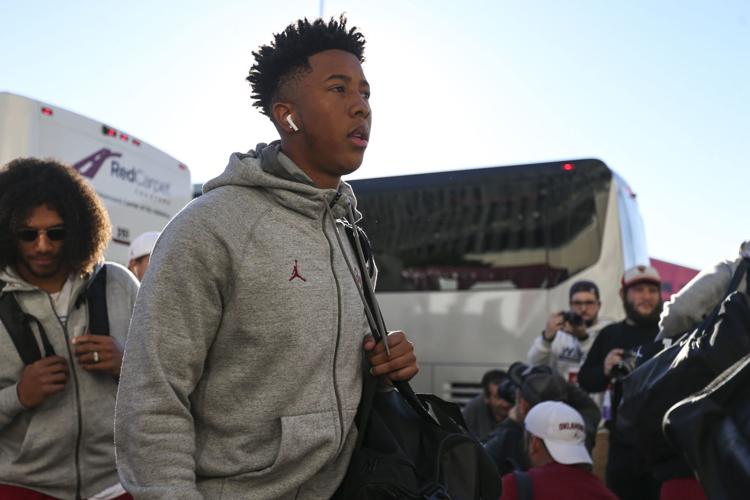 'He'll come out of this stronger than he was before'
Norwood's personal trainer, Yusuf Holloway, started working with him when Norwood was a junior in high school. The two have since continued their routine workouts and are still in regular contact with each other despite the 600-mile separation.
Their player-trainer relationship has grown into a brotherly bond. The two do almost everything together when Norwood is back in town, whether it's coming together for extra training or just to have a friendly cookout. Norwood and Holloway have each other's backs, both on and off the field.
When Holloway first heard of Norwood's season-ending injury, he waited to reach out in respect for Norwood's mental health.
"Sitting out a year is tough for anybody," Holloway said. "I gave him a day, just to see where his head was at. He was upbeat, but we started to talk about how this is another step in the process, and that everything happens for a reason — the reason here is for him to get bigger, get stronger. ... He'll be ready (to come back). A lot of people don't see the sacrifice that the great ones put in — and Tre works really, really hard.
"He'll come out of this stronger than he was before."
"(Holloway's) help has always been huge," Norwood said. "I look at him like a big brother. … He's played a critical part in my success throughout my football career. He's always there to lend an ear, always there to help. He's someone who I can say that will always be around."
But even when he can't train with Holloway, Norwood is still making sure to better himself.
As his father recalls, Norwood hasn't let quarantine stop him from his everyday workouts. His offseason goal of keeping his body weight to around 200 pounds has become so rigorous that Michael still has to remind him to "take a break."
Looking forward to the return of Tre Norwood.#OUDNA | 📽️ via @CB_prod23pic.twitter.com/wcwWY9fNYb

— Sooner Gridiron (@soonergridiron) June 19, 2020
However, for Norwood, the question of if he's preparing himself for a season that starts on time or at a much later date due to COVID-19 precautions still remains. Norwood believes the work he's putting in will pay off regardless.
"We don't know when (the season) will start, but we're going to have a season," Norwood said. "I'm making sure that, as an individual, I'm prepared for whenever that happens. It could start tomorrow, and I'd know that all the training and everything that I did throughout quarantine prepared me to step out and face it. That was my mindset when I was back home with (Holloway) every day.
"No matter what, I'm going to be ready to step out there and play whenever they say it's time for our season to start."