When Mary Basquine steps onto Owen Field ahead of Oklahoma's senior night Saturday, she will be overcome with emotion.
"I think I might faint," she said. "I don't know if I can do it."
Mary's son, redshirt senior wide receiver Nick Basquine, will play his final game at Gaylord Family-Oklahoma Memorial Stadium this weekend against TCU. As a sixth-year senior, it will be Nick's 78th game on OU's roster. Former quarterback and Heisman Trophy winner Jason White holds the school record for games on roster at 79, according to Oklahoma's sports information department. By the season's end, Nick, 24, will go down as the longest on-roster OU football player ever.
He is, in essence, the ultimate senior and Sooner.
"I'll hate it when he's gone," coach Lincoln Riley said. "One of those guys you probably won't realize all he's done, or people on the outside might not realize all he's done, until he is gone."
Nick's OU journey isn't just the longest, but also one of the most inspirational.
A Norman native, he always dreamed of playing at OU. Once a walk-on, he's earned playing time on some of the best Oklahoma teams in recent memory, despite suffering three season-ending injuries. As the oldest player on the roster, he's served as an older brother and mentor for many of the Sooners' talented young players. And, soon, he will walk away from OU with a bachelor's degree in management and a master's in adult and higher education.
"He's the 'OG' here," senior quarterback Jalen Hurts said. "Been here a minute. We all love him. He's a great person, a great player. He's the pride of Norman."
While Nick's success on and off the field is much to his own credit, one person has been his biggest advocate since the beginning: Mary. And that's why Nick will be joined by no one but her on senior night.
He wants to make sure all 85,000-plus in attendance know who's been by his side, living with him his entire life and believing in him since the moment he was born.
"If there is such thing as a perfect child, I would say it's him," Mary said. "He's always worked hard toward the goals he has in mind. He wanted to make something of himself. He wanted to be proud of himself ... I'm sure he's tried to please me in many ways.
"I'm proud to be his mom. I'm honored, actually."
'Can you please let me go to OU?'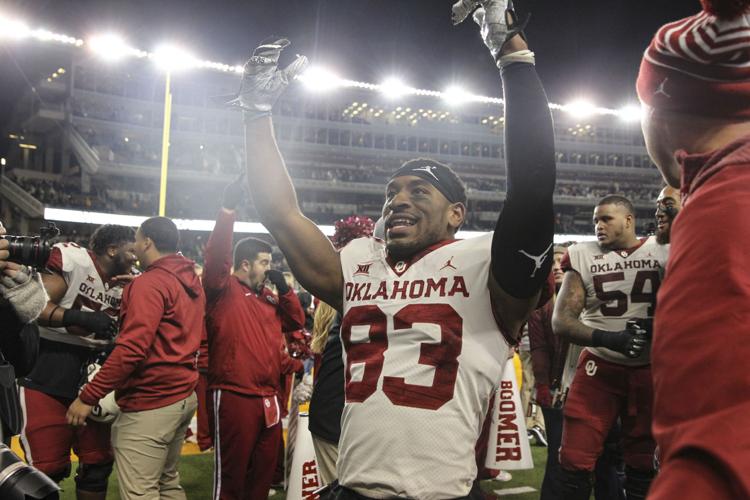 Nick and Mary sat in the living room of their home off Norman's Rock Creek Road following a visit to the University of New Mexico — one of the few schools that recruited him for football — in the fall of his senior year at Norman North High School.
Nick had been strongly considering attending New Mexico. But he and his mom knew there was only one place he truly wanted to be.
"Mama, I'll go (to New Mexico), but that's not where my heart is," Mary recalled Nick saying. "I just want to go to OU. You were able to go to OU ... How come I can't go to OU? What's the worst that could happen? I could get a degree. You told me not to have any regrets in life.
"Can you please let me go to OU? If you let me go, you'll never regret it."
Mary, of course, said yes.
"I want you to follow your dreams," Mary remembers telling her son. "I'll never regret letting you chase your dreams."
Trouble was, Nick was not recruited by Oklahoma. With guys like Michiah Quick, Dallis Todd and Jeff Mead — all highly touted out of high school — committed to the Sooners in 2014, Nick and his 5-foot-11, 190-pound frame were an afterthought.
But like many Norman kids, Nick grew up a big fan of Oklahoma football. His mom attended the university, earning her bachelor's degree in psychology and a master's in social work. His brother, AJ, also graduated from OU with a bachelor's in psychology and a master's in human relations.
So when Nick decided to follow his dream and walk on at Oklahoma, Mary, a single parent, found more work. She was already working full time at the Oklahoma Department of Mental Health and Substance Abuse Services as a drug and substance abuse therapist.
"I started doing contract work to help ends meet that way," Mary said. "I was going to do whatever it took."
Mary's sacrifice allowed Nick to pursue his dream, as he joined the team before the 2014 season.
"I always wanted to go to OU," Nick said. "I had offers from some places, but I wanted to play at Oklahoma. That was my dream since I was a kid. People looked at it as a big risk, and it was a big risk. But I didn't necessarily look at it like that."
Nick has since seen it all during his six years at Oklahoma, from being a voice of influence amid racist events on campus to enduring season-ending injuries to being a key component on championship-level teams.
As a redshirt in 2014, he was named one of the offensive scout team players of the year alongside eventual 2017 Heisman Trophy winner Baker Mayfield. The following spring, he saw how leaders like Eric Striker could make an impact beyond the football team after the racist Sigma Alpha Epsilon video that surfaced in March 2015.
In 2015, he watched from the sidelines due to a season-ending hand injury as Mayfield led Oklahoma to its first College Football Playoff appearance.
In 2016, he finally got his chance. His first career catch was a touchdown, 62 yards against Louisiana Monroe, which ended with him diving into the end zone. He went on to play in 13 games, catching 20 passes for 265 yards and one of the biggest scores of the season, a 23-yard touchdown pass from Mayfield in the famous 66-59 Texas Tech game.
Just 20 days later, then-head coach Bob Stoops put Nick on scholarship — a life-changing moment for the Basquines.
"He called me and said, 'Mama, I have something to tell you. I got a scholarship.' And I just broke down and cried," Mary said. "It meant everything to us. He no longer had to worry about how I would pay for school or for loans or any of that. It was a burden off of us."
Earned every bit of it - congrats @NB5ive! pic.twitter.com/V5tYlbLI0E

— Bob Stoops (@CoachBobStoops) November 12, 2016
In 2017, which was expected to be Nick's breakout season, he ruptured his left Achilles tendon in the first week of fall practice, sidelining him the entire season. The following spring, he ruptured his right Achilles tendon, sidelining him for all of spring practice.
"That year, I was supposed to be a really big help to the team," Nick said. "Guys were counting on me. I worked hard that summer. And the expectations — I wasn't trying to prove myself anymore. My coaches and teammates were behind me and pushing me. That was probably my lowest point."
Still, not once did he consider quitting.
"At the time, it was a blind blessing," Mary said. "It allowed him to take a step back. It was a detour. But out of that tragedy we found promise."
In fall 2018, Nick returned. He played in all 14 games and made seven catches for 134 yards, including a 35-yarder against Alabama in the Orange Bowl. In spring 2019, after another racist incident on campus involving two OU students using blackface, Nick was one of the first players to speak out.
"We're one of the few people on campus that have that platform," Nick told The Daily in January. "It's not exclusive to us, student-athletes — it's for everybody on campus. But we have one of the biggest voices, so we need to use it appropriately."
This season, after receiving a medical redshirt, he's played in all 10 games so far and has made 14 catches for 216 yards while serving as a leader on a team full of young talent. With just two regular season games remaining, as well as a possible Big 12 Championship and another College Football Playoff berth, Nick has left his stamp on the program.
"He's been extremely resilient. He's been a real, real valuable member of this team for a long time," Riley said. "Does so much for us on special teams, he's been a real good player for us offensively. He's become a good leader. Helped mentor a lot of young receivers who've come through here.
"He's a guy that kind of always shows up on tape doing things — he's made a lot of great plays here — but, a lot of times, shows up on tape doing things that maybe don't show up in the stat box that help us win."
'It's the end of a journey.'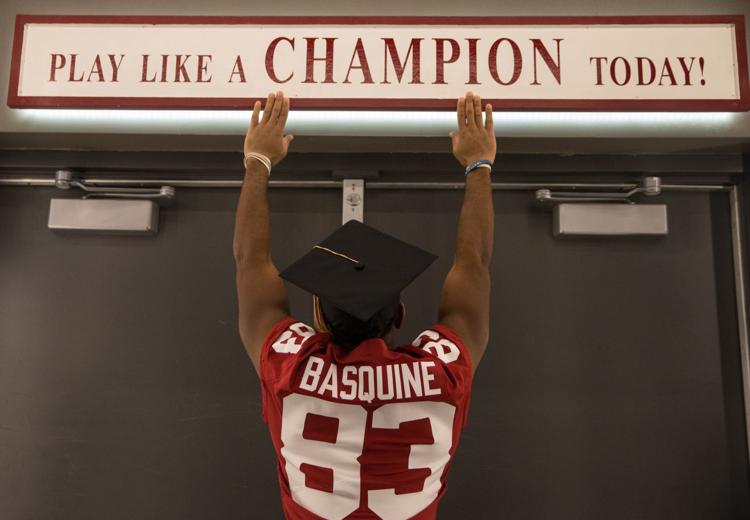 Mary has lived off Rock Creek Road for 25 years. Nick has lived there his entire life.
Instead of living in the dorms or close to campus like most student-athletes, Nick has lived at home all six years of college. Not only does he think it's not unusual — he thinks it was important to be there for his mom.
"He wants to make sure his mom is OK," Mary said. "He's a caretaker. He just wanted to make sure I was safe."
The two spend most of their free time watching football, no matter the day of the week. They often go to their favorite Norman restaurant, Charleston's, to share a meal, unless Nick picks up Canton Palace in Del City, where their orders are memorized: beef fried rice, Hawaiian chicken, sweet and sour pork and egg rolls.
Nick and Mary have formed a close bond over the years, creating an unbreakable relationship. This spring, Nick will finally move out of the house he's lived in all his life. He'll pursue his next dream: playing in the NFL.
"It'll be extremely difficult, but I know he's a young man and he needs to go spread his wings," Mary said. "He's an adult now. I'm OK with him going to live his life ... but he's always said, 'Wherever I go, you can go with me.'"
Nick and Mary are trying to cherish these last few games.
Before each game, Nick scans the crowd in search of his mom. He always finds her, makes eye contact and gives her a point and a wave.
"I've been emotional every game because I know this is one game closer to his last game," an emotional Mary said. "I don't care where I am — he knows where I am. We give our little signal to each other, and that's my way of saying, 'I'm here for you.' I could be around thousands of people and he finds me every time ...
"Those are my precious moments."
For Nick, it's much of the same. As each moment passes — the end of his last training camp, his last home opener, his last OU-Texas — he tries to see what lies ahead, and he hopes to be an NFL general manager one day. But he finds it hard not to think of all he's accomplished.
"I'm trying to soak it all in," Nick said. "It helps having everything in front of us, knowing we can still win championships and achieve our goals. But you kind of see things along the way and say, 'Dang, I'm really toward the end.'"
So when Nick and Mary walk onto Owen Field for the final time Saturday, the two admit tears are likely to stream as Nick is introduced to Sooner Nation one last time.
The six years have flown by, they say. But they wouldn't have it any other way.
"We're grateful for the University of Oklahoma," Mary said amid tears. "I wouldn't have been satisfied if he went anywhere else. He wouldn't have been satisfied.
"It's the end of a journey. Now we're about to embark on another journey."