Jeremiah Hall could do nothing but watch as four Texas defenders corralled Oklahoma quarterback Spencer Rattler for a 3-yard loss late in the fourth quarter of the Sooners' eventual 53-45 Red River Showdown win.
As Rattler crumpled, a well-timed strip from a Longhorn defensive back forced the ball out of his hands toward a cluster of crimson and burnt orange jerseys. Hall quickly found himself fighting at the bottom of the scrum.
Officials called the play dead and players slowly scattered as the redshirt junior emerged with the ball in hand. Had he not, Texas' highly-touted offense would've received the ball with only 40 yards separating it from a game-tying score. OU likely would have been doomed, and on track to lose its third consecutive game of the season, fumbling away any hope at a sixth-straight Big 12 title.
But in part because of Hall's heroic save, the Sooners held off Texas' late rally to win in quadruple overtime. The victory sparked Oklahoma to win its next three games, each in a convincing fashion. 
Though the recovery is overshadowed by what became the highest-scoring game ever between the two rivals, playing outside the limelight is nothing new to the Charlotte, North Carolina, native.
"(I wanted) to go out there and make a play, I didn't care what it took," Hall said. "As an H-back, you have to be unselfish and you have to be willing to put the team first at all times. The team needed me to dive on the football or else the drive would have been over."
Hall isn't the flashiest player on his team. He's not the strongest or fastest, either. What Hall does bring is a football IQ that, according to those close to him, goes toe-to-toe with any player in the country. Hall's impressive knowledge of the game allows him to make the right play at the right time.
"His football awareness is just outstanding," said Aaron Brand, Hall's former head coach at Zebulon B. Vance High School in Charlotte. "That's what makes him (special). He's an intelligent young man. He is one of those guys that also thinks it's cool to be smart. A lot of people nowadays and in (my) day thought it was not cool to be sharp, not cool to be smart. Jeremiah Hall is one of those guys that makes being smart cool again."
Hall's intelligence isn't limited to the field, as his efforts inside the classroom are impressive in their own right. In July, he announced his acceptance into the University of Oklahoma's MBA program, which ranks as a top 35 program in the country among public universities.
"To me, it's just another goal I want to accomplish," Hall said in September. "(But) when I tell other people, they're like 'Whoa, that's big.' I'm hoping that the benefits will show later on in life but right now I'm just grinding and playing football."
Balancing a demanding athletic and academic schedule is something Hall has always taken pride in.
"I just think he always knew there was greatness in him from day one," said JaStacia Jones, Hall's academic counselor at Vance. "He just always knew what he wanted to do and needed to do to accomplish those things. He took classes at a local community college during his senior year and was able to balance such a rigorous caseload. … He's always been so self-aware of what he wanted in his life that he didn't let anyone (deter him) from it."
As was exemplified by his Red River fumble recovery, Hall's mental toughness and leadership could become a guiding light for his team's younger talents as the Sooners still remain in the hunt for the Big 12 Championship.
'The connection we had away from football'
Months before Hall's senior season at Vance began in 2016, his head coach faced a big decision. Brand's success at Vance, after he led the Cougars to a couple state semifinal appearances, had other high schools gauging his interest. 
The schools reaching out were larger, which made their calls hard to decline. Torn between leaving for a higher paying job or staying for one more championship run with the school he called home, Brand mulled over his decision while sitting in his office for lunch.
Hearing that his coach might be leaving, a vocal Hall led a few of the team's seniors through Brand's doorway.
"We went into his office like, 'Yo, what's up?'" Hall said. "We just needed him to be honest with us. I wasn't mad at him, I just wanted to know what the future held."
The heart-to-heart that followed has stuck with Brand since.
"There's a lot of times where coaches sit the players down," Brand said, "but I think this was a moment where the player had to sit the coach down and try to figure out what's right. ... (I've) never had a conversation like the one we had. He was mature about me having to do what was best for my family, (but it felt like) I had another family that also needed me. 
"A lot of guys had something to say, but none of it resonated like what (Hall) brought to the table. Just about family, faith and making sure that all decisions we make are ones that we can live with. I don't know if I could've lived with leaving (Hall) and those guys his senior year."
Brand described his relationship with Hall as one among best friends. Though their bond grew more that day, the seeds were planted when Brand became Hall's head coach in 2013.
"(Coach Brand) taught him everything he knew, on the field and off the field," Zebulon B. Vance High School athletic director Carlos Richardson said. "They'd sit in his office and just talk about life. (Hall) would get advice from him about different situations that may come up in future endeavors. They just got really, really close."
Hall's bond with Brand is unlike any other he's had with a coach in his lifetime. Whether Hall needed personal advice or on-field instruction, he knew he could always rely on his head coach.
Brand's guidance helped Hall become the player — and man — he is today.
"He would coach me harder than anyone else," Hall said. "But I knew that he was looking for my best interest because of the connection we had away from football. Him staying meant the world to me because it showed that he cared."
After seeing his high school team reap the benefits of sharing personal connections, Hall knew he'd have to build similar ones when he arrived at OU. Almost four years into his time with the Sooners, Hall's position group is said to be one of the closest-knit on the team.
"We don't really look at each other as competition, we just see it as like iron sharpens iron," junior H-back Brayden Willis said. "We're all confident in each other, we all love each other up and we look at it as a team thing. And when one (of us) makes a play, we're happy for them."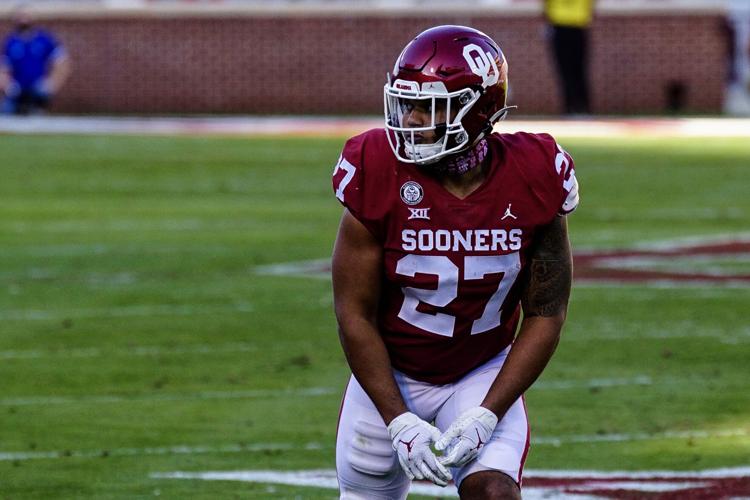 'You knew that he was going to do great things'
No matter where Hall goes, he hasn't forgotten his roots. And he enjoys going back to them.
"When he does have the opportunity, he comes back," Jones said. "It's like a celebrity is coming home. Teachers want him to talk with their students. Everybody's like, 'Jeremiah's here!'... It's a treat to have him come back.
"He talks to the students about academic rigor, about getting an education and about how things can change your life. I have not had one bad encounter with Jeremiah. … You knew that he was going to do great things."
When Jones met Hall, she was struck by the maturity he possessed as a high school freshman.
She described Hall as a natural-born leader and nowhere near the "average jock" stereotype that plagues some student-athletes. In fact, Jones believes the reason Hall is able to guide others is because of his high intellect. 
Academically, throughout his time at Vance, Hall found himself averaging a top-three position in his class. His performance in the classroom "set a totally different bar" for Vance athletes, Jones said. On top of that, Hall's respectfulness and genuine care for other people set that bar even higher.
"In no exaggeration, we never had to get on him for anything," Richardson said. "Late to class, not coming to school, not turning in assignments, (being) disrespectful, nothing. He was the perfect student. Jeremiah was my go-to guy whenever we needed a face of the program."
Because he believes life is bigger than football, being a good person off the field was one of Brand's main coaching points. 
"Anybody can win a game on Saturday night … (but) Monday through Friday is what counts," Brand said. "If you have the whole team going in one direction Monday through Friday, the ball can bounce any way on Saturday. I'm sure (head coach Lincoln Riley) is getting the best out of those guys. … I know (success at the college level) is measured by wins and losses, but he's getting a lot out of those kids (off the field) and I can really appreciate it while watching it from afar."
'Learn from our mistakes and keep pushing'
Hall knows how important winning is for the Sooners.
The Sooners' uncharacteristic 2-2 start to 2020 was something that hadn't happened since 2016. OU's two losses came in back-to-back games, which hadn't happened since 1999. Their record might have been embarrassing by Oklahoma's standards, but it's something Hall didn't run away from.
"At the end of the day, (losing) still hurts," Hall said after Oklahoma's 38-35 loss to Kansas State. "Whether you did your job or whether you didn't do your job, you always think to yourself, 'Man, maybe I could have done a little bit more.' … But, at the end of the day, we didn't do our job (and) we didn't get the job done. You've got to take it to the chin. 
"(We have to) learn from our mistakes and keep pushing because we have a fan base relying on us. We have teammates relying on us, we have coaches relying on us. (We) have to keep going."
Hall's desire to lead others is a result of his parents' teachings, Richardson believes. While Hall was growing up, Richardson says Hall's parents were adamant about "not interfering" in his development as a person and athlete. There's a process to get to where Hall is, Richardson said, and his parents allowed it to take place.
Hall's leadership is needed more than ever this season for the Sooners, as the team lost three of its leading voices from 2019 in Jalen Hurts, Kenneth Murray and CeeDee Lamb. Hall is relying on himself and the team's veterans to instill the Sooners' high standards in younger teammates.
"It's different when you have eyes on you every single day. You have to be willing to bear that weight," Hall said. "Not only do you have to win at this university, but you have to help develop the guys around you. You have to bring the Spencer Rattlers along, you have to bring the Seth McGowans along, you have to bring the Marvin Mims along. 
"(When it works) and you see them have success, knowing that you played a part in that is priceless."