Lane Kiffin wandered onto Channelview High School's field in search of a 17-year-old Jalen Hurts.
He was easy to find. Kiffin recalls Hurts was dressed in "shorts from the '80s" and a Channelview T-shirt, zipping the ball to his Falcons teammates. Later in the day, Kiffin watched Hurts in the weightroom. That's when he realized Hurts, who was lifting with the linebackers, wasn't an average kid.
"He looked like something out of a movie. He didn't look like a high school quarterback," said Kiffin, now the head coach at Florida Atlantic after working as Alabama's offensive coordinator from 2013-2016. "So when I went back to Tuscaloosa and did my evaluation, I rated him as an NFL–caliber quarterback."
Three years later, Kiffin has nothing but praise for his former quarterback. So does his former offensive coordinator, Josh Gattis. Same for his former high school counselor, Bridgette Galloway. And his former Channelview and Alabama teammates respectively, Bishop Ozan and Raekwon Davis.
All believe Hurts will thrive at Oklahoma, where he's stepped in this season as a 20-year-old graduate transfer and starter of college football's flashiest offense. There's no reason Hurts shouldn't succeed, with Heisman Trophy whisperer Lincoln Riley as his coach and skill players like CeeDee Lamb, Trey Sermon and Grant Calcaterra around him. He no doubt has big shoes to fill, following Baker Mayfield and Kyler Murray — who won back-to-back Heismans and were No. 1 overall draft picks.
He, however, arrives in Norman with something none of them have and all of them want: Experience on a national championship team.
Hurts won't have any problems filling the leadership role of Mayfield and Murray, according to those who have played with or coached him. If there's anything you can take from the eight months he's spent at Oklahoma and his time at Alabama, it's that he's well-respected by his peers.
Hurts backed up why at his introductory press conference in Norman, which included a 360-word, two-minute and 54-second long opening statement — something no quarterback in recent Oklahoma history has ever done.
Jalen Hurts gave a very impressive opening statement at his first Oklahoma press conference on Wednesday.

"It's a pleasure to be here and be able to speak to you guys for the first time as a Oklahoma Sooner."

FULL VIDEO ➡️ https://t.co/emuokFXrCp#OUDNA | #BoomerSooner pic.twitter.com/AS2hINv6tW

— Sooner Gridiron (@soonergridiron) March 27, 19
But Hurts is not typically a man of many words. Those quoted in this story admit Hurts is not one to speak about himself, and he certainly doesn't want others to speak for him. Which is why neither his family nor some of his closest friends are in this story — he asked them not to be.
It's not because he or those closest to him have something to hide or dislike the media. No, it's because his actions speak louder than words. It's something he's prided himself on his entire life.
"It's always been about the way he does things," said Davis, Hurts' teammate at Alabama. "It's about his character, not about what he says, but about how he goes about his business. His work ethic is how he leads. He never really had to say much, and people followed."
After Mayfield and Murray, expectations cannot be higher for an Oklahoma quarterback. But if his past is any indication of what's to come, Hurts will be comfortable stepping into such shoes and out of those shadows.
"OU can expect a complete, dominant player, a hard worker and a leader," Davis said. "He's a guy that's going to give it his all on every snap."
'Expect a complete dominant player…'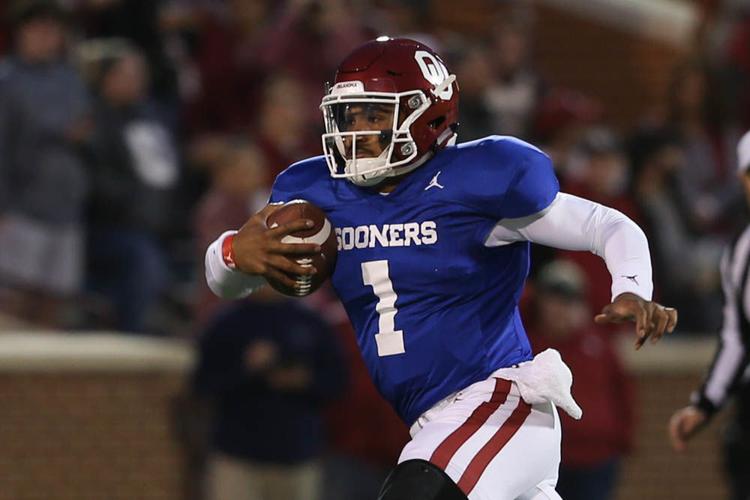 When Nick Saban visited Channelview, students lined the halls to see the Alabama coach.
Teachers were just as excited as students, Galloway recalls. The anticipation for the best college football coach in the country coming to their school to see one of their players was overwhelming.
But for Hurts it was just another day at school — and another step toward his dreams.
"He was happy and smiling, but he's always like that," said Galloway, who served as Hurts' academic counselor his junior and senior years. "It was no big deal to him. He had always been someone that everybody looked up to on campus. But I don't think he was ever a superstar. He was just him. He was just Jalen."
The son of the school's head football coach, Averion Hurts, Hurts was well known before he even set foot on campus. He was a standout basketball and football player, earning varsity football time as a freshman.
His career took off his junior year when he totaled 2,793 yards and 32 touchdowns as the starting quarterback. Offers rolled in from major programs all over the country after Hurts was ranked the ninth best quarterback in the country by Rivals.com in a class that included Michigan's Shea Patterson, Arizona's Khalil Tate and SMU's Shane Buechele.
"He was a big deal, but he was never a cocky person. He was very much to himself," said Ozan, who played football and basketball with Hurts. "I remember I had class with him and he would be going through his recruitment letters and I would ask him, 'Where you going?' or 'Is that where you're going?' But he never said. No one knew where he was going until he actually committed."
Hurts committed to Alabama in June 15, ahead of his senior year. He accounted for 2,477 yards and 35 touchdowns his senior season, giving the Tide a taste of what was to come.
#Elite11 QB Jalen Hurts (@JalenHurts) from Channelview (Texas) has committed to the University of Alabama! #RollTide pic.twitter.com/KAsWR7T5ei

— Elite11 (@Elite11) June 6, 15
Hurts' time at Alabama is well-documented: He was named the SEC Offensive Player of the Year as a true freshman, led Alabama to national title appearances after the 2016 and 2017 seasons, was benched during halftime of the 2018 title game for Tua Tagovailoa, lost the starting job to Tagovailoa in 2018 and decided to leave Tuscaloosa after sticking out his junior year as a back-up. He finished his Crimson Tide career with 7,617 total yards and 74 total touchdowns, good enough for third and second, respectively, in school history.
National media and fans saw a bright future in Hurts during his freshman and sophomore seasons. He nearly out-dueled an experienced and highly-touted Deshaun Watson in the title game his freshman year. And his sophomore year, he led Alabama to a 12-1 record knocking off four top 25 teams on his way to another title appearance.
But many also saw what was coming. Alabama's offense was sliding in the month leading up to the national championship, most notably when they lost to Auburn in Iron Bowl scoring just 14 points. And with Tagovailoa, a five-star recruit out of high school, lingering behind him, Hurts had little room for error.
So, as soon as Hurts showed signs of weakness against Georgia — going 3-of-8 in the first half with just 21 yards through the air as he struggled to find receivers down the field — his critics grew louder.
Not Kiffin though, who was fired as Alabama's offensive coordinator a week before the 2017 title game. He believes Hurts has all the tools to be a great quarterback, including the deep ball — an essential part in Riley's offense over the years.
"I think he can make all the throws, and has. He's been through a bunch of different coaches and, obviously not starting last year, hopefully now it'll all come together," Kiffin said. "And I think it would have come together at Alabama — I'm not saying this because I left, but because he would have had some consistency with coaching and had he started last year, he would have kept improving."
Hurts will have a fresh start with the Sooners. Replacing Mayfield and Murray, two of the greatest quarterbacks ever in Norman, will be no easy task.
"Those three quarterbacks are three completely different body types, three different athletes," Kiffin said. "Baker's like a quarterback. Kyler's like a slot receiver. And Jalen's like a running back or linebacker. For Jalen, to be able to throw with that body type, it's rare."
One thing all three have in common is the man calling plays, known for his ability to turn transfer quarterbacks into transcendent quarterbacks.
It took Mayfield three years to reach his full potential alongside Riley, while Murray sat and learned the system from the bench for two years. Hurts has considerably less time to adjust to Riley's system, and for Riley to adjust to Hurts' unique abilities.
Riley and Hurts could be a lethal combination for Oklahoma's already potent offense. But the truth is, it doesn't have to be.
With the addition of defensive coordinator Alex Grinch and maybe the most talented skill group Riley has had during his tenure at OU, Hurts likely doesn't have to be as good as Mayfield or Murray. He just has to be good enough.
"I think he's done a tremendous job over the past years tailoring the offense around the skill set of the quarterbacks that he has," said Gattis, who was Alabama's co-offensive coordinator last season, of Riley. "I think when you look at the last two quarterbacks — yeah, they were tremendous athletes that could throw, but I think they were both different in their own skill set. The offense maybe changed a little bit from Baker to Kyler, and I think coach Riley will probably do the same with Jalen.
"I know he'll do a good job putting Jalen in a position to be successful, and that's ultimately what Jalen wants."
'...a hard worker…'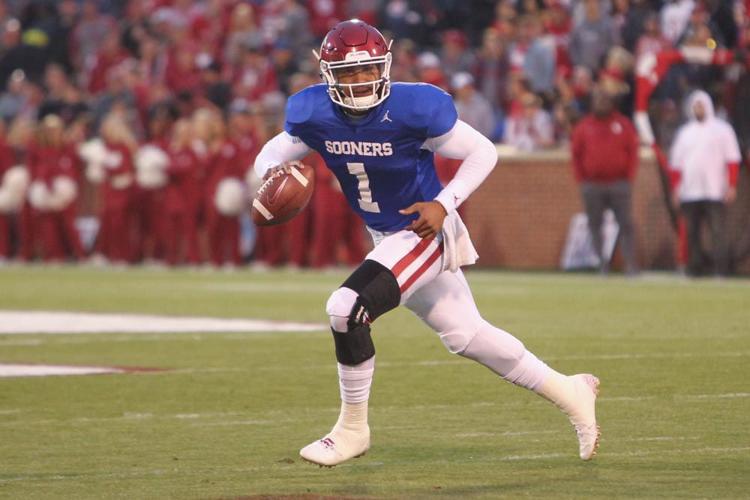 Just 30 days into the spring semester on Valentine's Day, OU football showed just how much players and fans were falling in love with Hurts.
A video of Hurts squatting over 500 pounds was released on all of OU football's social media platforms. Hurts' new teammates swarmed him after the lift, while his newest fans took to social media, saying "that's my quarterback."
In LOVE with the grind.@JalenHurts #RareBreed #OUDNA pic.twitter.com/Tv4aGGTVDT

— Oklahoma Football (@OU_Football) February 14, 19
To some, it was surprising. Most college quarterbacks, or even professional quarterbacks, can't lift that much weight.
"We used to watch him compete in the weightroom, and man, that was a sight. He would be lifting with the linebackers," said Gattis, now Michigan's offensive coordinator. "That says something when your quarterback is doing all the lifts, he's a part of all the workouts, he's running with the skill guys — often times, quarterback will do their own workouts or do some sort of abbreviated workout. But that's not the case with Jalen."
He works out relentlessly, not just to get physically stronger, but to push those around him. If the quarterback is squatting 500 pounds, why shouldn't the linemen, running backs, wide receivers and everyone else on the team do the same?
While he may not be as loud as Mayfield or as electric as Murray, Hurts — as he says on social media — is a "rare breed" when it comes to how he inspires those around him.
Ya Feel Me? #UNTAMED #RAREBREED pic.twitter.com/DAIdBEDR0o

— Jalen Hurts (@JalenHurts) March 6, 19
"He's going to bring a competitive nature..." Gattis said. "I know in his case, he probably feels like he has a lot to prove. And so when you have a guy back there that feels like he's got a lot to prove then they're going to prove you wrong because they're going to be motivated each and every week to perform at a high level so they can go out and have success."
Davis, one of Hurts' closest friends at Alabama, recalls his response when his character was tested in ways few could imagine: Losing his job on the biggest stage as Tagovailoa started the second half of the 18 national championship game.
He took the news well, Davis said. He stood next to then-offensive coordinator Brian Daboll with his helmet on as he watched Tagovailoa go three-and-out on his first possession. No one approached him, not because they were afraid or because he was upset, Davis said, but because Hurts he was still too focused on the task at hand: Winning the national title, the same goal he now has with Oklahoma this year.
He became a coach from the sidelines, leading his team in a different way.
"That whole situation his sophomore year, when Tua came in, represents who he is as a man," Davis said. "To do what he did, and as calm as he did, speaks volumes about his character."
Having to sit behind Tagovailoa was not an easy thing to do. But he handled it with grace.
"I think most kids in that scenario would just duck and run, and try to escape any type of controversy. That wasn't the case with Jalen," Gattis said. "It wasn't easy at times. I think a lot of people think it just came easy, nothing like that is going to come easy. But he stayed the course. He continued to prepare. He continued to be a good teammate. He continued to be a great leader.
"And he was ready when that time came again for his moment."
Hurts' moment came in the 18 SEC Championship Game when Tagovailoa left the field with an injury. Just 10:36 remained in the game, and Alabama trailed Georgia, 28-21.
He first led the Crimson Tide on a 71-yard touchdown drive capped off by a 10-yard touchdown pass to tie the game. Then, he finished a 50-yard drive with a 15-yard game-winning touchdown run to secure a spot in the College Football Playoff.
Now, in what will be his last college season, can Hurts make one more magical run?
'...and a leader.'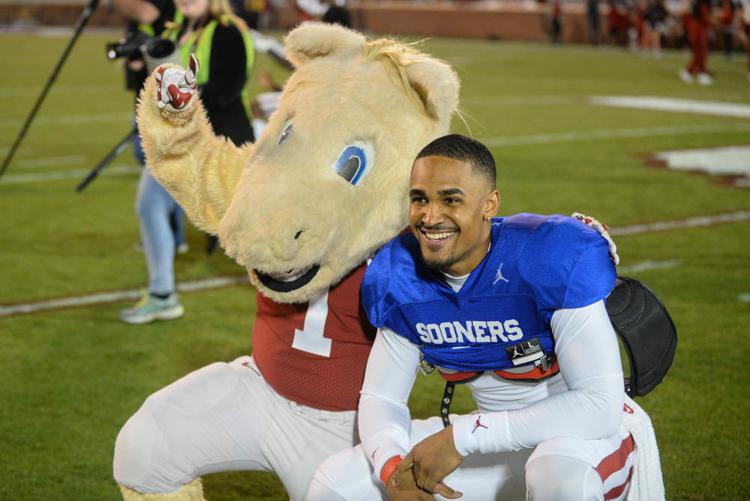 For all the stories and anecdotes of Hurts' time at Alabama, the way he went about leaving a place that gave him the highest of highs and the lowest of lows may provide the biggest indication of who he is.
He had the blessing of all his coaches at Alabama when he decided to transfer, Gattis said. He earned the respect of every player, coach and member of the football program by the way he handled things — the right way. If it wasn't for Hurts, Gattis and Davis agree, Alabama wouldn't have been as successful as it was during the three years he was there — whether he was playing or not.
"I think one of his greatest attributes is his confidence in his ability and his teammates' abilities. When he has that confidence going, it really allows him to display his true leadership skills," Gattis said. "People gravitate to positive-thinking people."
OU is already starting to feel Hurts' positive energy.
In January, he took pictures and signed autographs for an hour during Oklahoma's basketball game against Texas. This spring, he joined a mentorship program at Lincoln Elementary in Norman. And in July, he made the day of a young fan — Janneh Britton — when he spent the day with the former Oklahoma City Children's Hospital patient.
Former patient, Janneh Britton, received quite the surprise when his favorite college football player, @JalenHurts, showed up to meet him during a tour of the @OU_Football facilities. Check out this thread showing what Janneh got to do and who else he got to meet. 👀 pic.twitter.com/OLvqPOfjHj

— The Childrens Center (@tccokc) July 17, 19
"Oklahoma can expect a great representative of its university and a person who's going to do good things in the community," Gattis said. "He's going to embrace the Oklahoma culture, the community."
As this season takes off, fans can expect to see his leadership play as big a role as any other attribute he brings to the Sooners. It won't be about how many touchdowns he scores or if he wins the Heisman. Those who know him well say it will be about how many moments he can make better, whether it shows up in a highlight reel or occurs behind the scenes.
His former teammates and coaches say they'll be watching the Sooners on Saturdays when they can. Alabama fans even admit they want to see their former quarterback do well.
"I think it would be an awesome ending to a story that's very unusual nowadays in college football. A guy fights through adversity, stays and still leads his team, and then leaves to lead another," Kiffin said. "You like to see stories end right for really good people. And this would be one of them."
As for Hurts?
He's going to be himself. He's going to do it in his own style. He won't stay in the shadows of those who came before him.
And no matter what role he plays, he'll continue to be a man of character who finds a way, on the field or off, in the huddle or on the sideline, to make a team better.
"Just don't put too much pressure on yourself," Kiffin said. "'Hey you've got to win the Heisman' or 'You have to have the same numbers as Baker and Kyler.' No, just worry about a day at a time and do your job. Don't worry about comparisons. Be Jalen.
"Because Jalen is pretty good."
This story was corrected at 9:59 a.m. Aug. 3 to indicate Hurts is 20 years old, rather than 21. He will turn 21 later this week.