Jadon Haselwood leaped for the sailing pass, brought the ball down, pivoted and headed downfield.
Seconds later, he was tackled by a Kansas defender, but it didn't matter, as Oklahoma comfortably led the Jayhawks at that point in the fourth quarter in what would end as a 62-9 win at home Nov. 7. 
The significance of Haselwood's lone reception that day wasn't in the 33 yards it went for, the extra gain he picked up after the catch or how it positioned the Sooners to score four plays later.
That catch was six months in the making, and could mean more game-changing grabs are coming.
Good to see 1⃣1⃣ back out there making plays! @jadon_haselwood📺 ESPN | https://t.co/jNlz9JwLuT pic.twitter.com/R4r3bdSyxA

— Oklahoma Football (@OU_Football) November 7, 2020
After suffering a severe knee injury during the offseason, the former No. 1 receiver and No. 4 player nationally in the 2019 class was sidelined for the first six games of his sophomore slate.
Haselwood was looking to build on a freshman season that saw him catch 19 passes for 272 yards and a touchdown across 13 games, but the Ellenwood, Georgia, native saw those hopes derailed by injury. Despite facing one of his most difficult personal trials, he worked harder than ever to return ahead of schedule, and re-emerged against the Jayhawks.
"I think you don't realize your personal strength until you're really met with significant challenges," said Jeremy Haselwood, Jadon's father, who grew up in Oklahoma and attended OU. "And it's also something that you can use as a reference point to say 'I've overcome this, so if I can overcome this, then there's nothing I can't do.' And so for the way that he's bounced back and been focused and been working hard, it certainly is inspiring to me."
Now Haselwood is back for the Sooners at a crucial time, becoming the downfield threat like Dede Westbrook, Marquise Brown and CeeDee Lamb his team has been missing as it looks to make a push for a sixth-straight Big 12 title.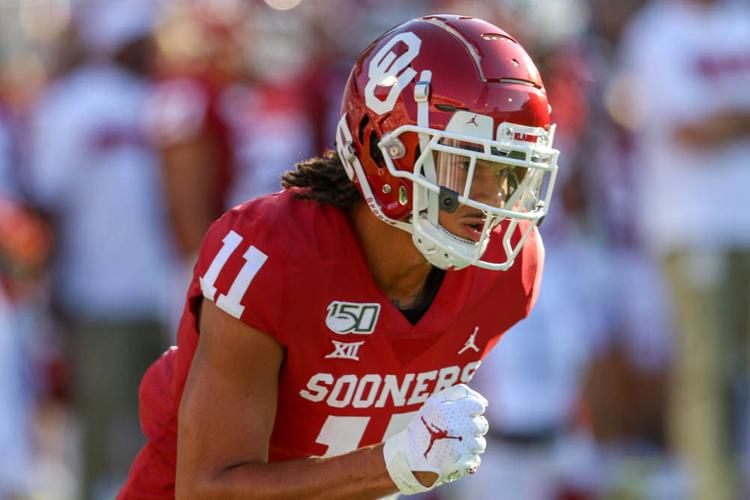 'He just kept fighting'
Miguel Patrick watched Haselwood struggle.
As Cedar Grove High School held a slim 23-16 lead over Greater Atlanta Christian in the fourth quarter of the 2016 Georgia Class AAA state championship, Haselwood was called for offensive holding.
The penalty cost his team 10 yards as it clung to the hope of its first state title and first championship game appearance since 1991. It was also the latest frustration for Haselwood, who had botched a punt return, dropped three passes, and had another target picked off by an opponent.
"To get to the state championship game, he had an amazing run in the playoffs," Patrick said. "He was just absolutely tearing it up as a sophomore in the playoffs on our championship run, but when we got to the championship game, he didn't play as well as he would like."
But it's not the mistakes that Patrick, then Cedar Grove's defensive coordinator and now its head coach, remembers most about Haselwood's results that day.
The play he made before any of his mistakes changed the complexion of the game.
On Greater Atlanta Christian's first possession, then Spartan and now Stanford quarterback Davis Mills — the nation's top pro-style quarterback prospect at the time — took off to his left for a big gain.
Haselwood, who had started at safety for Cedar Grove as a freshman, clobbered Mills on a controversial hit. He delivered a forearm shiver beneath his opponent's chin, causing his head to snap back. Under the weight of Haselwood's might, Mills' knee — previously surgically repaired — buckled, sending him to the locker room.
.@GACSpartans QB Davis Mills takes an awful hit, gets up and falls back down. #Stanford #Team11 https://t.co/OoI8WQkO40 (via @GPBsports) pic.twitter.com/QLjogGUHP8

— 11Alive Sports (@11AliveSports) December 9, 2016
Mills wouldn't return, and the Saints rode a 23-3 halftime lead to a 30-19 victory. While opposing fans and TV analysts considered the hit dirty, those who know Haselwood insist there was no cruel intention.
"He never wishes to cause any ill will to another player because basically they're trying to do the same thing he's trying to do, and that's feed your family," said Darrin Hood, Haselwood's good friend and mentor. "So you never want to hurt anybody, but football is a dangerous game. … I don't think he really took a bad reputation from that because people know Jadon as a good kid."
Ultimately, the impact of the play was undeniable. Mills would have posed a significant threat to the Saints' title hopes had he played the entire game.
What Patrick saw was Haselwood's ability to make plays without the ball. Two seasons later, Haselwood would famously catch a touchdown pass — his only reception of the game — as time expired to win Cedar Grove's second title in three years.
Even then, Haselwood proved himself a selfless player who stymied opposing defenses. But before he could find ultimate success, he had to battle through the ups and downs.
"He just kept fighting, and kept playing and kept being the player that he is," Patrick said. "He didn't impact it as much as he would have liked to on offense, but he stayed engaged in that game and he made some really good plays on defense."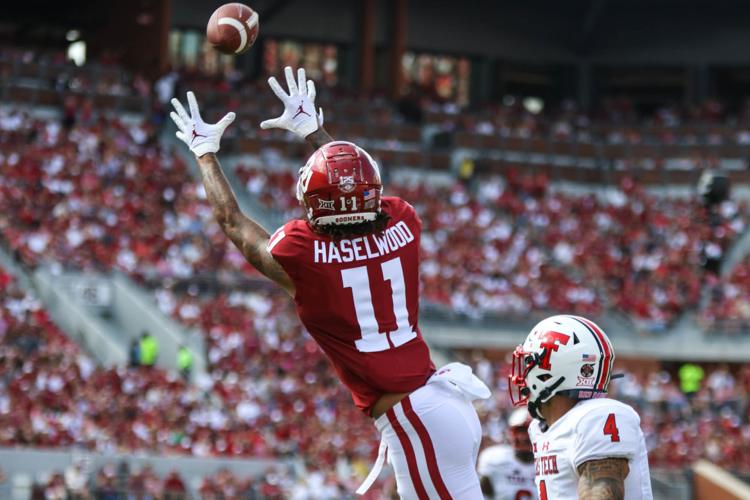 'He can overcome'
Jeremy answered the call.
On the other end was his son, who, though calm, wasn't sure what had just occurred. In what has since been described as a freak non-football accident, Jadon had injured his right knee.
"He said 'something happened,'" Jeremy said, "'And it's not good.'"
Upon examination, the doctors' diagnosis wasn't optimistic. OU's next anticipated superstar receiver faced knee surgery and a long road to recovery.
When reports of his injury began to surface in late April, it was expected Haselwood would miss a significant part of his sophomore slate. OU head coach Lincoln Riley confirmed as much in mid-May, acknowledging Haselwood would miss a portion of the 2020 season, with his return to be determined by response to rehab.
Haselwood was cooped up in Norman, and due to the COVID-19 pandemic, he was separated from a huge support system in his teammates and coaches. But he wasn't alone. Family and friends from Georgia came to Norman periodically to put him at ease, and other family members from Oklahoma pitched in, too. He was showered with encouraging messages, calls and tips along the way.
"We all uplifted him and took his mind off of it too, because the biggest thing with getting over an injury is the mental part," Hood said. "We flew down to Oklahoma a couple of times to see him just to get his mind off the injury and chill and have fun as a family."
After surgery, Haselwood spent a great deal of time working out on his own on the path to a return. Undeterred psychologically by a plight greater than any tough-break play or a bad game he'd previously experienced, he battled through the adversity.
When OU did return to organized activity, his peers saw his incredible work ethic and got behind him. In particular, fellow receiver Drake Stoops noticed his teammate was "starving" to get back on the field.
"He was super engaged from the day he was hurt to every single day through his recovery process," Stoops said. "I mean, one of the first guys in the building, getting his rehab in, getting all his stuff in, still working out, still in all the meetings, being engaged, watching film, taking notes, all that."
The result was an unexpectedly quick comeback. While Haselwood wasn't given the green light until the Kansas game, he'd been revving up to reappear for weeks prior.
The night of Nov. 6, before his return, he tweeted a video of some of his greatest football achievements, reminding anyone who'd forgotten what he's capable of and hinting he would play the next day.
Been a long 6 months... But I'm Back 🌬🕯 pic.twitter.com/a3cehmmUJd

— Jadon Haselwood 🎱 (@jadon_haselwood) November 7, 2020
Following six grueling months of rehab, he pranced around Owen Field during Saturday afternoon warm ups on Nov. 7. The brace on his right leg was the only visible difference as he caught, cut and ran with freedom.
Haselwood had embraced one of his greatest trials and persevered through that dark hour.
"(It was) certainly a disappointment, but at the same time, I think through it all, it's been a test in patience for him that he's never experienced before," Jeremy said. "And he's learned a lot about himself, what he can endure, what he can overcome. And his attitude, his work ethic has just been really, I mean, you couldn't really ask for better, so I'm super proud of him for the way that he's been focused on recovery."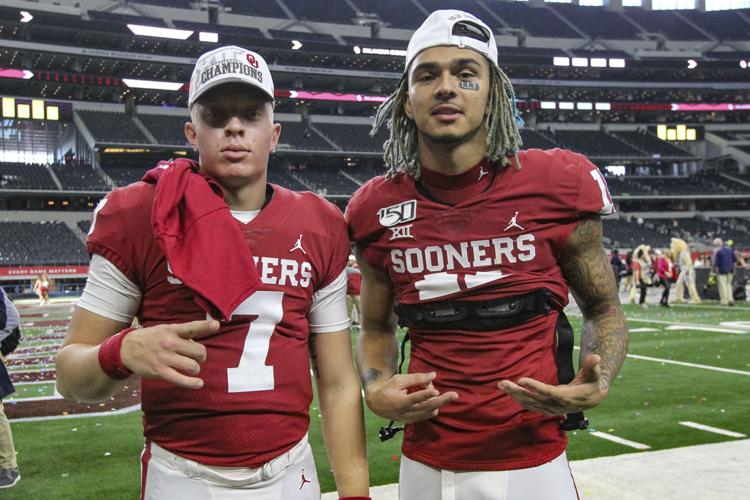 'We're still going'
Haselwood's Twitter page is full of little secrets.
Next to his name, and also Hood's on his account, there's an eight ball emoji. Growing up together near Atlanta, Haselwood and Hood both overcame immense social pressures to make it to where they are today, with Haselwood living out his dream at OU, and Hood becoming a successful member of a local marketing company.
"The 8-ball is just something that we, coming from where we're from, our whole lives feel like we've been 'behind the eight ball' you could say," Hood said. "We were never supposed to amount to much. We always had our backs against the wall, and we just strived through everything to get to where we're at now, and we're still going."
Though cryptic, that sentiment still rings true today. It epitomizes Haselwood's life.
He has yet to be as successful in his college career as he and others had hoped, but after great tribulation, he's back for the Sooners, looking to leave his mark on Oklahoma's biggest test of the 2020 season. No. 14 Oklahoma State comes to Norman on Saturday, and the No. 18 Sooners enter as underdogs for the first time since 2013, with a chance to take a significant step toward a sixth-straight conference championship berth.
Haselwood is now a valuable asset to an OU wide receiver room that hasn't had a consistent producer on a weekly basis since Lamb's departure.
A healthy Haselwood could propel the Sooners' passing game to new heights against a tough Cowboy coverage ranked No. 16 in the country in total defense and No. 7 in passing defense. And though he hasn't caught a pass from Oklahoma's starting quarterback yet this season, he has a special rapport with Spencer Rattler. The duo often hang out on the offseason and bye weekends, and narrowly missed a touchdown connection against the Jayhawks on defensive pass interference.
"It's great to have Jadon back," Rattler said after the game. "I mean, he's such a weapon for our offense. I'm kind of mad I didn't get him the ball tonight enough, but I'll make that a point here in the upcoming weeks because he's gonna (have) a big role in our offense, so getting him the ball is definitely gonna be something I need to do."
If they connect Saturday, Haselwood could be the one to help the Sooners hit the corner pocket.