Former Oklahoma cornerback Starrland Baldwin Jr. shared some criticism of his former program on Thursday.
Baldwin took to Twitter to talk about how there was "no proper rehab" at Oklahoma when he was there. The former four-star prospect, who was on the OU roster from 2018-19, said he was "forced to practice on basically one leg," referencing a torn ACL he had suffered his freshman year.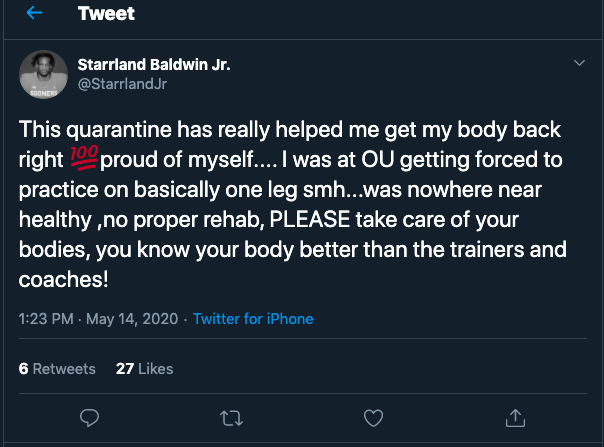 Baldwin entered the NCAA Transfer Portal back in September. Due to his injury his freshman year, Baldwin struggled to recover and never played a snap for the Sooners in his time at OU.
Oklahoma coach Lincoln Riley was asked about Baldwin's comments on the rehab process in a Zoom conference on Tuesday. Riley said he hadn't seen Baldwin's tweet — which was deleted shortly after it was posted — but added he received the best care possible at OU.
"I have extreme confidence in our medical team," Riley said. "99.9 percent of the players that have been here in the past would echo that. Anytime you have a tough injury like Starrland did ... it can be a very frustrating thing. I understand his competitiveness and frustration, and I hated that he couldn't get on the right side of it.
"He had great care here at Oklahoma. That's all I would say."