Three days after OU's 38-35 upset loss to Kansas State, junior linebacker DaShaun White faced the media to answer for the debacle that had transpired the Saturday prior.
Though Oklahoma held a 14-point lead entering the fourth quarter of its Big 12 opener, communication of its coverage had collapsed, leaving White largely responsible for the Sooners' failures that crushed hopes of a fourth-straight College Football Playoff berth and damaged OU's chance at a sixth-straight conference title.
Among the chief concerns after the defeat was the absence of a playmaker like Kenneth Murray. Fans and media alike questioned whether a clear leader existed on OU's defense, as the Sooners folded in the final period faster than the Los Angeles Chargers first-round pick closed on and crumpled opponents.
Meanwhile, White — the player now standing in Murray's MIKE spot — was left holding the bag.
"(The) scheme hasn't changed," White said. "It's the same as it was the day we got here, or the day (defensive coordinator Alex Grinch) got here. But (it was) definitely a communication thing. That starts with me. I'm the alpha dog, everybody's looking at me, everyone's listening to me, so I have to be better in that situation."
The alpha dog — should he still have the starting role — faces a new battle in old territory Saturday as OU plays at TCU, 25 minutes from his high school. OU needs a stronger defensive effort and better play from White to salvage its season aspirations. Those who know him from suburban Fort Worth's Richland High have repeatedly seen him dominate games. Those who've coached and played with him say his football IQ is through the roof and his performance has no visible ceiling, either. And those who remember his junior year of high school recall a player who flourished after a similar position change and led a defense out of struggles akin to OU's.
Although 2020 hasn't gone swimmingly for White — as fourth-quarter collapses against Iowa State and Texas bear out — across his first four games, he leads Oklahoma with 2.5 sacks and four tackles for a loss and has added 14 total tackles and eight solo takedowns. In a program that's produced quarterback nightmares like Brian Bosworth, Rocky Calmus, Murray and others, there's still hope White could reach that level of play. Saturday is high time for him to start consistently playing up to the potential that earned him his position. The Sooners need him to flourish again.
"(His junior) year's kind of the transition that he's gone through this year (at OU) as well, with him playing kind of that weak side outside linebacker last year and now him being in the middle is kind of the same move that he went through in high school," said Klint King, White's high school defensive coordinator. "People can't run away from him anymore because he's in the middle. No matter where they're going, he has a chance to make a play and so that was really instrumental and key for us in being able to build the defense around him and his athletic ability and his ability to make plays."
But the rest of the 2020 season is about more than White's continued evolution. It's about a promise he made in a Twitter response over the summer, and his resolve to rise from the ashes of OU's embarrassing 63-28 Peach Bowl loss to LSU on Dec. 28.
"(Kenneth Murray) led the way, setting the blueprint to championship level defense," White tweeted May 12. "I made a promise (on Dec. 28) to finish the mission by any means necessary.
"I'm a man of my word, just watch."
K9 led the way setting the blueprint to championship level defense. I made a promise 12/28 to finish the mission by any means necessary. I'm a man of my word, just watch! https://t.co/WpTSbStRTZ

— DaShaun White (@dmw23_) May 12, 2020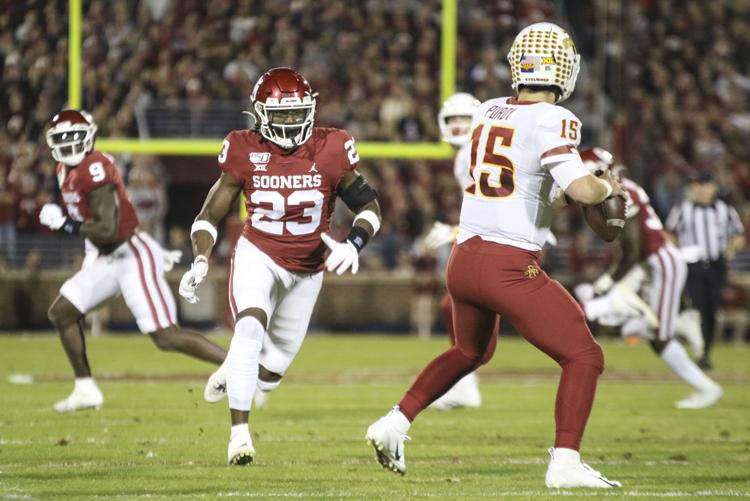 'Change agent'
Richland High needed someone to finish.
Leading 28-17 in the final seconds of a hard fought contest against Keller Central, the Rebels were looking for a big play to close out the win. White saw his opportunity, and flew toward the opposing quarterback, sacking him as time expired to end the game and seal Richland's victory.
Completing the evening with 23 total tackles, 11 solo tackles and four for a loss to go along with the game-clinching takedown, White showcased the growth of a good player into one of the more feared defenders in Texas high school football. From that game on, Richland linebackers coach Kerby Cromwell watched White take off.
"It just really started to snowball after that," Cromwell said. "He was just electric. ... It was just one of those awe moments." 
In particular, White's family and faith have been crucial to his development. His coaches credited his mother, Geniva Turner, for raising him to always do the right thing. His faith in God has also driven his ambitions, and his politeness overflows in conversations.
The North Richland Hills native was mentored in high school by David Fraze, a well known speaker, Fellowship of Christian Athletes (FCA) supporter and an associate professor of youth and family ministry at Lubbock Christian University. The result was White's leadership in FCA at Richland — one of many things he's done aside from football.
"(His faith) was always something that was really big in his life ... and obviously, it's something that's big in my life, too," King said. "And so it was something that we could visit about, and it's always been something that's molded the person that he is, and the decisions that he makes, and the type of person that he wants to be."
Christian White, a private linebacker and defensive backs coach out of Irving, Texas, known as "Coach Flight" began working with the soon-to-be Richland star when he was a freshman. 
The owner of Flight Skillz Performance has trained the likes of OU defensive backs Pat Fields and Tre Brown among other college and NFL players, but there was a different energy about White that became even more explosive one year after their relationship began.
A broken collarbone had sidelined White for a portion of his freshman season and he was ready to get back in action. White had previously played safety, but the staff at Richland had visualized his potential at another spot.
"His coaches were the first ones to kind of present the idea, like, 'Hey, I think you can actually gain some weight, dude, and be a linebacker and be one of the best,'" Christian said. "And so we just really went to work at it. He put on some weight … and some good muscle, and then he maintained his speed and explosiveness, and I kept working him with the DBs, some with the linebackers, and man, he just became one of the more fluid, explosive linebackers in the country."
As White changed positions, his energy permeated through the rest of Richland's defense. He was always the hardest worker according to his coaches, setting the example with his weight room effort and film studies. In games, he knew where the entire defense was supposed to line up in any coverage. White also imparted his football wisdom to other players, sharing his knowledge gained from being a three-year varsity starter.
One teammate who testified to White's helpfulness was Larry Nixon III, now a linebacker for North Texas. White and Nixon had become friends first through daycare and elementary school, and rekindled their relationship on the field.
When Nixon made a position change to linebacker during his junior season, he and White got the opportunity to play alongside each other, and it was his teammate who showed him the ropes.
"We, just as a team, got behind him, and he led," Nixon said. "It was easy for him to lead. … That's just part of who he is, and he led us and we just followed because that's our boy."
Ultimately, White's success as a junior was proportional to Richland's. After playing outside linebacker as a sophomore and helping lay the foundation of a new culture in a tough 3-7 season, he moved to middle linebacker the next year. The result along with his big game against Keller Central was a monster season that included 114 total tackles, 18 tackles for a loss and three sacks. Richland went 10-2.
"He was really big and instrumental as far as being part of that change agent that was crucial there," King said. "He was a part of a really good junior class that year. ... But him kind of being that change agent and being a leader over there on the defense for us was really, really crucial for us to have, and him just showing his leadership and his work ethic was very instrumental as a part of being that change."
In his last year at Richland, the Rebels posted an 11-3 record on White's shoulders. He finished his senior season with 154 total tackles, 21 for a loss, six sacks, was named his district's defensive player of the year, and earned a spot in the U.S. Army All-American Bowl. It was there White flipped his commitment from Texas A&M to the Sooners.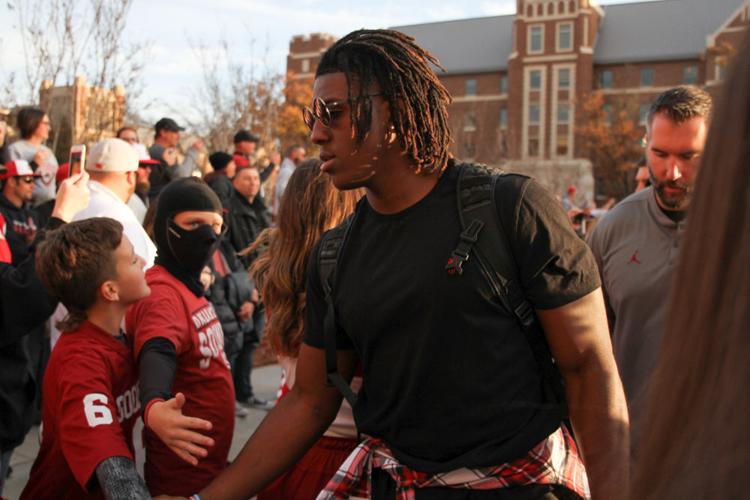 'A great leader'
White's ups and downs since arriving in Norman have not deterred his leadership.
He has become a role model for King's kids — who now don the crimson and cream on Saturdays — while playing in every game for Oklahoma since 2018 and amassing 65 tackles in his first two college seasons. 
Off the field, White's never too cool to go back to Richland High for a visit when he can. Away from football, he is still very committed to his faith. He participates in OU's chapter of FCA, and has also spoken at nearby Victory Family Church alongside Sooners like volleyball defensive specialist Keyton Kinley, former superstar gymnast Maggie Nichols and H-back teammate Austin Stogner.
White has also begun to use his social media following for good. He often tweets inspirations for fans and has united with movements like Black Lives Matter in advocacy for racial justice.
#BlackLivesMatter https://t.co/MrpCDlYRGw pic.twitter.com/wsVoUa6jiS

— DaShaun White (@dmw23_) June 3, 2020
"I'm glad he's using that platform," said Nixon, his friend since daycare days. "We talk about it all the time behind closed doors, and so I'm really glad he can get out there and use that platform and just really get it out there. A lot of our friend group, we really can't talk about it like he can because he has that platform and everything, so I'm really glad that he's doing that."
On the field, he needs to turn his play up another notch, as Grinch and Oklahoma's Speed D need more from the veteran linebacker.
"The better you play, the more reps you earn. ... The biggest thing for guys that are two's is to make sure they're playing the consistent level to warrant that one coming out of the game, and obviously the one's gotta play at a high enough level," Grinch said, asked about the competition between White and sophomore David Ugwoegbu. "If not, then maybe the best case scenario is that we throw numbers at them, we throw multiple guys in there because one individual is not establishing themself."
As Oklahoma prepares to square off with TCU, White's leadership becomes all the more important. It's also a shot at redemption as he returns to his hometown.
If the Sooners hope to defeat the Horned Frogs, he'll need to make the correct choices in coverage, he'll need to make sure the defense communicates and he'll need to fly around the field, chasing the football on every play. He'll need to fulfill his promise to finish what Murray started.
Oklahoma and its self-described alpha dog are in the corner and must win the next six games to have a shot at the Big 12 Championship. Those who know White best believe he's up for any challenge. They've seen him answer the call before and expect he'll do it again.
"There's nothing he can't do," Cromwell said. "I know he's a great leader, and I know he will make people around him better, and he will do whatever it takes for that team to be successful."