After ending his season with a 37-33 loss to Southlake Carroll High School in the first round of the 2015 Texas 6A state playoffs, Cedar Hill High School head coach Joey McGuire grabbed his phone.
He called former BYU wide receiver Margin Hooks, who previously coached and trained Cedar Hill wide receiver Charleston Rambo. In the loss, Rambo had two catches for 93 yards and two touchdowns. McGuire thought he should've gotten Rambo the ball more. 
"After the game, coach McGuire called me and said, 'That'll never happen again,'" Hooks said. 
Three years later, Oklahoma coach Lincoln Riley had his season end against Alabama in the Orange Bowl, 45-34, and his team also could have benefited from more targets to Rambo. The then-redshirt freshman had a breakout game with three catches for 74 yards, including a 49-yard touchdown in the third quarter that cut the lead to 11 points and electrified the Sooners.
"I'm proud of Charleston Rambo," Riley said after the game. "He stepped in and made some big plays for us there, and it bodes well for the future for him."
Rambo's performance in playoff losses at two different levels illustrates his ability to make an impact on a game and an impression on his coaches with just a couple plays. But behind the stats and natural talent is a selfless player who's had to wait his turn to be a star. In his rise to prominence, Rambo has shown he's a man of few words who is willing to do whatever he can to make a name for himself on teams loaded with talent.
With an imposing name and a personality that lives up to the 1980s action movie character he shares it with, Rambo has emerged as one of Oklahoma's top receiving targets in 2019. He's become the Sooners' go-to deep threat, which is a crucial part of Riley's offense that's been occupied for the last two seasons by Marquise "Hollywood" Brown.
Like cultural icon John Rambo, Charleston is never one to talk too much about himself, but he always gets the job done. He doesn't engage in the violence of the Vietnam War veteran, but he enjoys the name anyway.
"Playing football when I was little, they thought that was my nickname because I hit so hard on the field," Rambo said. "They were like, 'Since you go so hard, do they call you Rambo?' and I was just like, 'Nah, that's my legal name.' It really excites me just knowing that John Rambo goes hard, and I try to go hard on the field. I just want to try to have that killer instinct like him."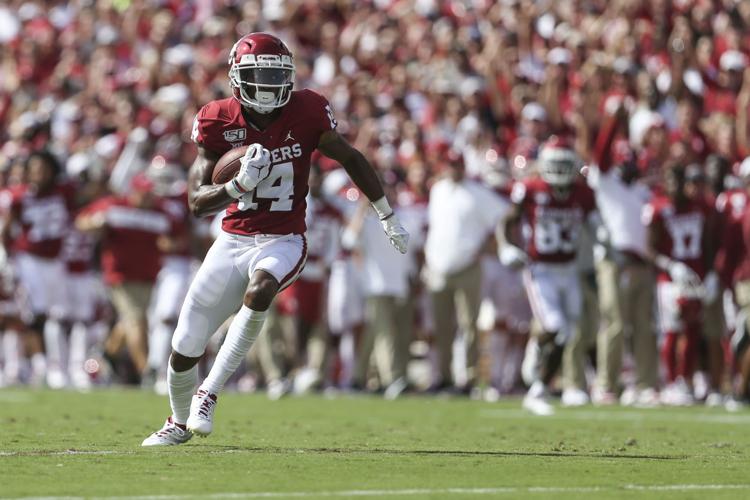 'He was always the alpha male'
Before Rambo donned the crimson and cream, he decided to be a Longhorn. 
Not those Longhorns. 
After spending his first two seasons starring for Dallas' Woodrow Wilson High School, Rambo transferred 20 miles across Dallas to play for the Cedar Hill Longhorns. It was an ambitious jump, as not only was Cedar Hill in 6A — the state's highest class — compared to Woodrow Wilson's 5A, but, also, the Longhorns were fresh off a state championship victory in 2014.
For most high school players, coming into one of Texas' best programs would be difficult, but Rambo had built a reputation as one of Dallas' best young prospects. He had several Division I offers, including Kansas, Arizona State and Texas Tech.
"When he came in, he was already an established athlete, and he would be our top recruit at receiver that year," said Cedar Hill wide receivers coach Kevin Benjamin. "We had a good group, but he's a humble kid. He knew he had to learn the offense, and he knew he had to figure things out. But he didn't worry about his status or what people thought and just did what he had to do for the offense."
Unfortunately for Rambo, he came to Cedar Hill with a roadblock — an injured wrist. He wasn't able to develop on-field chemistry with his new teammates, but instead of falling behind and not living up to expectations, Rambo did as much as he could in the locker room to prepare himself for the season.
"So he was in a cast, but he just said, 'I'm good, Coach,'" Benjamin said. "And he kind of just went through the motions and earned everyone's respect. Just by the way he approached things, and the way he approached practice and learning the playbook. So when he stepped on the field, no one questioned anything."
Rambo's injury kept him off the field for Cedar Hill's first three games of his junior year, and the Longhorns went 3-0. But by the time he was healthy, Rambo proved why he'd earned the team's respect.
In the seven games Rambo played his junior year, he ranked second on the team with 23 catches, 423 yards and seven touchdowns.
His senior year, both Rambo and the Longhorns would take their performance to another level. Rambo caught 87 balls for 1,590 yards and 25 touchdowns, and Cedar Hill won 11 games and reached the 6A state quarterfinals.
On a team with future Division I college players, such as Texas A&M's Camron Buckley, Notre Dame's Avery Davis and Texas Tech commit Quinshone Bright, Rambo was the unquestioned leader.
"We were a special team. There are eight of us playing Division I football right now, like big-time football," said former Cedar Hill quarterback Garret McGuire. "He was always the alpha male of the group. Just with his speed, his playmaking ability and the fact that he wasn't gonna talk all about it — he was going to do it."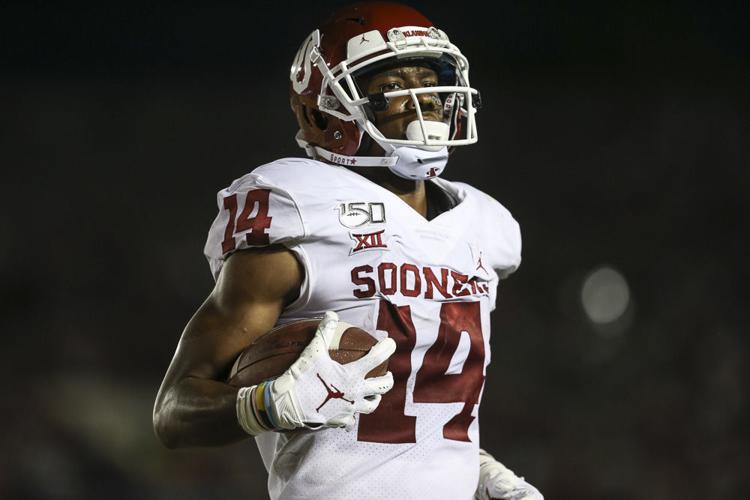 'He knew he was going to earn everything'
Two years after being forced to sit on the sidelines when he arrived at Cedar Hill, Rambo would find himself in a similar situation at Oklahoma.
Rambo was a consensus four-star recruit coming out of high school and had 31 offers. But Oklahoma was always one of his top choices due to his relationship with Hooks. 
Hooks played for BYU from 1997 to 2000, where he played with now-Oklahoma outside receivers coach Dennis Simmons. Hooks said they first met on his visit to BYU when Simmons was his host, and the two formed a close bond.
Their friendship certainly helped in Rambo's recruitment process, and Simmons immediately told Hooks when they offered Rambo a scholarship.
"I never had to tell Charleston to go to OU. Ever since a young age, he loved OU and always wanted to go there," Hooks said. "Other schools started recruiting him, but he just felt comfortable with OU and comfortable with coach Simmons, and knew the relationship we had."
Rambo signed with the Sooners in February 2017 and came to Norman that July. He was one of four-star wide receivers to sign with Oklahoma, including Brown and CeeDee Lamb. With the loss of 2016 Heisman Trophy finalist Dede Westbrook, there was a clear hole at receiver for the Sooners.
Lamb and Brown went on to be one of college football's most dynamic receiving duos for two years, combining for 4,378 yards and 35 touchdowns while Rambo watched from the sideline. In 2017, he was redshirted, and in 2018, he spent most of his time on the bench.
Like the first part of his junior year at Cedar Hill, he had to wait his turn. But this time, it would take much longer. 
"We were a loaded class around the area, but he was still that guy," said Garret McGuire, who now plays quarterback at Baylor. "He's watching his buddies Camron Buckley and (TCU's) Jalen Reagor play so early, and where is he? He's at OU sitting behind first-round draft picks. It was tough, but I know he worked really hard that year to get bigger and better."
Those at Cedar Hill knew that even though Rambo was immensely talented, he understood there was always something in his game that he could improve on and that he was redshirted for a reason.
"As good as he is, he'll find something in his game to work on. He's never not worked," Benjamin said. "He knew he was going to earn everything. When he talked to me, he never really downplayed anything. He didn't say he shouldn't be doing this or that they should be playing him."
Rambo did what he could to make the most of his first two seasons in Norman. He spent this time focusing on the things that held him back — in particular, his size. Rambo was listed at 6-foot-1 and 167 pounds as a freshman, and he knew he'd need to bulk up to hold his own.
"He was all about the weight room as a redshirt," Hooks said. "He knew he had to get bigger and that he had to get stronger. He's not a naturally big-framed kid, but he really started to take the weight room seriously that year. And it worked — he got bigger, he got stronger."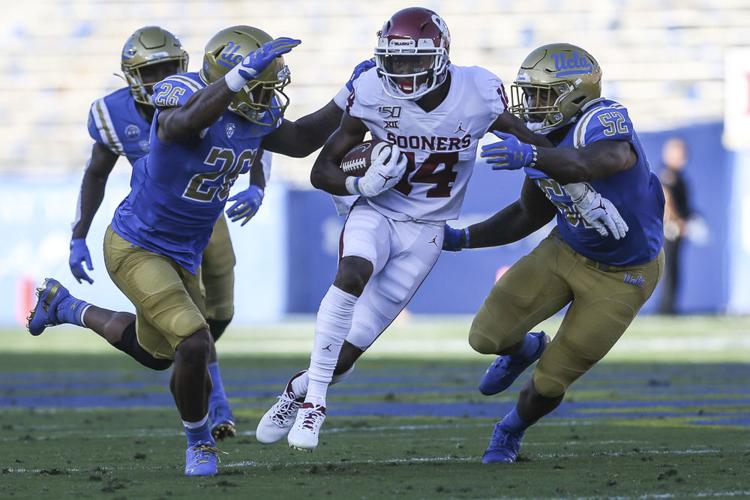 'The chains are off'
Once Rambo finally got his opportunity at Oklahoma, he wasn't going to let it slip.
When his redshirt season was done, he was used sparingly in Oklahoma's 2018 offense. He caught only eight passes on the year, but four of them came in the Sooners' biggest games of the year: the Big 12 Championship against Texas and the College Football Playoff semifinal against Alabama. 
Against Texas, Rambo caught a critical pass on third-and-five with the game tied at the start of the fourth quarter. The Sooners went on to nail a go-ahead field goal later in the drive and win the game, 39-27.
In the playoffs, Rambo made his name known on one of football's biggest stages by sprinting past two Alabama defenders, including first-team All-American Deionte Thompson, to cut the lead to 11 late in the third quarter.
"His outlook after the (Alabama) game was that, now, they gave him his chance, he made it — now it's his time to shine, and the chains are off," Hooks said. "He knew he had to win the trust of the coaches and the other established guys there. He had to be something different and couldn't come to the table with the same thing the other receivers had, and that's what he did against Alabama."
The Orange Bowl was the first time Sooner fans got a glimpse of what Rambo could become. But just like he did during his redshirt year, he knew he'd have to improve to make room for himself in a loaded receiver room with Lamb and three five-star freshman recruits, among others.
"Charleston told me that, at the end of the season, coach Riley came to him and said, 'You're our speed guy.' So when he told me that, we decided to work on that," Hooks said. "We took the speed that he already had, and we decided to maximize it. Sure, you can be fast for a couple of yards, but can you go the distance?"
Through the first part of 2019, all the offseason work Rambo put in is paying dividends. In the first four games of the season, he's proved his ability to be an elite deep threat — he leads the nation in yards per catch with 28.7. 
The Sooners' 55-16 win over Texas Tech was a perfect example of how Rambo can shine with limited opportunities. He was targeted only twice, but both times he beat the Red Raider secondary and grabbed passes for 48 and 74 yards.
"He won't talk a lot about what he's going to do, but do you see what's happened this year?" Hooks said. "He doesn't need a lot of targets, and he's never needed a lot. Give him a little bit, and he'll make more than most of the people around him."