Trey Millard sat at home, eyes fixed on the broadcast. 
Having torn his ACL in Oklahoma's win over Texas Tech on Oct. 26, 2013, Millard was just weeks out of surgery. The field at Boone Pickens Stadium had been deemed too icy for the Sooners' vocal leader to travel to Stillwater for the latest rendition of Bedlam on Dec. 7.
At the time, it was fair to question how OU would perform without one of its key captains against a No. 6 Oklahoma State team vying for a conference championship. Meanwhile, the Sooners were deflated from losses to Baylor and Texas and had been reduced to a Bedlam role they rarely play: spoiler.
Millard said he'll never forget it. Two years after he and his teammates had entered Boone Pickens as the lower ranked team and found themselves squashed by the eventual 2011 Big 12 Champion Cowboys, he watched from home as his team flipped the script, came from behind and crushed its rival's hopes for another conference title.
"It was a great team win," said Millard, who still lives in Norman and works in medical sales. "And one of those ones that even though I never played in, I'll always remember." 
This season, Oklahoma finds itself in a similar situation, entering Bedlam as a two-loss, lower ranked squad for the first time since Millard's senior year.
There are lessons to be learned from both OU's 2011 and 2013 Bedlam experiences, as the current No. 18 Sooners (5-2, 4-2 Big 12) must face a similar bump in the road and decide which path they'll take Saturday when No. 14 OSU (5-1, 4-1 Big 12) comes to Norman.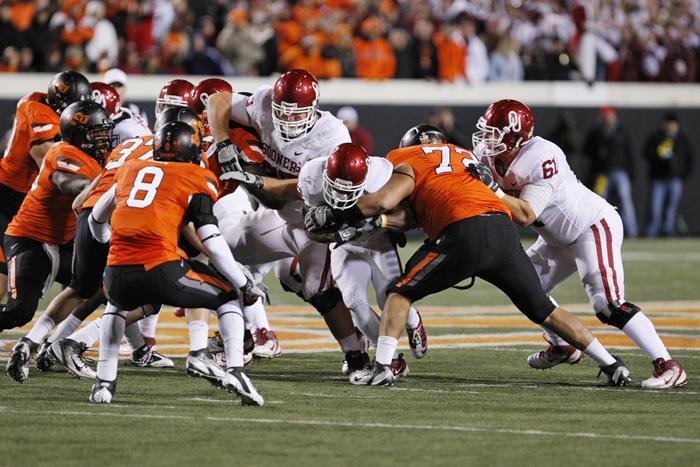 'The way that we lost'
It didn't take Bronson Irwin long to realize the 2011 Bedlam battle wasn't going the Sooners' way. 
OSU was star-studded on offense with quarterback Brandon Weeden, wide receiver Justin Blackmon and running back Joseph Randle, among others. The Cowboys also boasted the Big 12's best scoring defense.
Oklahoma's offense sputtered through the first half, and the then-sophomore lineman and his team trailed 28-3 at halftime in a game that would decide the Big 12 Championship.
"There wasn't really ever a point in that game where you felt too great," said Irwin, now a coach at nearby Del City High School. "They were just a lot to handle on offense. They put up a lot of points on us, and it seemed like everything that they tried to do, for the most part, worked out, and we weren't able to really get any rhythm."
The Sooners had been ranked No. 1 to begin the year and had posted big wins over Florida State, Missouri and Texas early in the season. Then, they were brought to earth by losses to Texas Tech and Baylor, and superstar senior receiver Ryan Broyles' season ending ACL tear.
No. 13 Oklahoma's junior quarterback Landry Jones found himself without his top target against the No. 3 Cowboys and didn't fare well. In the first half he threw an interception and had a fumble that led to 10 Oklahoma State points. 
In the second half, the nightmare continued. OU doomed itself with three additional turnovers — two fumbles and another Jones interception — and OSU scored 20 points in the third quarter alone. The Oklahoma State ground game rolled for 278 yards and the Cowboys also picked up 217 passing yards as they clobbered the Sooners, 44-10, to win the conference championship.
"That's one of the games that stands out in my career at OU," Irwin said. "(It was) just a game where we just could not get any type of momentum going."
Running behind Irwin and the offensive line, Millard — then a sophomore — saw significant carries in garbage time. What he remembers most was the lack of fight from his teammates. He felt like many of them had given up, but he wasn't going to throw in the towel.
"I just tried to finish that game thinking no one's gonna be able to point at me on film and say that I quit, I let the team down, that I ever didn't give 100 percent," Millard said. "Sports is such a great revealer of character, and also a place to build it. So for me, I just took the challenge of, 'Hey, we're not going to win this game, but that doesn't mean that I'm going to not give 100 percent for every single snap until the end of it.'"
Millard described his undying effort in that game as the "catalyst" that helped him become a team captain the following fall. And two falls later, even as he sat out with an injury, he remembered how much he hated the head-hanging, white flag defeat from his sophomore season.
"I think there's people in that game that kind of showed some true colors, because we didn't really play and finish it strong in a lot of ways," Millard said. "So it was really kind of a gut check afterwards. It was something that we didn't want to ever see happen again. I know for my junior and senior years, I always wanted to make sure I never felt like that again. Not just the loss, but the way that we lost."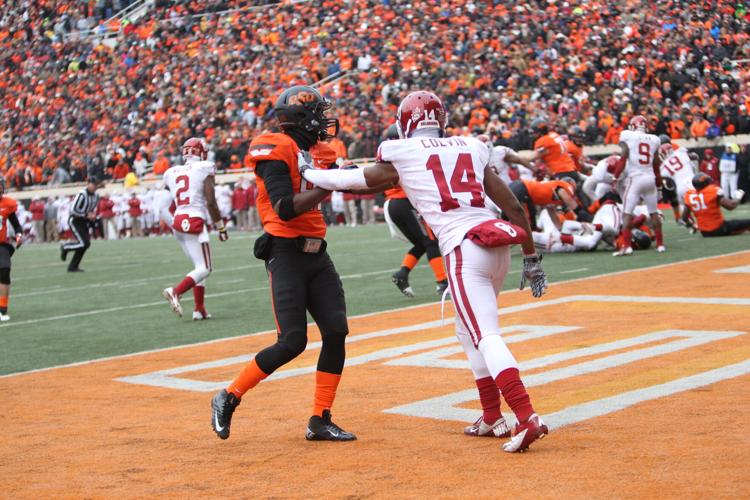 'Nothing to lose'
Millard got his wish as he watched teammate Eric Striker take the fumbled lateral into the end zone.
He didn't have to feel the disappointment of seeing his teammates give up again. His No. 17 Sooners (10-2, 7-2 Big 12) had toppled OSU in Stillwater to upend the Cowboys (10-2, 7-2 Big 12) conference title aspirations.
"We were more engaged, I think, in that game," Millard said. "More emotional in like a natural sense of, we really wanted to get after these guys. So there's a little more of that natural kind of spirit and fire going into the game. And so it was another good Oklahoma State team, and we just happened to come out and execute down the stretch, and pull a couple tricks out of our hat and get a win."
Even after losing redshirt freshman quarterback Trevor Knight to a first-half shoulder injury, the Sooners remained resilient. Junior backup Blake Bell, who had led OU to a win over Notre Dame earlier in the season, held down the fort in Knight's stead.
Oklahoma trailed throughout until Michael Hunnicutt's early fourth quarter field goal put the Sooners up, 20-17. And when Oklahoma State took a 24-17 lead with less than three minutes left, Bell wasn't done. 
On an eight-play, 66-yard drive, Bell found wide receiver Jalen Saunders for a 7-yard touchdown to give OU a 27-24 advantage. Seconds later, Striker picked up a desperate lateral by the Cowboys and returned it for a touchdown to make the score 33-24 as time expired.
It was a drastically different outcome than two years prior, when the Sooners folded to their in-state foe.
"I feel like at that point in the season, we didn't really feel like we had anything to lose," Irwin said. "We were just going out there just fighting every week to stay alive and see what happened in bowl season. … We had won some big games that year to give us confidence, and then we were very resilient, and found a way to get the right guys on the field to end up winning football games."
While Baylor ended up clinching the Big 12 title in the wake of the Cowboys' demise, Oklahoma still performed well in the postseason. The Sooners faced No. 3 Alabama in the Sugar Bowl, and Knight turned in the best performance of his OU career. He threw for 348 yards and four touchdowns, helping Oklahoma win, 45-31, to finish the season on a high note. 
Instead of collapsing under the weight of expectations, the Sooners fought. With senior leaders like Millard and Irwin, they were a different squad than the one felled in Stillwater two years earlier.
"That team was really special," Irwin said. "It's similar to that 2011 team, but (we) found a way to keep shuffling guys around and have guys step up and step into starting positions and contribute. … Toward the end of that year, it ended up bouncing our way."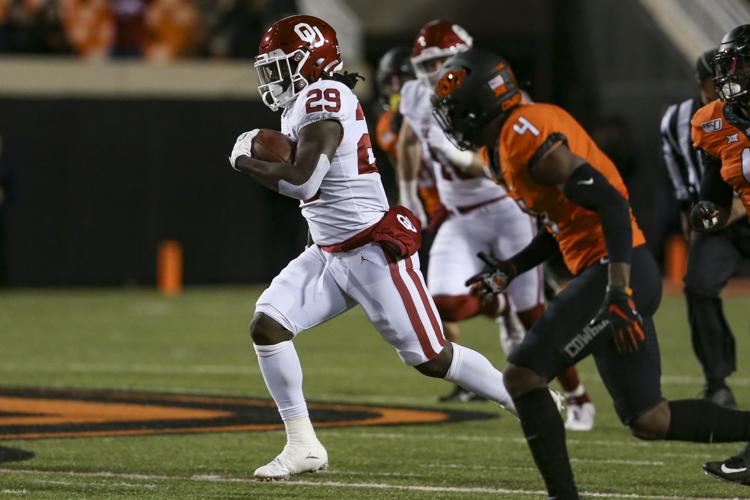 'The implications'
It's the 2020 Sooners now facing a fork in the road.
Following gut-wrenching losses to Kansas State and Iowa State to begin conference play, OU has rebounded with four straight wins, and appears to be firing on all cylinders.
Redshirt freshman quarterback Spencer Rattler has tossed only one interception in his past three games, after throwing five across the Sooners first three conference contests. In that span, he's also thrown for 832 yards and five touchdowns.
The return of senior running back Rhamondre Stevenson from suspension has helped OU run for 206.5 yards per game and 8.7 yards per carry over its past two games after averaging 148.4 and 3.6 through its first five.
And a revamped Speed D that allowed 110 points across its first three Big 12 games has shut down opposing offenses for only 51 in its past three. Led by breakout lineman Isaiah Thomas and a resurgent Ronnie Perkins, the OU defense has 20 sacks and 39 tackles for a loss in its past four games.
"I feel like the last few games based on what I've seen, they're kind of starting to hit their stride, and play a little bit better and be a little bit more cohesive," Irwin said. "So I'm hoping that they're gonna keep trending upward and keep getting better every week. That's all you can do."
Saturday's challenge isn't any less formidable than it was in 2011. The trio of Weeden, Blackmon and Randle is now Spencer Sanders, Tylan Wallace and Chuba Hubbard. On the other side, the Cowboys are, perhaps, better than ever and ranked No. 15 in the country in total defense.
In a rivalry game that will make or break their Big 12 title hopes, the Sooners will either waive the white flag or march to victory.
As Irwin and Millard pondered the similarities between each of the three most recent OU teams to enter Bedlam lower ranked, they came to the same conclusion. The 2020 Sooners best resemble their 2013 counterparts, and appear poised for redemption.
"Rivalries are always weird," Millard said. "They kind of throw the regular games for a loop because teams do things a little bit wacky. There's an intense amount of pressure, and especially (with) the implications that this has for the Big 12 Championship, this'll be a fun one to watch, I think, and I definitely think OU is going to come out on top."