Elijah Harkless stood in the background, watching now-famous NBA brothers LaMelo and Lonzo Ball during LaMelo's 16th birthday party in 2017.
Harkless, just 17, was avoiding the spotlight as the Ball brothers rapped and celebrated on stage at a country club in Chino Hills, California. He wasn't concerned about the fame or spotlight, the Lamborghini or the shoe deal from Big Baller Brand that LaMelo received at the party. 
He just wanted a shot. 
LaMelo, who'd already established himself as a five-star prospect, was wearing a gold chain and the flashy blonde hair that had become a staple in basketball mixtapes on YouTube and a reality TV series on Facebook. 
While LaMelo shined on stage, Harkless donned a normal blue T-shirt and black sweatpants. He was living with the Ball family and training the summer going into his senior year of high school, honing his skills for one last chance at a Division I offer. 
Fast forward over three years, and the OU junior has started the past seven games for the No. 9 Sooners after transferring from Cal State Northridge. In those starts, Oklahoma is 5-2, including a five-game win streak and three consecutive top-10 wins that propelled it into the top 10 itself. 
Despite being close with the Ball family and working out together, Harkless wasn't heavily recruited. In fact, Harkless had zero offers at that point, while Lonzo was getting ready to join the Los Angeles Lakers and LaMelo was a few months removed from scoring 92 points in a high school game as a sophomore. 
"He was not getting recruited by anybody," said Dave Kleckner, Harkless' coach at Etiwanda High School in Rancho Cucamonga, California. "Are you guys kidding me? I'm sitting here, begging these scouts. I said, 'Hey, guys, Elijah Harkless is not getting the credit he deserves. You need to put him out there and put him up and promote him as being a top player.'"
Harkless bet on himself, worked hard and stayed faithful.
Now, thanks in large part to Harkless, OU (11-5, 6-4 Big 12) became the third team in NCAA history with four top-10 wins in a single month and the first since 1974. The San Bernardino, California, product has three steals in five of his starts and has been the defensive X-factor for a surging OU team.
Harkless leads the Sooners with 24 steals and is third in the conference averaging two steals per game despite missing four games due to transfer rules and playing the eighth-most minutes on the team. The 6-foot-3 guard replaced senior forward Brady Manek when he tested positive for COVID-19 and has kept a starting spot following Manek's return.
Harkless went from the 17-year-old in the Ball brothers' shadow to helping the Sooners to their largest weekly increase in the AP Top 25 Poll in program history.
"You can see how he can impact the game in a variety of ways," Kleckner said. "His toughness, the loose balls, the deflections, the steals, the rebounds, just the value to have someone like that in the lineup, it impacts the game."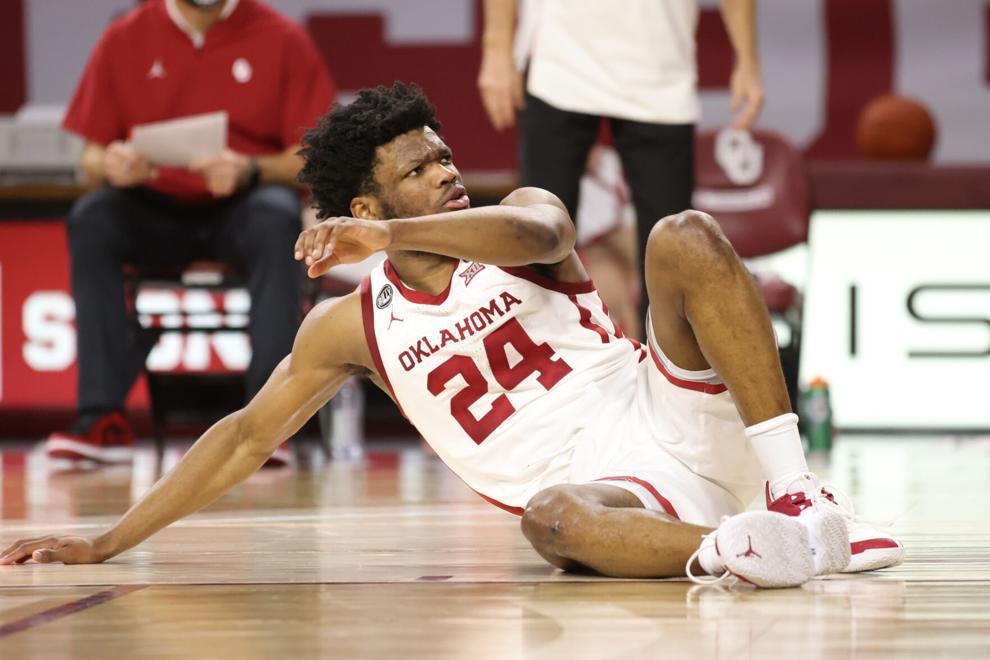 'Nobody appreciated the way that I played the game'
Harkless went to Kleckner in the huddle. 
"Coach, let me guard him," he said of the 260-pound forward destroying the outsized Etiwanda lineup. "I don't care, I'll guard anybody. Whatever it takes for us to win." 
Harkless, the team's 6-foot-3 point guard, didn't back down despite the 65-pound deficit. 
Harkless led Etiwanda to a 30-4 record his senior year, averaging 10.4 points and 5.5 rebounds after moving from wing to point guard. His team made it to the California state semifinals before losing to Sierra Canyon, led by now-Vanderbilt guard Scotty Pippen Jr., Indiana G-League guard Cassius Stanley and Houston Rockets forward KJ Martin.
Pippen, Stanley and Martin, all considered at least three-star recruits by Rivals, had multiple Division I offers. Martin also had an offer from OU before opting to play one year at IMG Academy and then entering the NBA draft. 
Although Etiwanda lost, 58-55, that night, finishing its chances of winning a state title, Harkless more than held his own against the trio of highly-recruited players and the No. 12 teams in the nation. He scored 14 points with 10 rebounds and flashed his toughness, even scuffling with Pippen during the game.
Similar to Oklahoma this season, Etiwanda pushed the importance of defense. Neither team plays the flashiest game, but their wins are determined by grit and toughness. 
"We put a precedent on defense in high school," Kleckner said. "We get after it defensively and I think it carried over to college for Elijah. I think schools overlook somebody's defensive abilities and just focus on 'Is this guy an offensive threat? Is this guy a scorer?' and they put a higher precedent on that than they do defense. That results in missing out on a guy like Elijah."
Harkless received his first Division I from Long Beach State shortly after the semifinal. Kleckner, who knows Long Beach State's head coach, advocated for them to offer him. Before offering, Kleckner's message was simple. 
"I've got a player you're gonna love," Kleckner said to Long Beach State coach Dan Monson. "He's not getting recruited by anybody and I love him. He's the toughest kid I've ever coached and I've coached a lot of tough kids. To say that he's the toughest kid I've ever coached, is saying a heck of a lot, especially for this program. You gotta give this guy a scholarship."
Kleckner has coached 25 years at Etiwanda and produced NBA players Jeff Ayres and Darren Collison, but he says Harkless is still his toughest student. Although he couldn't complain, Harkless wanted schools in bigger conferences to give him a chance. He was later offered by only Cal State Northridge and UC Riverside.
"He was not happy," Harkless' mother Sherice Sterling said. "He got down on himself when he wasn't getting those offers. He knew his abilities and they weren't coming through."
Averaging just over 10 points per game wasn't good enough for most scouts. With basketball becoming more offensively focused and other highly-touted players surrounding Harkless in California, his exposure was lessened. Teams didn't care about his ability to fill the stat sheet in every category or his selfishness to dive for a ball.
"Me and my people, we never thought any of those guys that were recruited over me were better than me," Harkless said after scoring a season-high 14 points against then-No. 9 Alabama on Jan. 30. "Nobody really appreciated the way that I played the game. It wasn't all about points. It's all about wins. Wins are more important than stats to me, in my opinion."
René Rougeau, another Etiwanda basketball alumni who played under Kleckner, walked on at the University of Nevada, Las Vegas in 2004 where OU head coach Lon Kruger coached from 2004-11. Rougeau earned a starting spot and a scholarship as a junior. During his senior year with the Runnin' Rebels, he averaged over 10 points per game, after averaging only six his senior year at Etiwanda. 
Rougeau's story — similar to Harkless' in regards to recruiting —  is a testament to Etiwanda's team and the culture that Kleckner built. 
"Coach Kruger," Kleckner said of Harkless, "got another one of our diamonds in the rough."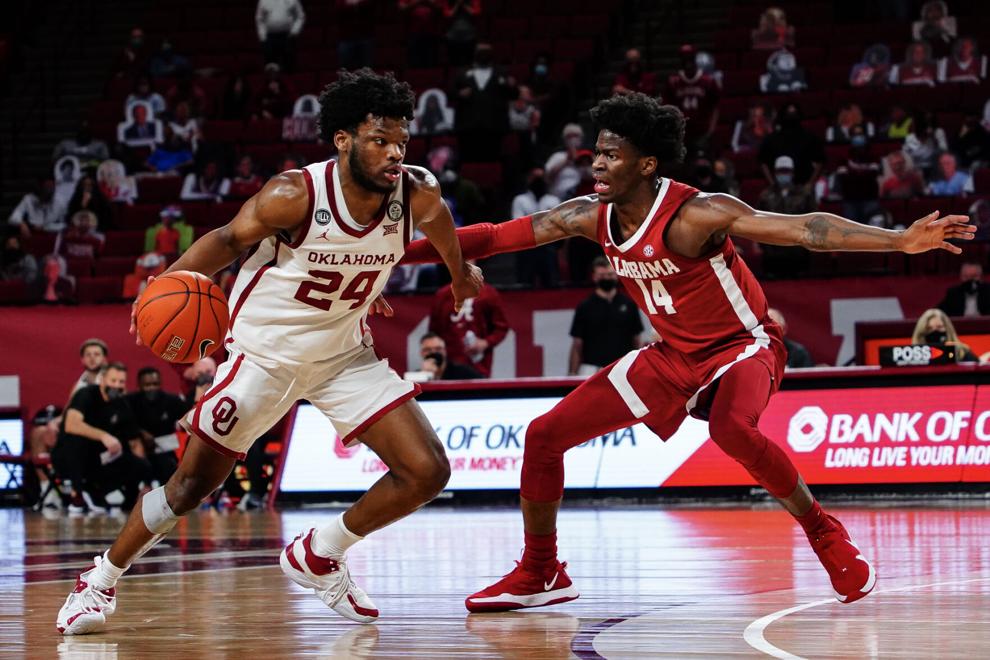 'He wanted to play in a bigger conference'
Harkless averaged over 10 points per game, led the Big Sky conference in steals per game with 1.7, and even had Cal State Northridge's first triple-double in team history with 22 points, 11 rebounds and 10 assists against Saint Katherine College. His 54 steals in the 2019-20 season were the most for the team since 2004-05.
But Harkless's breakout season wasn't enough for Cal State Northridge to become a winner. The team finished 15-17 Harkless's sophomore season.
Sterling said that the players "liked each other and vibed together" but the team wasn't on the same page as the coaching staff. She said that some players had the "green light" on the team, but her son wasn't one of them. Northridge had seven players enter the transfer portal after the 2019-20 season.
"Out of the starting five, four of the team's five starters transferred," Sterling said. "That should tell you something. I think it was the coach and (Harkless) wanted to play in a bigger conference."
Kruger and the Sooners reached out to Harkless quickly, and he committed before being able to visit campus due to COVID-19, choosing OU over Montana State, Fresno State, and Loyola Marymount. When Harkless saw a Power Five conference offer, he couldn't pass it up. It offered him a chance to play in arguably the best conference in basketball and for a coach who admired his defensive style of play. 
"Northridge coaches talked often about how physical and how aggressive he is and was for them," Kruger said. "And that's certainly been the case here. He's a very on-ball, physical defender … any coach would want that type of attitude and mentality in a program."
Harkless was content to sit out a year due to transfer rules while developing and learning OU's system. Instead, the NCAA's immediate eligibility waiver passed on Dec. 16 allowing him to play after missing the team's first five games.
OU football safety Jeremiah Criddell — who went to Rancho Cucamonga High School, six minutes from Etiwanda — played a part in Harkless's decision to come to OU. Criddell confirmed that Oklahoma treats its athletes well, which was big for Sterling. She said that Criddell's insight contributed to Harkless attending the Sooners.
No one was happier than Sterling that Harkless decided to attend OU. She's coming to Norman for his birthday, which was Feb. 3, and to watch her son play in the Lloyd Noble Center for the first time, against Iowa State on Saturday. 
"I'm beyond excited," Sterling said. "I've shared his highlights with my boss and I tell everyone about him. I'm the mom, I can say how good I think he is or how proud I am, but when other people say it and see it, it solidifies how I feel.
"This is something he's always dreamed of and always wanted. For it to come to the forefront is a blessing. I'm beyond proud."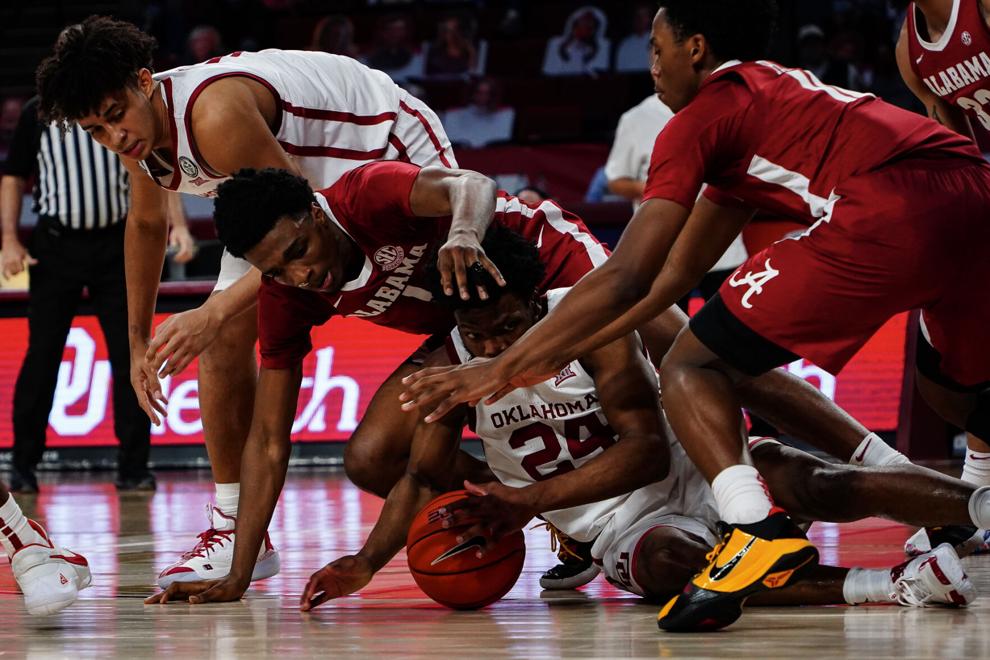 'Those are winning plays'
In the 66-61 win over the Crimson Tide, Harkless forced three steals and hit a fadeaway jump shot to ice the game for OU. He also dove for a ball near the baseline and dished an assist to sophomore guard De'Vion Harmon for a layup while laying on the court. Harkless had 14 points and added five rebounds while playing with his usual toughness in his role as the defensive catalyst. 
The game-clinching bucket. The game-ending rebound.@ejay_hoops2 was the X-Factor in the final minute.#BoomerSooner pic.twitter.com/9LRZWytc4b

— Oklahoma Basketball (@OU_MBBall) January 30, 2021
"He's been fantastic," Kruger said. "He's been super aggressive, he's a very physical player … those are winning plays, and Elijah has no hesitation to get on the floor or stick his nose in there on a rebound and play in a physical way."
Shawn Clark, who played guard for late, former OU coach Billy Tubbs from 1982-85 and also wore No. 24, recognizes Harkless's toughness as he watches OU's season unfold. Clark said Harkless' defense and aggressiveness would translate to his days on the court when Tubbs' teams would play fast and force steals behind a stout defense that earned praise nationally.
"In order for you to be exceptional on defense, you gotta buy in," Clark said, who now coaches the girl's basketball team at Southmoore High School and still watches every OU game. "In my observations, he has the length, strength and athleticism to defend well in the Big 12. If you look back in my era, we had to defend, and you could find yourself being 6-foot-3, having to defend someone that's 6-foot-8, and he's been able to do that.
"He's the type of player that could be successful in our era. I don't think you have a lot of kids in today's game that are willing to (play defense) for the duration of a game. He'll go 40 minutes baseline-to-baseline. What I've seen from him is his willingness to do that."
A common phrase OU has used this season is "next man up." The players used it when Manek and sophomore forward Jalen Hill missed two games due to COVID-19 protocols in early January, and as senior guards Austin Reaves and Alondes Williams have missed OU's past two games for the same reasons. 
Harkless played 15 minutes or fewer in the Sooners' first three conference games before playing 38 minutes against Kansas in his first start. Without Manek, Kruger deployed a four-guard lineup that sparked OU's five-game win streak, with Harkless playing power forward. Harkless had three steals and a block. 
Harkless defines OU's "next man up" mentality.
Kruger knew before the season the type of player Harkless could be for his team. He said Harkless' confidence grew tremendously from the four-point loss against Kansas.
Sterling said Harkless was nervous before the Kansas game. But on a phone call after Harkless' breakout game against Kansas State on Jan. 19 — eight points, 13 rebounds, six assists and three steals — he said he was comfortable.
"I just felt so good with that ball in my hands," Harkless said to Sterling. 
But Harkless' breakout came two games after his learning experience against the Jayhawks. Kruger knew it would take time for Harkless to get settled, and he grew in each game. Harkless was trusted for the final shot against the Crimson Tide less than a month after fans perhaps thought he was a "depth" guard off the bench. 
"It takes time," Kruger said. "I think in his case, he's very conscientious about doing the things right, and I think maybe even stepping into the rotation a little bit (he was) concerned about how other people are feeling about that. Our point was just 'Hey, just play. We'll take care of the rotation.' 
"It takes time, and some people might jump in from day one. But as you saw, he's progressed in every ball game and he's playing awfully well right now."
Through it all, Harkless just cares about winning. The former zero-star recruit got what he wanted all those years ago in the shadows of the country club party: A shot. From joining a Power Five program to nailing the winning bucket against Alabama, he's making the most of his opportunity for a team playing for big goals as March nears. 
"I do anything to help the team," Harkless said. "If that's scoring that night, if that's rebounding that night, if it's assisting another night, I think I'll be able to help the team. 
"I can't wait to see where we're at in March."