Initially, Braidyn Fink announced he would return.
After being selected in the 19th round of the 2019 MLB Draft by the Los Angeles Dodgers, the left-hander determined that the signing bonus he was offered was not enough to ink a professional deal. As a result, Fink — who missed the entire 2019 season with a UCL tear — announced his return to OU via Twitter on June 8.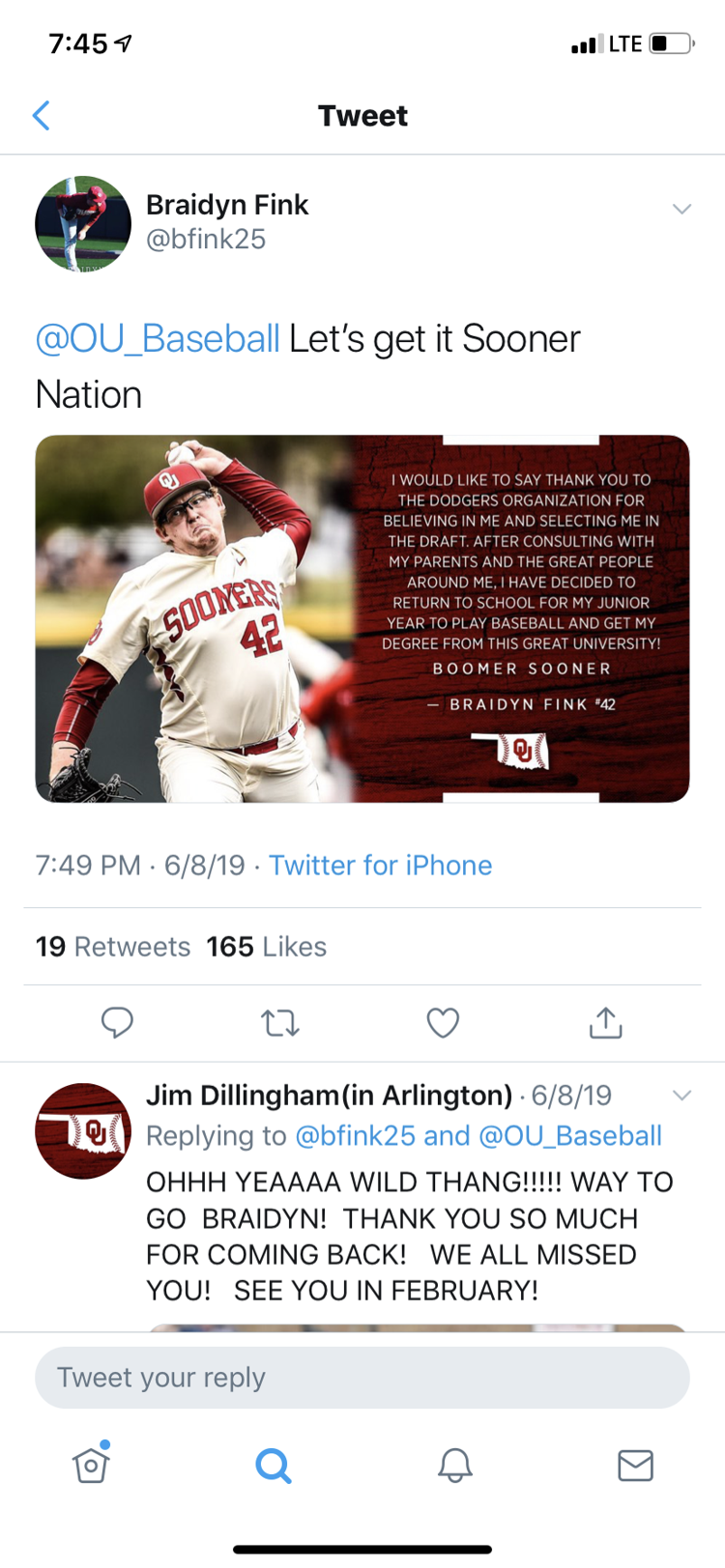 Less than a month later, the Dodgers improved their offer and, on July 12, MLB.com's Jim Callis reported that Fink signed with the team for a $222,500 signing bonus. It marks the second-largest bonus of any 19th round selection in 2019, according to Baseball America.
"They called and said they had opened up more money and then they ended up offering me what I wanted," Fink told The Daily. "At that point I thought it was a good chance for me."
Now in Phoenix, Arizona, with the Arizona League team, Fink is still rehabbing from the injury that kept him off the hill this past spring. He says he is around a week and a half away from beginning his throwing program with the team.
"The Dodgers are known for rehabbing guys coming back from Tommy John (surgery) and they have a plan that has been proven to work," Fink said.
When he takes the mound once again, likely donning the Dodger blue and white instead of the crimson and cream, Fink will bring with him the acquired mental and physical approach that turned him from a thrower to a pitcher, from a freshman who had a 7.23 ERA in 2017 to a lockdown reliever with a 1.71 ERA in 2018. 
In March, then-freshman right-hander Ben Abram referred to head coach Skip Johnson as a "baseball genius." When asked what Skip has meant to his own career, Fink said Skip has "meant everything to my baseball career."
"Well, coming in I wasn't a pitcher, I was a thrower," Fink said. "And then really he's developed me into the pitcher that I am and he's allowed me to grow through the process and be patient with the downs and then the ups, and then the downs again."
Ups and downs are inevitable throughout a professional career of any modest length, however Fink says he has learned to focus on the path of his career one step at a time. Just a week and a half after he boarded a flight to Phoenix and officially signed his contract, Fink is still trying to soak it all in.
"I'm living the dream," he said.