Oklahoma football: The story of how ex-Tennessee commit Orlando Brown became a Sooner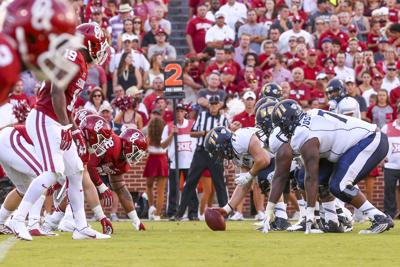 Orlando Brown lost his father in September of 2011. By January of 2012, his family moved from their home in the Baltimore area to Atlanta.
That left Brown, who is now Oklahoma's starting left tackle, without a place to play high school football, and it took him to Mark Fleetwood's front door.
"God almighty, I hope you have some eligibility left," Fleetwood said to the then 6-foot-7-inch, 420-pound Brown.
Fleetwood would become Brown's high school coach at Peachtree Ridge in Suwanee, Georgia, a town about 50 miles northeast of Atlanta.
"We had a good talk, his mom was right there, and they told me they were planning on moving to the Atlanta area soon," Fleetwood recalled.
"Next thing I know, he's walking through the door at our school."
Living life in Georgia without his father, former NFL offensive tackle Orlando "Zeus" Brown, was tough on him. But Brown's road to following in his father's footsteps was only just beginning.
New lease on life
"I'm awful," Brown said to his coach as he looked over the film of his first game for Peachtree Ridge.
Fleetwood put Brown's film side-by-side next to the tape of a player that had recently graduated but carried a similar frame at 6 feet 10 inches tall and 350 pounds.
Brown's film on the left, Fleetwood pointed at the screen on the right and said, "He's maneuvering his body, who's moving yours?"
Brown's body was being controlled by his weight. At 420 pounds, he was at risk for health issues later on in life. But the more immediate consequence of his weight was that he couldn't be an effective football player.
After that meeting, Brown quickly turned things around.
"It was almost like it happened overnight," Fleetwood said. "He just kept getting better and working hard. By the end of his junior season he was 360 pounds, and he was down to 335 pounds by his senior year. 
"It was a new lease on life for him."
Brown is still enormous. Listed at 6 feet 8 inches tall and 342 pounds on OU's official roster, he's already as big as former Oklahoma left tackle Phil Loadholt.
He's also almost bigger than his father was.
His father, Orlando "Zeus" Brown Sr., was a left tackle for the Baltimore Ravens and the Cincinnati Browns for more than a decade. Zeus played at 6 feet 7 inches tall and weighed 360 pounds.
According to Fleetwood, living in his father's footsteps is the main thing that drives Brown. From the white bandana that he wears to his No. 78 jersey, aspects of Brown's life mimic that of his father's.
"He goes through my head every day whether it be for school, waking up in the morning, practice, whatever it may be," Brown said. "He's definitely always there."
Recruiting
Brown's recruitment process was a simple one. He was just a three-star prospect according to recruiting services, but he had offers from nearly every major program in the country including Ohio State, Notre Dame and Alabama.
That list also included Oklahoma. Brown and OU coach Bob Stoops built a good relationship throughout his recruitment, but he ultimately chose Tennessee.
"When Orlando started looking at schools, he was looking for a place that he might have a chance to play early," Fleetwood said. "As he looked around at the other SEC and Big 12 schools, he liked Tennessee because he thought he could play there early on."
When Brown decided on Tennessee, he stuck with his decision. He stopped taking visits. He avoided the fuss that has become customary throughout the recruiting process. He was Tennessee all the way.
But then, Brown was hit with more adversity.
"It was an academic issue," Fleetwood said. "(Tennessee) didn't know if he was going to make it or not so they backed out on him."
According to Fleetwood, that conversation happened the Sunday before signing day.
On Monday, with singing day approaching on Wednesday, Brown sauntered in to Fleetwood's office in search of direction.
"He was miserably disappointed," Fleetwood remembered.
Fleetwood told Brown to write down his top three schools after Tennessee. He would call the first school on the list and if they had room, then Brown would go there. If not, he'd call the second school. And so on.
"I told him 'this isn't going to turn into a recruiting war,'" Fleetwood said.
Oklahoma was the first school on the list. Fleetwood called OU's recruiting offices and, on the back of Orlando Brown's name, got through directly to Stoops.
Two days later, Brown was a Sooner.
After redshirting in 2014, Brown made his debut starting at left tackle against Akron last Saturday. This week, he returns to Knoxville to play in the stadium that he thought he would call home one day.
Brown has downplayed the emotions of returning to Tennessee after being committed to the Vols for nine months. But according to at least one teammate, that's not the whole story.
"Since he's been here, Orlando has been all about going back and beating Tennessee," Jonathan Alvarez said. "He's always talking about how he hates them, and he just wants to get back at them."
Brown has been very complimentary of the chance that Oklahoma has offered him. He says he feels "blessed" to be in Norman.
But that doesn't take away some of the hurt that resulted when Tennessee gave up on him.
As for Brown's new home, his teammates are behind him and ready to play for him.
"I don't really care what Tennessee did to him," Alvarez said. "I just know that (Orlando) is with us now and he's one of my brothers now. If he's angry about Tennessee, we're angry too."