Oklahoma football: Eric Striker joins football staff as defensive recruiting analyst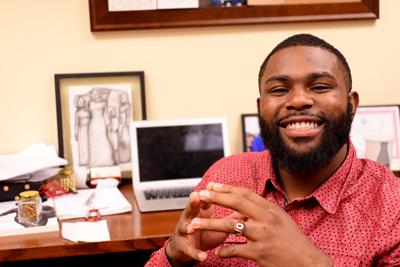 Former Sooners' linebacker Eric Striker has taken new position in the football program as a defensive recruiting analyst, OU coach Bob Stoops announced Thursday.
Bob Stoops say Eric Striker will be a defensive recruiting analyst for the #Sooners

— Abby Bitterman (@abby_bitterman) April 20, 2017
"Eric's going to do a great job for us," Stoops said. "Kinda helping us on the defensive side with recruits and their families when they're here, those kinds of things."
The former All-American linebacker was hired in January as a graduate assistant in the University's student life office, helping with day-to-day activities while he worked toward a Master's Degree.
"We're going to start grooming Eric, and excited to have him," defensive coordinator Mike Stoops said. "Not only was he a great player, he was a great leader and a great guy to have around. He just brings a lot of energy. The players, you know really like him, and I think he could be a, you know, a very successful coach. So, you know, we're excited to have him."
Today, former Oklahoma fullback J.D. Runnels Jr. tweeted out that Striker had officially joined twitter as @OU_CoachStriker.
#Sooners - Eric Striker is on Twitter. Incredibly proud of the work he's doing & how he reps us. Y'all know what to do -> @OU_CoachStriker

— J.D. Runnels jr. (@Just_JD38) April 20, 2017
Striker was a three-year starter for the Sooners at outside linebacker, totaling 191 total tackles and 23 sacks in his career.