Brehanna "Bre" Showers' gymnastics career hasn't been the perfect 10 many believed it would be.
She comes from a family of talented athletes in Rockford, Michigan, but her mother, Nancy, said her siblings all admit she's the most athletic. Her natural talent helped her progress quickly through the world of gymnastics despite a belated start.
"She was 10 years old, which in some sports is totally normal, but in gymnastics to be 10 years old and not really have been very competitive was unusual," said Rachel Rydbeck, who coached Showers at R-Athletics in Grand Rapids. "But she was an extremely talented, hard-working kid, and you just knew there was something different about her."
Showers' determination eventually landed her a spot as Oklahoma's next projected superstar. While that potential was never quite realized due to a rash of injuries, she's made the most of her situation. Her lone healthy season in NCAA gymnastics was a sight to behold, and the things she's accomplished as a person since then have astounded those around her.
On Friday, she'll be the last Sooner to exit from the south tunnel of the Lloyd Noble Center during team introductions, as she has been all season.
While she'll be suited up like the rest of her teammates, she won't be competing on her senior night against Michigan — the team she grew up hoping to perform for — but she will still make an impact from the sideline. 
OU head coach K.J. Kindler put it simply when asked about the effects that Showers' character and leadership have had on the team.
"We wouldn't be the same without her."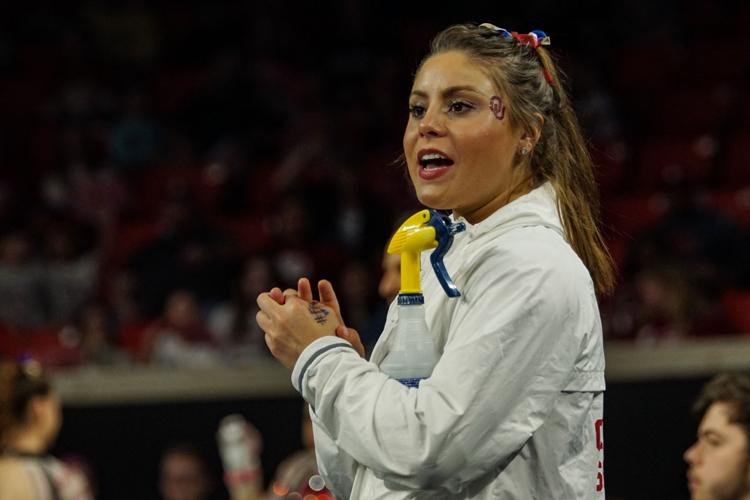 'Superstar'
In the midst of another terrific season in club gymnastics, high school sophomore Showers came off of the balance beam at 2014 regionals with flair, sticking her dismount perfectly before crumpling to the ground. Incomprehensibly, she had torn her left ACL.
The injury was a tragic turn of events considering all that she had just accomplished in her club career.
In eighth grade, she was a vault, bars, floor and all-around national champion. As a freshman in high school, she had joined the Junior Olympic National Team and participated in an all-star tour through England and Belgium, while also winning the floor and vault national championships.
"She was always striving to do better and perfect her gymnastics," said former Wisconsin-Whitewater gymnast Kelsea Fischer, Showers' club teammate. "I think it's safe to say that the entire gym wanted to be like Bre Showers."
Her accomplishments in that short time frame led to heavy recruitment from top-notch gymnastics programs.
One of her coaches, Daniel McCarty, said that as soon as 2013 nationals ended, the calls and texts came from colleges everywhere. According to Showers' parents, the letters in the mail were also plentiful.
Michigan, Showers' dream school, seemed like the easy answer at first. But when Oklahoma jumped into the fray, the Sooners' sway was too much to overcome.
"Everything about OU just cultivates greatness," Showers said, "and I could just feel it the minute that I stepped foot here, and it really won me over. So it was pretty easy after that."
Showers visited Oklahoma the summer after her freshman year, received a scholarship offer and committed shortly thereafter, a particularly surprising turn of events considering that the OU coaches had only seen her compete once before.
Any doubts that the coaches may have had were quickly dispelled when assistant Tom Haley went to Grand Rapids that fall to watch Showers train.
McCarty said Haley had only one word to describe Showers: "superstar."
Following her commitment to the Sooners, Showers continued to shine in her sophomore year, participating in the 2014 Nastia Liukin Cup and pacing herself for another strong finish at nationals.
She was at the pinnacle of her high school career until her injury put a halt to her plans, ending her sophomore season and wiping out her entire junior year.
Showers was far from finished, though, and she worked hard to try to return for her senior year.
"After her knee injury, it was some of the easiest coaching I've ever done," McCarty said. "She drove herself, and she was motivated."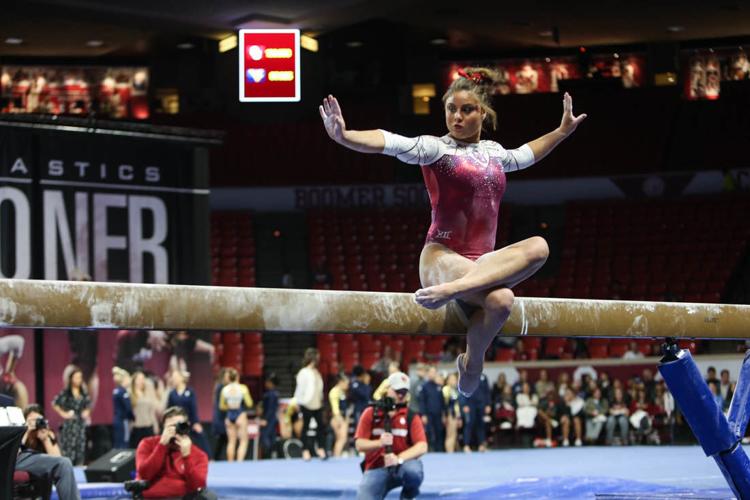 'Proud'
Showers did reappear for her last club season, only for tragedy to strike again. She injured her left meniscus doing a tumbling pass and, once again, went under the knife.
At that point, her coaches decided it was in her best interest to end her club career. She began focusing on rehab, readying herself for the start of her time at OU.
Upon her arrival to Norman, she was prepared to earn a spot in the starting lineup as a freshman, until another health issue halted those hopes.
After she began noticing discomfort in her right arm, scans revealed benign tumors. A new technique of laser removal was used to scrape the cysts off her bones in hopes of a quick recovery.
The procedure went well, and she appeared to be healed until she returned to practice. On her first day back in full force, she did a simple roundoff, and the bone at the site of her procedure snapped, finishing her freshman year.
While the Sooners went on to win the NCAA Championship that year, Showers was not a contributor, but her desire to be one was unwavering.
Continuing to work hard, she overcame ailment once again. Finding her way into the lineup slowly in her sophomore season, she eventually claimed the Sooners' second all-around spot behind Maggie Nichols.
She competed in all 15 of OU's meets that year, racking up career highs of 9.9 on bars and floor, 9.8875 on vault and 9.975 on beam.
"I think everyone felt proud of her," former OU gymnast Samantha Craus said. "It was amazing just to see her blossom."
Even with Showers' contributions, the Sooners fell just shy, losing to UCLA at nationals by 0.0375 points. Still, she had proven her talents on the biggest stage, and the best appeared to be ahead for her.
"I hope that she's proud of herself for when she was able to compete," said former Michigan State gymnast Lindsey Hull, one of Showers' teammates at R-Athletics. "She deserves a lot of recognition for that, and I hope that it doesn't go unnoticed."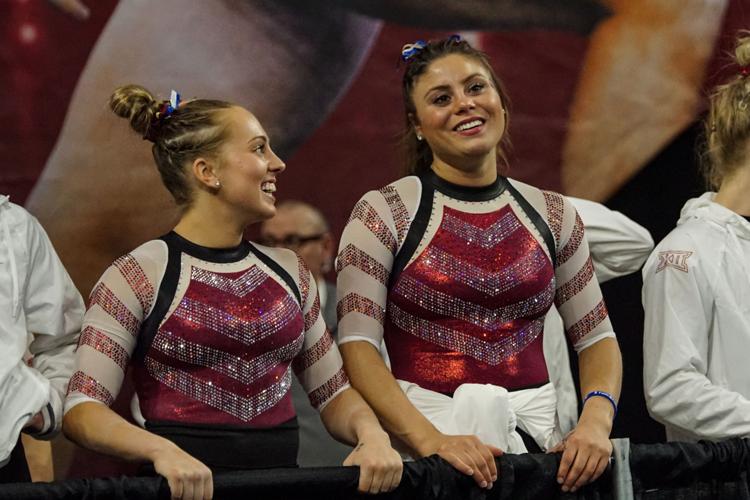 'Heartbreaking' 
Showers' sophomore season would be her only full year in Oklahoma's lineup.
In her junior year, she performed admirably in OU's first five meets and notched a career-high 9.925 on floor in the annual Metroplex Challenge, but as the Sooners prepared for a road meet against Denver, injury reared its head again.
During OU's final practice before its departure for the mile-high city, Showers landed her dismount from the uneven bars a bit off and tore her left ACL for the second time.
"That one was a little tough," Showers' father, Scot, said. "That was pretty heartbreaking for us and I think for Brehanna."
She missed the rest of her junior season and another NCAA title, but after surgery she began doing everything in her power to enable herself to contribute in her senior year.
Showers stuck to her therapy while also changing her dietary habits, believing that altering her body type and making herself leaner would help her to be stronger.
As OU began to ramp up its activities in the fall of 2019, she told her parents she was doing her best gymnastics yet, but injury struck again as she prepared for Oklahoma's intersquad meet.
While doing a series of moves on the balance beam, her landing tweaked her left knee again. She had torn her ACL for the third time. 
At first, she thought she might be able to avoid surgery and still compete on beam, and she began to test her knee in practice.
"I wasn't ready to let gymnastics go, because I had such high hopes for senior year," Showers said. "And I couldn't come to terms yet with the idea of calling it quits and hanging that leotard up."
For several weeks she tried to rebuild strength, but her work was met with more pain and swelling. Her knee was not stable enough for her to continue doing gymnastics.
She went home for Christmas break with a decision to make. Due to OU's rigorous schedule, the team was only allotted a few days to escape for the holidays.
It wasn't easy for Showers, but she said she came to grips with everything that had happened during that short time away from Oklahoma. After consulting her family and reflecting on all that she had accomplished, she decided to call it a career.
Upon her return to Norman, she announced to her teammates her plans to undergo surgery once again, intending to medically retire at season's end.
"It was a really good time for me to be able to reflect on the past and all that I've gone through and everything this sport has meant to me since I was a little girl," Showers said. "My goals, my hopes, my dreams and my coming-shorts, but also my rising-ups."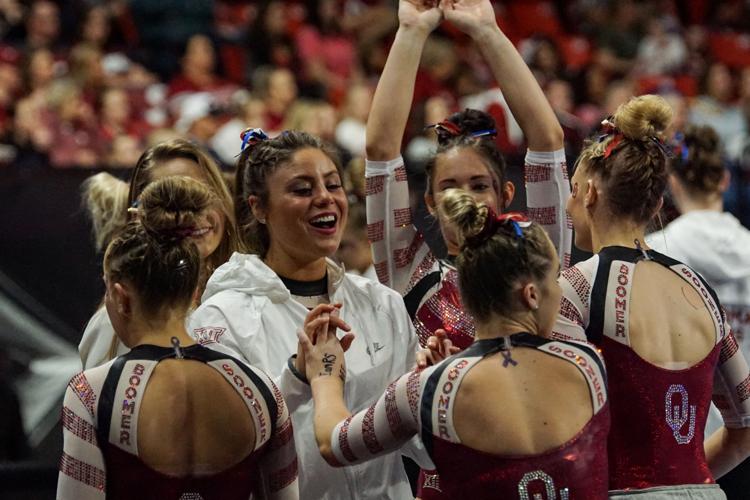 'Inspiration'
Instead of sulking about the fact that her days at OU have not panned out as expected, Showers does everything she can outside of competing to help her team.
In practice she moves any and every mat. She's the team disc jockey, playing music as her teammates perfect their floor routines. 
On meet days, she's one of the team hairdressers, waking up early to run her friends through her metaphorical boutique.
At meets, she's one of the biggest cheerleaders, and also assumes a bevy of managerial tasks, such as spraying down the uneven bars and distributing heat packs to her teammates.
But beyond what Showers does as a teammate, those near her say she's a rock in their lives, a great giver of advice, and a steady presence when they need a shoulder to cry on.
"I would do anything for Bre, and she would do the same for me," Nichols said. "I don't know what my life would be like without her."
Regardless of everything Showers has been through, she remains positive. Those around her say she continually displays selflessness, a trait that not all people who have experienced similar situations exhibit.
"Even three days after surgery, she wanted to know what she could do at the meet to help her teammates out," OU athletic trainer Jenn Richardson said. "She doesn't want the attention to be on her. She wants it to be on everybody else."
On her senior night, things won't be any different.
She'll lead the team in prayer before the meet, then grab her spray bottle and some heat packs and go to work.
In between jobs, she'll join her other teammates in supporting those still competing, and she'll be the loudest one cheering.
"She's a very big cheerleader on the floor," her mother, Nancy, said. "I see her and I hear her afterward with a hoarse voice, and she gives it her all when she's out there."
On Friday, Showers' teammates will go against No. 5 Michigan, the school she always thought she would attend. 
While some might wonder what could have been if she had become a Wolverine, Showers said she'll be thinking about all that she's done at OU.
"I think it'll be a great time to just reflect on everything that's happened the last four years," Showers said, "and just smile knowing that it's made me who I am."
Ultimately, Showers says she hopes she's leaving behind a legacy of inspiration. In the estimation of her friends and family, she's definitely accomplished that feat.
"I think everyone should strive to be as humble and as kind as Bre Showers and just find the joy in each situation of life despite the situation that you might be in," Fischer said. "I think she's a true inspiration in that way."