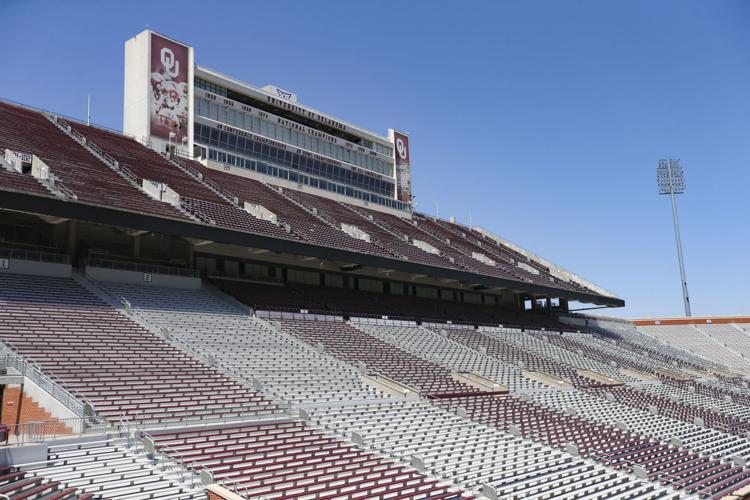 Dewey Selmon and his wife, Kathryn, had no problem finding parking one April morning on normally packed Campus Corner.
The couple have recently found themselves walking around OU's campus not only to exercise, but to seek some sort of normalcy during the pandemic that has devastated our world.
On this particular day, Dewey and Kathryn walk south down Jenkins and through Heisman Park, across from Gaylord Family-Oklahoma Memorial Stadium. The two are alone. No cars. No people. Just them and five bronze statues — Dewey studying each as they walk by.
First, Billy Sims, who played alongside Dewey in 1975, then Steve Owens, Billy Vessels, Jason White and, finally, Sam Bradford. Empty plots flank each end, waiting for statues of Baker Mayfield and Kyler Murray coming soon. Dewey, along with his brothers Lucious and Lee Roy, will soon be immortalized in bronze, too, as a statue of the trio is set to be unveiled at the north end of Heisman Park in fall 2021.
As Dewey and Kathryn reach the end of Heisman Park, they pause and gaze through the gates on the east side of the Palace on the Prairie.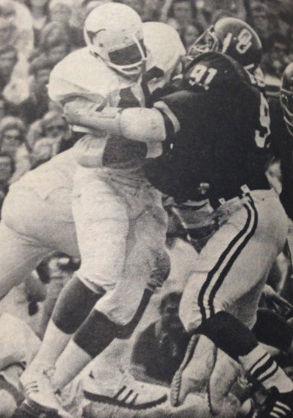 "It feels —" Kathryn said with hesitation.
"Lifeless?" he questioned.
"Lifeless," she answered.
Dewey, a standout defensive lineman at OU from 1972 to 1975, understands the tradition that lies just out of reach on the other side of those gates. He lived it. And he couldn't imagine living without it.
"There would be a big void at OU without football," Dewey said, contemplating what-ifs. "It would be a big void for the whole state because it's been such a big part of our Saturday afternoons from August to the rest of the year. It'd be something totally different. It'd be a complete rework of the mind and the landscape of this whole state to go a year without OU football."
As summer quickly approaches and sports remain on pause, Dewey's fear is not an impossibility. Many worry the 2020 college football season may be in jeopardy or, at the very least, look completely different from years past — whether that be with no fans, a spring season or both. There is reason for optimism, though, with interim OU President Joe Harroz having announced the university intends to have students return to campus this fall, which would be a major step in the right direction for college football to go on.
Anyone and everyone has offered their opinion on what should happen next season. Athletic directors, NCAA officials, coaches, players, fans, media and even the president of the United States. But no one actually knows yet.
Instead, many sports fans have pondered what Saturdays in college towns might look like without football. In many ways, both Norman and the University of Oklahoma were built on football, making the Sooners one of the blue bloods of the sport. George Lynn Cross, who served as the university's president from 1943 to 1968, famously once said, "I would like to build a university of which the football team could be proud."
There's only one Oklahoma, as they say, but what happens if Oklahoma has no football?
For the past few weeks, I asked Dewey and other former Sooners that question, seeking some much-needed perspective. And much like they did years ago on the field, they delivered.
"It's just going to be a growth pattern as to what each individual is going to do with that allotment of free time," said Dewey, a native of Eufaula, a working-class town of around 3,000 people in eastern Oklahoma. "And what I'm hoping that would actually happen in this state — because we're used to winning — is that if we didn't have football, the people and universities would find something else to fill that void that would make it productive and good. Because if you're going to win with football, you've got to win without it.
"The people would have to rise up, and whatever we decide to do, we would be good at it. That's the way we were raised. That's what we do."
The following quotes, which have been edited for clarity and length, are from 18 former players, coaches and one athletic director covering a span of 50 years of Oklahoma football. You can also listen to the podcast paired with this story on Spotify or on SoundCloud below. 
Chapter 1: Death, taxes and OU football
Like everyone, many former Sooners — whether they're now lawyers, politicians, health care executives, stockbrokers or retirees — have found themselves stuck at home. But not even a pandemic can keep legendary former OU coach Barry Switzer inside. He has to have his Sooner Nutrition smoothie for lunch each day.
Barry Switzer, OU head coach 1973-88: It's protein, and it's just herbal. It's a Herbalife shake and it replaces my lunch. … That's the only time I leave the house. I've been working at home. I work at home every day. I guess I'm safe. I haven't taken a test. My doctor said he'd give me one if I come. He'd come outside and give it to me.
Joe Washington, OU running back 1972-75, now executive director of Varsity O: We're hunkered down here in Maryland. … It's a pretty tough situation — trying to, of course, keep things as normal as possible. I'm doing a little babysitting every now and then with my grandbabies. So that's probably one good part out of it.
Trent Smith, OU tight end 1999-2002: My family's great. My wife has been teaching the kids at home, and I think they're probably learning more from her than they were in their public school. So that's exciting to see. Lots of good family time. But it is possible to have too much of a good thing.
J.C. Watts, OU quarterback 1976-80, former U.S. representative for Oklahoma: I suspect when this is all over, my wife's going to announce that she's running for Congress to get away from me.
Some have experienced the virus up close and personal, including Smith, who is the CEO of Accentra Home Healthcare in Edmond.
Trent Smith: No surgeries are taking place. So a lot of our patients — we were unable to get to them, but over the last couple of weeks things have really picked up.
Jamelle Holieway, OU quarterback 1985-88: It's kind of hit down here in McAlester. We live by a nursing home. And I know a couple of people working there.
Brent Burks, OU offensive lineman 1980-84: It's a tough spot all the way around because people that sit right next to me at the games — Bob Naifeh, he's an attorney, and his wife, Carol — they've sat with me (at OU football games) for 35 years now, and he had heart surgery last summer. ... It's sad, he succumbed to the virus a couple of weeks ago. So it's definitely tough on a lot of families. Football's certainly important in Norman.
Burks is right: Football is important in Norman. Football has shaped the college town into what it is today. Without it? Well...
Grant Calcaterra, OU tight end 2017-19, newly registered EMT: I really couldn't even begin to think about it. I think the beating heart of that town is OU football.
J.C. Watts: What if you don't have OU football? That's a pretty scary thought … in Norman … a city that's football-prominent — it's actually a sobering thought.
Obie Moore, OU linebacker 1973-77: It's just kind of like taxes and death. You can always sort of rely on a great diversion of Oklahoma football from life.
Bobby Warmack, OU quarterback 1966-68: I couldn't even imagine a fall without Saturday football in Norman and all the activities that go on there. But with what we've experienced up to this point, the last four weeks, nothing would surprise me.
Bud Hebert, OU defensive back 1975-79: I would say it'd be crushing. I would say it would be crushing to America, not just OU fans.
Dan Cody, OU defensive end 2000-04: I can't imagine the smell of fall, the air when seasons change, that smell of football. You know what I'm talking about. No matter what level. Pee-wee. High school. Collegiate. NFL. In middle to late October, when those seasons change, if there's no football … it's going to be shit.
Trent Smith: It's better to die than live without your soul. The entire game day experience — and I didn't realize this when I played — people come to watch the game, (and) it's just an excuse to be together and all have a common interest and all feel like you're a part of the same big thing. Winning is great also, of course. But I didn't realize until after I was out of college that game day is not for the players. Game days are for the fans. And without the fans, there is no game day.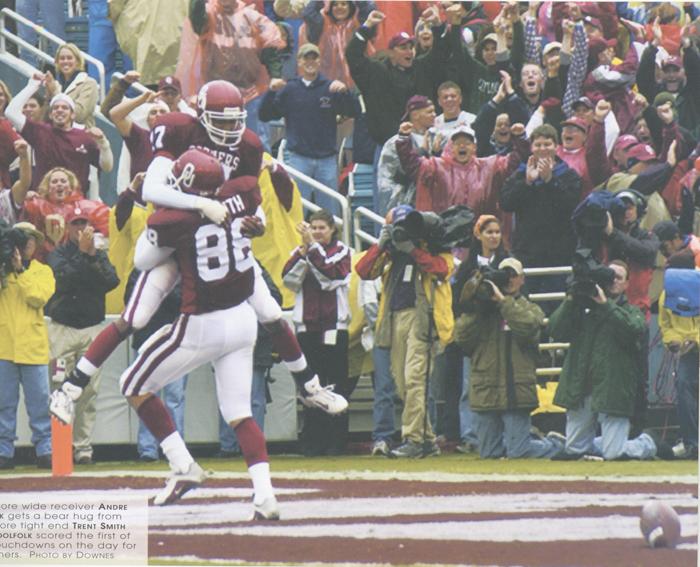 Bronson Irwin, OU offensive lineman 2010-13: People get in fights about wedding dates and things like that over football season. Going to Norman on Saturdays in the fall here is a lot of people's church.
Jerry Pettibone, OU halfback 1958-61, now oversees Sooners helping Sooners: I've been around Oklahoma football for a long, long time. And it's such a big part of so many people's lives that it's going to be really weird if we can't have a season, or at least a part of a season.
J.D. Runnels, OU fullback 2002-05: OU wouldn't look anywhere near the same. Rush Week wouldn't look anywhere near the same. Friday nights, Thursday nights wouldn't look the same. … It would look totally different. Businesses would hurt. I would hate to see that for Norman just because there are a lot of businesses that rotate around guys playing football on Saturday.
The financial impact was a topic nearly every former player brought up. As former student-athletes who spent their college years in places like the original O'Connell's and saw Campus Corner grow into the hot spot it is today, the economic decline has been on most of their minds.
J.D. Runnels: There's a lot of people that make a lot of money on those six games that are at home. … Think of yourself as a restaurant that's saying, "Hey man, I need to make 10 grand per game. I need to make 60 grand next year on game days." That's getting cut into half or into thirds.
Dan Cody: They lost millions canceling the NCAA Tournament. … If you were to ask me what the college football season is worth — I couldn't even imagine what that number would be.
Jerry Pettibone: How's the athletic department going to survive financially? It's a multimillion-dollar thing. All the donors, season ticket holders, the suite holders, all that money's not going to be there.
Joe Castiglione, OU athletic director since 1998: Because we've been working on models around some level of football, short of no football at all, it is a daunting exercise — an experience to go through all of that type of forecasting, planning should such a situation occur. But that's the right thing to do, regardless of how difficult it might be. We have to lead. We hope many of these models aren't necessary, that we can throw them in the trash … but we have to be ready for the new normal.
Bronson Irwin: The question is, are people willing to sacrifice maybe going to the games in order for there to still be a season if they were to do games with no crowds? How much are people willing to bend, on the fan side of it, to get the season played? Obviously that opens up even more problems as far as loss of revenue from game days and things like that.
Jay Wilkinson, son of former OU coach Bud Wilkinson: All this would be a tremendous adjustment to all of us because I think that people have been so accustomed to the world of sports in our country, and we're so dependent on it.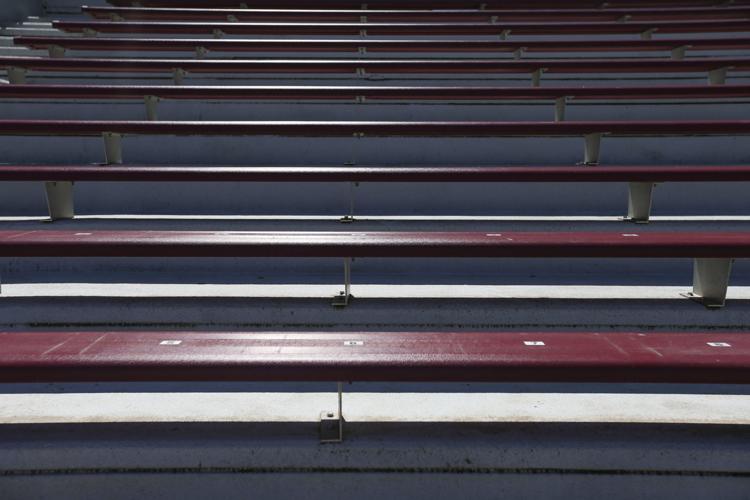 The reality that college football will very likely look different in 2020 has begun to set in. For some, it's still unfathomable. For others, like Switzer, they're just taking it day by day.
Barry Switzer: They were talking about reopening in May, and if we get it open by May, it'll get back I'm sure. But I don't know. Shit, you have to wait and see. Shit, if we don't have it, we don't have it.
Merv Johnson, OU assistant coach 1979-97: You realize that will be a difficult thing to do because you continue to add more people to a problem every day … and if there was a situation where (football) leaves you, everybody's going to be crushed.
Jay Wilkinson: I'm beginning to condition myself to the fact that (not having football in the fall) could very well and very likely become a reality until we somehow develop a vaccine or some type of better information about people that are infected with the virus. It's difficult for me to contemplate 80,000 people or 90,000 people sitting together in a stadium.
Joe Washington: It's unprecedented, of course. … I think that's definitely in the cards to postpone it. It'd be a little different and it'll be a little weird, but I think it would be the right thing to do, especially if we don't have this under control.
Bobby Warmack: Thinking about having one in January or February would be great. … Maybe they play an abbreviated schedule in February, no nonconference games are scheduled, conference games only and that type of thing. But let's hope it doesn't come to that.
Brent Burks: We got to really — for 19, 20, 21-year-old young men — experience something that most people dream about … I can tell you that would be kind of a bit of a letdown if you didn't have fans. That's what makes college football what it is.
Dewey Selmon, OU defensive lineman 1972-75: I think it'd be something that the first month and a half, the players, the coaches and the administration and the whole state would have to mentally adjust. It takes that long to just mentally adjust to that kind of change because I've been through it before when I left the NFL. And then for the players, they've got to physically adjust because their body is already fine-tuned come that time of year they're playing. And this time, if they're not playing, their body is going to be telling them, 'Man, you're supposed to be working out,' and it's not working out. That's going to be totally strange.
J.C. Watts: I think sometimes we do take life for granted. We take friendships for granted. We take family relationships for granted. We take Oklahoma football for granted.
Chapter 2: Leaving it all on the field
Most universities are operating online-only this summer and hoping to be back in person in the fall. In OU's case, Lincoln Riley said on March 31 if players weren't on campus by June, it could be telling. OU subsequently announced the suspension of all in-person events on campus through at least July 31. It all complicates how quickly players could return and get in game shape ahead of OU's season opener against Missouri State, scheduled for Sept. 5.
Jay Wilkinson: I remember vividly when president John Kennedy was assassinated, and probably 98 percent of the teams (canceled games). Almost every school did. Oklahoma and Nebraska played. And part of the reason was my dad was very close to the Kennedy family, and he approached them and they said the game should go on. And that's what the president would have wanted. I think that's not a good metaphor for this particular situation. And I think the most important thing is I think my dad would have been very willing to adjust to whatever circumstances are there.
J.C. Watts: Dealing with this virus is no different than a good defense trying to defend an offense. You collect data, you know the personnel, you know what they like to do on first down, you know what they like to do on third and short, if they go for it on fourth down ... and so this virus is no different than Coach Grinch trying to figure out how we're going to defend versus Oklahoma State. You collect that and you look at the film. And that's what they're doing now.
Merv Johnson: When can you go back to work and get the team back here?
Johnson brings up an important point: When players can get back in the weight room, in the film room and on the practice field will likely determine when or if the season will be played.
Bronson Irwin: I think that's the biggest — aside from obviously whether or not the season happens or not — to me that's the biggest question mark. The biggest variable is talking about players that haven't been truly preparing and training since the first or second week of March and then rolling into a game the first week of September. What's the product going to look like?
Dan Cody: Idle hands in the devil's workshop, brother. You know what I'm saying? For me, I was a slave of the routine, in a good way. I did my best work when it was 24/7. I guarantee you coaches are nervous trying to keep this deal together.
J.D. Runnels: If these guys aren't working out by June, things are definitely getting pushed back. If they're not working out by June 1, they're not going to be playing in September. They're going to be playing in October. They've got to have two solid months of training before they get out there and go do that. So, we're close. We're cutting it close.
Joe Washington: I can promise you that they've got a schedule. They just need to follow that schedule. ... I'm pretty sure they can go find a field, get their running in, isometrics, go a little bit old school, do some of the things that we used to do, and I'm pretty sure they're good enough for our athletes and conscientious enough and have enough pride in themselves and make sure that they take care of the body.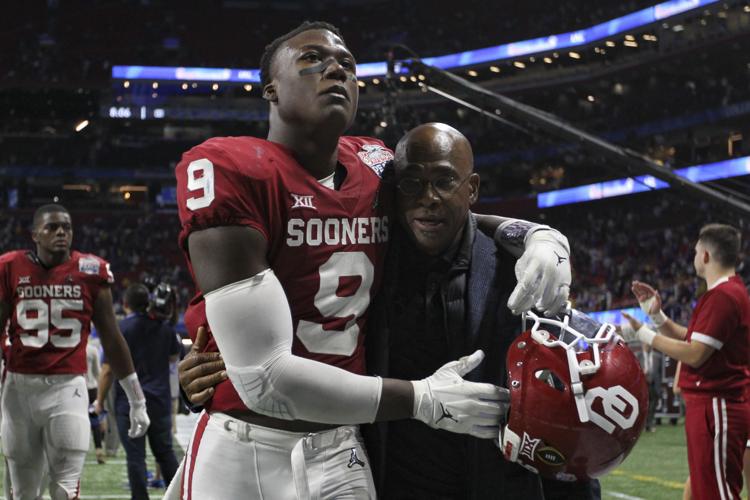 OU strength and conditioning coach Bennie Wylie has done his best to keep players in shape, posting at-home workouts on social media and sending players helpful training equipment like bands and dumbbells. His predecessor was Jerry Schmidt, who served in that role at OU for 19 seasons.
J.D. Runnels: We had Schmitty back then, and when you're out of school and you're not working with him, you don't want to do anything … "I don't want to do anything because Schmitty is going to be there, so I ain't gonna be drinkin …" But now it would be like, "I ain't gonna see him for at least a couple more months, so I can worry about him then."
Bronson Irwin: Even if they are working out on their own, there is no way that they will be prepared at the level that they normally are just from being on campus. … It certainly won't be the same. So even if we do have a season, I wouldn't be surprised at all across the board if we see — I don't want to say a lesser product, but we see athletes that aren't in the same type of physical condition that we're used to seeing.
Bud Hebert: You just can't sit around for a couple of months and think at age 18 or 22, you can turn it on. Ask each other, what did you do today? How much did you work out and how much weight did you lift and where'd you run?
J.D. Runnels: Junior and senior year, I would have organized some team stuff or I would have used the Zoom that everybody's using. I would make sure that everybody is doing their workout. Make sure that everybody's catching balls. And make sure that we're doing stuff to keep blocking and doing all of our drills.
Grant Calcaterra: Everybody who's an athlete is kind of just sitting at home, and a lot of them aren't taking advantage of it. ... I think this is a time where you can separate yourself as an athlete, as a student. So I think it would be a big opportunity to work on something that maybe isn't your strong suit and perfect a craft.
Jerry Pettibone: Just stay the course. We're going to get through it. … You can only control what you can control. And that is continue to work out, continue to stay in shape, communicate with your coaches, with your teammates, and wait and see what's going to happen. That's really all you can do.
But above all, even more than working out remotely, the biggest piece of advice most would give to players today is: When the time comes to play again, play like it's your last.
J.C. Watts: Leave everything on the field. I think that probably will have more meaning, hopefully will have more meaning to players not just at Oklahoma, but players all over the country. Leave it all on the field simply because you may not get back on the field.
Jamelle Holieway: Cherish the memories. Make sure you document stuff. This is a historical time in everyone's life. Document it, put it on paper, and be ready for it to come full circle. You look at those kids who didn't have a chance. The basketball players. The baseball players. Most of those guys didn't get a chance to finish their careers. You don't get to relive this, so cherish it while you have it.
Grant Calcaterra: Eventually football ends for everybody. It just ended for me earlier than it should have … so no matter how frustrating or difficult or monotonous it may seem, I bet you everybody who's ever played the game will tell you that they wish they could go back. Enjoy it.
Obie Moore: Each day is a gift. Don't let go of your vision, your hope, your future, even if somehow this football season gets canceled or truncated or postponed. And don't lose sight of your teammates. Stay connected to your brothers. Support each other, nurture each other through this difficult time.
Chapter 3: Sit still, Sooner Nation
As Moore says, staying connected with former teammates and coaches is part of the tradition at OU. It's a brotherhood — even decades later. The memories they made is what means the most to them today.
Bud Hebert: I'm thankful for Coach Switzer because he's part of the reason — he's kind of kept us all together. There will never be another guy like Coach Switzer. His memory is still phenomenal. He helps you anyway he can. Every time I get back to Norman for a game, and I've got some friends or family or someone over, he takes the time to meet, and certainly with (former) teammates. It's given us a chance to reflect and talk a little more.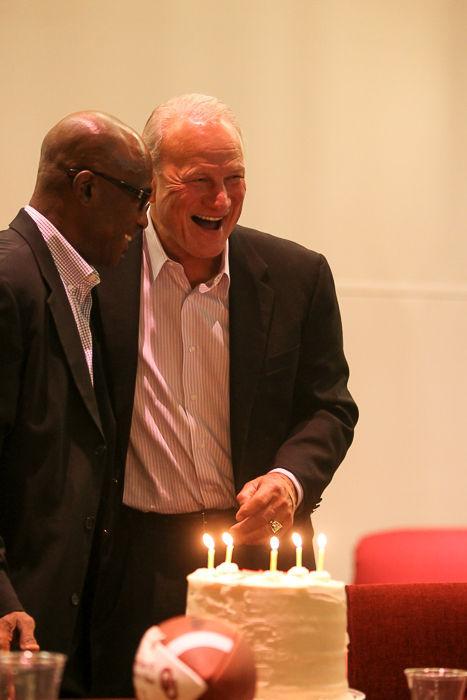 Barry Switzer: My favorite part of it? It was the players. The relationship with them. It wasn't championships or anything like that. Bowl games, big plays in games. It was simple: just the relationship with your players, the memories you got with them.
Obie Moore: It's still something that — even a guy like me that has been away for so long, but it's still like everybody from my days at Oklahoma that I've picked up with — it's like I just saw them last week. Even if it may have been 10 years since I've seen somebody or talked to somebody.
Bobby Warmack: The teammates and the guys, the friendship, the camaraderie that we all had.
Brent Burks: All my life I just grew up wanting to play there. All the guys have played there before, and since there's just unbelievable tradition and an unbelievable group of guys. A lot of the Varsity O things that we do, meeting a lot of those guys both younger and older has just been a true joy.
Bronson Irwin: You miss being around the guys. You miss those memories of just hanging out with each other and being around each other constantly during the season or training camp and just having that close-knit group of friends. That's something that doesn't necessarily carry on for forever as people move off and start families and get married, and people go back where they're from or move to places for work.
Jamelle Holieway: I can remember walking when I first got there. And one of the first people I got to be around was Rickey Dixon. And how he would always play his music in his room and it was always loud.
Trent Smith: I just remember dumb stuff like the first time I ever worked out as an OU football player. It was me, Rocky Calmus and Frank Romero … I just remember thinking like, "Oh my God, I'm an OU football player. I'm working out with other OU football players. Like, I did it."
Brent Burks: Oh, my favorite memories are just my teammates and camaraderie. I've stayed very close friends with a lot of those guys. Some of my very best friends, some of the best people I've ever been associated with, we're still friends to this day. I know everybody still has each other's back just like we did when we were on the field. Certainly I miss the coaches, Merv Johnson, Charley North, Coach Switzer, Lucious Selmon, all those guys who were our coaches, just near and dear to my heart. Even Mack Brown ... I have stayed really close with those people and I just wouldn't trade any of those relationships. … I think, even reflecting back now, I think those relationships probably meant more over the last 35 years than the years we were able to play together.
Jerry Pettibone: OU football means a great deal to me. I never could have received a college education unless I was on scholarship to play football. So the fact that Coach Wilkinson offered me a scholarship to come to OU and to play and to get a degree, that was huge in my life. … I just want what's best for this school. I met my wife here when she was a student and I was a coach. This is where our daughter was born, at the hospital here in Norman. And so a big part of my life has been a part of the University of Oklahoma.
Grant Calcaterra: It meant and still means a ton. There's not a day that goes by where you're not kind of reminded of that phase in your life. There's a lot of good memories, a lot of learning lessons. It definitely puts you a step higher in terms of opportunities down the road. There aren't too many people that can say they played on championship-caliber teams and competed for championships every year. I was lucky enough to be an impact player, win some awards, score a bunch of touchdowns and whatnot. At the end of the day, like after college, you're really working on your professional life and being able to be a part of something like that definitely sets you apart a little bit.
J.C. Watts: At Oklahoma, there was just an air of expectancy. ... You're expected to win the Big Eight championship. You're expected to compete for national championships. You're expected to beat Nebraska. You're expected to be in the Orange Bowl. And so when you were not … when you didn't win that Big Eight championship, when you didn't beat Nebraska ... when you were not in the Orange Bowl, when we were not in a national championship game, it was daunting to us. It was painful for us. But you enjoy playing in that type of an arena where your fans expect you to win … that air of expectation has served me well in everything that I've done.
Dewey Selmon: My teammates. And the whole atmosphere of playing in front of the Sooner fans. I mean, winning the games are definitely important and the trophies and the rankings that come with it. You're part of them, and you're part of a winning tradition, and you do it because ... it's bigger than you. Trust me. You'd step out there, (and) that game and that team is bigger than you. ... You work out to honor it and you work out to play for it. You work out because the whole goal is to be successful. I just loved everything about that game when I was at OU. Everything about it, I loved it. I loved the workouts. I loved the coaches. I loved the fans. I loved my teammates. It even got to where I loved the team I was playing against because I wanted to beat them.
Joe Washington: I think it makes you overall appreciate it a little bit more. I always try to get in touch with a lot of our guys and friends of course. And of course, at every reunion that we do have, I always tell our guys, "Whether you get a chance to talk to them or not, just call and say hello, just call and text or something." And because of things like this, it is more evidence for the reason for you to do that even more.
Joe Castiglione: Oklahoma football is a part of the fabric of this state. It's not just a sporting event. It is definitely a unifying force. … I guess in an eerie way, it may be a difficult time for a while, but it can also lead to a reawakening once it returns. If we were to face a season without football, I think the idea that it will re-emerge will create hope. People will look forward to the day it returns. … If we do our part to stop or slow the virus, then we have done our part and given ourselves the best chance to see Oklahoma return again with a vengeance.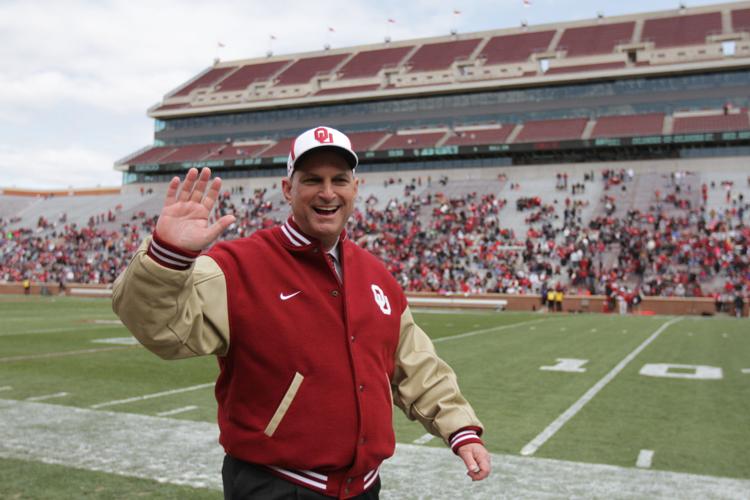 COVID-19 has allowed these former Sooners to reminisce about the glory days and catch up with old teammates. It's also allowed them to reflect on life and all the lessons football has taught them, including living in the moment — even if that means living without football.
Jay Wilkinson: (My father) was a big believer that sports give participants an opportunity to learn and to grow and to develop long after they leave college. And so I think that he was always very good at adjusting and accepting the reality of life. And I think that, being a realist as he was, that whatever was presented, he would accept it and go forward pretty much with whatever conclusion was reached.
Joe Castiglione: People have a choice. We choose to stay positive, keep the faith and be prepared to face the challenges, and know we'll come out on the other end in good shape. That is always going to be our mindset. Period. Whether we have a season start on time, play 12 games, or if we have the most severe of circumstances.
J.C. Watts: I think it's caused all of us to take a step back, take a deep breath and think about how this could alter what we have really taken for granted through the glory days of Bud Wilkinson and Jim Mackenzie and Barry Switzer and Chuck Fairbanks and Bob Stoops and now Lincoln Riley. We've just been so used to being at Owen Field, Memorial Stadium every fall. But now we're having to legitimately and honestly play the what-if game.
Obie Moore: I lived 20 years in a post-communist country in Romania and worked throughout all that region, and people there were more accustomed to this type of shutdown to life and requirement of not expressing your liberties and freedom. I would just say take nothing for granted. And that as much as we love Oklahoma football, there is more to life than football and sports. These are clearly diversions for all of us, and there's a bigger picture to life. And I think what I'm sort of feeling (is) fully recognizing this is a delicate planet that we live on and that we inhabit.
Dewey Selmon: Oklahoma, even this university, is being a part of a solution. As much as people want to get back to that school, as much as OU football wants to be practicing and getting ready, they know they can't. It's a part of a solution. And I'm really hoping that solution comes fast for not just Oklahoma football, but for this whole state and country. So if we've got to be housed in place and protect ourselves to protect the ones who are taking care of the sick, then I say …
Sooner Nation, sit still and think about those things that are truly, truly good.
Epilogue: Walking … away
Like Dewey, I've recently found myself going on long walks.
I walk with my dad, who played for the Sooners from 1982 to 1984. We try to walk at least 3 miles a day, sometimes more if we're feeling extra healthy.
My dad is an excellent storyteller, which often leads to him retelling old college stories on these walks. Like the time Switzer asked him to light his cigarette during the 1983 Kansas game, or the time he, Brian Bosworth, Tony Casillas and a dozen other players got stuck in an elevator at the 1985 Orange Bowl, or the time he met my mom while playing poker at the original O'Connell's.
These are the types of stories I grew up on.
I learned the names of Sooner legends: quarterbacks Owens, Mildren, Watts, Holieway and Heupel. Running backs Vessels, Washington, Sims, Tillman and Peterson. Receivers McDonald, Shepard, Jackson and Clayton. Defenders Selmon, Dixon, Bosworth and Williams. And, of course, Bennie, Bud, Barry and Bob. I memorized the accolades: 49 conference titles, 29 bowl wins, seven Heisman Trophy winners and seven national championships. And I sat in section 32, row 9, seat 8 for some of the most memorable games: 2007 Missouri, 2008 Texas Tech, 2012 Bedlam.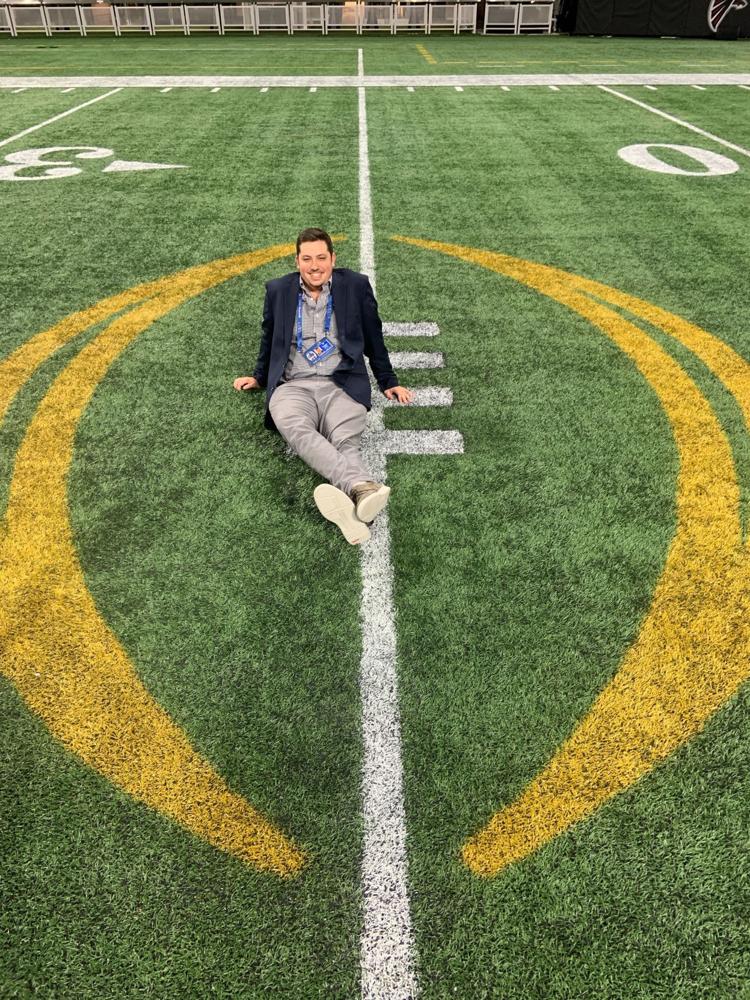 These last three years, I've seen a different side of OU football. I put away my childhood fandom and followed my dream of becoming a sports journalist, covering the team for the school newspaper. I joined a different team of sorts, and I shared experiences of camaraderie, hardship and resilience. I interviewed Heisman Trophy winners, covered College Football Playoff games and, more importantly, landed internships that have me ready for life after college.
In many ways, both as a kid and young man, OU football has shaped who I am today.
Next year, I'll miss my first home OU football game since 2004 — whether there's a season or not, whether there are fans or not. I graduate from the University of Oklahoma next week, and I know that OU, and the people who make it special, have prepared me for whatever lies ahead.
No, I don't know what OU, Norman or Oklahoma would look like without Sooner football.
But what I do know is this: Oklahomans are resilient. Football, by definition, demands resilience. It's about digging deep when you think you have nothing left, standing up when you're knocked down and uniting when you feel alone. Perhaps this is why we love it so much.
Whatever comes next — football or no football — we'll be ready. Because, like Dewey said, that's what we do.