Two-sport athlete Ashlynn Dunbar stood in front of Evans Hall Wednesday afternoon with a megaphone and a message after leading over 400 of her fellow student-athletes around campus. Her message was a call for the community to join her in her fight against racial injustice.
"Today as student-athletes, a community and a family march united in support of the fight against social injustice," Dunbar said, "we are committed to creating an inclusive environment where all voices are heard and respected. Today isn't just a moment, it is one small step of a movement that we must continue to be catalysts in.
"Black lives matter, and I appreciate all you guys coming out today and showing your support."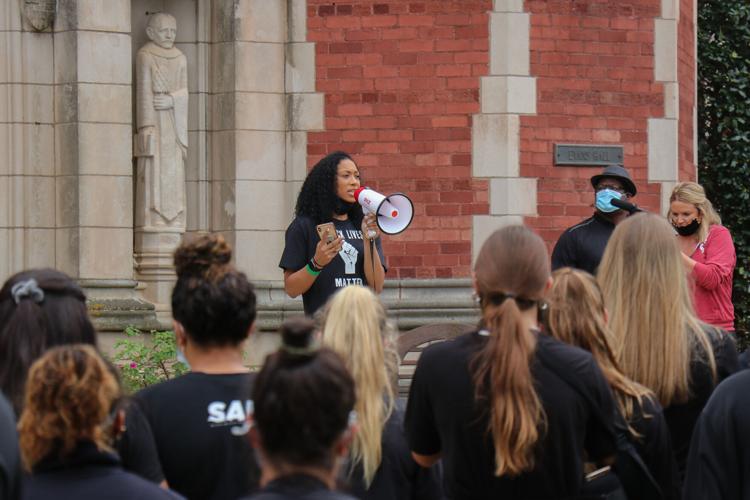 Starting at the Prentice Gautt Academic Center, the majority of the OU student-athlete body marched south on Jenkins Avenue, west on Lindsey Street and made a circle around campus for OU's Unity March, promoting awareness of social injustice and specifically police brutality against minorities. Dressed in black, student-athletes walked side by side and chanted "Black Lives Matter" and "No Justice, No Peace," all led by Dunbar's megaphone.
"The first thing that was obviously evident was the enormous turnout," said OU athletics director Joe Castiglione, who was present in the walk. "It really showed a lot that the student-athletes came out for each other, primarily, but also for their fellow students. 
"To hear the way that our student-athletes are engaging with each other, the greater understanding that is taking place ... it's not only being a part of activities like this, but taking it another step. Many of them are now engaging with aspects of the community or areas of our society where they can be part of a change, whatever that might be. It might be something around civic engagement, it might be something around education, it might be something around social responsibility or social intelligence. It could be really something that touches (our) lives in one way, shape or form."
Athletes all over the country have started using their platform after the deaths of George Floyd — a Black man who was killed by Minneapolis law enforcement for a nonviolent crime, Breonna Taylor and many others who have suffered because of American law enforcement. Multiple Sooners were moved to action after these events. 
The walk was led by Dunbar, who has been one of OU's loudest voices when advocating for social justice. While also being vocal on social media, Dunbar made an appearance as a guest speaker in the public webinar "The Voice of the Black Student-Athlete," where she spoke on her experiences of being a Black student-athlete at OU.
If you don't support me here, then do NOT and I can't stress this enough...support me here. pic.twitter.com/4CoNMMwFce

— Ash (@Shlynn23) June 2, 2020
Among the marching student-athletes was Sooner defensive back Chanse Sylvie, who's been another key activist for the Black Lives Matter movement in the Norman. In an interview with The Daily in June, Sylvie spoke about creating a coalition and teaming up with like-minded individuals for creating positive change and provoking police reform, a decision inspired by Floyd's death.
"I feel pleased just to see everyone's dreams and fruitions come true," Sylvie said, "we can just work for a better community, the OU community. And us as athletes, and just gathering together and just making change, just seeing that today, that was a good thing to see."
Sylvie has been successful, as he's held meetings with Norman mayor Breea Clark and Oklahoma House Rep. Emily Virgin in his efforts. Dunbar and Sylvie are just two of many other Sooners who have spoken out against racial injustice in America since June.
"It was a good thing to see an idea that our student-athletes put together come to fruition," said Brenton Sumler, OU's Director of Student-Athlete Wellbeing. "A lot of times, people don't see the student-athlete as something outside of their sport, and this is something dear to both of them in regards to life. (Dunbar), as you know, has been at the forefront of a lot of these movements, even when this started early this summer, and she's kept her foot on the pedal to bring awareness and she's bringing knowledge to some of the injustices that's going on in the United States.
"And (Sylvie) is the same way. It pins back to when he wrote the op-ed about what's next. That's the biggest thing for our student-athletes, they want to do what's next."
Since the beginning of the fall semester, OU Athletics has listened to its student-athletes when it comes to promoting social change. On Aug. 28, the OU football team walked out on campus and held a Unity March in the South Oval, led by Sylvie, head coach Lincoln Riley and center Creed Humphrey. In OU football's season-opening win over Missouri State Sept. 12, the team wore patches above the Big 12 logo that read "Black Lives Matter" and "Sooners For Humanity," created by the Sooners themselves after the Big 12 announced social justice patches can be worn this season. 
These demonstrations will continue throughout the year. In an interview after Tuesday's walk, Castiglione said each sport will have its own "Unity Game" where players can use their platform during the game to promote social justice. The patches worn by the football team Sept. 12 will be worn by the athletes in other sports as well.
"They're all trying to take a moment where the ideas that get talked about actually turn into an actionable step," Castiglione said. "That's probably the biggest takeaway.
"Seeking first to understand and getting people to have those conversations, sometimes they aren't easy ones to start, but they're the right ones to continue."