In a meeting of almost 900 other NFL agents, Kelli Masters stood out as one of the few women.
It was her first NFL Scouting Combine as an agent, and as she was preparing to break into exciting but unfamiliar territory, Masters was approached by a successful male agent for some unsolicited advice: She didn't belong there, because women never make it as agents. 
Masters said she would prove him wrong.
Four years later on April 22, 2010, she did.
That was the night of the NFL Draft, and Masters was representing former Sooner star Gerald McCoy. It came time for the third overall pick, and McCoy's name was called, drafted by the Tampa Bay Buccaneers.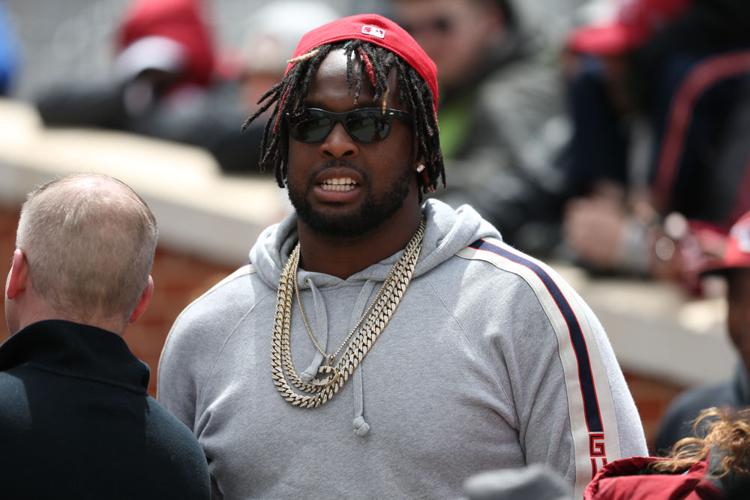 During the hustle and bustle of the event — taking care of McCoy's family, making sure they got on stage for the pictures and simply doing her job — Masters didn't think once about it being "her moment." 
"It wasn't something that was about me," Masters said.
Yet she had just made history as the first woman to represent a top-five, first-round draft pick and only the second woman to represent a first-round draft pick at all.
In a male-dominated industry — last May, according to the NFL Players Association, 41 of 795 NFL agents were women and only 21 of those had a client on a current NFL roster — Masters has been making waves for almost two decades now. Through her Oklahoma City-based agency KMM Sports, Masters has not only made history but created a family atmosphere not seen in other agencies.
In the 2020 NFL Draft, Masters is representing Mason Fine, quarterback from the University of North Texas; CJ Sanders, wide receiver from Southern Methodist University; and Jaylin James, wide receiver from the University of Northern Iowa. Masters said the "nuts and bolts of the draft" will remain the same despite the virtual aspect due to the COVID-19 pandemic. 
Through regular well-being checkups, Zoom calls and veterans sharing wisdom and advice with the younger players, Masters said the pandemic has brought her client family closer than ever before.
"I say this pretty proudly," said Tress Way, Washington punter and Masters' client since 2013, "just to kind of really boost up what Kelli does: I can confidently tell you that I don't know of anybody in my locker room that has (the same) kind of relationship with their agents."
'We would have signed with you'
Before Masters' career as an NFL agent, she went through several career changes, and her "dream" changed over time as well.
When Masters was a young girl, she and her twin sister dreamed of becoming the baton twirler during OU's halftime show.
"The twirler at halftime just captivated me," Masters said. "She's out here in a funny costume and she's throwing her batons in the sky, and everyone's cheering. I just thought, 'That's what I want to be. I want to do that.'"
A person had to have national recognition to be considered for the OU twirler spot, so the competition was on. Masters' mother became the twins' daily twirling coach, and they practiced 4–6 hours a day. The twins attended a Tahlequah twirling camp a few summers in a row, where they connected with the OU twirler at the time and ended up driving to Norman to take lessons from her.
When Masters was 14, she won her first national title. She later became a world champion in baton twirling, all to secure her spot as OU twirler in 1991.
When it was time to audition, the Masters twins tried out against each other, knowing either one or neither of them would get it.
"And I remember that day thinking, how I do today is going to determine what my life looks like because I'll either be twirling for Oklahoma, fulfilling my dream, or I'll be moving to a different state," Masters said. "I just realized the gravity of the situation, that this is my entire life goal ... and if I don't get this, it's going to change the way the rest of my life works."
A few weeks later, the twins were called to the principal's office of their high school in Midwest City. They were told OU's band director had called and wanted them to come to Norman to talk to him.
Masters recalls the heavy silence between her twin and herself on the half-hour car ride, as the two had no idea what news they would soon hear.
Thankfully, it was better than they had ever hoped for. They were both OU's future twirlers.
"The ultimate goal was being a twirler for OU, and my sister and I achieved that," Masters said. "It was the experience of a lifetime."
After getting her bachelor's degree in journalism from OU, Masters decided to continue on to law school.
While working in litigation and nonprofit law for Fellers Snider law firm in Oklahoma City, Masters began doing legal work for former NFL players and helping them out in the creation of foundations.
She hadn't worked in the sports legal world before, but one former player's mother said something that caught Masters off guard.
"Where were you at the beginning?" the mother said to Masters. "If you'd been an agent, we would have signed with you."
'I had found my calling'
Becoming a sports agent had never crossed Masters' mind as something she wanted or was supposed to do, but she couldn't get the idea out of her head once that mother put it there.
Like any good lawyer, Masters began doing as much research as she could. For months, she talked to anyone and everyone she could get a hold of and gathered all the information she would need about the world of NFL agenting.
"After about a year, I realized it was probably the most insane career move I could make," Masters said. "It made no sense. But at the same time, I also knew I had found my calling."
When she founded KMM Sports in 2005, Masters said there were about a dozen women who were agents, and only two or three actually had clients on NFL rosters.
Being a certified agent doesn't guarantee you clients, and it especially doesn't guarantee you will have clients that actually get signed by teams, Masters said. It's also extremely rare for an agent, man or woman, to go out on their own and start their own agencies.
"Not only is the agent business brutal and highly, highly competitive, it's also virtually impossible to start an agency and compete against the established companies," Masters said.
But she did exactly that because she knew she wanted to approach representing athletes differently from what most agents did.
As a lawyer, Masters said she was in a "protection and advocacy" mindset.
"As opposed to just negotiating the biggest deal, I look at every situation very comprehensively, almost like a general counsel of a company," Masters said. "On the personal side, I genuinely care about the person that I'm representing, not just his athletic ability."
Masters said another thing that helps her stand out from other agents is that, as a former athlete herself, she can relate to those she's representing.
"I understand the sacrifice on a daily basis to be better," Masters said. "Doing the things that nobody sees, so that when you do step onto the field, you're prepared to be at your best."
Masters was right that OU's decision would determine what the rest of her life would look like. If she hadn't gone to OU, she may never have gone to law school, become a lawyer or been approached by former football players because of her connection to OU. And that led her to one of her most prestigious clients and former OU punter, Tress Way.
Honored to be represented by @KMMsports for my NFL career! I'm pumped! pic.twitter.com/dgDIHMm3

— Tress Way (@Tress_Way) January 24, 2013
'She makes you feel like you are "The Guy"'
Dale Reneau III, director of operations for KMM and lifelong friend of Masters, said Masters' agency has an extremely high retention rate compared to most others.
Reneau said he believes the reason Masters has found so much success is the way she treats her clients.
"Every decision she makes, even from the beginning of the recruiting, is what's best for the player," Reneau said.
Way has been Masters' client for over six years, signing with her when it was time for him to enter the 2013 NFL Draft. Way said Masters is a rare kind of agent. She consistently checks in on his overall well-being, along with sending an encouraging message or prayer before every game.
Masters doesn't make you feel like just another one of the players she represents.
"With Kelli," Way said, "she makes you feel like you are 'The Guy.'" 
Way said there was a time when he was considering no longer playing in the NFL. It was 2013, and he had just been dropped by the Chicago Bears, who had signed him as an undrafted free agent only months earlier.
A job offer had come up in Oklahoma City, and Way and his now-wife were weighing the options of him moving back to Oklahoma versus continuing his career in the NFL. Way reached out to Masters for advice, and after hearing him out, she told him she still believed he could make it.
"Hey, Tress, this is how it goes with kickers and punters, you have the hardest time actually cracking the surface and getting in," Way recalls Masters saying. "(But) once you get in, and you prove to everybody what I know you can do, you set yourself up for a great long career. But you've got to withstand the battles and the adversity right now."
After talking it over with his girlfriend and family, Way decided to give it another try. The Bears signed him in 2014 but waived him again before the season started. Just two days later, however, he was claimed by Washington. He is still with them today.
In his rookie season, Way led the league in gross punting average with 47.5 yards per punt. But he may never have gone on to Washington had he not had an agent like Masters who believed in him more than he believed in himself.
'I didn't plan on being a pioneer' 
After the 2010 NFL Draft ended, Masters said there were dozens of messages from colleagues and friends congratulating her, but it didn't make the news and wasn't something she was widely recognized for immediately afterward. A few years later, Masters was contacted by the New York Times to talk about that night, about being "the first."
Masters initially declined, but she later decided to go ahead with the interview in an attempt to inspire others.
"I thought, there are maybe young women out there, people out there, that are holding back on pursuing things that they want to because they don't see anyone else like them doing it," Masters said.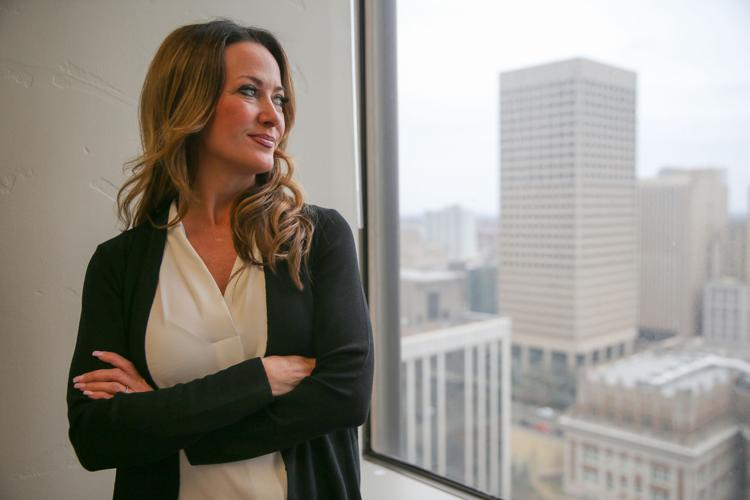 Masters said she started receiving messages from women all over thanking her for sharing her story, and she's grateful she can be a point of inspiration for anyone who is facing an uphill battle, just like she did when she walked into that room full of agents for the first time.
On Thursday, Friday and Saturday, during her 15th draft as an NFL agent, Masters won't be thinking about the night she made history in 2010 or her status as a woman in a male-dominated field. Instead, she'll be focused on her three clients who are entering a new chapter of their lives and how she can best help them along the way.
"I didn't plan on being the first anything — I didn't plan on being a pioneer," Masters said. "And yet, that's exactly what happened."