My college experience can be worn on 51 lanyards. Everywhere I went, whether it was a sideline, the South Oval, a concert barricade or even a plane, I was Caitlyn Epes - OU Daily. 
Now, I have to relearn who I am.
On May 8, I am not just (virtually) graduating from the University of Oklahoma — I'm moving on from a place I have called home for four years. That place is the newsroom inside Copeland Hall. You might not know where it is, or have never even heard of it, but I will never forget it.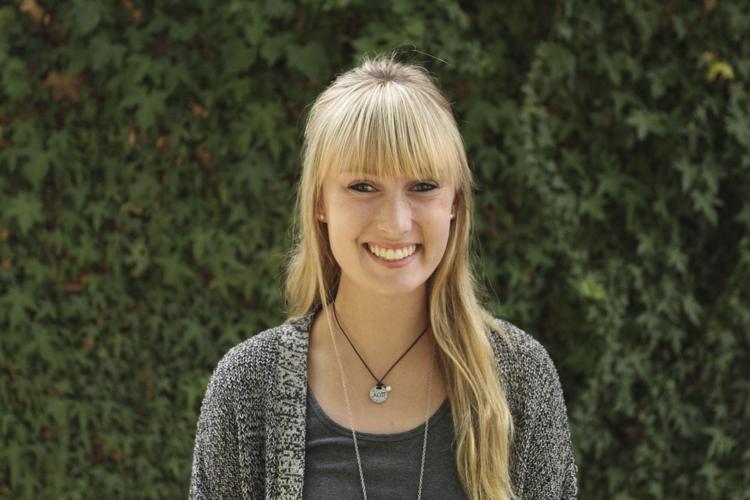 I took my first steps into Room 160 of Copeland Hall as a terrified freshman from Garland, Texas, who had no idea what to expect. Coming into college, I knew I wanted to work at the school newspaper. The OU Daily would allow me to continue my passion for photography while also "getting involved" as everyone preaches to college students. Back then, I was just Caitlyn Epes. No title, little experience and no real career goals. Walking into the newsroom was daunting at first. I didn't know anyone. It seemed like everyone already knew each other, but I wasn't sure how anything worked.
About one week after my first OU Daily staff training, I received my first assignment. I was told to go photograph a Japanese drumming club meeting. I took way too many photos and not too many good ones. But I saw Caitlyn Epes/The Daily attached to my photos on The Daily's site for the first time.
Throughout my first semester, I thought, as many freshmen do, "Is this what I'm supposed to be doing, or is this what I want to be doing?" I remember when I found my answer: OU vs. Baylor on Nov. 12, 2016.
My first time photographing OU football was the first time in college that I felt other people trusted my skills. I worked alongside my editor and had my first football photos published. All it took was one chance to prove myself on a bigger scale, and I was hooked. I wanted more.
I went into my second semester with one goal in mind: to become visual editor of the OU Daily. Four years and 8,426 bylines later, I'm not sure how to give it up.
Almost every photo assignment is different, but there was always one constant for me. I knew, no matter what, I would return to the newsroom. I cannot count how many hours I have spent at my desk (second row, middle seat), and most of the time, my nights and weekends consisted of organizing camera equipment, waiting for the server to load and listening to that godforsaken clinking metal door. 
Working at the OU Daily didn't just give me a place to go in between classes. It led me to great friends, incredible mentors, new skills and a career in sports photography.
Among other duties, being visual editor means getting to be The Daily's go-to photographer on the sidelines of OU football games. It also means that I got to travel coast-to-coast with some pretty amazing coworkers. My first year as visual editor brought me to Pasadena, California, and the next sent me to Morgantown, West Virginia. Flights to Los Angeles and Pittsburgh back then were just fun adventures, but now I see that they prepared me for my internships with the NFL and the Pittsburgh Steelers.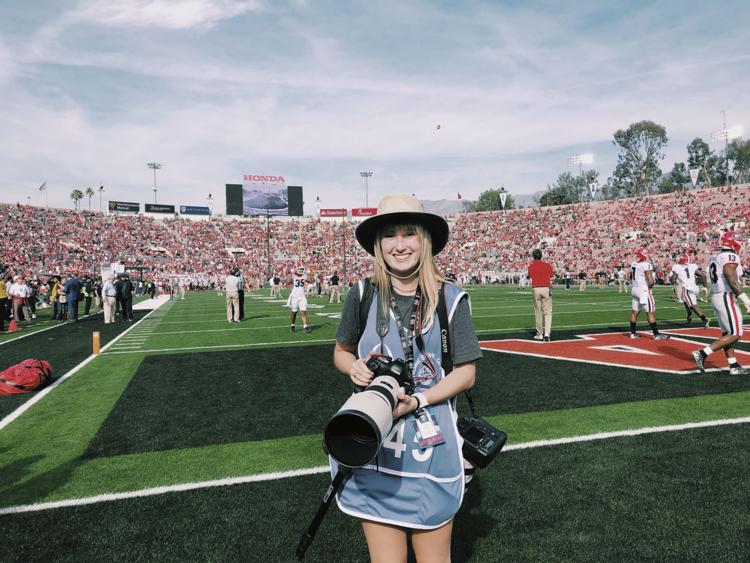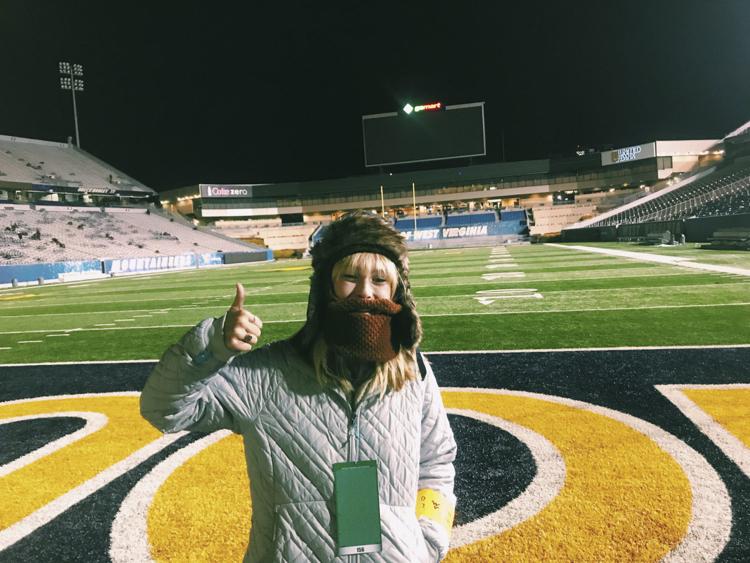 But before those internships, back when I first started photographing OU sports, I felt like I didn't belong. I was just a student among professionals. I was one of maybe five women on the field at a time. The OU Daily gave me the credential, but I had to earn my spot.
I quickly learned those professionals sitting beside me on the sidelines were resources and friends I could look up to. They, too, had once worked their way up from campus newsrooms and positions like mine. I will never take for granted all the critiques, advice, banter and, ultimately, respect that I received from those people, and I'm going to miss them a lot. Josh, Kevin, Ian, Travis and anyone else who looked out for the blonde girl with bangs: Thank you.
At its heart, in addition to serving the OU community, The Daily is a place to learn and grow. It doesn't matter where you start. As long as you have a goal in mind and are willing to put in the work, the people here will make sure you meet it. I don't know how many times I have sat in the rickety wooden chair in our adviser Seth's office rambling about an idea for a project. What I do know is every time I left that chair, I was encouraged and motivated to push forward. 
Sure, I've cried in that chair, too. But whether it was from frustration, sadness or the overwhelming urge to quit my job and be a normal college student for once, I never left that office feeling the same way I came in. This place is special, and when you want to reach new heights, you do.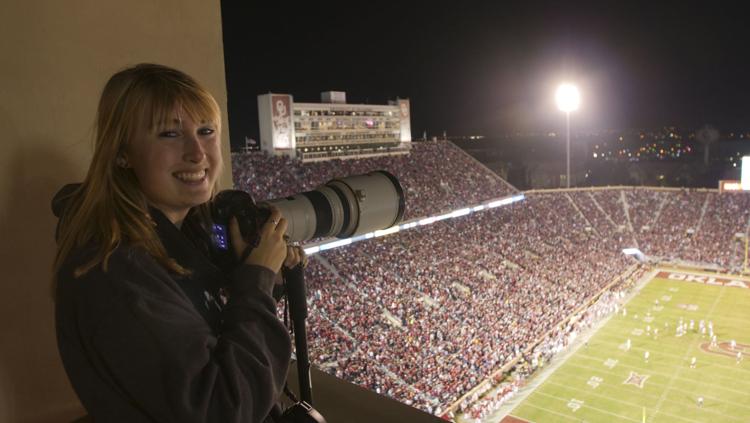 After graduation, I won't be Caitlyn Epes - OU Daily. I'm not sure what it will feel like to look down at my credential and not see the same name I've seen these past four years. The name that propelled me to be who I am today. The work that has my next lanyard set to say Caitlyn Epes - Pittsburgh Steelers. I do know that, whatever comes at me in the future, I'll persevere, learn and grow — just like the OU Daily taught me. 
I'll be wearing different lanyards now, but I'm still Caitlyn Epes. 
I can't wait for you to see what I do next.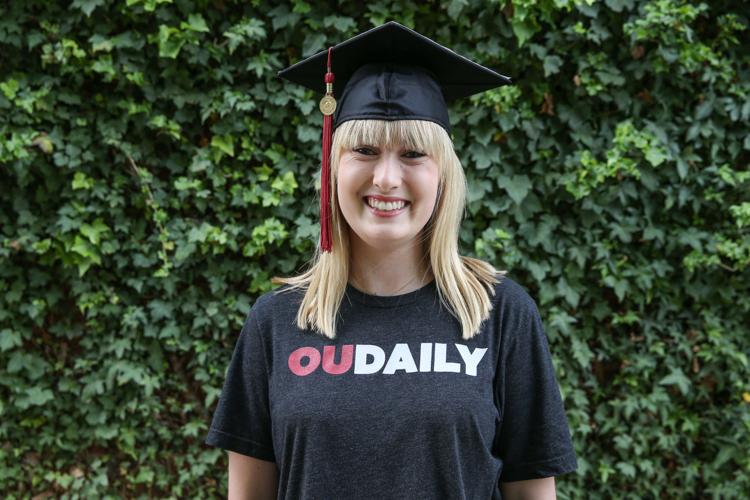 ---
Caitlyn Epes has been a photo intern, senior photographer, assistant visual editor and visual editor for The Daily. She is graduating with a Bachelor of Arts degree in Journalism.