Thousands began to march in front of the Oklahoma Capitol building shortly after 11 a.m. on Jan. 21 — grandparents and parents, young adults and students, and even toddlers in strollers.
Demonstrators held signs and chanted as they walked a planned route in front of the capitol, repeating phrases such as "we're still here," "her body, her choice; my body, my choice" and "bridges, not walls."
The marchers were part of the Women's March on Oklahoma, an event expected to draw about 4,000 people. Organizers made preparations for 6,000 marchers, but a crowd of more than 12,000 exceeded expectations, said event organizer Lindsey Kanaly.
"It didn't shock me," Kanaly said. "I was just beyond thrilled and amazed, and knew that Oklahomans, we come together when we want to — we come together for unity."
The Oklahoma City march was one of many marches hosted across the country and around the world. A total of more than one million marchers joined from Seattle to Washington D.C to London to New Zealand, according to USA Today.
Though the marches occurred the day after the inauguration of President Donald Trump, the Oklahoma City march was not a protest, according to the event's Facebook page, but rather a gathering for empowerment and solidarity. The Oklahoma event drew people together under unity and a shared vision, Kanaly said.
"It was something to join together and unite — it didn't matter if you were a Republican or Democrat," Kanaly said. "It was just a way to say, 'Let's come together, let's unite behind something we're all for.' We're all for human rights, we're all for civil rights, we're all anti-discrimination, we're all for equality."
The event began with chants of "hear us roar" from the crowd, songs, and prayers from multiple religions and languages.
From the start of the march- crowd chants "hear us roar." pic.twitter.com/8XJDDvGTpF

— Emma Keith (@shakeitha_97) January 21, 2017
The thousand of demonstrators then marched for about 45 minutes in a steady stream along a route in front of the capitol building, taking up various rally cries along the way.
Marchers chant "love trumps hate" as they near the end of the route. pic.twitter.com/T2fUjiDyso

— Emma Keith (@shakeitha_97) January 21, 2017
Several of the thousands of participants were OU students. Vanessa Merez, a political science and constitutional studies sophomore, said she was glad to march with a movement that recognizes feminism.  
"I think it's important for not only women to recognize, but for everyone to recognize that women need equality with men, and that that is feminism — that feminism isn't a bad word," Merez said. "I think that this march shows how many people are passionate about that and I think it's great, and I'm glad to be out here supporting this movement."
The march drew men from OU, as well. Political science junior Dan Williams said he marched because the event represented everyone.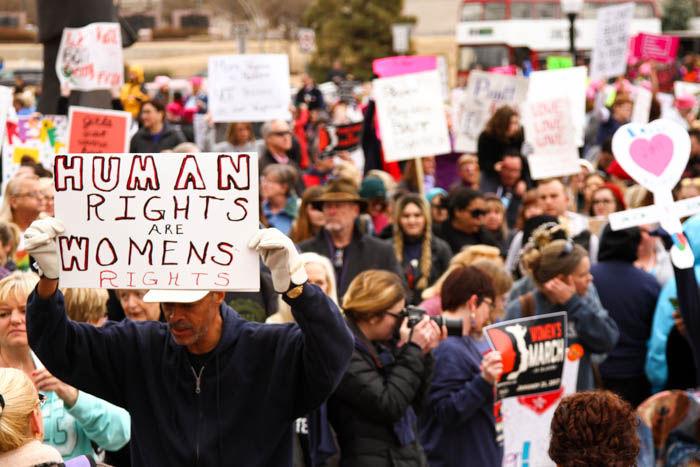 "One of the main reasons that I'm here is that this isn't just a march for women. It's a march for LGBTQ rights, it's a march for women of color, it's a march for all of those who have been marginalized by the rhetoric and vitriol of this past election," Williams said.
Williams said he hopes to use his position of leadership at OU to bring the attitudes from the march back to campus.
"I am in (OU's Undergraduate Student) Congress, and I've been wanting to work with ... underrepresented groups on campus, to have their voice(s) better heard on issues," Williams said. "Because I believe in the past, even though they have been vocal, they haven't had enough say in what (the Student Government Association) does, and I want to change that here. One of the things I see is that, as someone who is white and a man, I don't see the whole picture, and I want to help other people express their view in Congress so that we can make the best decisions possible for campus."
As marchers completed the route and filed back into a space in front of the capitol building, a lineup of female speakers began. Speakers presented an intersectional vision for the march, representing LGBTQ, black, Latinx and indigenous communities.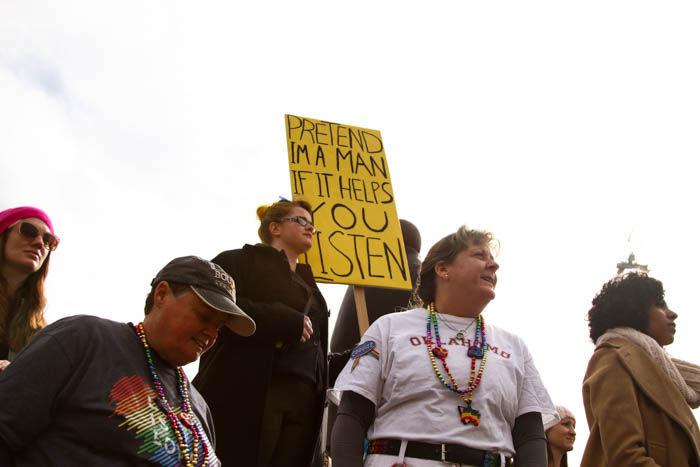 Marchers heard from Tamya Cox of Planned Parenthood Great Plains, who spoke about Planned Parenthood's new clinic and said the organization is offering abortions in Oklahoma for the first time. Other speakers included Oklahoma state Rep. Regina Goodwin, D-Tulsa; Kendra Wilson-Clements, the founder of Matriarch, a nonprofit organization benefiting Native American women; and Candace Liger, fitness coach, poet and activist .
Jessica Martinez-Brooks, director of diversity enrichment programs at OU, was the final speaker of the day. Martinez-Brooks talked about the legacy her grandmother left to her, her mother and her aunts, noting that their strength and the power of her education has brought her to where she is today.
"Today is a very powerful moment for women in Oklahoma, and particularly women throughout the United States," Martinez-Brooks said after her speech. "I think we have seen many of the strong women who are involved in education right now, who are involved in politics and community organizations — they were raised by strong women. And I think that is what you will continue to see."
The march was a good reminder to keep teaching younger generations how to be strong women and how to make themselves heard, Martinez-Brooks said.
"I think there's some times we need to take a pause and teach our daughters, because I think at some point, we have lost that spirit at times that truly was 'you need to stand up and fight,'" Martinez-Brooks said. "There are ways to fight — you need to stand up, make your voice heard, make your issues heard and ensure that the people who have the power, either you get the message to them and they make the changes, or you sit down, think about how you're going to run for office and ensure that those issues get brought to the capitol."
Martinez-Brooks said the march allowed her to see and be inspired by women who understand and take time to discover the needs of their communities.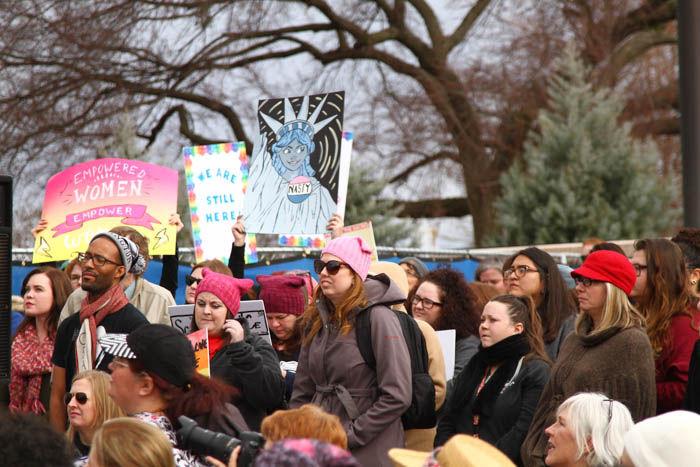 "I see a lot of women who are in leadership positions, and they operate with grace and compassion, and they bring an empathy to their positions," Martinez-Brooks said. "They really understand — they go to the community groups that they represent, they are at town processions, they are there day in and day out."
Women who know the needs of their people, not elected officials, are the keys to change, Martinez-Brooks said.
"I don't need more people who are sitting here at the capitol in their offices voting on things that they don't know anything about," Martinez-Brooks said. "That's where we need to make the change, and I think women are strong leaders and do that — they go and listen."