'We didn't have the option to say yes or no': OU student reflects on underground world of sex trafficking
Editor's note: The name Anthony Palmer is a pseudonym used to protect the source's identity.
Trigger warning: This story contains graphic content regarding sexual abuse.
---
Drifting in and out of consciousness, Anthony Palmer remembered few of the 12 hours before waking up at home on a dingy mattress lying on the floor. Sore and feeling the stark aftereffects of an amphetamine high, he was impervious to the mountains of trash, and the stench of gin and poor hygiene in his home.
His only recollections of the past several hours were entering a room in a run-down motel where he was met by a strange, middle-aged man. "I've got to go home soon to my kids, so let's make this quick," the man said before Palmer lost consciousness.
At age 16, Palmer spent six months as a part of one of the cruelest and most underreported industries in the world — child sex trafficking. Now Palmer is a College of Fine Arts freshman at OU and ready to share his story.
The U.S. State Department defines sex trafficking as "a commercial sex act ... induced by force, fraud, or coercion, or in which the person induced to perform such an act has not attained 18 years of age."
According to the 2016 Trafficking in Persons Report, published by the U.S. State Department, there has been an increase in the prosecution and reports of human traffickers, especially traffickers using drugs or withholding medication as a method of coercing victims into the industry.
Particularly vulnerable to coercion, runaway and homeless youth are found in abundance in prostitution houses, according to the report. These youths — many as young as 13 years old — are sold to complete strangers for commercial sex and compelled with the offering, and in many cases enforcement, of drug use.
Joleen Neighbors, the Development Department director at No Boundaries International in Oklahoma City, said predators will target homeless youth and runaways because the kids have run out of options.
"They know that these kids will literally be starving on the streets, and they'll do whatever they need to do to get food — to eat," Neighbors said. "You've got these predators waiting in wings knowing this and looking for them." 
In most cases, pimps entice runaways and homeless because they initially offer an alluring lifestyle and a safe place to call home, Palmer said.
"At first, it was really, really glamorized," Palmer said. "It was easy to enjoy the positive aspects in a sense that a lot of things were being provided for me, a lot of things were being handed to me, but then there came a point where I realized the type of relationships I was having were not relationships that were authentic. ... They (were) built because of necessity."
Once victims get comfortable with their surroundings, the trafficker compels the victims in question to begin selling their bodies so that they can continue to stay at the prostitution house, Palmer said. And he was no exception.
When he was 13, he came out as queer to his family — devout Mormons who did not accept his lifestyle.
Then, he ran away from home.
Palmer spent a week living on the streets before he learned of a woman who he was told took in and cared for runaways. This woman, "Mama Lemon," was a prostitute who gave young runaways room and board in exchange for selling their bodies.
Palmer satisfied Mama Lemon's demands for "earning keep" by cooking and cleaning.
A few months into his stay with Mama Lemon, one of her big clients took an interest in Palmer. This client, named Ansen, was a cocaine dealer but was genuinely concerned for Palmer's welfare, Palmer said.
Ansen invited Palmer to live with him, paid for Palmer's dance lessons and allowed him to attend a charter school. If only for a while, Palmer had the chance to have a normal teenage life, he said.
However, a few months after Palmer began living with Ansen, Ansen was busted for dealing cocaine and was going to be deported back to his home country of Malaysia, Palmer said.
Palmer was taken by one of Ansen's bodyguards to another prostitution house in Albuquerque, New Mexico, run by a woman named Brittany. But this time, cooking and cleaning was not enough to cover room and board, he said.
Brittany demanded that he sell his body.
Uncomfortable with this notion, Palmer was coerced into it by a seemingly endless supply of narcotics. Brittany supplied him with the narcotics to make it easier for him to be coerced into having sex with strangers and to increase his need for these drugs, preventing him from attempting to escape, Palmer said.
Despite the Department of Justice opening 257 federal cases regarding human traffickers in fiscal year 2015, the National Human Trafficking Hotline received reports of 5,544 cases of human trafficking in 2015 — 4,136 of those being reports of sex trafficking.
In Oklahoma alone, 64 cases of human trafficking have already been reported to the National Human Trafficking Hotline in 2016 — 49 of them involving sex trafficking.
However, in 2014, No Boundaries International encountered more than 450 people involved in the industry just on Robinson Street in Oklahoma City, Neighbors said.
Because of the differences in the reported data, it is difficult to gauge the magnitude of the industry. A number of contingencies could also be to blame for the inconsistencies in the statistics of human trafficking. Many of the victims are unable to or choose not to file a report, according to the Department of State.
Additionally, a lot of the sex trafficking industry is underground. The industry used to be out in the open, "but now with social media and Facebook, it's way more hidden. It's not near as easy to track," Neighbors said.
In Palmer's case, the signs of his situation were not obvious to the casual observer. Because the industry is so underground, every sexual encounter was contracted by word of mouth, he said.
Palmer was afraid that without this way of life, he could not survive or succeed. Even worse, once he realized what was happening, he feared that he could face violent and negative repercussions from those that owned him if he tried to escape.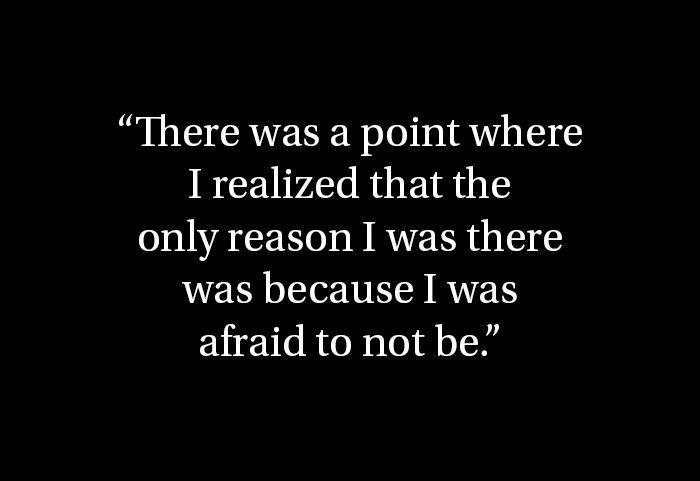 Victims rarely question the ethics of what they were doing, because those in charge of prostitution houses discourage asking questions, Palmer said. In many cases, those who spoke out or asked questions were beaten or isolated from others "for their own good" — a common form of abuse and fear tactic, Palmer said. A few who misbehaved or asked questions simply disappeared and were never heard from again, he said.
Questions such as "why are we doing this?" and "what happened to this person?" almost always led to punishment, he said.
Palmer now considers every sexual encounter he had during that time rape "because we didn't have the option to say yes or no," he said. At the time, he was either too high or intoxicated to understand that he was not giving true consent, he said.
Six months into being held as a victim, Palmer began to understand what was happening to him. His commercial sex encounters had become an everyday occurrence, but he realized that these encounters were not normal, he said.
It was then Palmer realized that he needed to escape.
Brittany, who provided Palmer with narcotics, felt if she let him come and go as he pleased, he would always return for the next fix.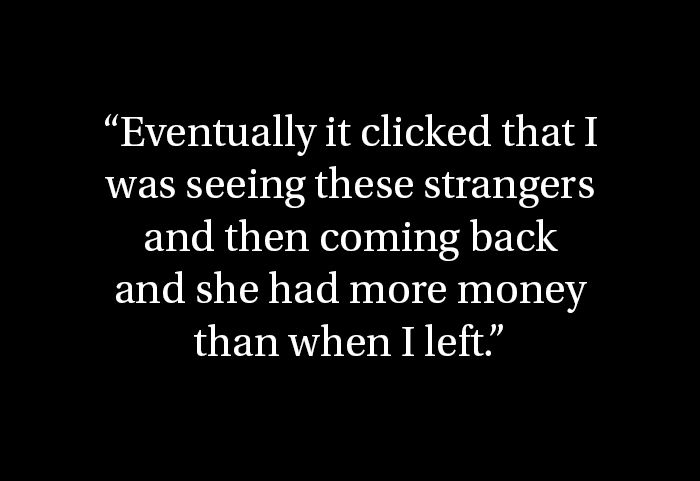 All he had to do was walk out of the house and find the police station, he said.
Palmer was given a place to live and a chance to get clean. Now, a few years later, he is sober, a prosperous student and has a network of friends to give him the support he needs, he said.
Palmer made his way to OU after learning about the success of its fine arts program. After auditioning for the program and receiving acceptance to the department, he knew it was the best place for a fresh start, he said.
Palmer will never forget the ghosts of his past. He still has flashbacks, and at times he struggles to cope with the trauma. But he's optimistic about his future as he continues to recover from the abuse he suffered. He's optimistic that by sharing his story, it can shed light on the atrocities of modern-day slavery.
"Problems don't get solved unless we have details on what the issue is, and it's important to know what's going on because these are traumatic events ... and if we don't talk about it, then it never gets fixed."
There are multiple local resources victims may use to receive help. The number for the National Human Trafficking Hotline is 1-888-373-7888, and the number for No Boundaries International is 405-513-5453. Victims may also call the Norman Police Department at 911 or at 405-321-1444.