Editor's note: This article contains statistics on and discusses sexual violence and rape. If you or someone you know are a victim of these crimes, survivor resources are provided in the article.
Rape, domestic violence, sexual harassment, stalking and gender-based violence are widespread and pose a danger to all individuals, regardless of their gender identity or sexual orientation. 
In the OU community, past incidents involving sexual assault and a recent incident of domestic violence have prompted community members to raise awareness of these crimes and the resources available for victims.
In Oklahoma, these crimes occur at one of the highest rates in the nation — 49 percent of women and 40 percent of men experience "intimate partner physical violence," according to the National Coalition Against Domestic Violence. 
Violence against women is particularly prominent in the state, with Oklahoma ranking No. 3 in acts of violence against women that end in death.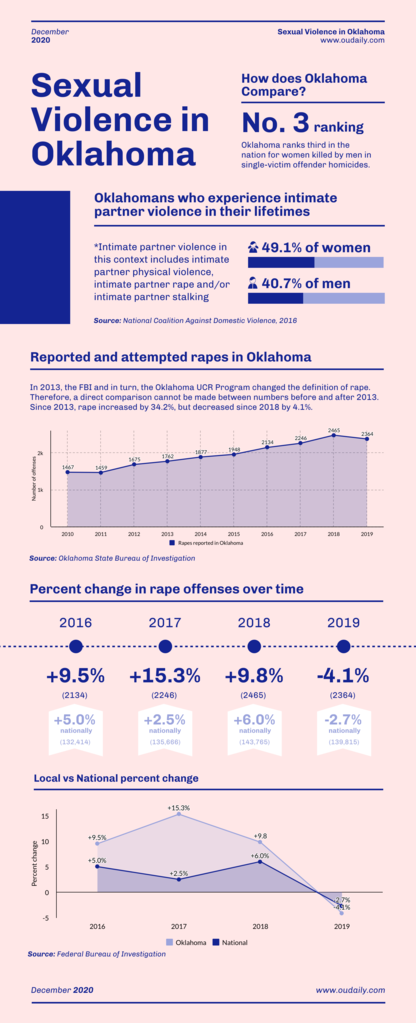 Members of the LGBTQ+ community experience sexual violence at similar or higher rates than straight people, according to the Centers for Disease Control and Prevention. The City of Norman cited a 2005 study from the Gay, Lesbian, Straight Educational Network that 90 percent of LGBTQ+ youth have reported being harassed or assaulted during the school year.
Men and boys are also victims of sexual violence. According to the Rape, Abuse and Incest National Network website, they may still face additional challenges due to social attitudes and stereotypes about men and masculinity, such as feeling "less" of a man, shame or blaming for not being able to stop the abuser and questioning their sexual orientation. 
Amber May, OU Advocates case manager, said consent "is a clear and coherent yes, not an absence of no."
"Silence and passivity cannot be interpreted as an indication of consent," May said. "Don't make assumptions about consent, about someone's sexual availability, about whether they are attracted to you, about how far you can go or about whether they are physically and/or mentally able to consent. If there are any questions or ambiguity, then you do not have consent."
OU Advocates is a 24/7, free and confidential support and advocacy service for OU community members who have experienced relationship violence or abuse, sexual assault or stalking on campus. 
Erin Simpson, director of OU Gender and Equality Center (GEC) and coordinator of OU Advocates, said there is no right way for how a victim "should" react.
"Victims can reach out to a variety of places or people, and we should support (them) however they decide to move forward. Particularly in a college environment, the most likely person a victim of violence will turn to for support will be a friend or roommate," Simpson said. "OU Advocates provides education and support for secondary survivors and support systems. It can often be helpful for victims to talk to a confidential resource to talk through options. OU Advocates recommends victims make the decision that feels safer for them."
Violence Against Women
Although anyone can experience it, the CDC reports most victims of sexual violence are women.
Courtney Foster, assistant executive director of the Women's Resource Center and director of the Rape Crisis Center in Norman, said violence against women can take a "myriad of forms."
"Perpetrators can use just about anything to gain power and control, whether it be through spiritual abuse (using someone's faith or religion for power or control), emotional abuse, financial abuse or as is most commonly thought of, physical abuse," Foster said. 
The Women's Resource Center is an organization that provides victim services to anyone who's been affected by domestic violence, sexual trauma and stalking. Foster said the WRC is the only agency in all of Cleveland County that offers free and confidential services to anyone who requests them.
According to Foster, a lot of victims don't report incidents of abuse at the beginning because they feel their situation isn't "that bad" and don't call WRC until the situation has reached the extreme — physical violence. 
"We'd love for people to call us before that point. There's no such thing as a stupid question when it comes to domestic and sexual violence," Foster said. "We're the experts because we've spent hours learning how to best serve victims and we're in this work because we want to help."  
Foster said WRC can help victims to avoid the pain of living through more violence by providing a safety plan even if they are not yet prepared to leave. 
At OU's campus, the subject of violence against women has been continuously addressed by the Alpha Chi Omega sorority, which focuses its philanthropy on domestic violence awareness. 
Chapter President of Alpha Chi Omega Mackenzie Davis said domestic violence affects one in three college-aged women in a lifetime.
"Along with educating and training our members, we partner directly with the Women's Resource Center in Norman. We have semesterly philanthropy events where our proceeds go directly to the WRC," Davis said. "We also host drives and drop-offs as they need special items in-house. Our girls really have a heart and passion for this philanthropy, because as you are able to see, it often hits really close to home."
Davis talked about how OU community members can help Ally Stephens, one of Alpha Chi Omega's sorority sisters who recently experienced domestic violence. 
"Not to speak for Ally, but I would simply say support. She is an amazingly strong young woman who has been through more in the last few months than anyone should have to endure," Davis said. "We have seen chapters and people across the U.S. sharing her story and showing love. Ally has been sharing her story in hopes of educating and potentially saving women who are in the same boat as she."
Davis said Alpha Chi Omega educates members about the signs, reactions and resources associated with sexual assault and advocates for those who are not able to speak up. The sorority has an executive board — an anonymous forum where members can check in at any time and ask for resources, help or just share their stories and vent — and university, county and state resources available to members on their social media and in their house.
Foster also talked about how OU can help in Stephen's case.
"I encourage every organization and agency and individual to do the same to support victims: believe them, and let them choose what happens going forward," Foster said. "OU is a major organization with a major responsibility to the community. I hope the university offers the GEC and WRC's resources to anyone affected by domestic violence, sexual trauma and stalking."
How does sexual violence affect the LGBTQ+ community?
Sexual violence also occurs among members of the LGBTQ+ community.
According to May, gender-based violence is violence directed at a person based on their gender identity. It includes physical, sexual, verbal, emotional and psychological abuse, threats, coercion and economic or educational deprivation, whether occurring in public or in private.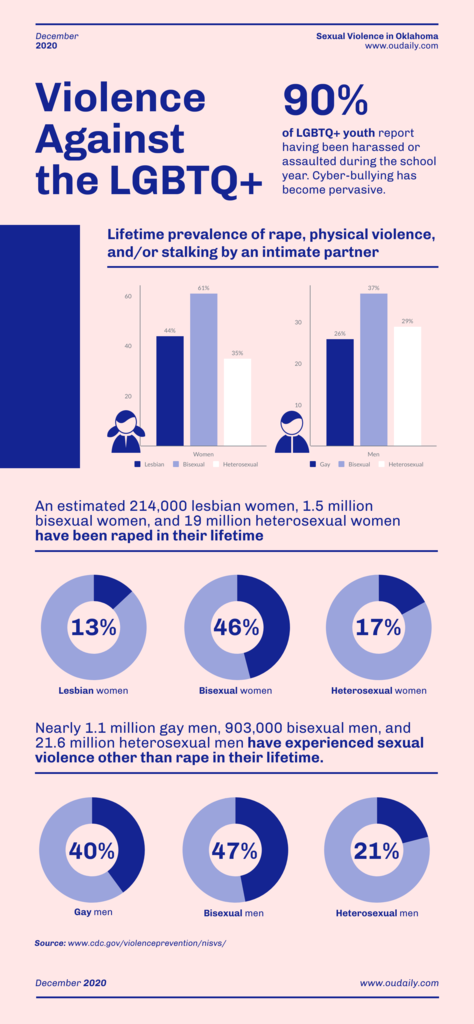 Jerry Lessley, chair of the LGBTQ+ Program Advisory Board and GEC's LGBTQ+ Programs Intern, said he feels there is still disbelief that sexual violence affects LGBTQ+ people. 
Lessley said he thinks sexual violence is usually thought of through a "heteronormative lens." 
"We know the majority of perpetrators of sexual violence are men, right? Well, people typically assume they're all assaulting women, but that's not true," Lessley said. "They can be targeting men, women or non-binary folks. Then, this narrative of women can't be perpetrators also implies it can't happen between two women."
According to a 2010 survey from the National Intimate Partner and Sexual Violence, 90 percent of perpetrators against women are men.
The LGBTQ+ Program Advisory Board is a student organization with the main goal of helping students feel safe, included and empowered to succeed at OU. Lessley said the PAB works towards this goal by "maintaining an intersectional lens" as they foster LGBTQ+ leadership, provide opportunities for the community and build awareness of LGBTQ+ issues on campus. 
Intersectionality is a term that refers to people who suffer from a various types of discrimination and disadvantages either because of their race, religion, sexual orientation or gender identity.
Lessley believes the GEC training and campaigns like the White Ribbon Campaign are a notable way of letting people know this issue affects people of all gender identities and sexual orientations.
Simpson said the Step in, Speak Out (SISO) training is presented by peer educators and educates students on the topics of consent, sexual assault, harassment, active-bystander intervention strategies and resources for victims of sexual misconduct. She also said faculty and staff are required to complete training over the federal Title IX policy from the Institutional Equity Office.
Foster said society often tends to focus on what the victim did wrong and doesn't analyze if these victims have the necessary resources to leave their abusers.
"We find shame and blame is the best way to pretend there's an easy solution to the problem of domestic violence. When we look closer, we find it would be an extremely difficult situation for anyone to leave — much more so when you don't have the resources to leave," Foster said. "Most notably though, leaving is the most dangerous time for victims — and many of them won't leave because of the fear of that danger. There are so many barriers to leaving that we as a society forget about when we tell someone to 'just leave.'"
How do we stop the violence?
Interim Institutional Equity Officer & Title IX Coordinator Faustina Layne, said some new Title IX regulations were implemented recently by OU and that it is "vital" all members of the OU community are informed and provided with education and awareness of the new revisions.
"Everyone in the OU community needs to understand their role and the importance of due process. The number one thing I'd like all members of the campus community to know is that we are here as a resource," Layne said. "We take great care to not retraumatize those who meet with our staff.  Upon initial contact, our goal is to ensure that they are safe, that they are aware of available resources, and then we hope to empower them to make an informed decision about their desire to move forward and provide guidance regarding their options."
Layne said one option would be for the victim to file an investigation. She said the Title IX office can provide many types of relief, such as counseling or other support, regardless if survivors decide to proceed with a formal investigation.  
May said the most impactful way to address violence is for it to stop occurring by perpetrators.
"Be active in supporting a safe and respectful community; if you see others engaging in violent, disrespectful or inappropriate actions, speak up and get involved, or contact someone else to assist," May said. "Communities are safest when members look out for each other."
Foster said the community's first reaction should be to believe in the victim.
"It sounds so simple but it makes the biggest impact: Believe victims and support their choices," Foster said. "Believe what they say, even if it sounds crazy to you. Perpetrators are experts at seeming like they're not perpetrators. Support the victim in their choices, even if it's not how you'd handle the situation if it were you. They're the ones that have to deal with the outcome, so support what they believe is best for themselves. If it were you, you'd want the same."