US lawmakers assail EPA chief Scott Pruitt over ethical missteps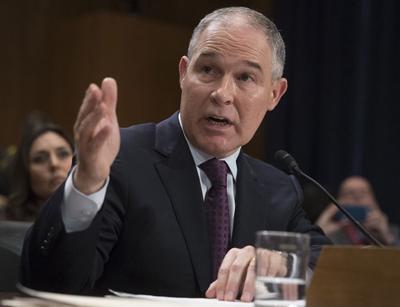 Lawmakers assailed Environmental Protection Agency chief Scott Pruitt on Thursday for the ethics and spending scandals that have prompted bipartisan calls for his ouster. On the defensive, the EPA chief said "half-truths" and "twisted" allegations were an effort to undermine the Trump administration's anti-regulatory agenda.
The public grilling at a House hearing came as support has eroded for Pruitt among fellow Republicans after a nearly monthlong hammering of negative headlines about outsized security spending, first-class flights and a sweetheart condo lease. Even Republicans who heartily support Pruitt's policy agenda said his apparent lapses had to be put under scrutiny.
Democrats excoriated him as the hearing opened. "You are unfit to hold public office," said Rep. Frank Pallone of New Jersey. Rep. Paul Tonko said of the allegations, "the more we have learned, the worse they get," and told Pruitt he was "never fit for this job."
Republican Rep. John Shimkus of Illinois, chairman of the panel questioning Pruitt, called the allegations a "distraction but one this committee cannot ignore."
Republicans on the panel, though, generally rallied to Pruitt's defense. Mocking Pruitt's opponents, Rep. Kevin Cramer of North Dakota said that as far as the EPA chief's critics were concerned, "I think the greatest sin you've done is, you've actually done what President Trump ran on."
"It's shameful that this day has turned into a personal attack," said GOP Rep. Bill Johnson of Ohio.
Pruitt gave clipped, bureaucratic answers to questions on the many financial allegations against him, relaxing when Republicans on the panel gave him openings to expand on his policy steps at EPA. On take-your-children-to-work day, parents brought crying toddlers and squirming kids to hear Pruitt defend his job.
President Donald Trump has continued to stand by his EPA chief, but behind closed doors, White House officials concede Pruitt's job is in serious jeopardy. In the last week, a growing list of Republican lawmakers has joined the chorus of Democrats calling for new investigations into Pruitt's actions.
Pruitt only addressed the allegations in passing in his opening statement, acknowledging merely that "there's been a learning process," and adding, "Facts are facts, fiction is fiction."
He faced back-to-back hearings Thursday, called formally to consider EPA's budget.
Pruitt has faced a steady trickle of revelations involving pricey trips in first-class seats and unusual security spending, including a $43,000 soundproof booth for making private phone calls. He also demanded 24-hour-a-day protection from armed officers, resulting in a swollen, 20-member security detail that blew through overtime budgets and racked up expenses approaching $3 million.